A 19-year tradition at the iconic NHRA U.S. Nationals is back for another blast down the drag strip at historic Indianapolis Raceway Park. The Dodge HEMI® Challenge returns at NHRA's most prestigious race, the U.S. Nationals – or as many affectionately call it, "The Big Go." Once again, it will be the ultimate in heads-up Super Stock racing featuring wheel-standing 1968 Super Stock HEMI Dodge Darts and Plymouth Barracudas. These lightweight, purpose-built package cars dominated the competition five decades ago and continue today with their high-compression 426 HEMI engines being fed high-octane fuel from a pair of Holley carburetors. They'll thunder down the quarter-mile as they have done for over 50 years.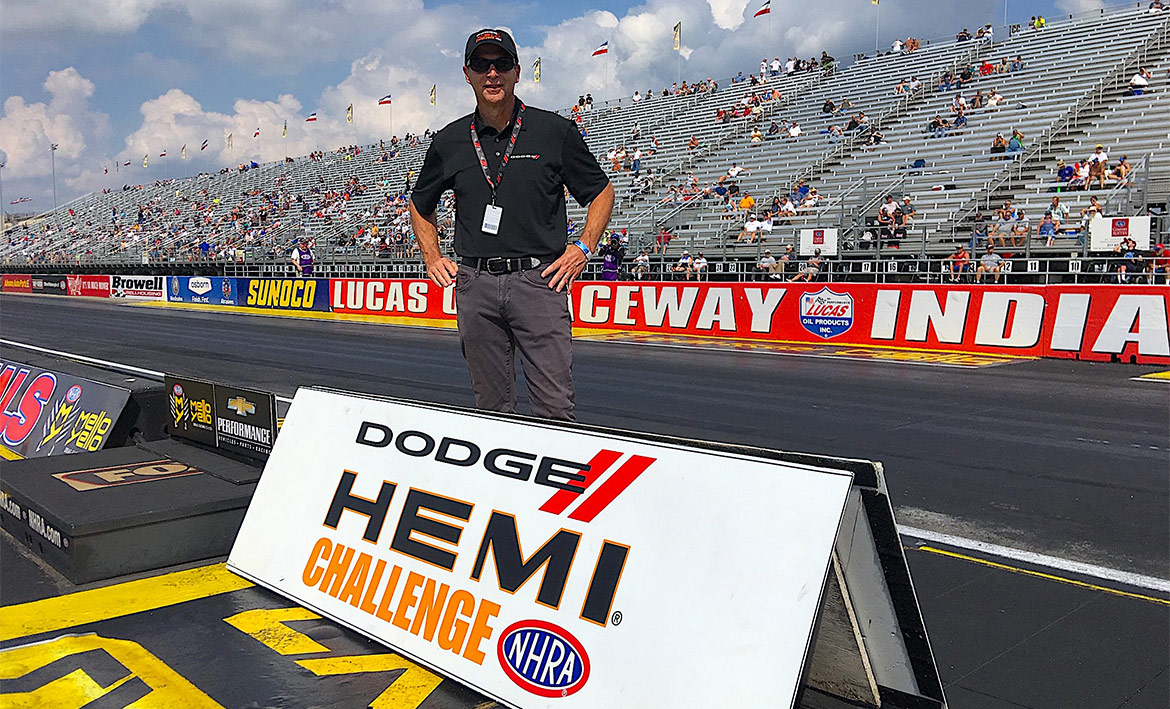 "The NHRA Dodge HEMI Challenge is a fan-favorite tradition at the U.S. Nationals, and we're proud to continue as title sponsor during one of the most prestigious events on the NHRA circuit," said Steve Beahm, Head of Passenger Car Brands, Dodge//SRT®, Chrysler and FIAT®, and Head of Parts and Service (Mopar®) – FCA North America. "It speaks volumes about the legacy of our brand at the drag strip and the passion of our fans to see HEMI-engine-powered vehicles from more than 50 years ago side by side in the staging lanes next to our modern-day Dodge drag cars."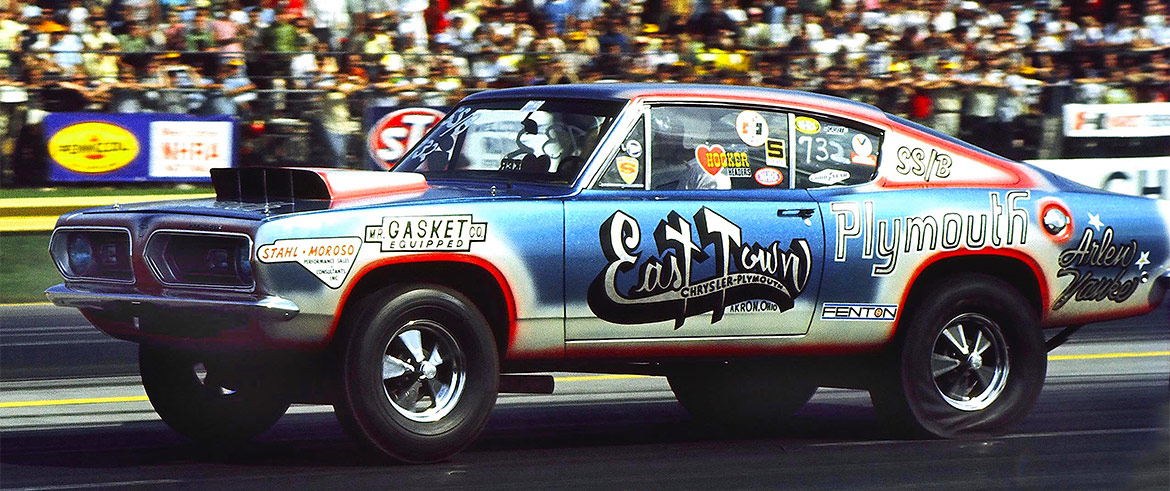 The NHRA U.S. Nationals first felt the wrath of the HEMI-engine-powered Super Stock Darts and Barracudas back in 1968 when Arlen Vanke drove his Plymouth to victory over Wally Booth's Camaro. That was followed up at the 1969 event as Ronnie Sox drove his red, white and blue HEMI Barracuda for the Super Stock win. In 1970, Ron Mancini kept the streak going and would take his HEMI Dart to another decisive Super Stock championship win at the U.S. Nationals.
Over the next decade, HEMI Darts and Barracudas would pack the staging lanes at Indy, but as engine parts became hard to get, the numbers slowly dwindled. It wasn't until the 1990s when Mopar began remaking the cast iron HEMI blocks and heads and a renewed interest among racers to get these cars off the jack stands and back on the strip began to take root. Soon, a fresh batch of competitors began jumping in and a new crop of updated Darts and Barracudas were being built to run in the SS/AA class that eventually became SS/AH, a category exclusively for the HEMI Darts and Barracudas. Today's racers are just as hungry for bragging rights of winning this prestigious event that has been an Indy tradition for almost two decades.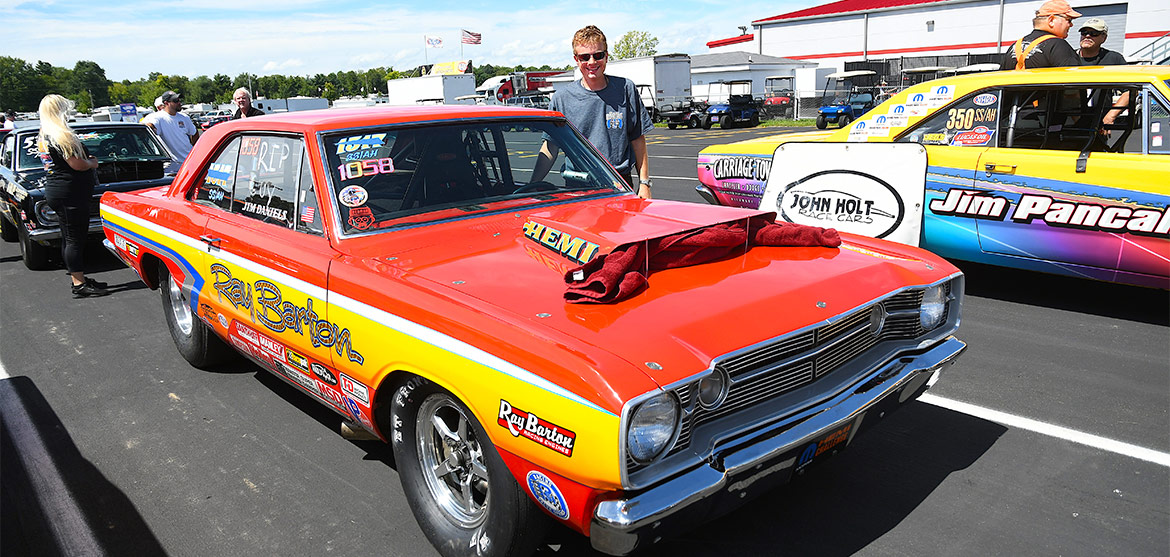 One young competitor who's already established a name for himself is Jimmy Daniels from Pennsylvania. This 22-year-old is a second-generation Mopar racer and when he's not driving an eight-second HEMI Dart, he can be found finishing up his undergraduate degree in biology with the goal of getting into dental school. With three Dodge HEMI Challenge wins to his credit, Daniels is ready to get one more.
"The Dodge HEMI Challenge is an event that we look forward to each and every year. As soon as we pull out of the track each year, we are already thinking about next year's race," said Jimmy Daniels, three-time winner of the Dodge HEMI Challenge. "Personally, it is an extreme honor to be a part of the Dodge HEMI Challenge each year and to be able to drive our family Dodge Dart. Having the opportunity to drive the car my father, Jim Daniels, and David Barton drove for many years is another complete honor in itself."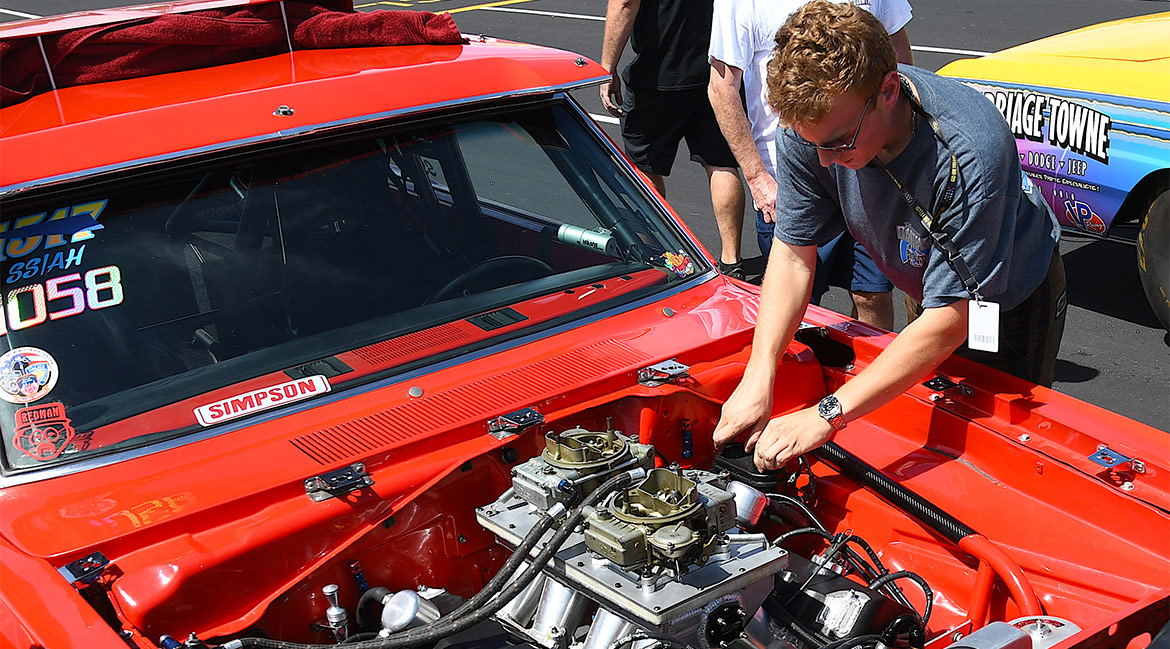 For the young driver who's still in his early twenties, he knew he'd have big shoes to fill. With his father being a previous winner, he knew when he took over the driving chores of the HEMI Dart that it'd be a fine-tuned machine and very capable of carrying on the tradition of winning.
"When I started driving our Dart at the beginning of the 2016 season, I had hopes of going to Indy, qualify well and possibly go a round or two. There are a lot of serious and tough competitors in the SS/AH class, so I would have been absolutely thrilled with going a round or two, but when we ended up going to the final and winning, it was an absolute dream come true. In the moment, I thought that this couldn't even be possible; it took until the next day to really realize what had happened on Friday during the Dodge HEMI Challenge," said a reflective Daniels.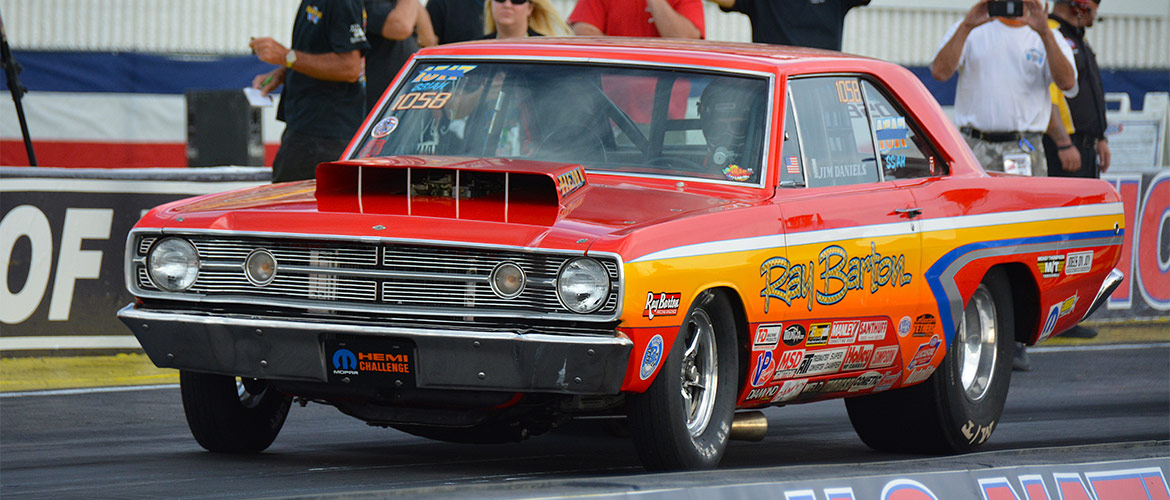 Jimmy Daniels exceeded everyone's goals, including his own. To win the Dodge HEMI Challenge three years in a row is quite an accomplishment for any racer, regardless of their age. Most drivers go a lifetime without winning one event, but Daniels has already collected a trio of Dodge HEMI Challenger winner's trophies and is looking for more.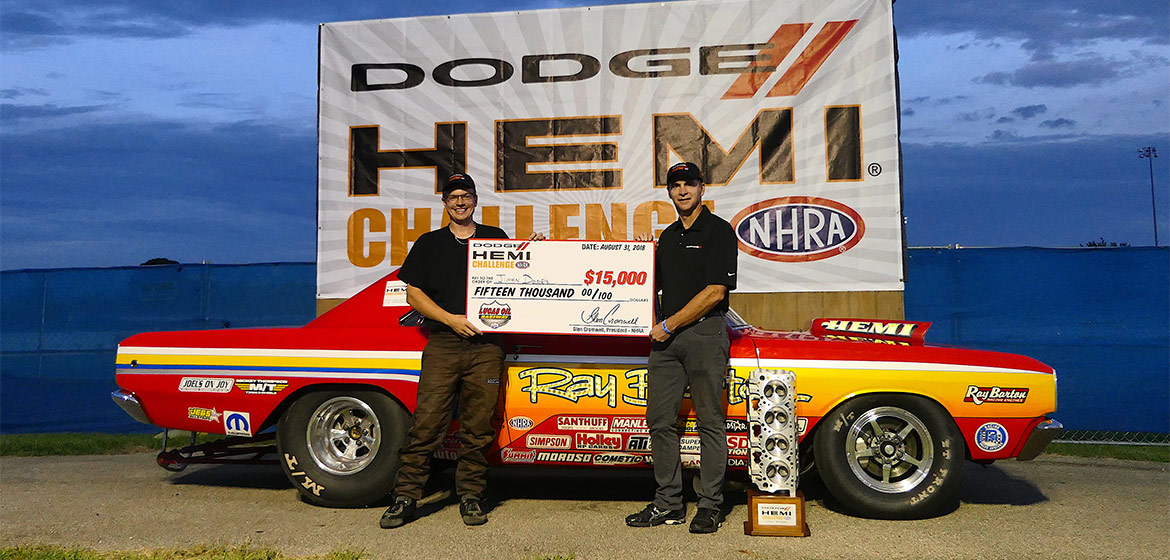 "When 2017 rolled around, I went into Indy with the mindset of hoping to go a few rounds just like I had the previous year. Winning the HEMI Challenge for the second straight year was another dream come true. During the 2017 race, I certainly had my work cut out for me as a driver because there were several cars that were within a few hundredths of a second from us. This race definitely tested our team's skills as a whole; I had to do my part as the driver and David Barton did his job as being an outstanding tuner," commented Daniels. "As for 2019, we are looking forward to running the Dodge HEMI Challenge once again. We truly cherish the SS/AH class and the support that Dodge has given the class over the years. Hopefully, there will be 20-plus cars on the property for the 2019 Dodge HEMI Challenge, which will make for yet another exciting, thrill-seeking race that thousands of racers and fans look forward to watching each and every year."
The 2019 Dodge HEMI Challenge eliminations are scheduled for Friday, August 30, during the annual running of the NHRA U.S. Nationals at Indianapolis Raceway Park. There might be $15,000 in a winner's purse, which includes cash rewards for many of the participants, but it's the massive 43-pound HEMI cylinder head trophy that the winner will stuff in their trailer and, when they get home, proudly show off.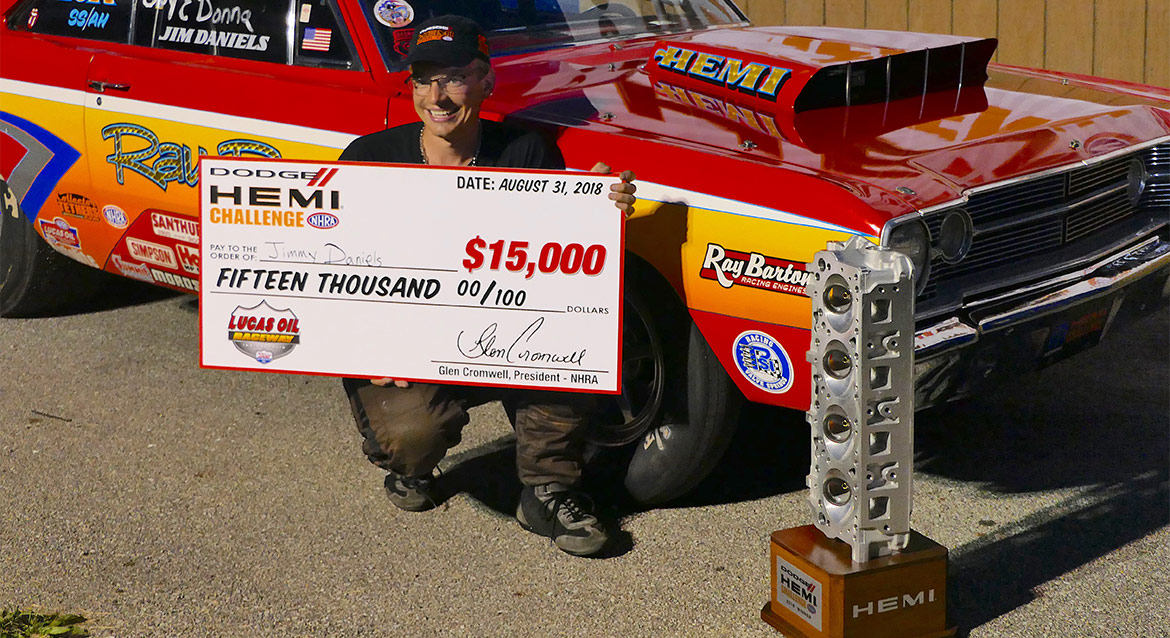 If Jimmy Daniels has his way, he's going to need a bigger trophy room with some stronger shelves, and that's a good problem to have!