If you're a Mopar® enthusiast, you've probably heard many stories and tales about Sox & Martin and their dominating HEMI® V8 engine-powered Plymouth Super Stockers and Pro Stockers. These red, white and blue racecars conquered drag strips across America during the 1960s and into the early '70s. It was a team effort – the talented driving skills of Ronnie Sox and his ability to cut good lights while powershifting his way down the track paired with the meticulously prepared 426 HEMI engines built by crew chief Jake King, and the always thinking Buddy Martin who managed the team operations while constantly thinking two steps ahead of the competition. It was Buddy Martin who ran the race team like a business and made sure to leverage the many sponsor partners to the fullest and keep the cash flow steady.
With wins racking up, many of these automotive and aftermarket companies had their logos plastered on the Sox & Martin cars and were more than happy to "ride with the winners." Buddy made sure to cross-promote these brands and products to keep them front and center in the eyes of muscle car buyers and performance parts DIYers alike.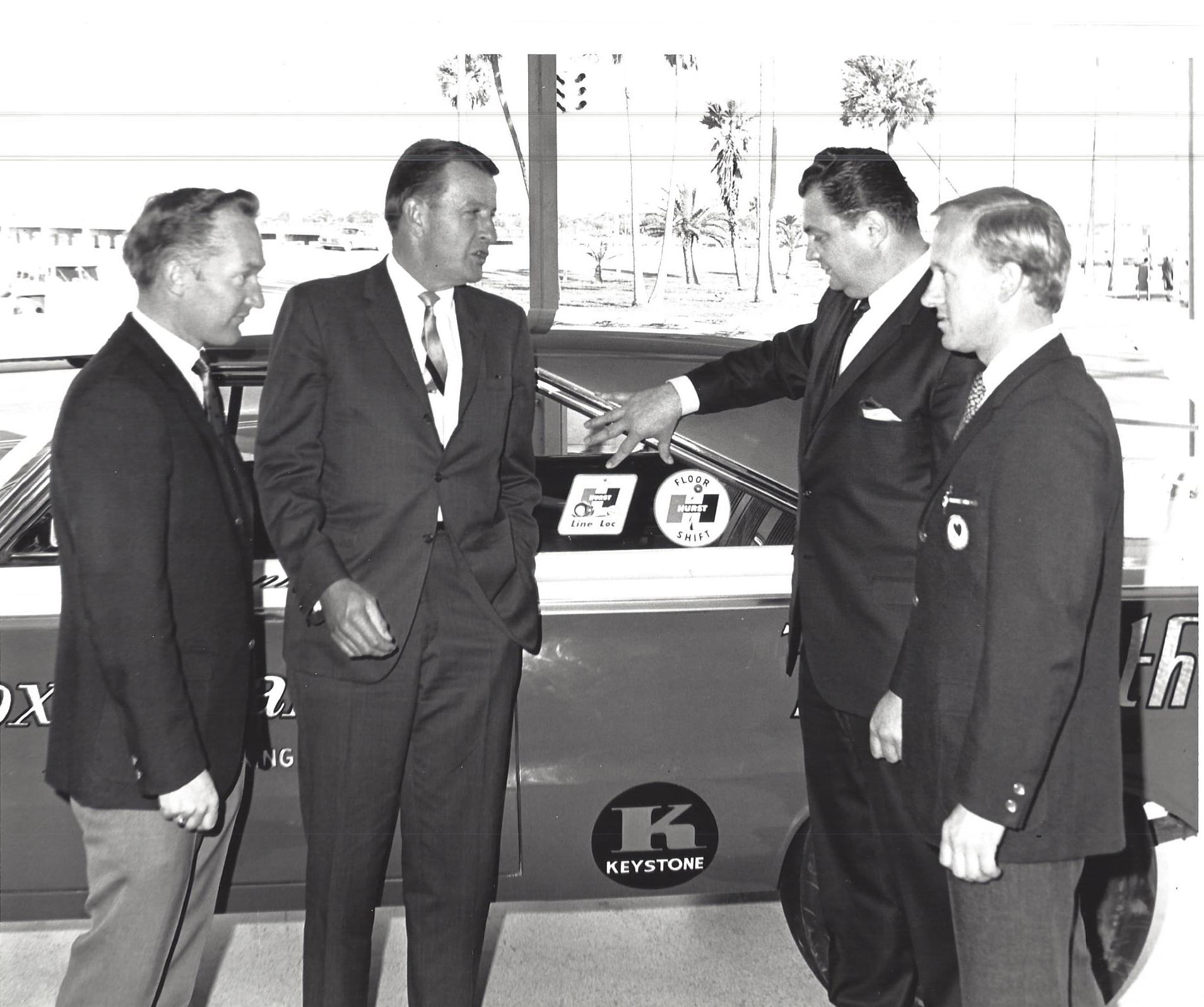 The team's biggest sponsor, Chrysler Corporation (or more specifically, the Plymouth brand) was the partner that Buddy focused most of his energy on. Remember, it was Plymouth and Dodge that had the marketing foresight to get their factory-backed racers out of those flimsy, unsafe, time bomb, nitromethane-guzzling A/FX machines (the precursor to the Funny Car class) and into vehicles that actually resembled what was coming off the assembly line and into dealer showrooms. "The last time I checked, we don't sell nitro Funny Cars," was a sentiment echoed by many of the top marketing brass at Chrysler during the early fall of 1966. With Sox & Martin already running under the Plymouth banner starting in 1965, Buddy Martin and his team received their marching orders for 1967; they were to campaign a pair of brand-new Plymouth Belvedere GTX models in Super Stock. The new sponsorship agreement also required the Sox & Martin team to hold "Supercar Clinics" at select Chrysler/Plymouth dealerships across the country. It was a groundbreaking idea when the program kicked off, as it spurred more sales of both performance cars and parts at dealers across the country by allowing the Sox & Martin team to meet current or potential customers face-to-face and talk about high-performance cars and parts.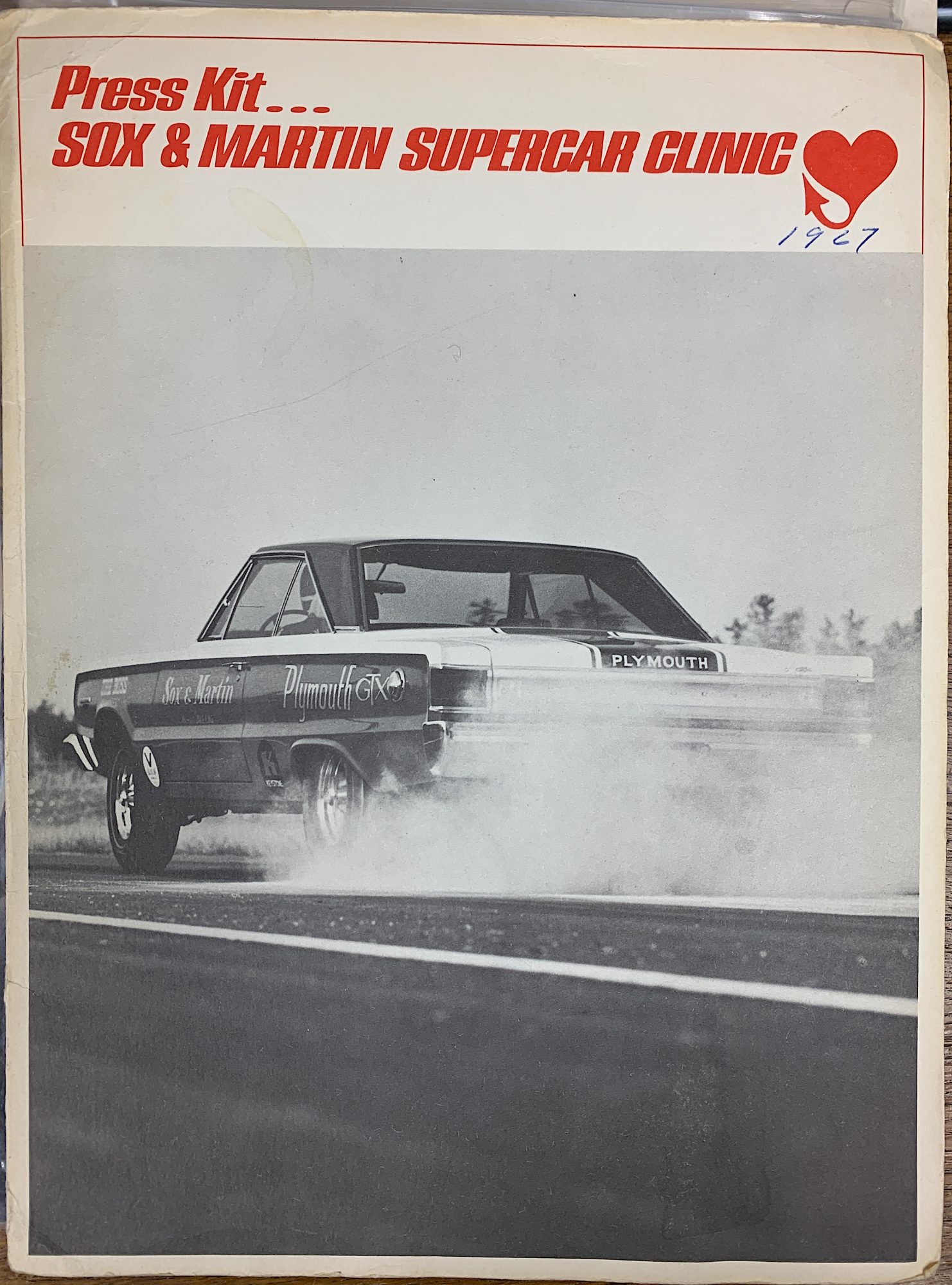 With an intense racing and dealership clinic schedule heading into 1967, Buddy Martin made a decision that was almost unheard of at the time; he knew that in order to keep all the sponsors happy without impacting the team's focus of winning races, he'd need to find someone with solid PR and marketing experience. Enter Tom Richardson, a young Texas Tech University grad from Lubbock, Texas, who was a Finance Major but spent his weekends racing a Super Stock HEMI engine-powered Dodge Coronet A990. Tom understood drag racing and needed no lessons on the importance of working with sponsor partners in a racing operation.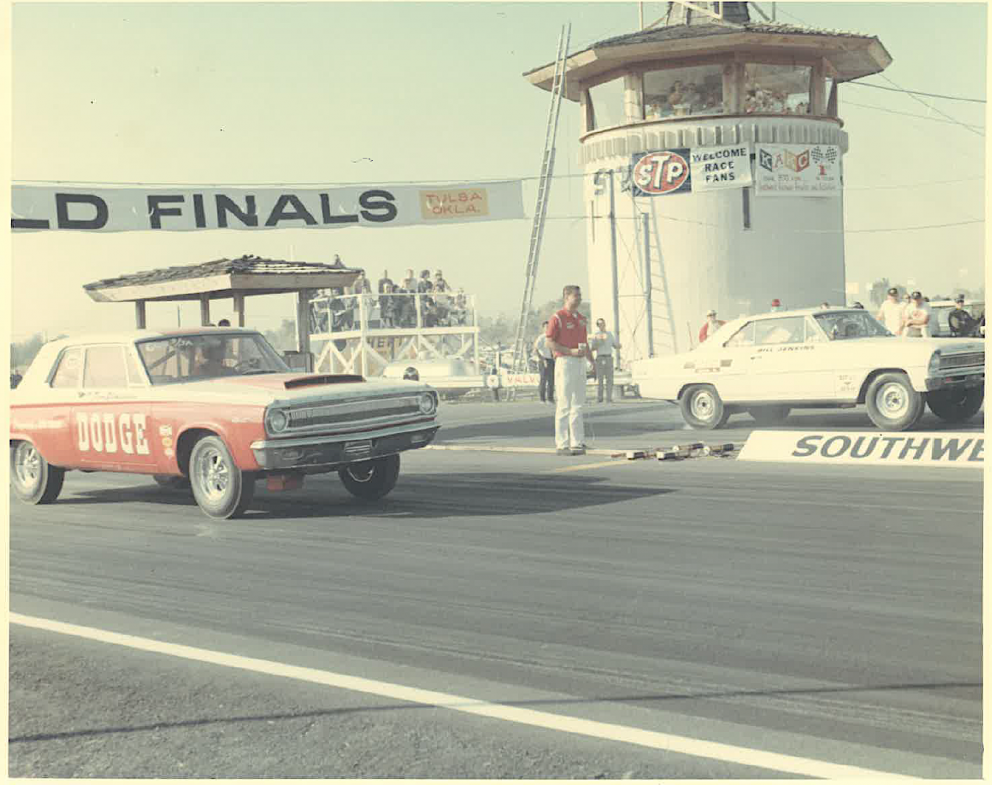 Before Tom landed with Sox & Martin, he had worked for Hurst Performance in Warminster, Pennsylvania. The iconic performance parts company supplied their famous four-speed shifter as a factory-installed option on virtually all muscle cars and was the shifter of choice among professional drag racers. With their business growing (they were contracted to build the infamous Super Stock HEMI Darts and Barracudas in 1968), Hurst needed a media and marketing professional to ensure the company would continue to grow while looking for other marketing opportunities. The Texas native loved working for Hurst, but after experiencing his first Pennsylvania winter of sub-freezing temps and two-foot snow falls, he had enough.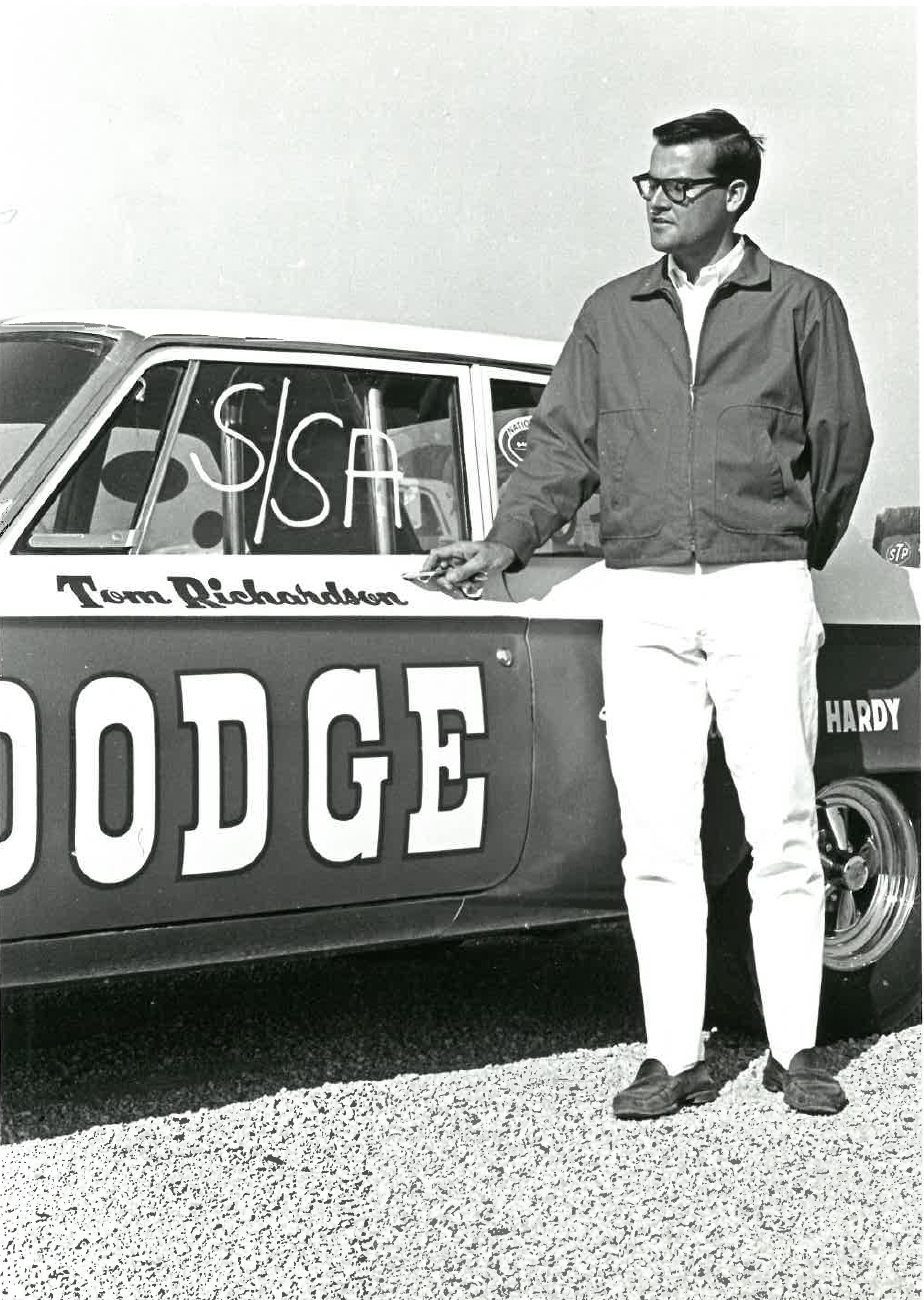 "After that first winter at Hurst, I was ready to move to a warmer climate," reminisced Tom. How Tom ended up moving is an interesting story of how fate works at times. "Many Funny Car and Super Stock teams would stop at the Hurst facility to service their racecars and equipment on their way to and from races on the upper east coast. One team happened to be the Sox & Martin," said Tom. "It was during a casual conversation I was having with Buddy Martin while he was stopping over at Hurst that he (Buddy) mentioned the team was expanding and asked if I'd be interested in joining their operations and move to their headquarters in Burlington, North Carolina. It may not be Texas, but it's a heck of a lot warmer than Warminster in the winter, so I immediately said yes," laughed Tom. Even though it was Buddy that hired Tom, it was actually Dodge PR manager Jerry Gross that suggested Buddy reach out to Tom. Before getting hired by Chrysler, Gerry had spent time on the road with Dick Landy travelling across the country to NHRA events and Match Races. Since Landy was doing his "Dodge Performance Clinics," Jerry knew Sox & Martin would be overwhelmed unless they had someone dedicated to work on the Supercar Clinic dealership program and media relations.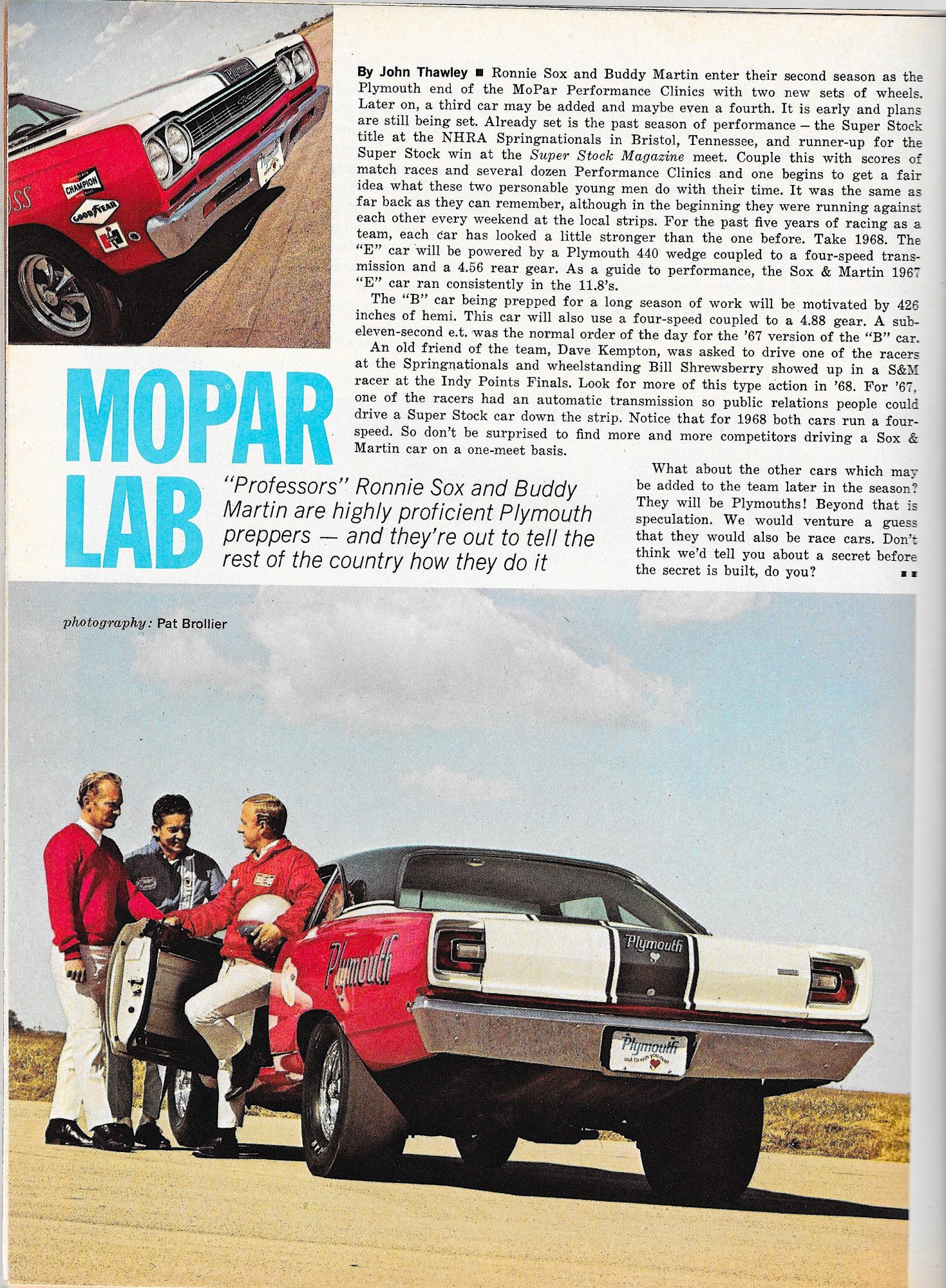 Upon arrival in Burlington, Tom was surprised when he first laid eyes on the Sox & Martin building – it was not much bigger than a gas station with one bay door. The building was loaded with Plymouth Super Stockers, 426 HEMI engines on stands and boxes of parts stacked on the shelves. "When I first got hired by Sox & Martin, they hadn't constructed their new building yet and I was working out of the old shop. I had to schedule the team's appearances standing outside the door on a pay phone, because it was always noisy in the shop with all the activity," reflected Tom.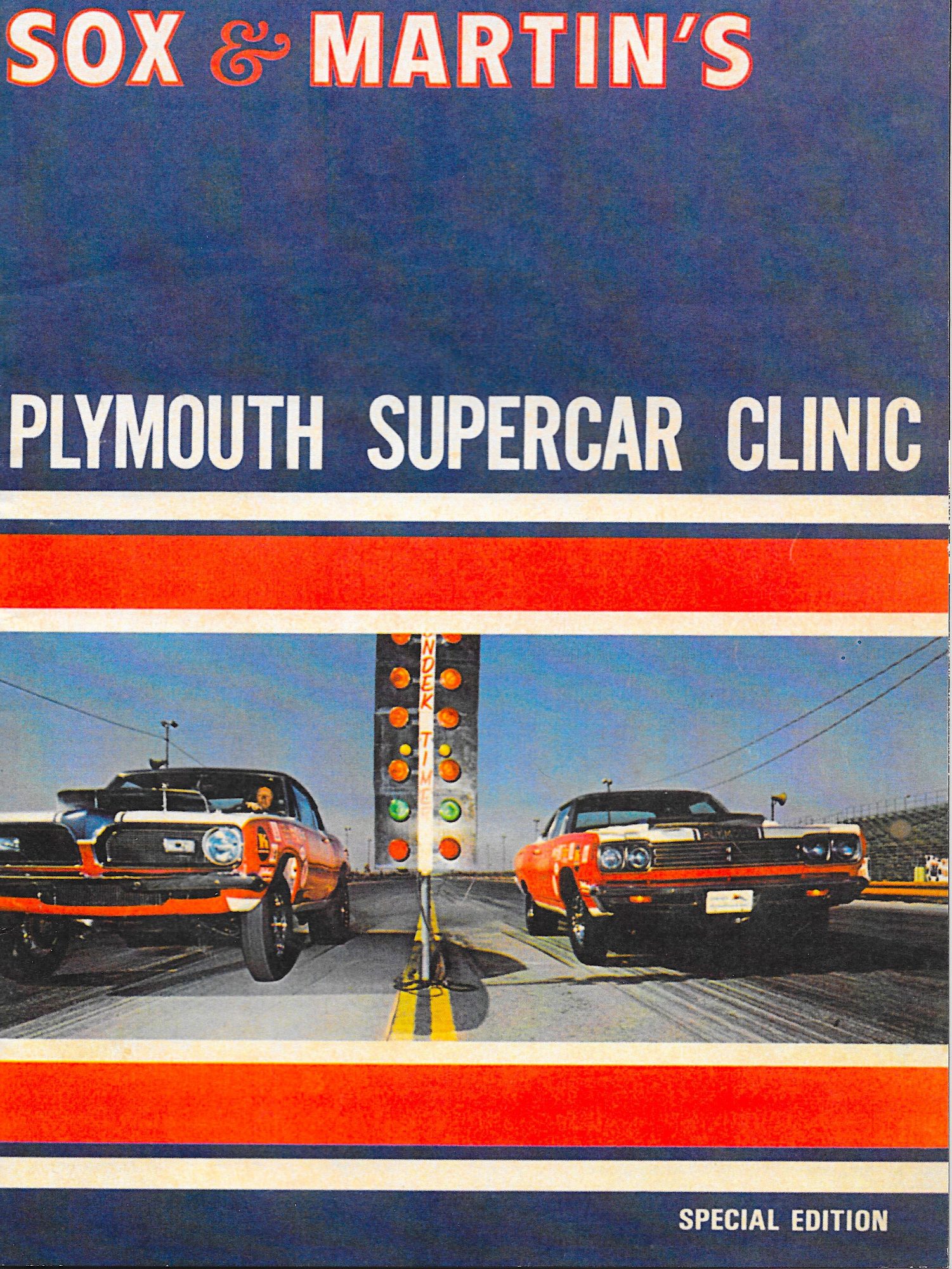 Tom had many duties, including scheduling the Sox & Martin team's appearance at dealerships and new car shows on behalf of Plymouth. While at the Supercar Clinics, Ronnie would talk about proper driving techniques while Buddy and Jake would discuss things like the best camshaft to run in a 440 or what's the optimum clutch for street and strip behind a 426 HEMI engine. While the clinic was going on, Tom would be on the road, sometimes in another state setting up Sox & Martin's next appearance or meeting with dealers on upcoming Plymouth Supercar Clinics. "Tom came to us from Hurst and did an excellent job," said Buddy Martin. "He'd do anything we asked, including driving our brand-new 340 Barracuda from our shop in Burlington to Pomona for the 1968 NHRA Winternationals. Tom arranged to have Hot Rod magazine editor Jim McFarland race the Barracuda in Stock Eliminator and thus get more exposure for Plymouth and their new hot small-block Pony car that was just released. The Barracuda won its class and runner-up for the eliminator. After the race, we had a U-Haul trailer hooked up to the Barracuda with extra parts, including wheels and tires. Tom got into a situation in which he had to back up the car while it was still hooked to the trailer. He struggled a bit and got frustrated. His comment to us was 'Did you ever try to push a rope?' we all had a good laugh after that," smiled Buddy.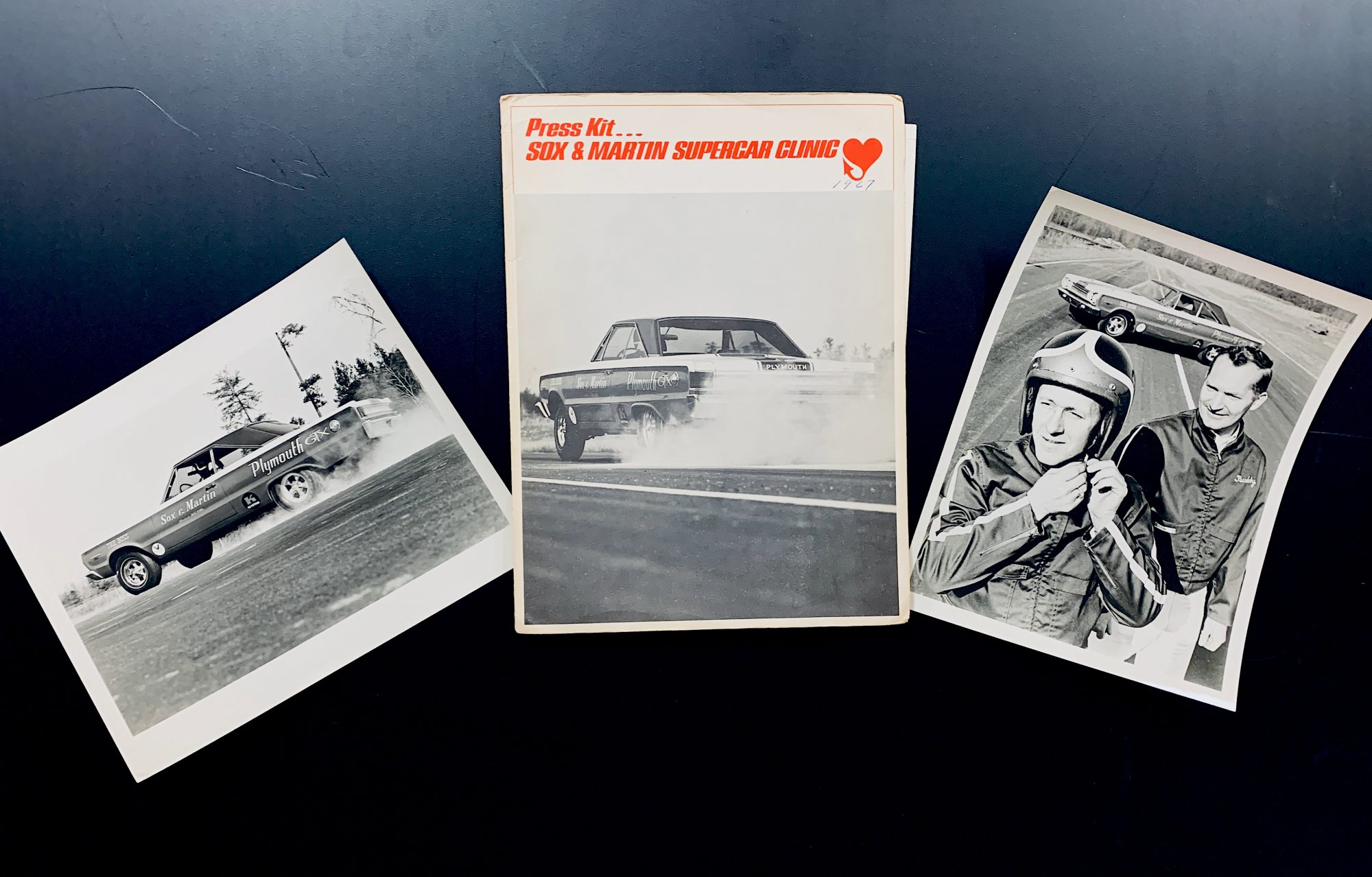 When not on the road, Tom crafted many of the Sox & Martin press releases and press kits. While most race teams barely sent out press or news releases or even results, Tom was hammering away on his typewriter and sending out press kits to news outlets and magazines. He made sure the Sox & Martin cars were on the front cover of every major performance automotive publication including Hot Rod, Super Stock, Car Craft and many more. Tom also made sure the press kit covers had bold and wild colors and releases were well written and to the point. The Sox & Martin press kits also contain numerous action photos so the magazine and newspaper editors could simply drop them into the feature. To say Tom was ahead of his time in regard to applying his PR skills to a racing team would be an understatement.
Tom made sure all the team members, especially Ronnie Sox, were polite and cordial to everyone they met, regardless of if it was a fan, a major sponsor or someone from the media.
Tom also designed the Sox & Martin uniforms in 1970. While many racers wore simple apparel like a T-shirt or pullovers, the Sox & Martin crew stood out on the track and in the pits dressed professionally. These guys were like rock stars in their day and Tom made sure they dressed the part. Each of the crew wore the same type of shirt, pants and sneakers, and always presented a professional appearance when they showed up at a race.
With an intense racing schedule and dealership appearances, the team did have some fun, even if they were acting like teenagers. Tom understood the stresses of racing professionally and knew one had to blow off steam once in a while. With the constant demands of the Sox & Martin team, including running multiple cars and drivers in numerous classes within different drag racing sanctioning bodies, it was not uncommon for the boys to act up when off the track. As Sox & Martin team driver Herb McCandless recalls, "It was around 1970 or 1971 and we were at the NHRA Gatornationals. We had just left the track for the day and piled into Tom's Chrysler station wagon. Bill Abraham, who was the Firestone Racing Rep, decided to mess with us. At a stop light, Bill slowly buried his front bumper of his rental car into the back of Tom's wagon. Then, as Bill starts to do a burnout, Tom plants both feet on the brake pedal. Tom decides two can play at that game and throws his wagon into reverse and punches it. Both cars just sat there at the light, tire smoke pouring out everywhere and engines screaming. I look over and realize we're in front of a church and people come running outside to see what all the commotion was about!" These instances were rare for the team. Tom and the Sox & Martin team were acknowledged by NHRA and other organizations many times for the positive impact they had on the sport of drag racing.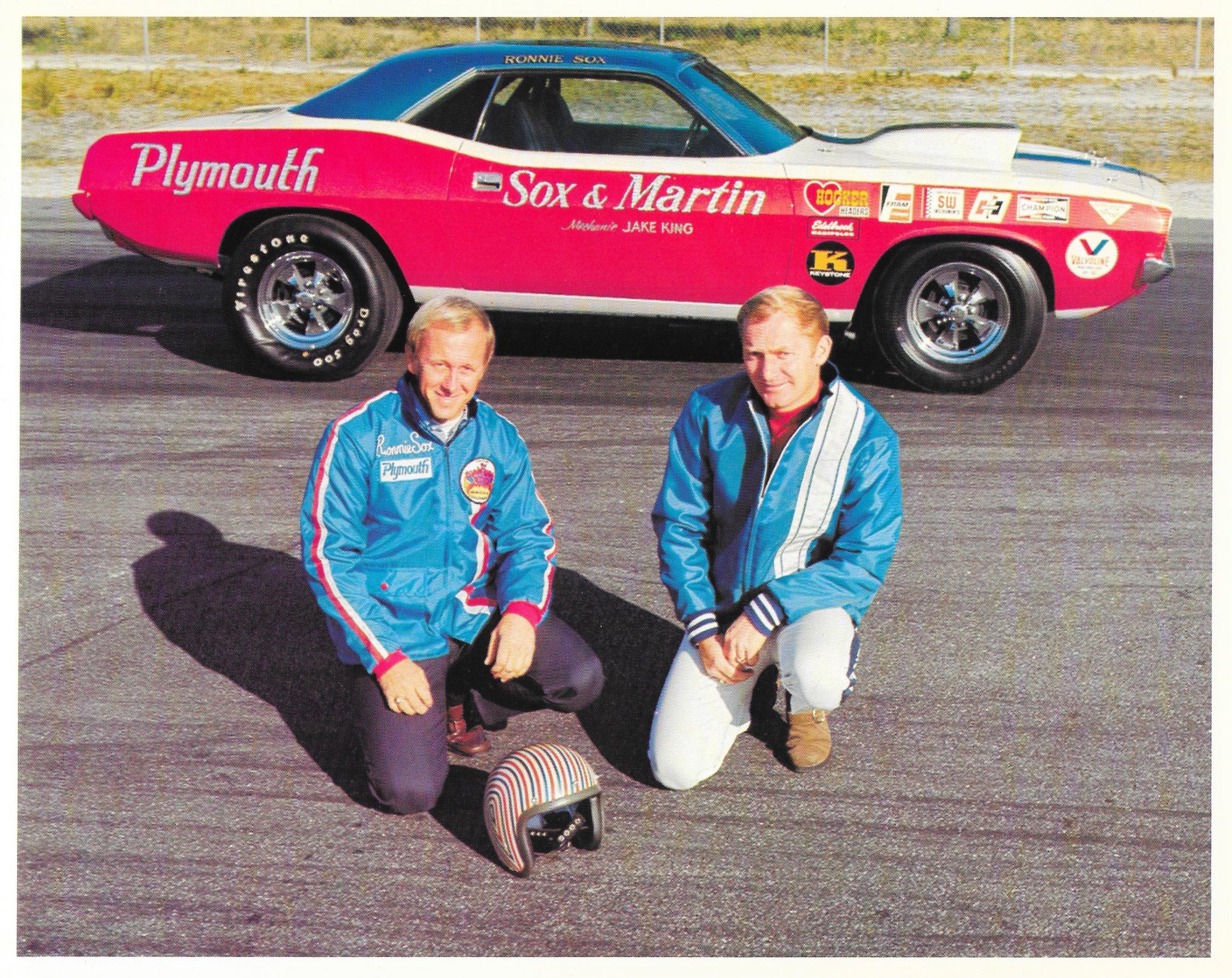 One of the highlights during Tom's time with Sox & Martin came in 1971 when the team was being invited to the White House by President Nixon. The administration was recognizing champions in all forms of motorsports and Ronnie Sox and Buddy Martin represented drag racing. Incidentally, another driver racing for Plymouth that was being acknowledged for his achievements in NASCAR was none other than Richard Petty. "We received an invitation from President Nixon for him to meet the drivers and view the racecars at the White House," said Tom. "It was actually a telegram invite to all of the people and I still have a copy of it." But for Tom's daily duties, he did his thing and had free range to do what he wanted to promote and tell the world about Sox & Martin. Tom has the honor of being the first full-time PR person in drag racing and NASCAR who also traveled with their teams every minute during the racing season.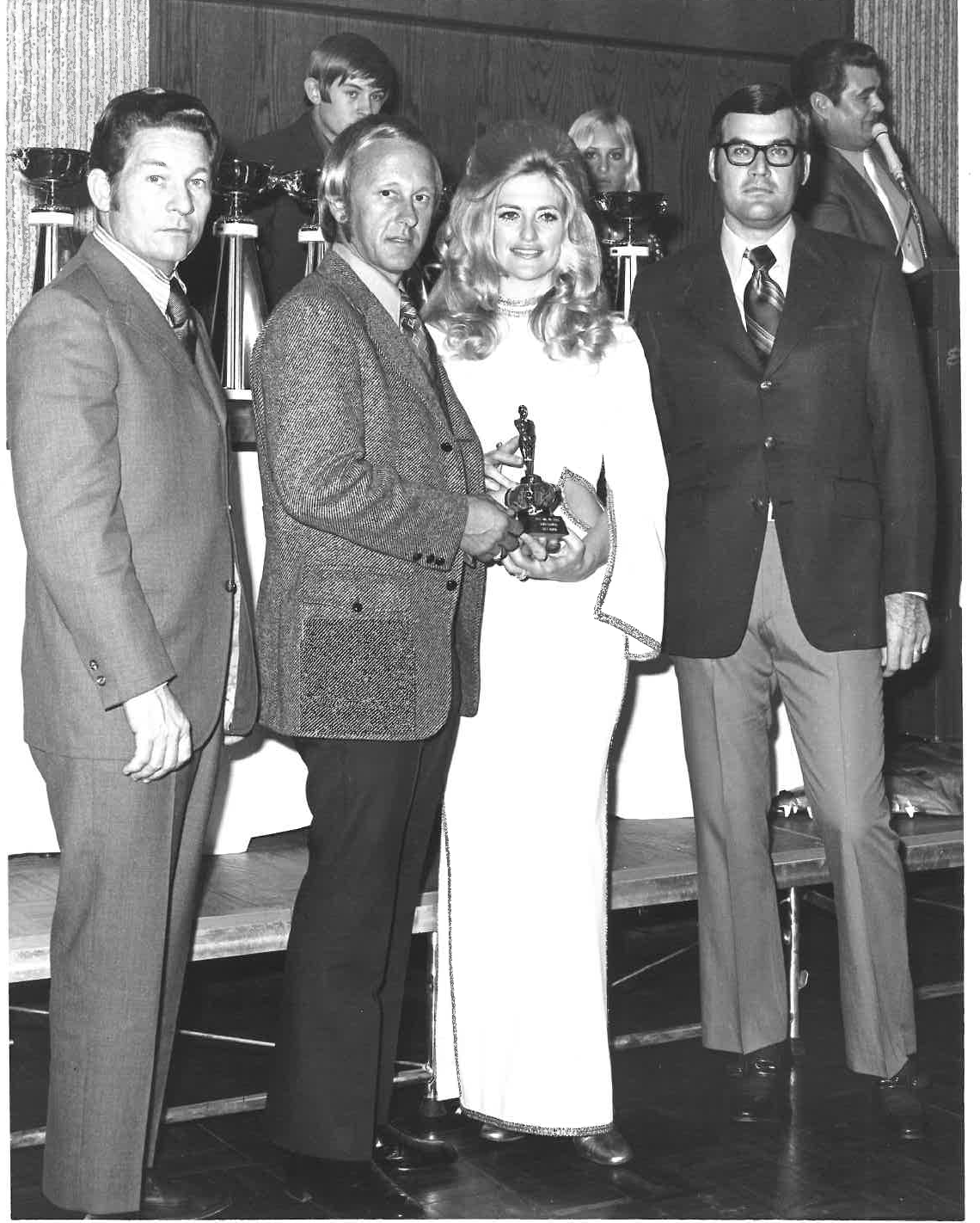 Because of budget cutbacks and the cancellation of the dealership clinic programs, Tom left Sox & Martin at the end of 1971. Being the PR motorsports professional he was, Tom's skills and media contacts were still in demand and soon he was doing PR for NHRA driver Ed "The Ace" McCulloch, who drove a Dodge Demon Funny Car in 1972 and 1973. Tom would also manage media relations for Charlotte Motor Speedway, which was an important role in the early years of Winston's sponsorship of NASCAR. Tom eventually moved back to his home state of Texas and settled down. "I left motorsports behind, returned to Lubbock and went into real estate, like my father had done. I got married to Pat, who was also a realtor and we both started a successful business while in Lubbock, then eventually moved to Austin. But looking back during those years I was with the Sox & Martin team, it was a magical and storybook time for all of us," reminisced Tom.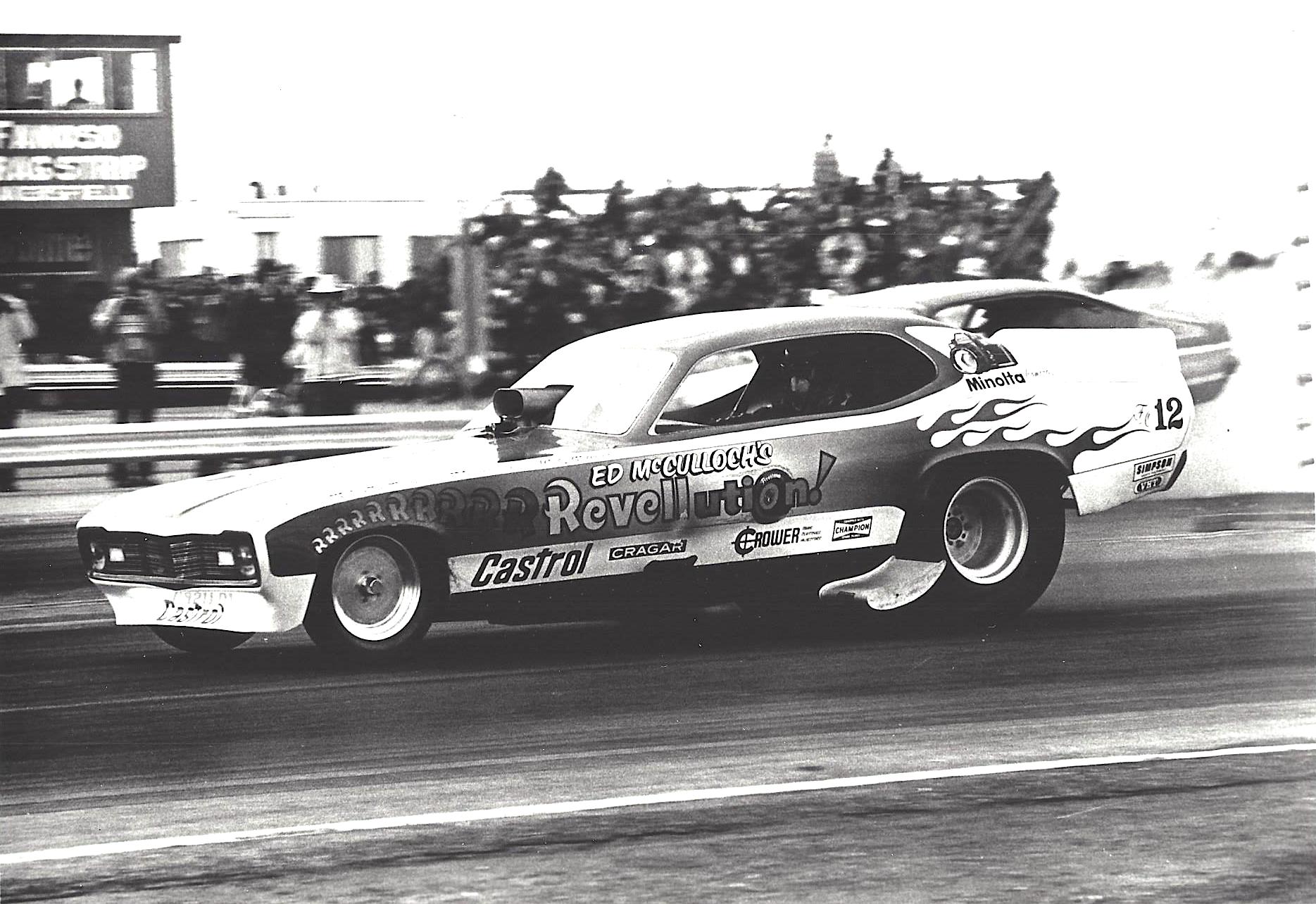 It's hard to say if Tom Richardson was the first dedicated race team PR manager, but he was a trailblazer. Armed only with a typewriter, Rolodex and rotary pay phones, the "earned media," great publicity and immense exposure he was able to secure for Sox & Martin propelled them into a legendary status among the Mopar faithful. Today, virtually all motorsports teams racing in F1, IndyCar, NASCAR, NHRA and other racing organizations have a dedicated staff of PR and social media professionals working on press releases, photography and videos. Their tools of the trade are much more advanced than in Tom's era, but the goals will always remain the same.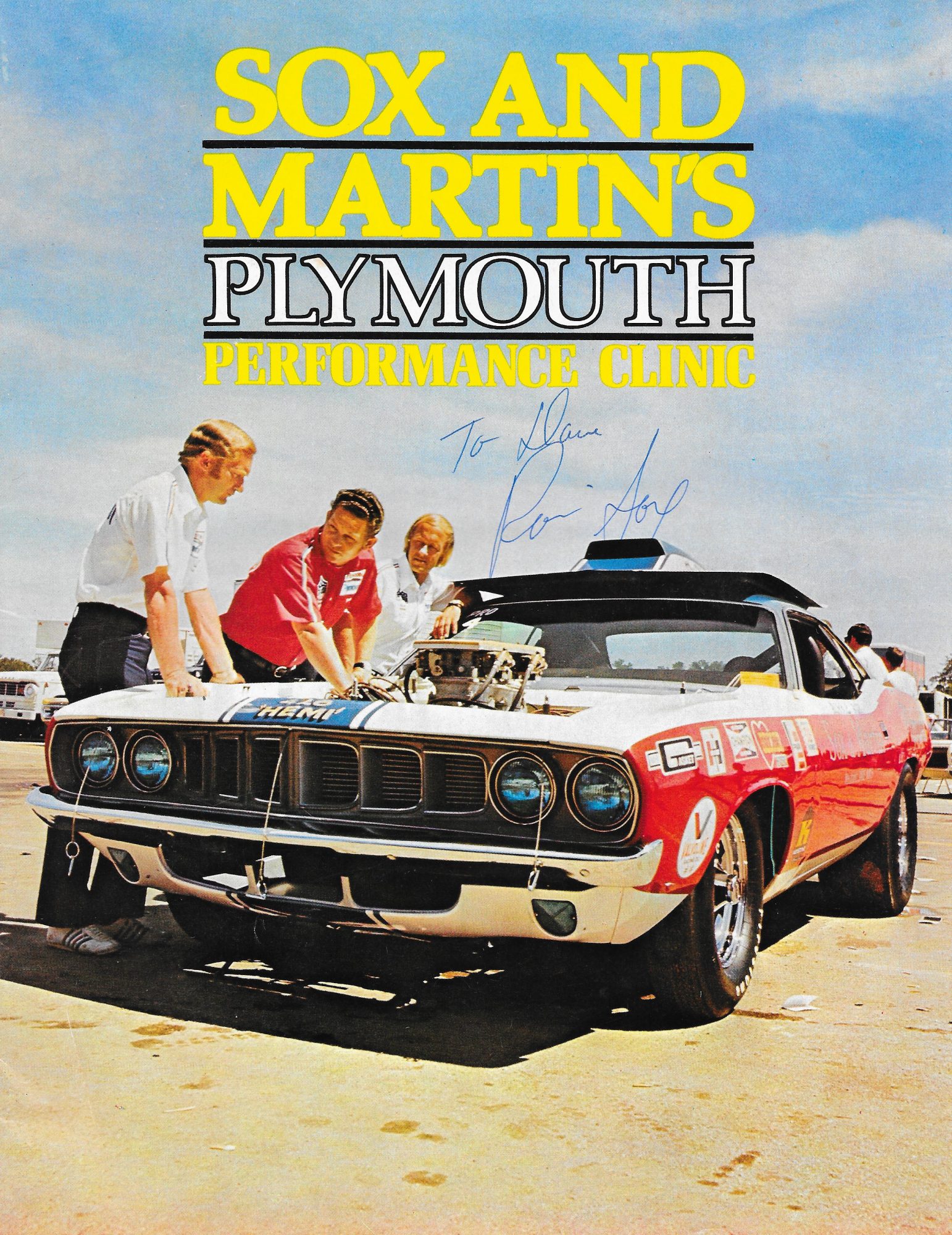 Like any good PR representative, Tom never made himself the center of attention. What's important to remember as you scroll through the following gallery is what's represented here is Tom's work, vision and direction for the iconic Sox & Martin brand.