There are many Mopar® Drag Racing Legends that have left their mark in the NHRA, IHRA and AHRA history books. Many know the exploits and tales of Super Stock and Pro Stock legends like Sox & Martin, Herb McCandless, Dick Landy, Judy Lilly, Don Carlton, Arlen Vanke and many other Mopar drag racers that wheeled HEMI® engine-powered door slammers to numerous victories across the country. Some have left us along this long journey that has spanned over 50 years, but Ed Miller has been a part of the Mopar community ever since he got behind the wheels of a '63 Max Wedge Plymouth and terrorized drag strips across the Northeast. While his name might not be as recognizable as the other Mopar icons we've mentioned, Ed Miller has the honor of being Mopar's first Super Stock Superstar during drag racing's golden era and he did it with a 1965 A990 Plymouth Belvedere I HEMI Package Car.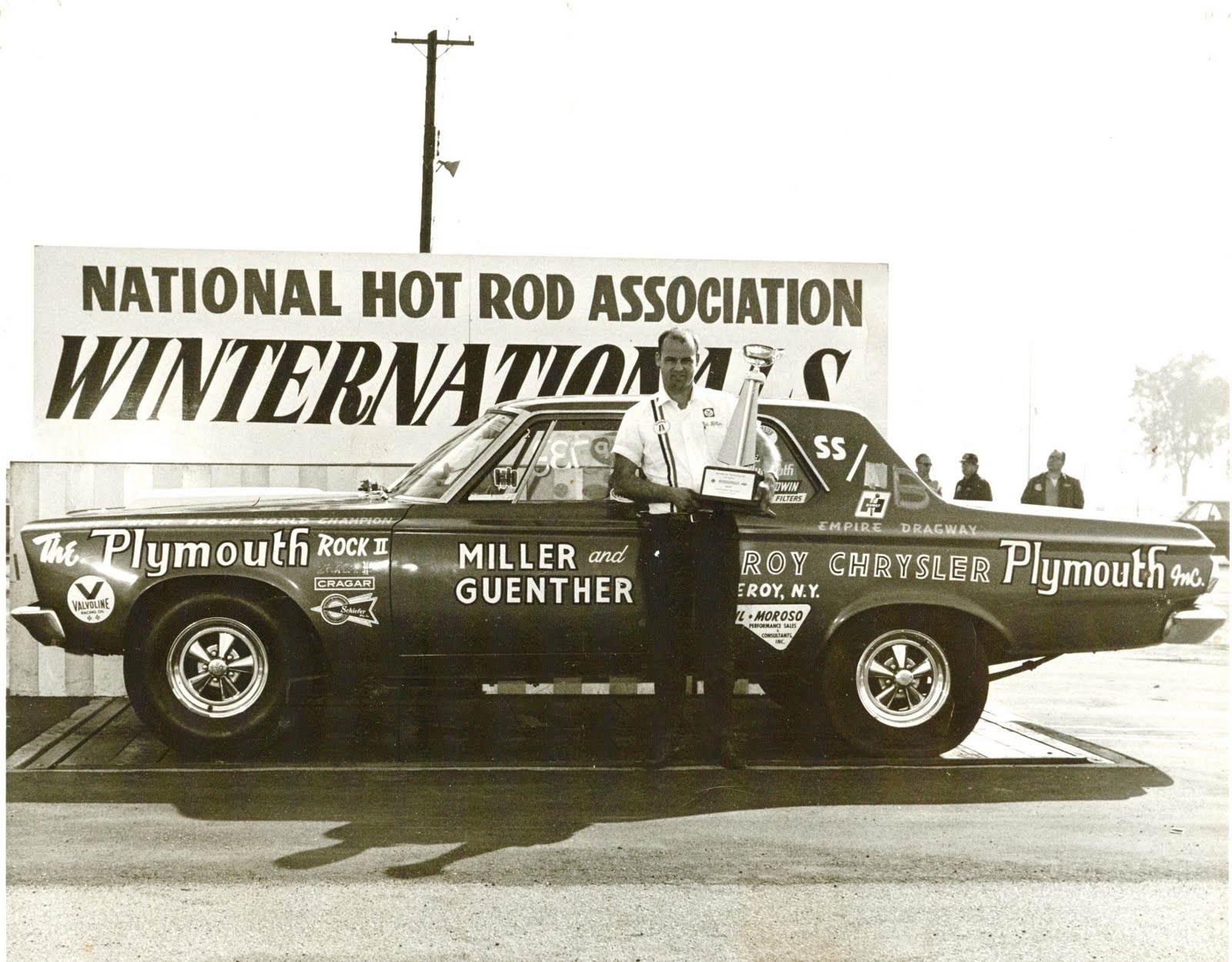 To appreciate Ed's accomplishments, we need to go way back to 1967. A year that saw some social and cultural changes, in styles, fashion, movies and music. But a young racer from Rochester, New York, Ed was just a regular T-shirt and jeans working class guy that by day was a bricklayer. During the evening hours, he and his partner, Kip Guenther, worked on fine-tuning the powerful two-year-old 1965 Plymouth Super Stock A990 HEMI Belvedere I. With a Cross Ram-equipped 426 Race HEMI engine under the scooped hood, lightened body components, and a spartan interior devoid of a radio, heater, backseat and other creature comforts, Ed's Plymouth was already a stout piece when it rolled off Chrysler's Lynch Road assembly line in Detroit. The fact Ed's powerful Plymouth was a four-speed-equipped car meant Ed and Kip would need to focus and improve the car's suspension, clutch and transmission. Due to the primitive tire technology and less than sticky starting line track surfaces, this car would be a handful to launch and get down the strip.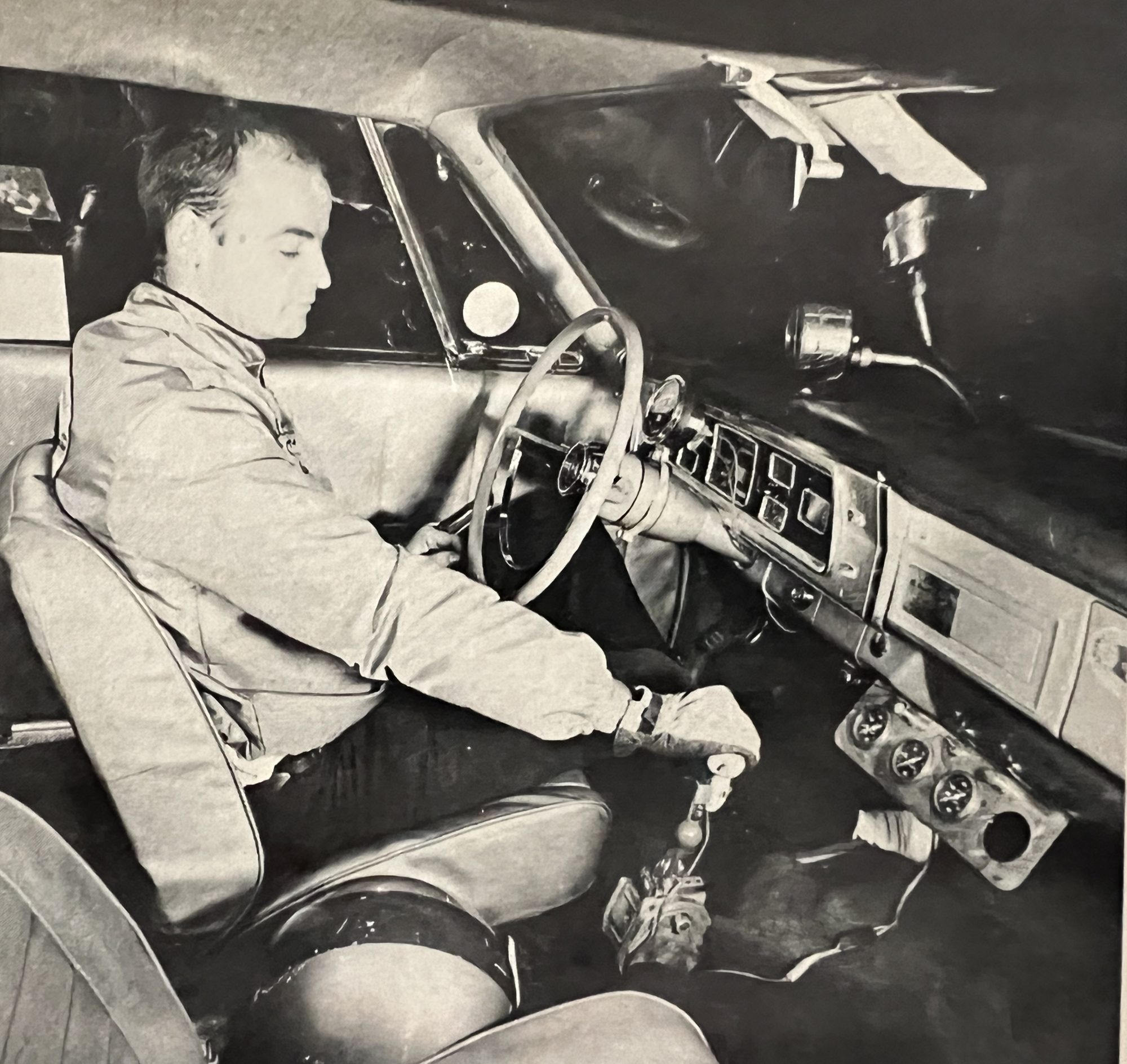 Ed even replaced the factory shifter with the latest from Hurst to ensure he'd hit all the gears powershifting down the strip. Soon, Ed figured out how to launch the HEMI Belvedere, fittingly named "The Plymouth Rock II", since his '63 Max Wedge Fury was "The Plymouth Rock I". With Kip turning the wrenches and Ed driving his heart out, the two set off together chasing points with hopes of winning the 1967 NHRA Super Stock World Championship. "We set the Super Stock record several times and even won the NHRA WCS (World Champion Series) to beat out Jenkins at the last NHRA Northeast Division Points Race to win the division. We did by a mere 100 points and by one round of competition over Jenkins," said Ed. When Ed and Kip rolled into Tulsa for the 1967 NHRA World Finals, there were many fast cars that they had to get past to win all the money and the glory.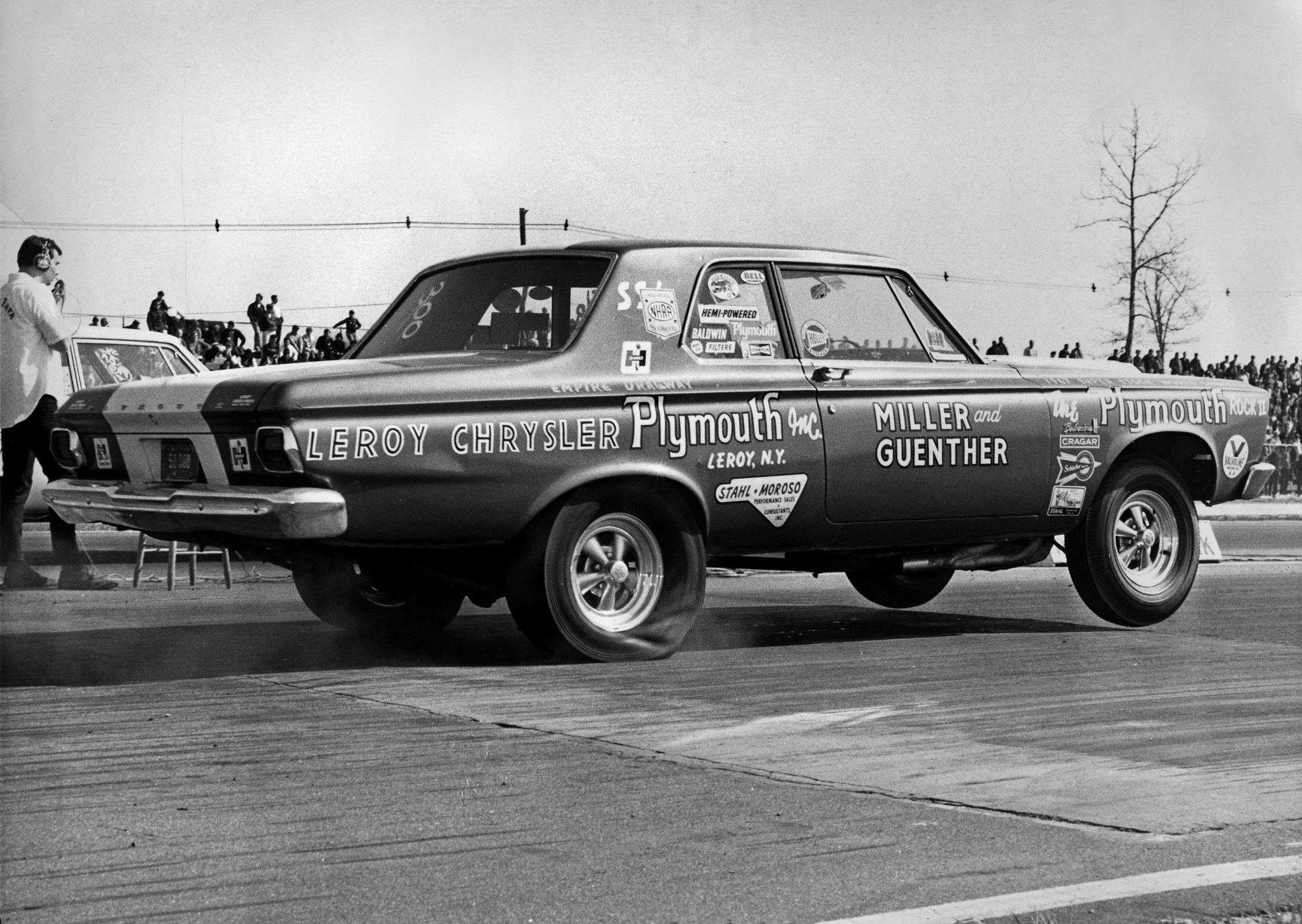 With all the heavy-hitters in Super Stock descending on Tulsa for the NHRA Finals, Ed knew the competition would be tough. His old adversaries would be in attendance ready to take a swipe at his HEMI engine-powered Plymouth. But Ed was no slouch with a four-speed and with starting line reflexes, he and his partner Kip had the dual quad Race HEMI engine running strong. Sunday's eliminations would not be without drama for Ed and Kip. On an early morning checkout pass, the HEMI engine-powered vehicle lost oil pressure and Ed nursed his car back to the pits. He and Kip quickly diagnosed the problem, which ended up being a broken rocker arm which, in turn, caused a lifter to jettison out of its bore in the block. With the Tulsa weather forecast calling for severe thunderstorms and high winds rolling by the afternoon, NHRA decided to run the Top Fuel and Funny Car classes first. That decision bought more time to check and recheck his car from bumper to bumper before the first round of eliminations.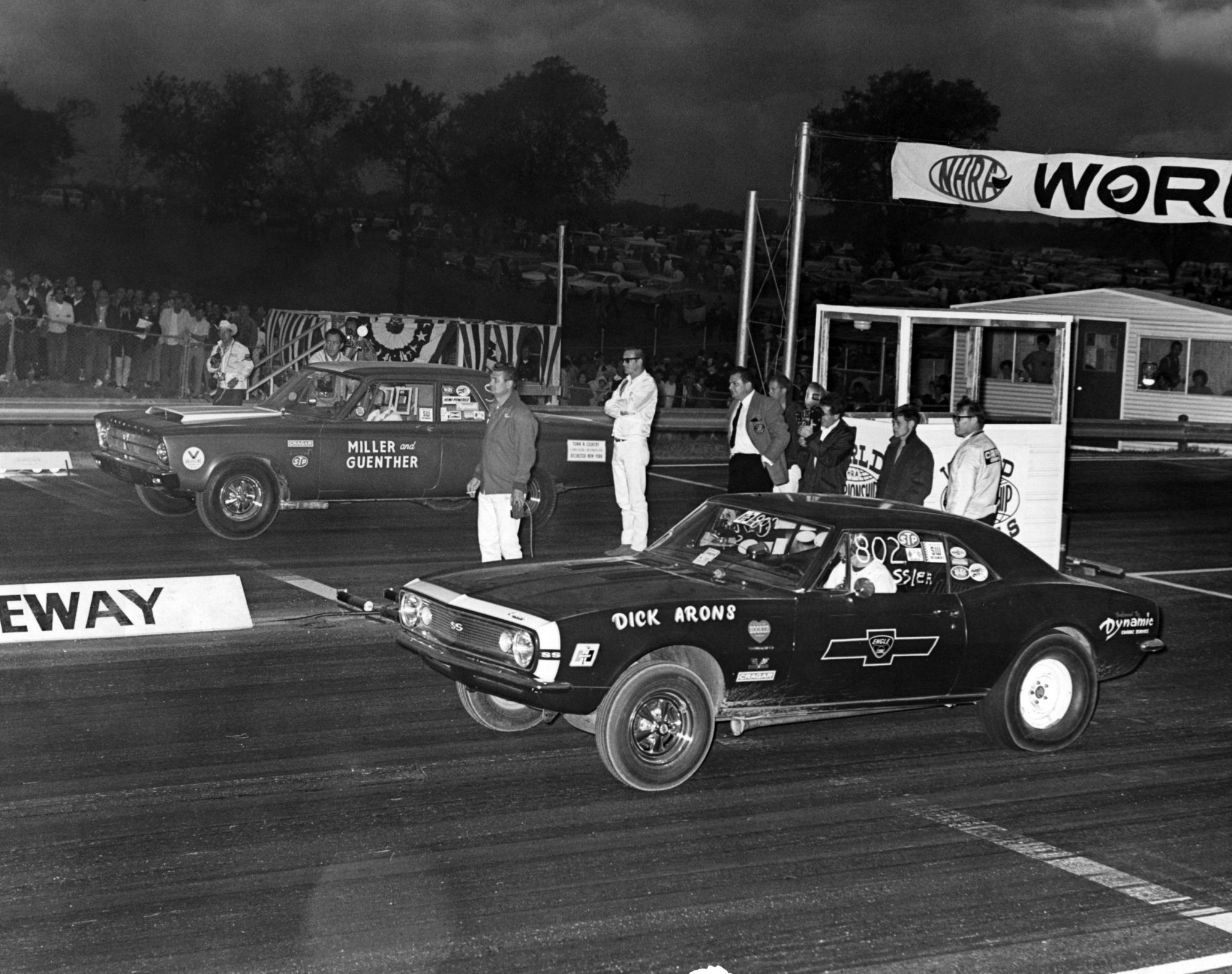 Ed's march to victory at Tulsa began with beating fellow HEMI engine-powered Plymouth Pilot Don Grotheer in his brand-new 1967 "RO" Belvedere II Street HEMI Package Car in round one. Ed's next opponent would be Larry Cooper in a similar but automatic-equipped 1965 Plymouth A990 HEMI Super Stocker. In the next round, Ed would face his Chevy nemesis Bill Jenkins' SS/C 396 big-block Camaro. Jenkins had the handicap start based on his index and left too early and red-lighted to Miller.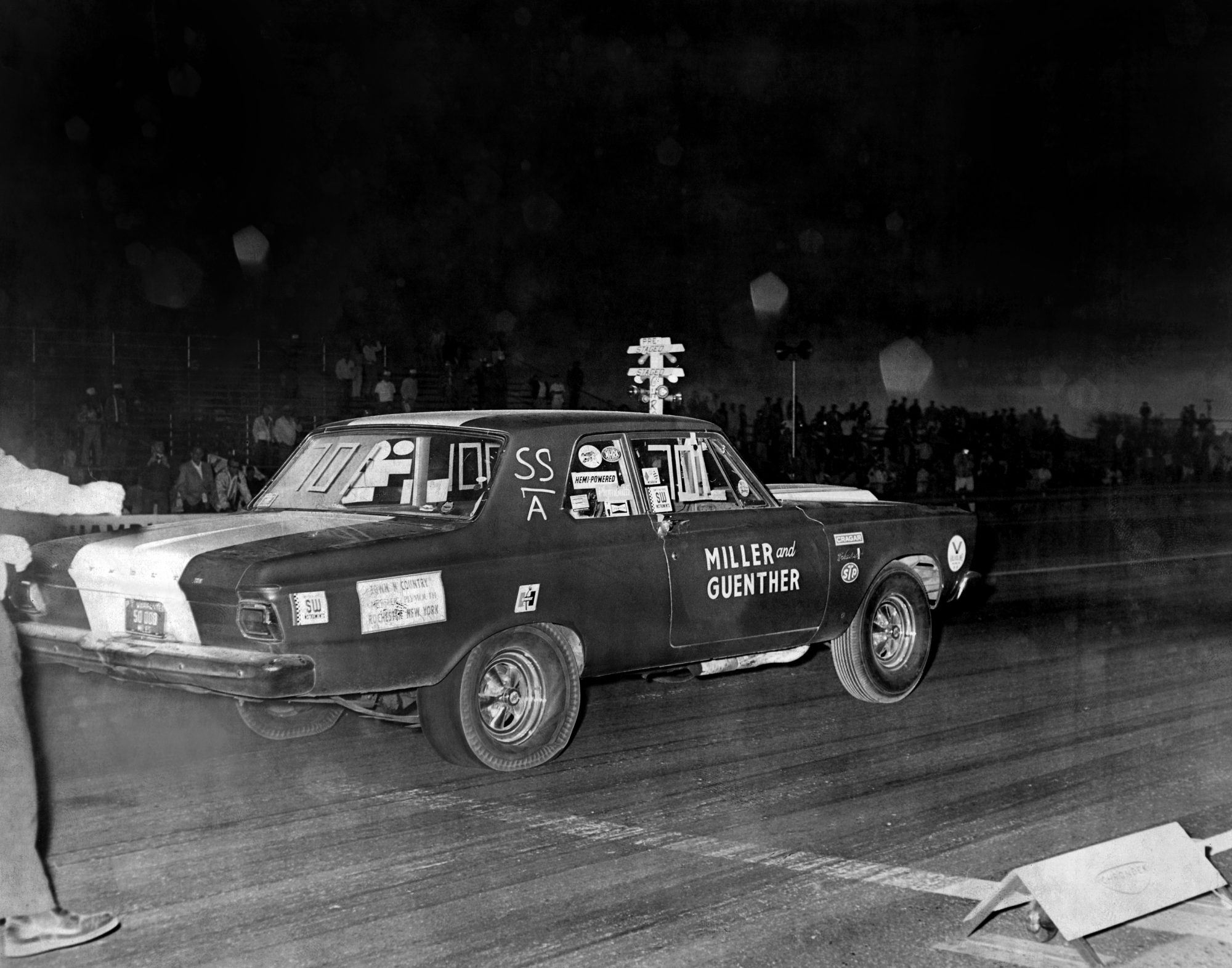 This set up a final round match-up with Detroit native Dick Arons' 396 Camaro to Ed's hard-charging Plymouth. With Arons' Chevy running in SS/EA and Ed's Plymouth in SS/A, the Camaro would get the handicap start. As the two cars rolled into the staging beams, ominous storm clouds rolled across the Oklahoma skies, and it became dark and eerie. The Camaro left first with Ed's HEMI engine-powered Plymouth in hot pursuit. As Ed recalls, "I was in high gear getting ready to go around Arons for the win, and there were raindrops on my windshield. The car wanted to skate around a little bit as the track was wet, but I kept it straight and won the championship!"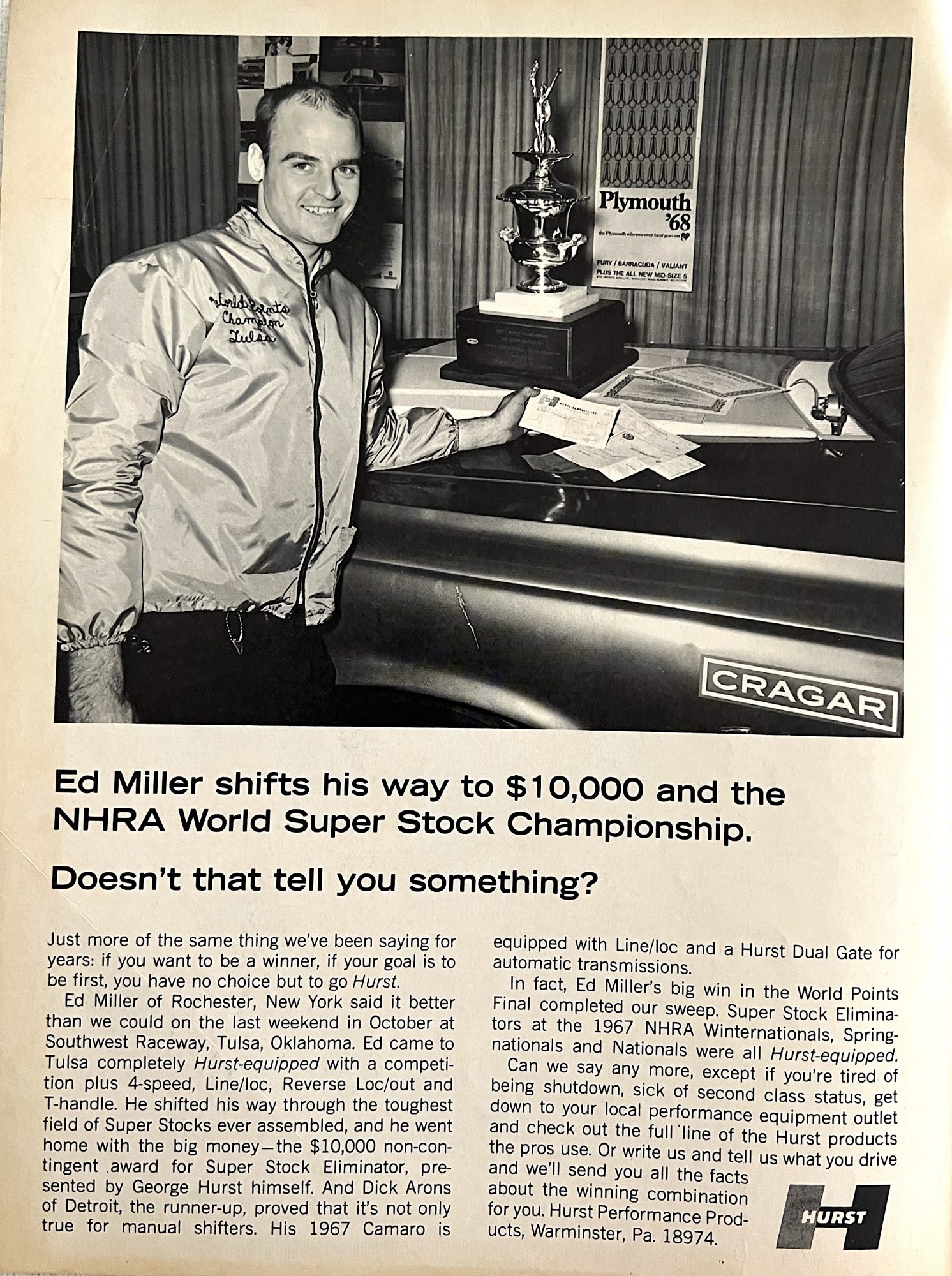 For Ed's hard work and awesome driving skills, the fruits of his labor paid off. "We won over $10,000 in cash money from Hurst by winning the NHRA Super Stock Championship, that was a lot of money in 1967. We also won about $3,000 worth of tools from Bonney, they were a big tool company back then. Between the cash and the prizes, it was a relief. With all the traveling we did that year, we had not won much money until we secured the champion at Tulsa," said Ed.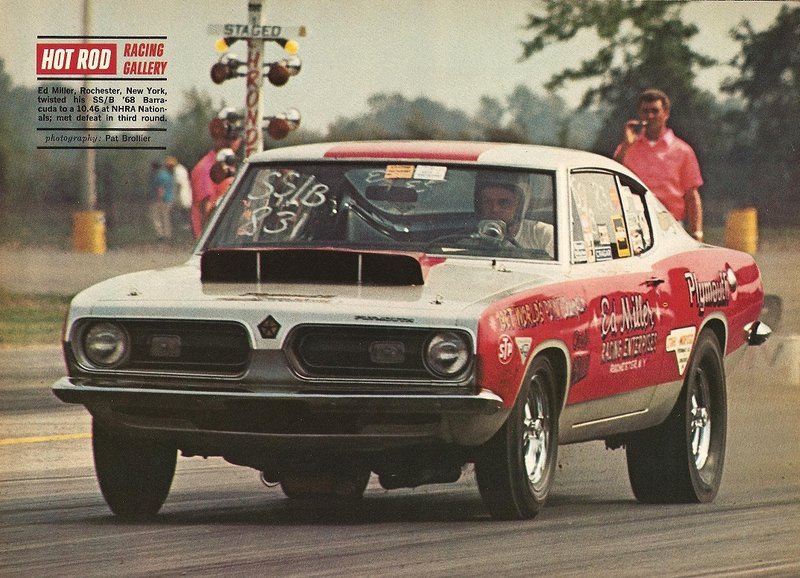 After Ed claimed the 1967 NHRA Super Stock Championship, his racing career took off even higher. With the introduction of the all-new Super Stock HEMI engine-powered Barracudas and Darts for 1968, Ed's sponsorship with Plymouth got sweeter and he was able to get one of the new cars and even a parts deal through Chrysler's drag racing bosses Bob Cahill and Dick Maxwell. However, Ed did have to work his sponsorship deal outside of the drag strip. Ed was part of the Plymouth Supercar Clinic program and did seminars and dealership appearances in the Northeast. He also had his new HEMI engine-powered Barracuda on display at various new car shows in his region, provided it didn't interfere with his race schedule.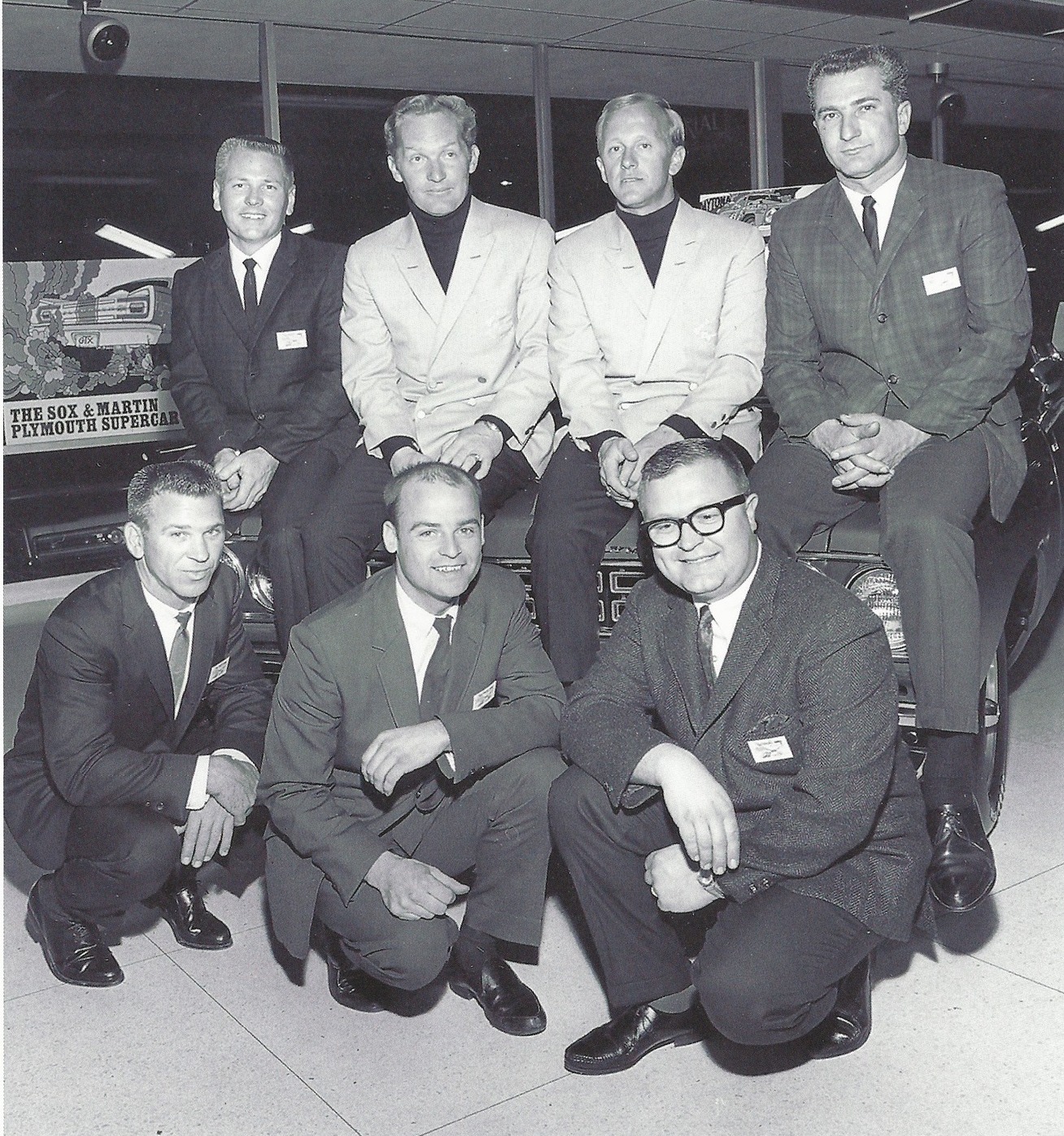 As the 1960s morphed into the '70s, NHRA's new Pro Stock class was born, and Ed was all in. The first few racers had him racing his updated 1968 HEMI engine-powered Barracuda until his new Duster was completed later in 1970. "I had been running the AHRA heads-up Ultra Stock East Coast Circuit in 1969 with my Barracuda, so I was pretty well set up for NHRA Pro Stock in 1970. Because of the more liberal rules, our Pro Stock HEMI engine was making more power but meant more engine problems. I stopped racing Pro Stock after 1971. With the 1972 NHRA weight-break rules handicapping the HEMI in Pro Stock, and them (NHRA) allowing the Lenco trans in Pro Stock, the costs of going racing just soared," noted Ed.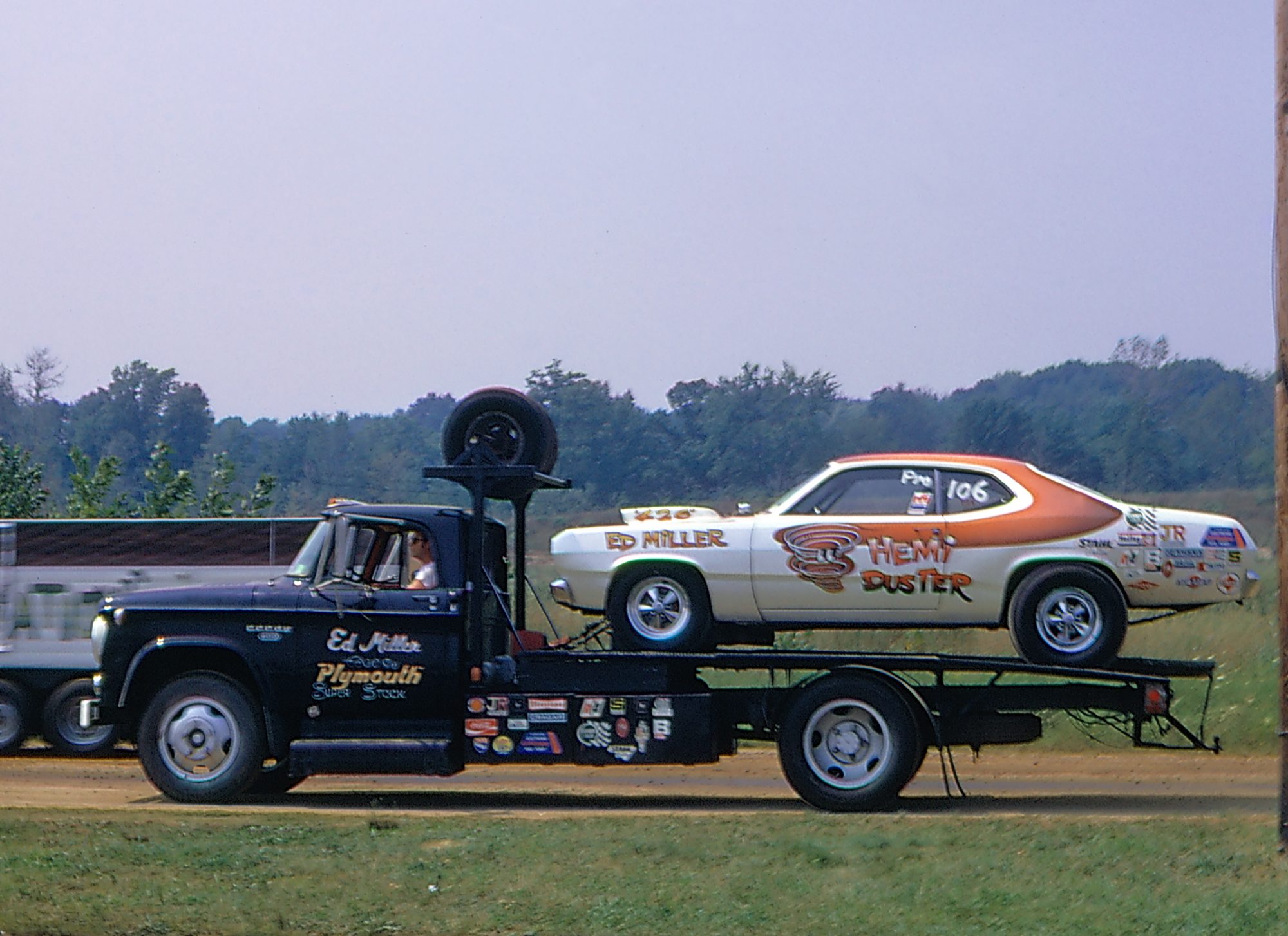 Despite walking away from NHRA after 1971, Ed didn't give up drag racing altogether. It was his passion and even part of his livelihood. "I raced a HEMI Charger in IHRA (International Hot Rod Association) in 1974, then built a 1968 HEMI Barracuda for Super Stock-A in which '68 Cuda I set the NHRA records in 1975 through about 1977. Eventually, I began bracket racing in the Super Gas class. In 1982, I built a Plymouth Horizon for Super Gas before installing HEMI and Lenco trans and moved up to Super Comp. It would become the best handling, most fun car I ever had. After I stopped drag racing altogether in the late 1980s, I did a lot of Mopar shows and swap meets and sold part," said Ed.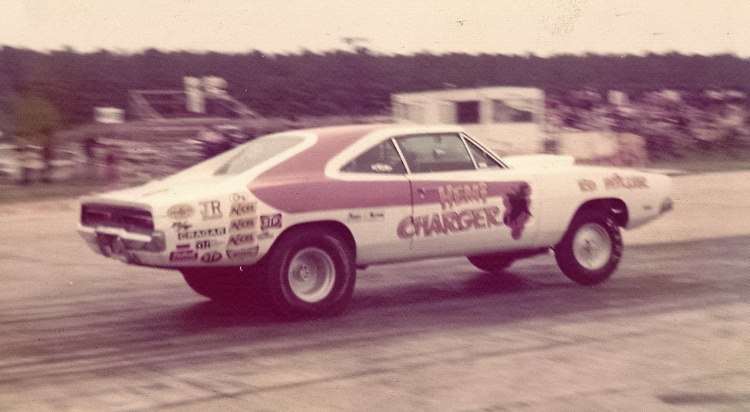 Ed Miller is one of the few remaining Mopar drivers from drag racing's golden era when the manufacturers were all in when it came to the Super Stock wars. While many of his opponents had full-time mechanics and crew members, Ed credits his wife, Sharron, for helping him throughout his racing career. Today, Ed still watches NHRA Drag Racing on TV and keeps up on how the 1968 Super Stock HEMI Barracudas and Darts have advanced in the NHRA SS/AH class. Ed even follows the Dodge Super Stock HEMI Challenge and is friends with many of the competitors. In looking back at Ed's illustrious racing profession, he had this to say, "I had a lot of fun traveled a lot and met some great people. It really was the best time to be a Drag racer!"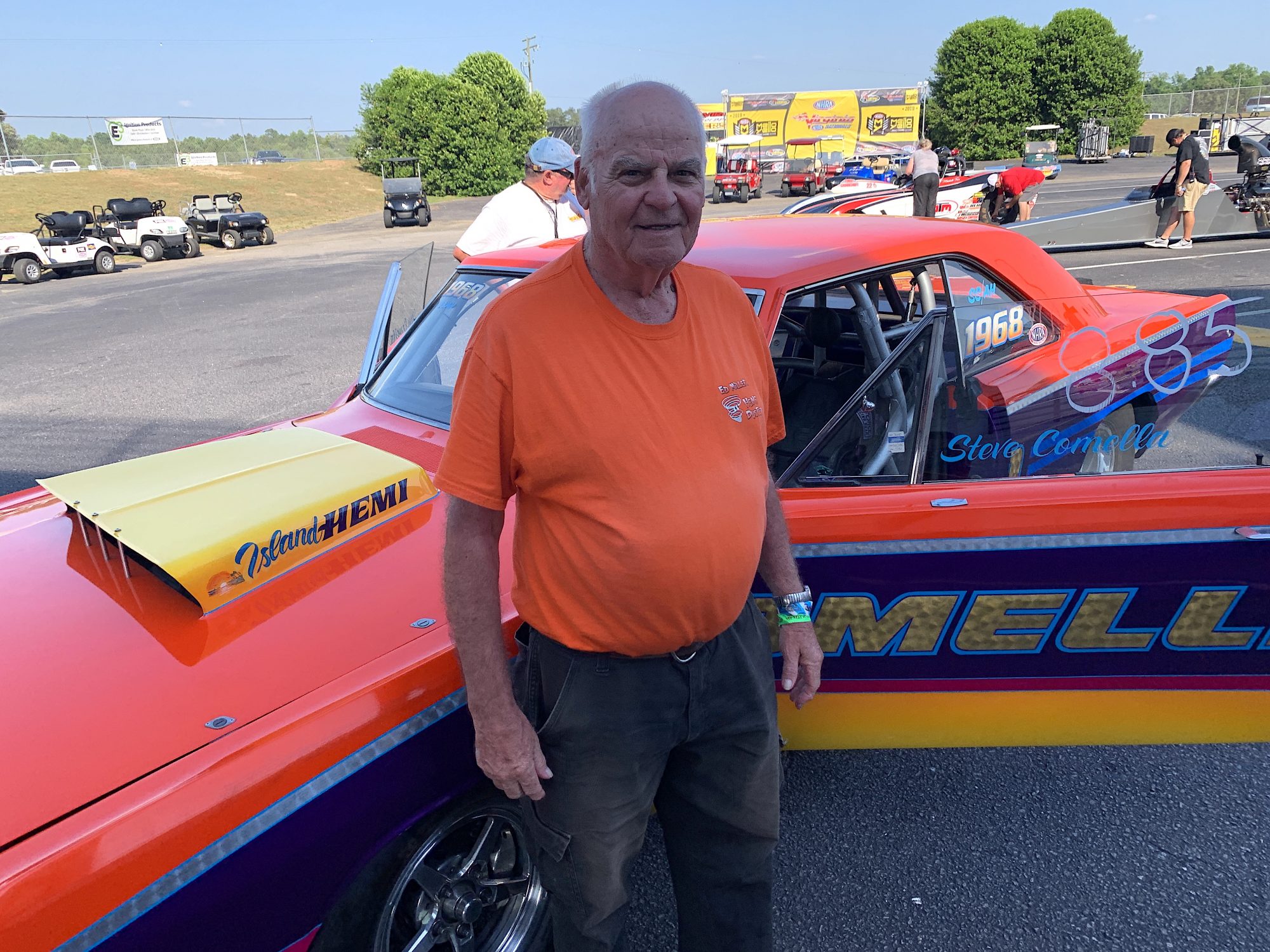 Here's a glimpse back at Ed Miller's distinguished racing career!