Kevin Helmick's Dodge Challenger SRT® Hellcat racecar, wittingly called GRMPYCAT, is arguably one of the most recognizable SRT Hellcats on the track. This heavily modified factory SRT Hellcat was the first to break into the 6-second quarter-mile time and it wears a livery that makes the car unmistakable. In its previous configuration, GRMPYCAT set the world record for the quickest and fastest 8th mile pass by a VIN SRT Hellcat car on two separate passes, setting the elapsed time record with a 4.361 while the 8th mile speed record was set at 168 miles per hour.
That previous configuration included a cast iron engine block, and that setup may have allowed Helmick to reclaim the quarter-mile SRT Hellcat record, but for the 2023 racing season, Helmick and his team installed a solid billet engine block.
GRMPYCAT's New Heart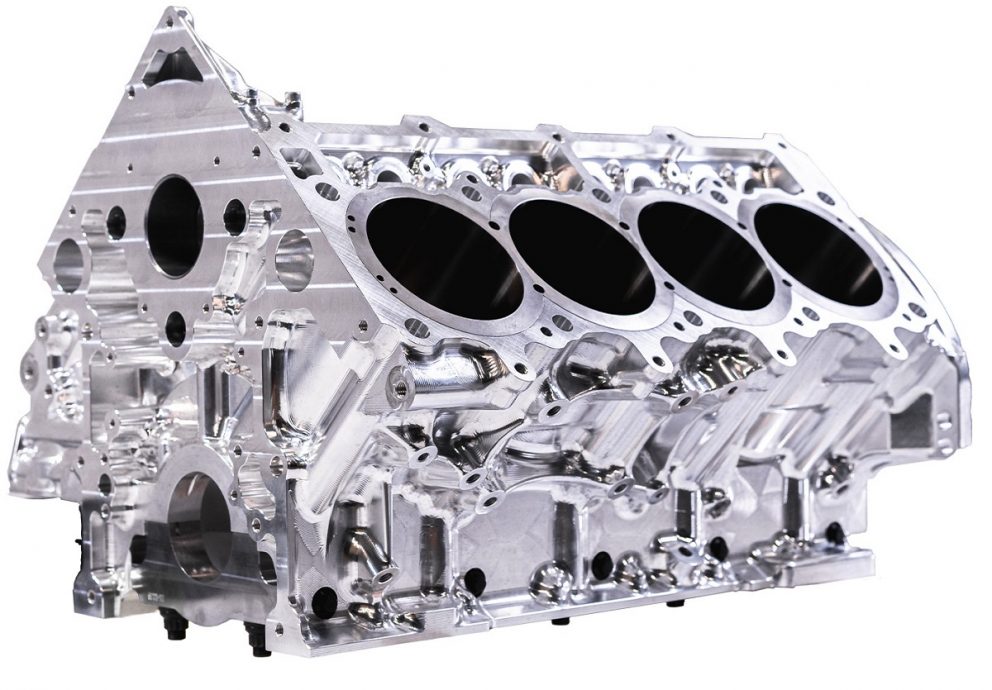 The new heart in Helmick's GRMPYCAT Dodge Challenger SRT Hellcat features a new solid billet aluminum HEMI® engine block that was designed by Demon Performance and milled by Noonan Race Engineering. This engine block currently measures 440 cubic inches – up from the 426-cubic-inch cast iron block – but Helmick could increase the displacement of the new billet block up to 468 cubic inches, so there is room to grow in the future. More importantly, in addition to weighing about 100 pounds less than the iron block, this billet block is about 35% stronger, so it can take more boost and make more power.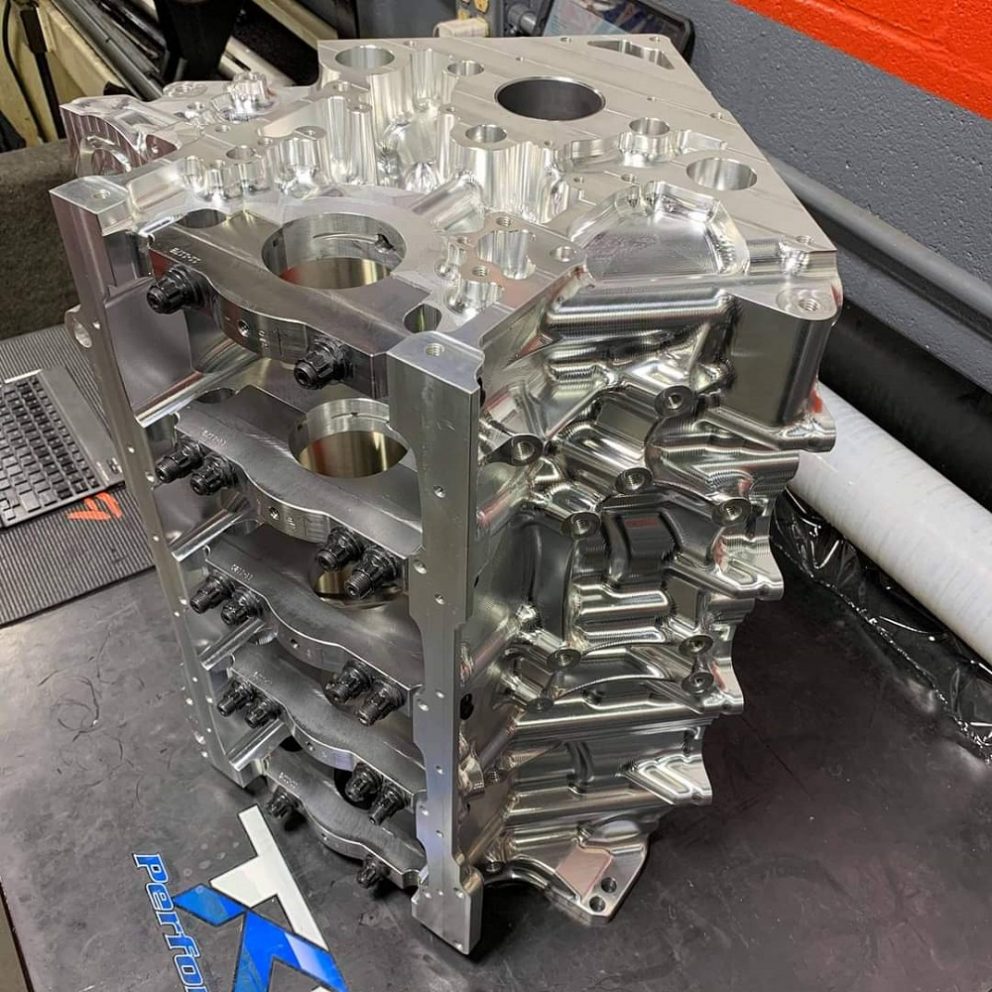 This is the first Gen III HEMI engine to showcase the solid all-aluminum construction, so this isn't just the only Dodge SRT Hellcat car to feature a solid billet block – is the only car of any kind to feature a solid billet Gen III HEMI engine block. Helmick explained that two other examples of this block exist, he owns one and Skip Patel of Demon Performance owns the other one. For those wondering – and we know that people are wondering – this solid billet HEMI engine block costs $14,000, and that just includes the block itself.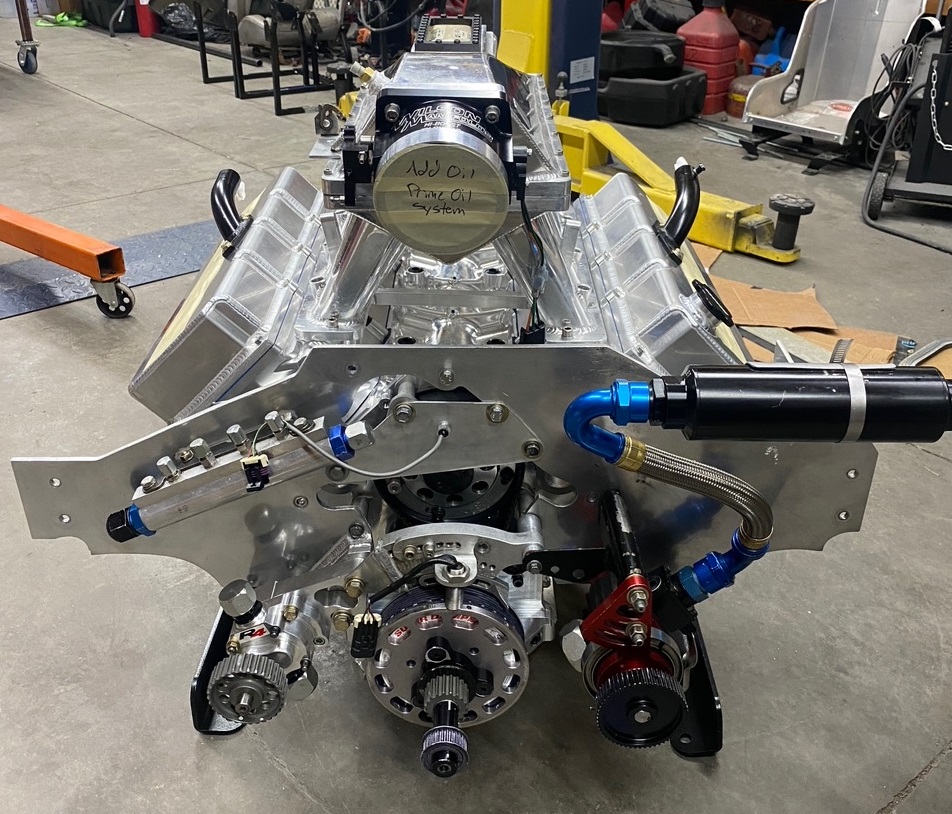 This new engine block is topped with a set of Thitek cylinder heads with scavenge ports added for oil return with the Daley's dry sump system. These heads are fitted with Jesel rocker arms and Manton pushrods while a FIS Jose 114 billet turbocharger provides the boost. Of course, the team at Demon Performance provided the engine, as they have for many of the quickest SRT Hellcat cars in the world, but Helmick explains that it was machined, spec'd and built by TKM Performance, assembled by Sammy Tompkins and tuned by Kevin Mullins.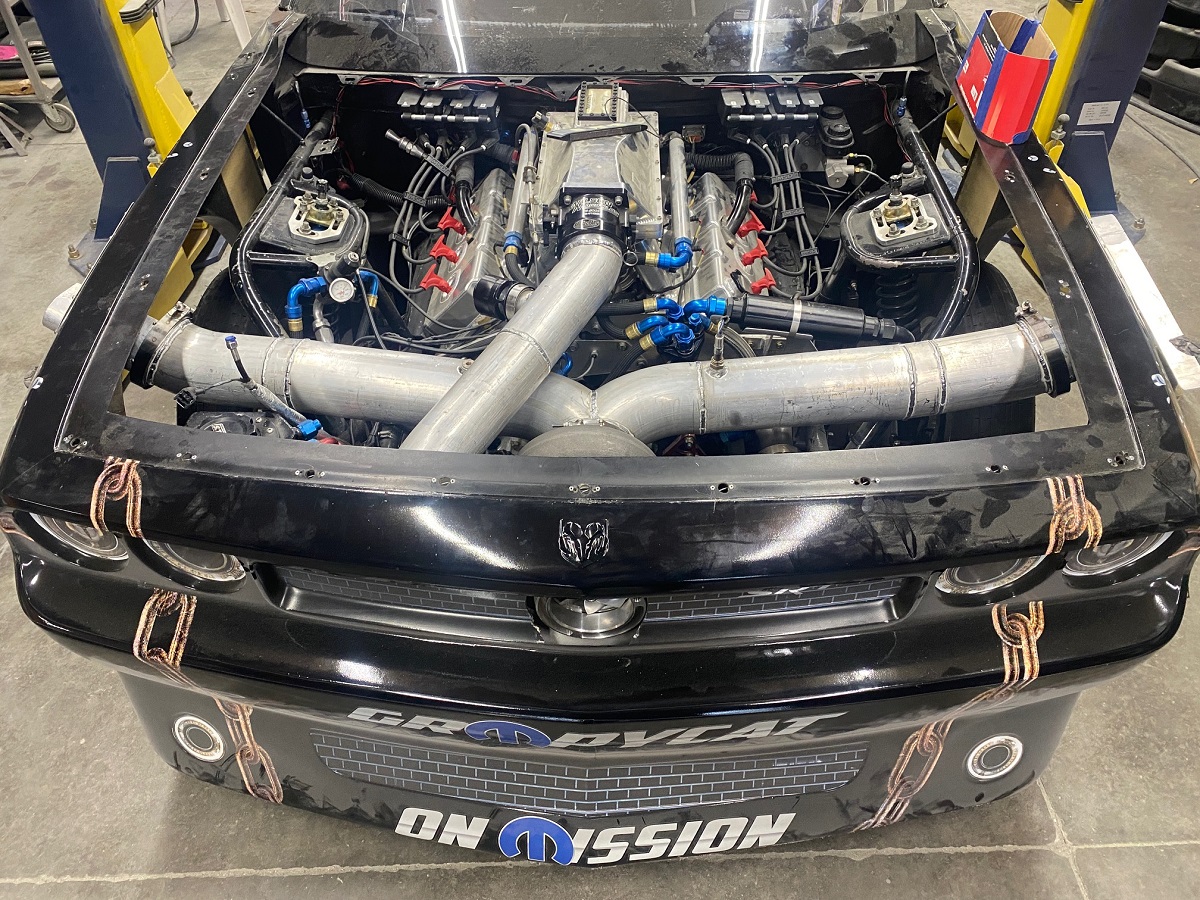 At roughly 21 pounds of boost pressure, Helmick's Dodge Challenger made over 3,000 horsepower at the rear wheels with help from an ATI Turbo 400 max effort build and a Strange Ultra Fab rear differential with 4.10 gears for 8th mile action (or 3.70 gears when he is racing on a quarter-mile track). You can watch GRMPYCAT stretch its legs on the dyno in the video on Kevin's personal page.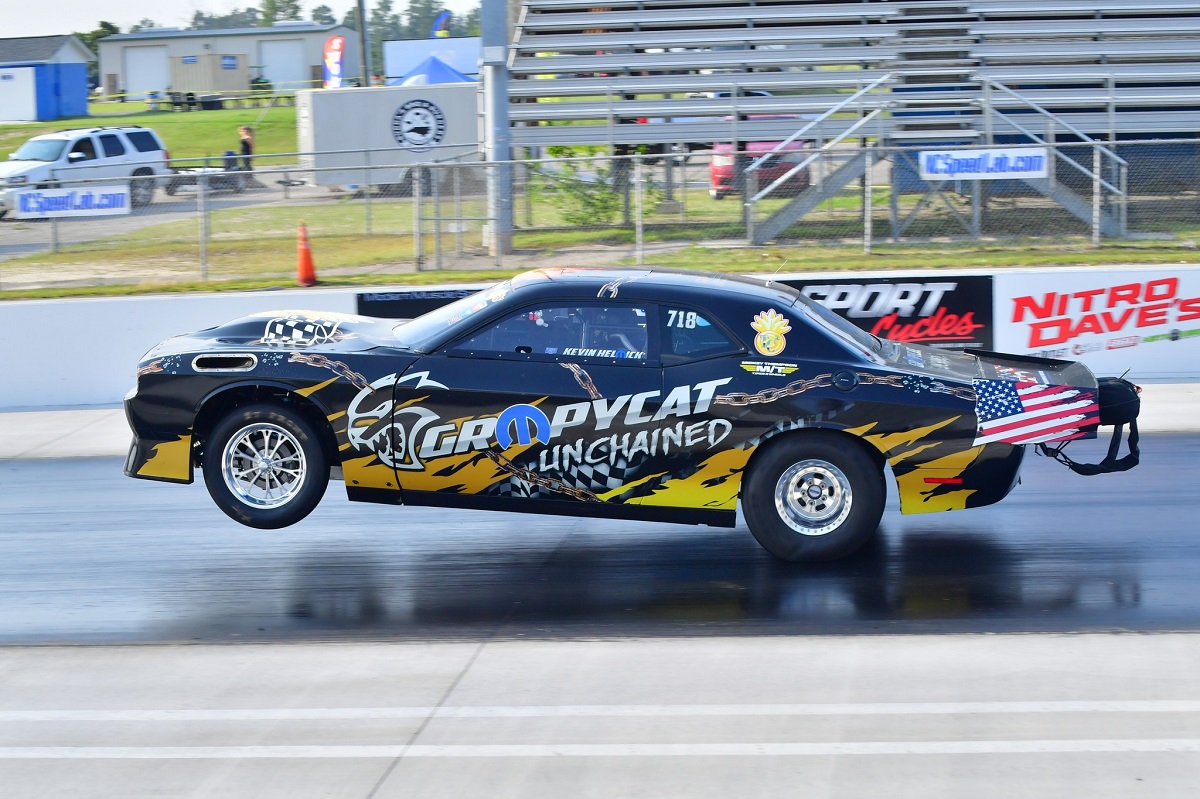 With this new setup, Kevin Helmick and GRMPYCAT have claimed several big event wins, including the Modern Street HEMI Shootout Outlaw class at the series' Rockingham event earlier this year and the Civil Wars event, also at Rockingham. However, as we get into the cooler fall air, Helmick has his sights set on the current SRT Hellcat quarter-mile world record of 6.96. Helmick's best quarter-mile to date is a 6.99 with the old cast iron engine, but having removed weight and added power, is seems very likely that he could shave a few hundredths of a second once we get away from the heat and humidity of the summer.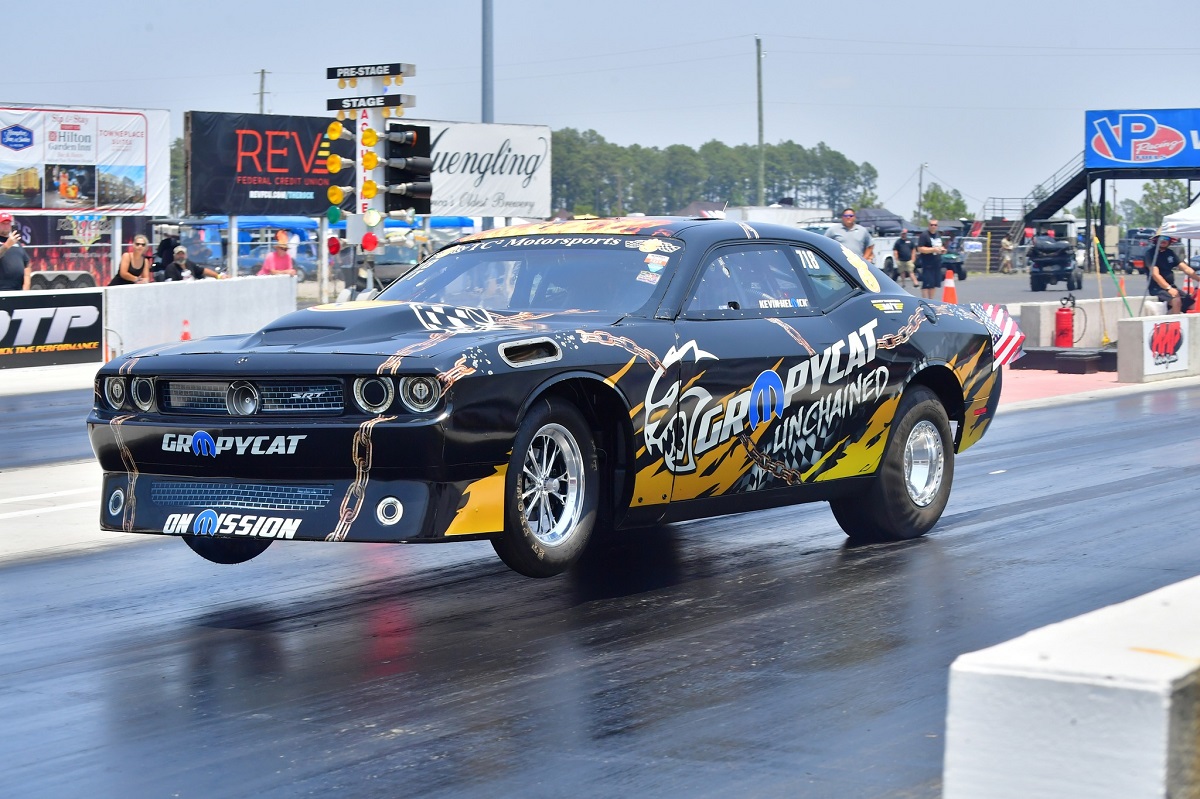 In the meantime, you can follow along with Kevin Helmick's racing action on his TC2 Motorsports Facebook page, which includes tons of pictures and videos of his record-setting Dodge Challenger SRT Hellcat.