— The Dodge Neon SRT-4 was a true performance car
— The "Tuner Crowd" embraced the car with enthusiasm
— Impressive on the drag strip, especially in modified form
SRT-4 Neon. It all started at the 1998 SEMA Show (Specialty Equipment Market Association) in Las Vegas, Nevada, when Tom Gale, then VP of Chrysler Product Development and Design, saw all the interest and excitement revolving around the "sport compact" cars at this industry event. They were the hottest segment of the scene at the time, and he wanted to get something going with a Dodge brand vehicle to be part of the fun, and to sell vehicles. Being the design chief of the original Dodge Viper concept vehicle, Gale knew all about how to create something for the performance crowd, although in the case of a Neon, it would be with a four-cylinder powerplant rather than a V-10!
By the time the 1999 running of SEMA came around, a group of young, enthusiast Dodge and Chrysler engineers had come up with a one-off "Neon SRT" concept for display to the annual aftermarket performance industry gathering. That first car featured a 2.0L 16-valve 4-cylinder engine, fitted with a 45-cid Eaton supercharger worth 208 horsepower at 11 psi of boost. It was a start. It took three more versions of the car to get it even considered for production, and that's when the company's SVE team (Specialty Vehicle Engineering) took on the responsibility to get the front office's green light to produce a production version for this fast-growing youth market segment.
In 2003, the "Dodge Neon SRT-4" went on sale to the public. SRT stood for "Street and Racing Technology" and by this time the SVE had been regrouped as the PVO Group (Performance Vehicle Operations). Gone was the supercharger, replaced with an intercooler-equipped turbocharger system that developed 215 hp. Now with 16 valves, this DOHC engine displaced 2.4L in size and was more potent! It had an impressive 0-60 mph time of 5.3 seconds and could run the quarter-mile in 14.1 seconds. A quick "pocket rocket" sport compact all for less than $20,000.00.
BUILD AN SRT-4 DRAGGER!
Darrell Cox Racing received full factory sponsorship from the Mopar® Parts Division for 2003 to build and race an SRT-4 in the NHRA Sport Compact series. Darrell had been around the turbocharged Neon 4-cylinder world since 1995, with a car called the Green Goblin, which was built by his company (then called SpeedNeeds). As a result of his expertise with the small Mopar powerplants, plus the impressive times on the drag strip, he had generated a good deal of media exposure! There was a large number of monthly magazines devoted to this small car movement, including Sport Compact Car, Turbo and other titles of the day. With all that "ink" he generated for the Dodge Neon as a performance car for the tuner crowd, he was chosen to represent Mopar with this purpose-built car. www.darrellcoxracing.com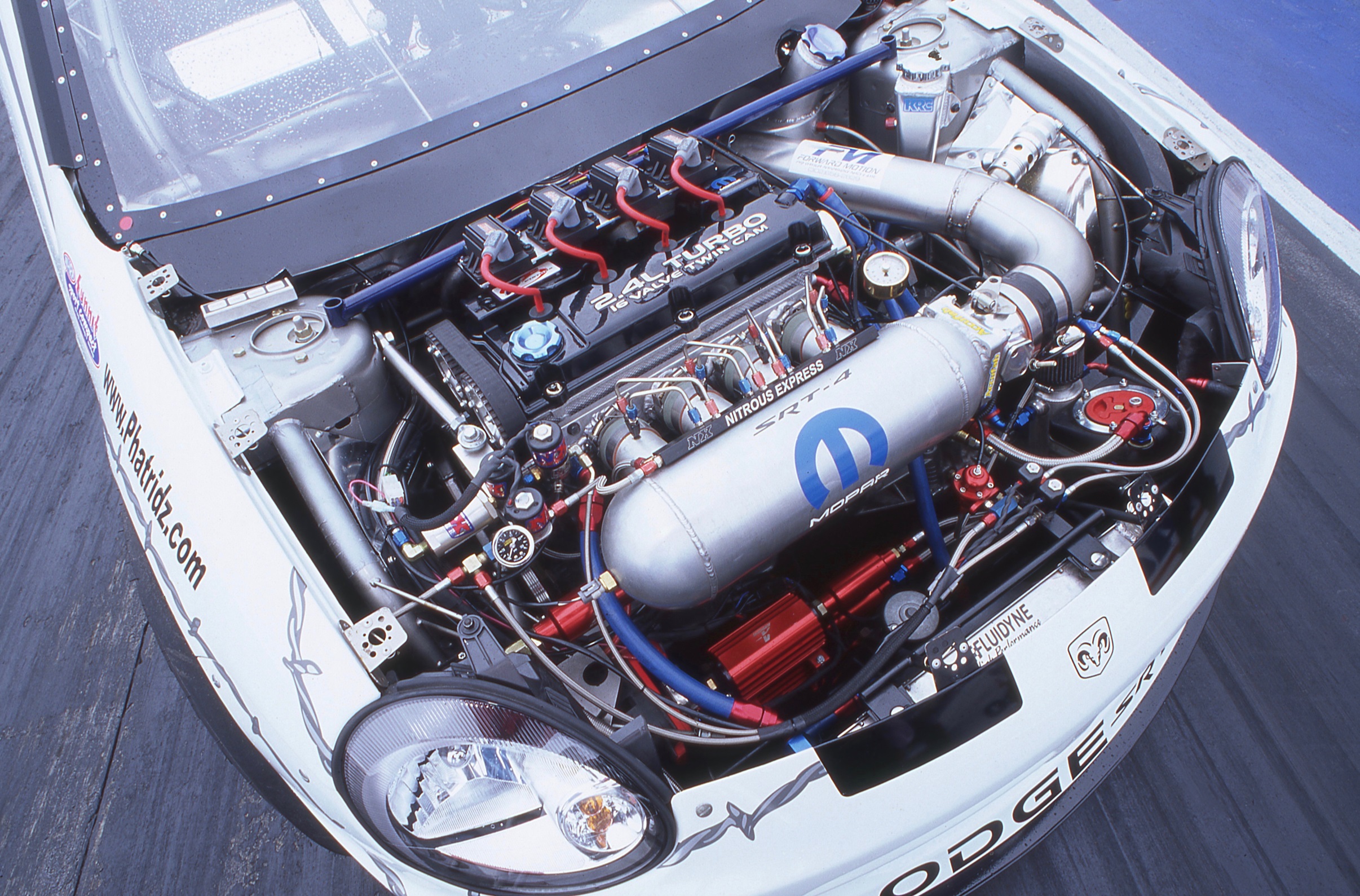 Built within the rules and with all the tricks for maximum power, this turbocharged race engine was fitted with forged JE pistons, GPR aluminum connecting rods, Ferrea titanium valves, and received all the latest in technology regarding engine/fuel management (MoTeC), revised valvetrain and radical camshaft design and nitrous oxide injection added. The cylinder head was fully ported and polished plus numerous other modifications that were not made available to the readers at the time! This radical powerplant eventually developed in excess of 1,375 horsepower, as calculated with the displacement of the engine, weight of the car and the best times the car had produced.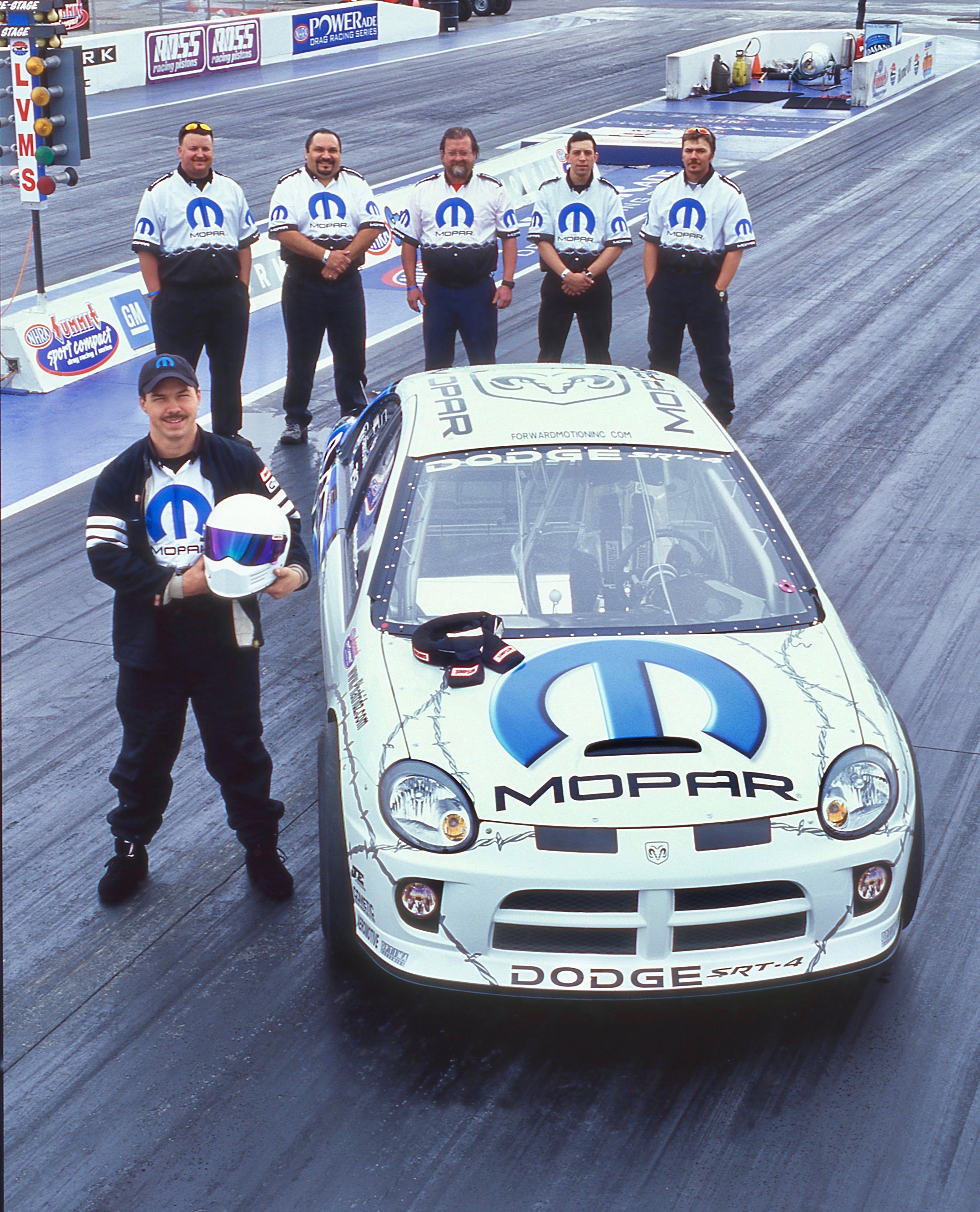 Mike Crawford, the driver, and a full crew made this Mopar team a very professional effort, and with great success on the dragstrip! From left to right: Darrell Cox (team owner), Tony Ramos (JE Piston engineer), the late Mark Riley (tuner), AJ Berge (transmissions) and crew member Jerry Hogan.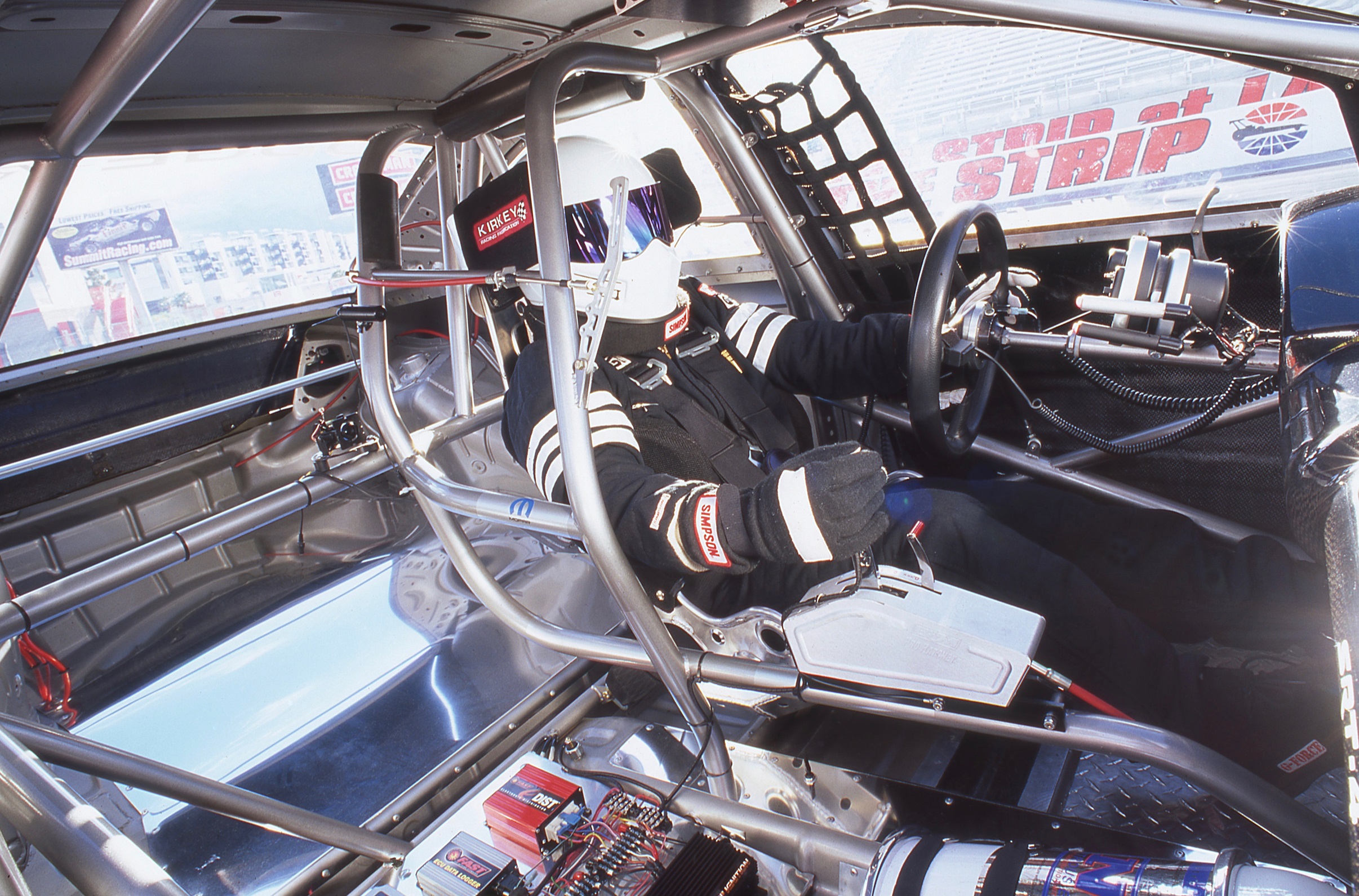 With Crawford positioned in the full "funny car" design driver enclosure, it was clear that this was a well-engineered roll cage design! It being a professional chassis built by Jason Hensley, which was fabricated specifically for a Neon, as there were no "roll cage kits" available. It was a custom, one-off build!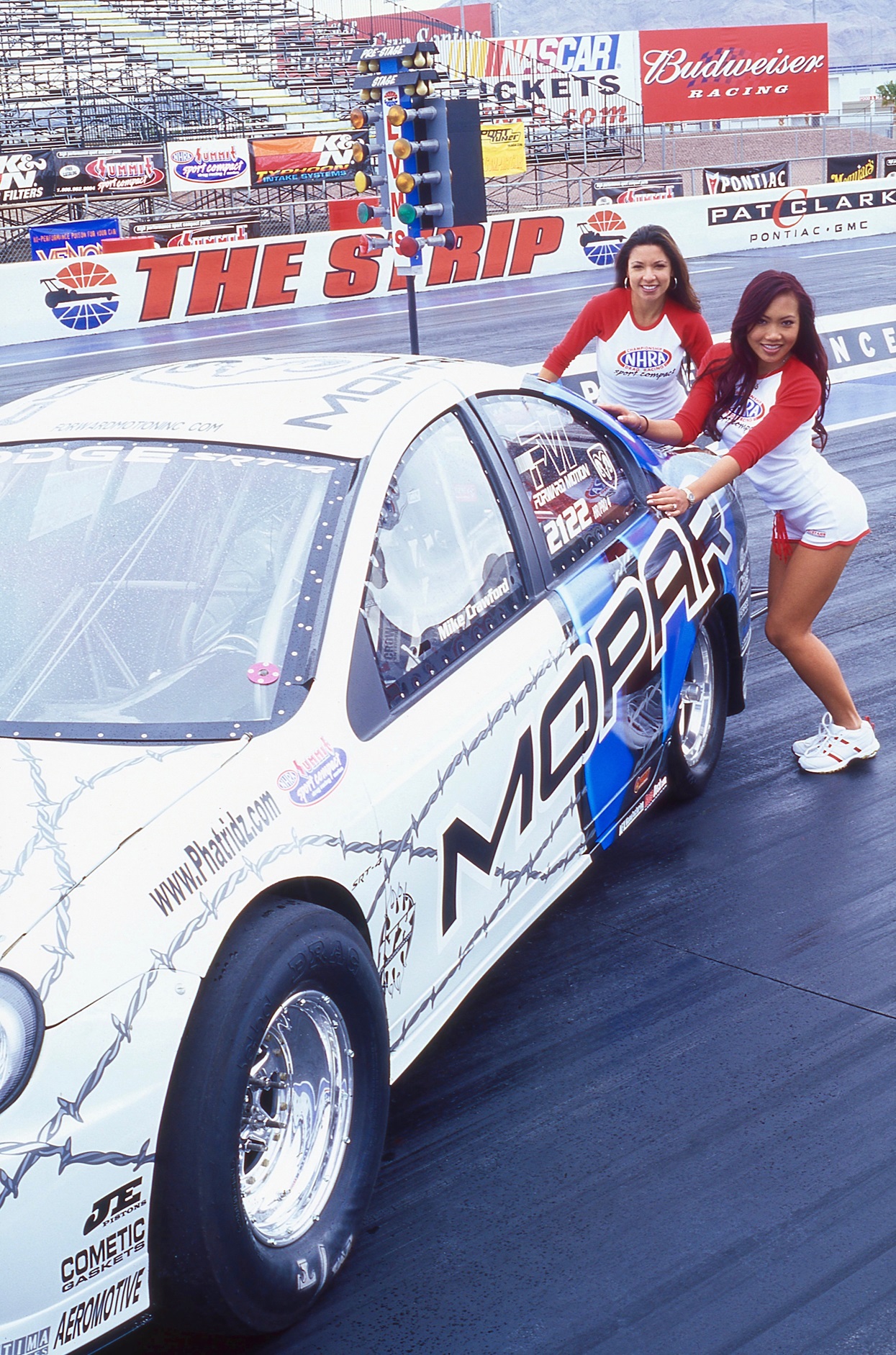 This photo shoot had taken place while at the 2003 Las Vegas "NHRA Sport Compact Racing" event and the National Hot Rod Association made sure we included their promotional staff members, AKA trophy presenters!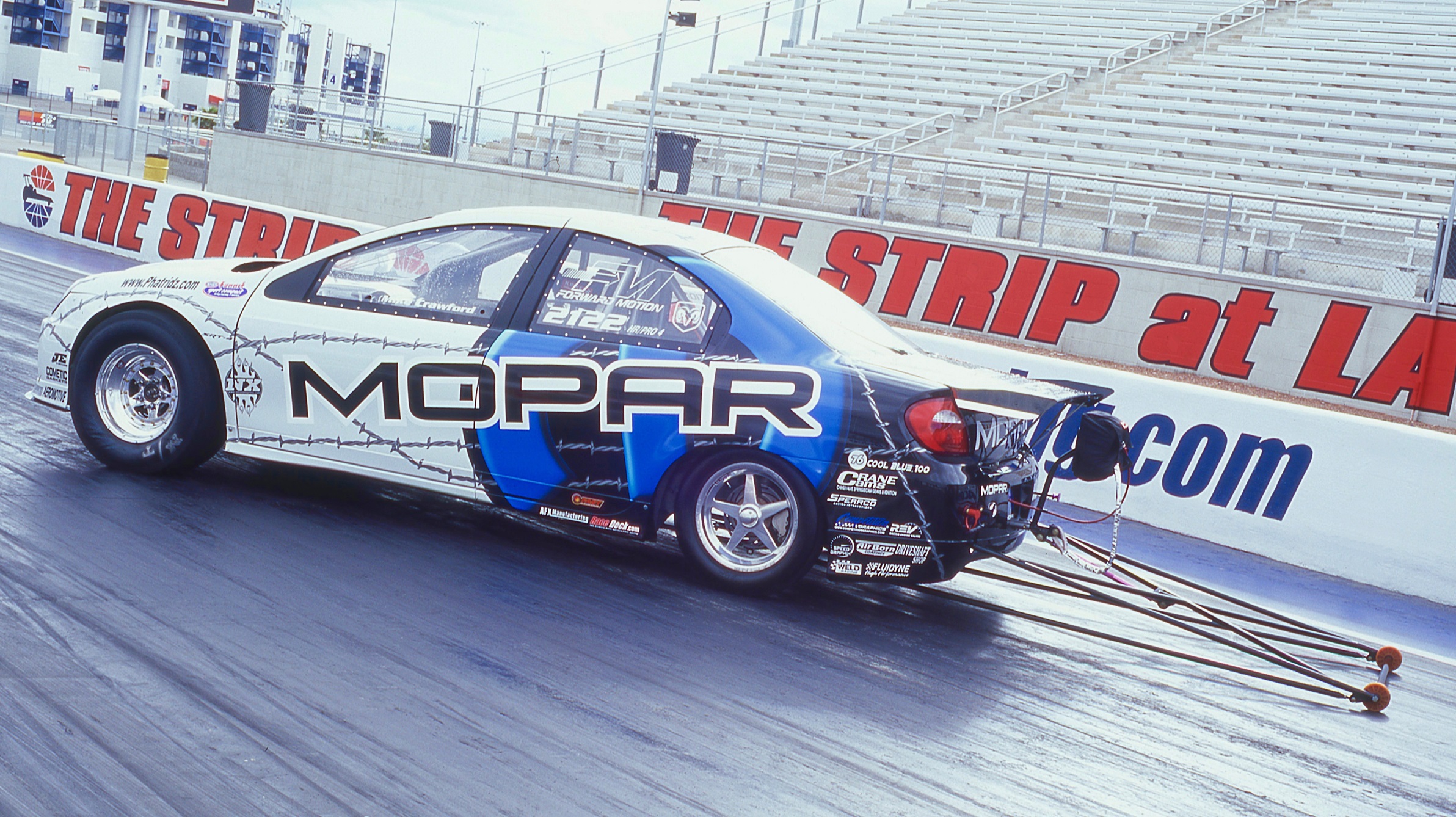 Yes, long extended "wheelie bars" on a FWD drag car! For this application, it's to plant the front slicks under launch, as the natural weight transfer of acceleration on these cars cause a light front end. In fact, the rear bars would be best described as "traction bars."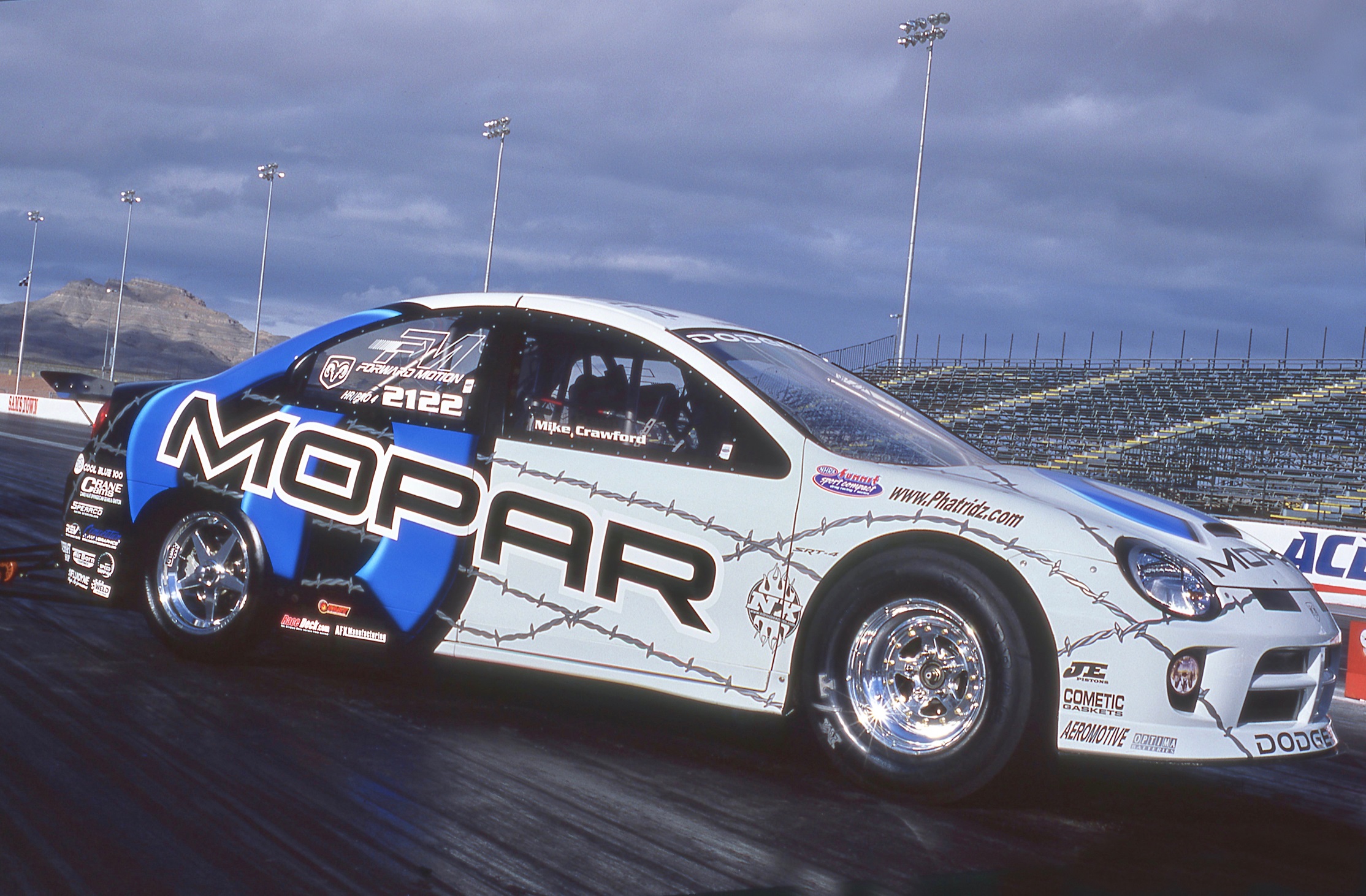 The Darrell Cox Racing SRT-4 shared the same paint scheme as the other factory Mopar-backed drag cars of the era. This one was created to represent Dodge in the large "hot import" scene that had taken the automotive world by storm!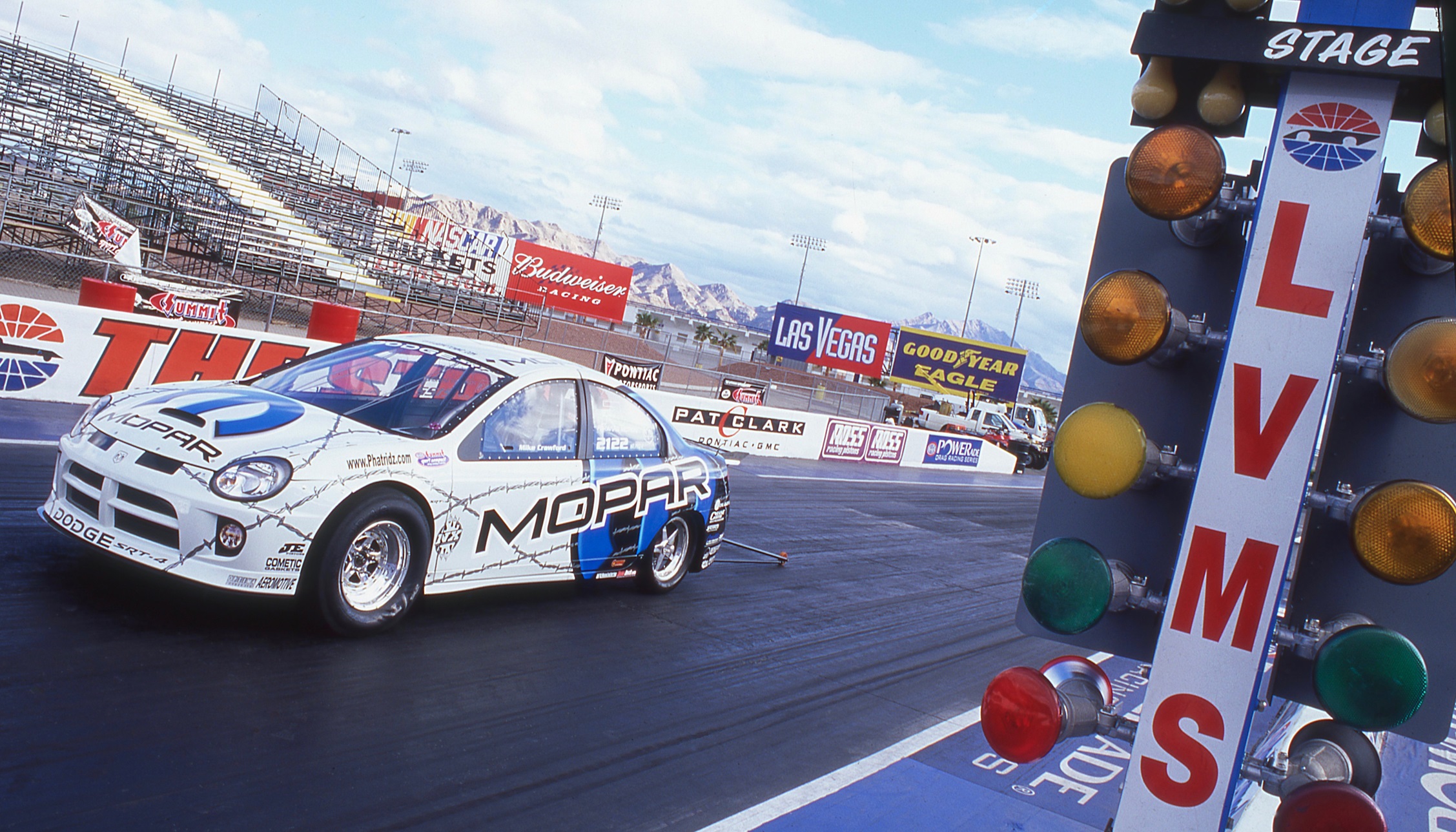 This race-version of a production SRT-4 was a fantastic promotional vehicle for selling the cars at Dodge dealerships, and once the car was fully sorted out, it ran a 7.903-second elapsed time at 188.70 mph in the quarter-mile, with a 1.370-second 60-foot. Yes, all that from a four-cylinder!
THE SHAUN CARLSON PRO FWD DRAGGER!
Shaun Carlson got his start in the tuner car scene in 1996, with a mild Honda, and then moved on to build a radical FWD tube chassis Honda drag car for Stephan Papadakis. It was a high-profile machine that was plastered all over the magazines, and from there he was able to build a tube chassis drag car of his own, the Meguiar's Focus.
His move to Mopar came like this: "At the International Auto Salon last year (2002), I was on my way to meet with GM (to race a Chevy Cavalier) and a plain-closed, dorky guy claiming to be from Mopar asked me 'What would it take to get me in a Neon next year' and I thought, 'a Neon as a racecar?? COME ON!' Knowing that I would be driving a Cavalier, I jokingly told him, 'It would take a lot of money.'"
"At this time, I had no idea who this guy was (Kevin Miller, Senior Manager of Brand Strategy, Performance Parts and Motorsports), nor did I know that Dodge was going to be introducing a turbocharged, intercooled four-cylinder known as the SRT-4 in a few months," remembered Carlson. "This car was what every tuner kid would die for!"
And it was just five weeks later after a deal was made that the Shaun Carlson SRT-4 Neon car was at the SEMA Show! It was a display piece at that time, then soon finished as a full-fledged racecar. When asked the question: "Are you a Mopar man now or is it just a sticker on your car?", here's how he summed up his involvement with that Neon drag car: "With Ford, they couldn't have cared less if we hurt the car or looked stupid in front of everyone. All they wanted was the car on the track, no matter what the consequences. With missing our first NHRA event this season (2003), the number one thing that DaimlerChrysler cared about was our safety. So you ask me, am I a Mopar man now just because of a sticker? I think not! We are Mopar family because that's what they truly are to us."
BIG MEDIA SPLASH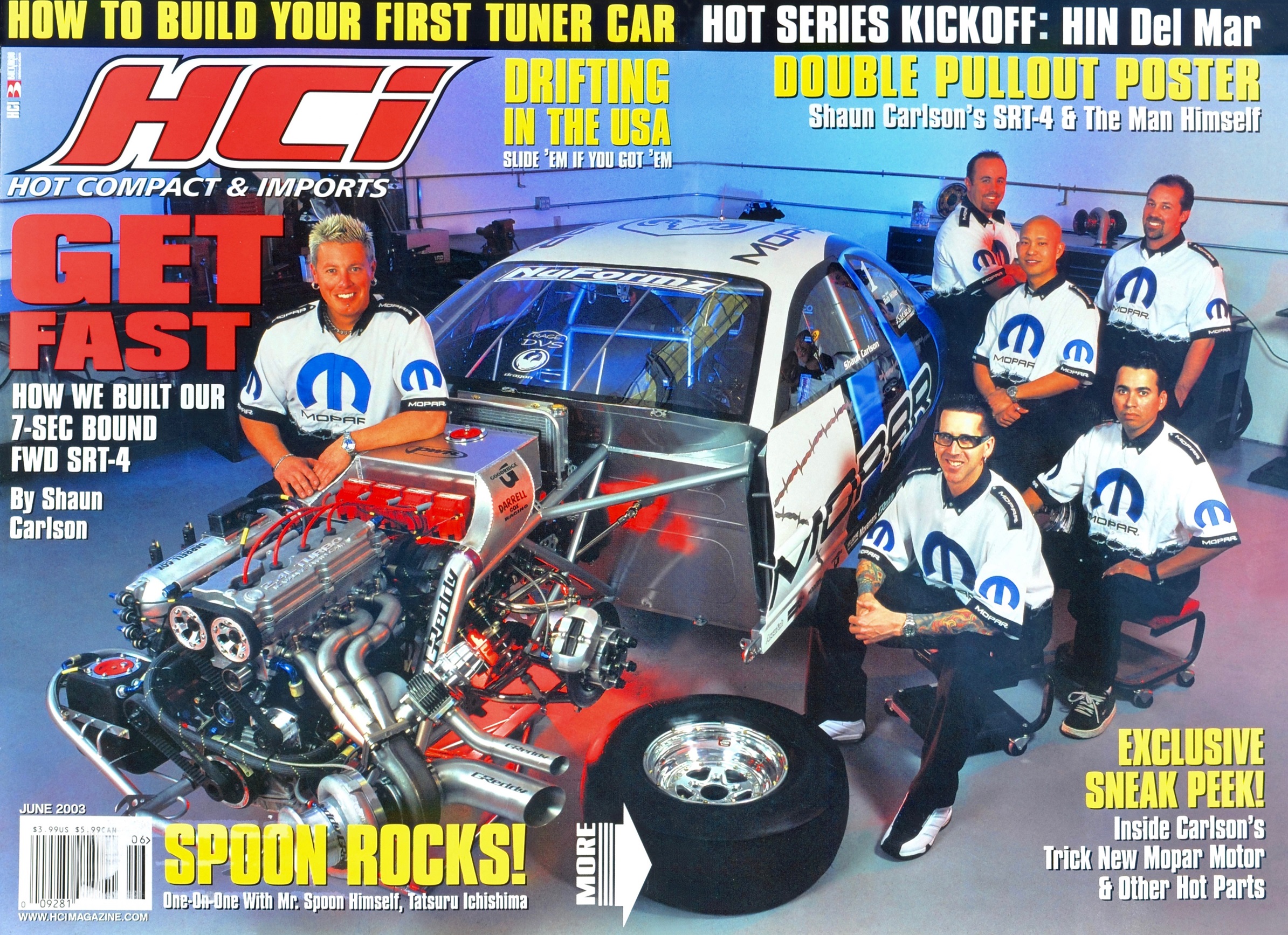 A gatefold cover shot, June 2003 HCI (Buckaroo Publishing), Shaun with the NuFormz team and the published 1,250-hp Darrell Cox Mopar 4-cylinder exposed in all its glory! Power booster was the Greddy T88-34D turbocharger, lots of speed secrets in this powerplant! Technically, it was called the "A853" engine and it proved to be a rocket in this application, and didn't mean "rice rocket" which was the previous top dog in FWD drag racing circles.
STAR CAR AT SEMA BOOTH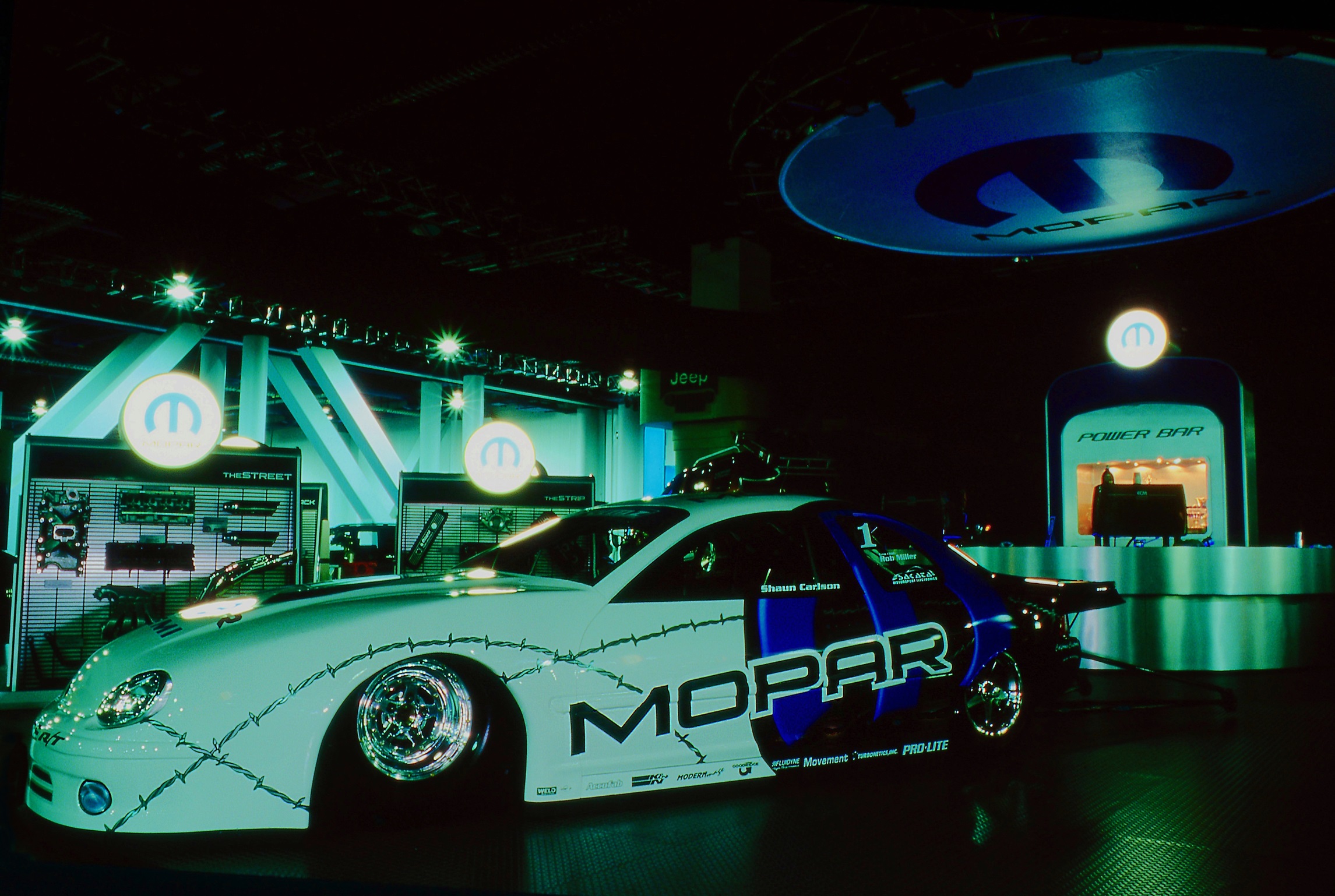 Front and center at the 2003 Mopar Performance exhibit at the SEMA Show featuring Carlson's wild FWD Pro dragger, a radical example of a Dodge Neon SRT-4 that has been taken to the absolute extreme!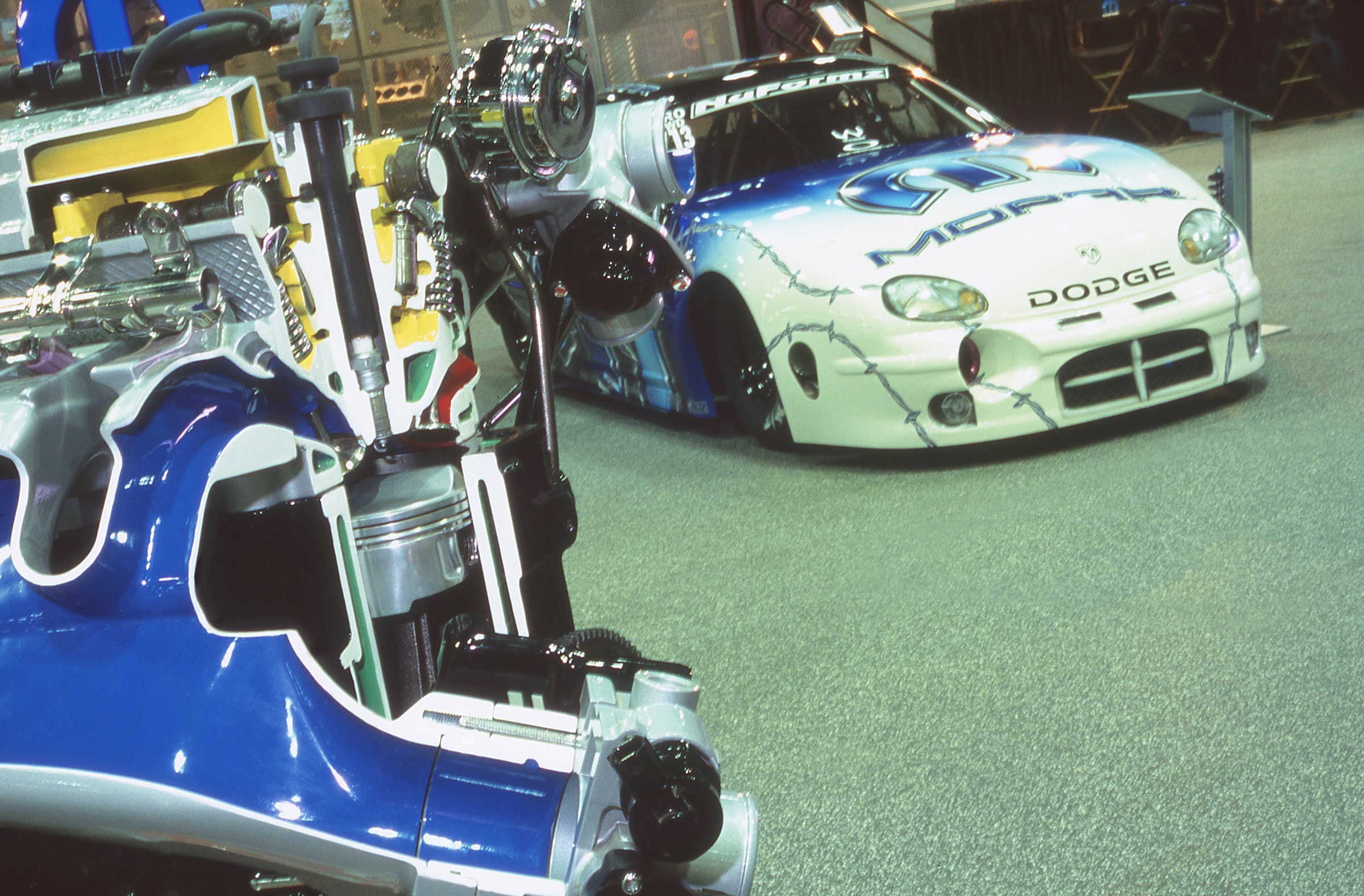 For 2004, the Mopar area at SEMA again featured the NuFormz-built FWD rocket. A cut-a-way of the SRT-4 engine was there for all to see, to directly relate to the drag car as a way to tie-in to the available production car.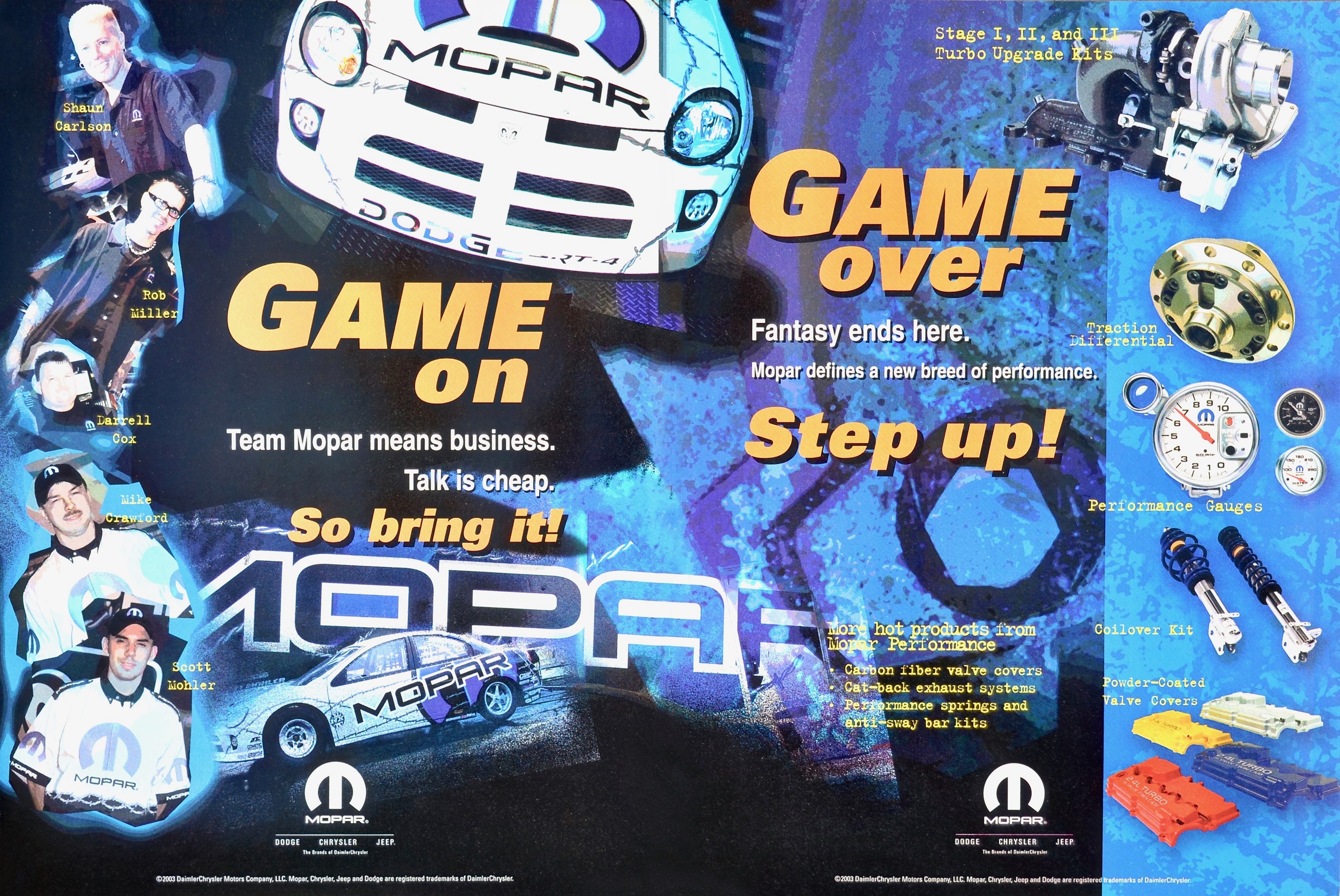 Super Street, HCI, Sport Compact Car and other enthusiast publications of that time frame ran these "Game On" ads promoting the Mopar line of turbos, differentials and coil-over kits. Shaun Carlson and his crew chief Rob Miller, and Darrell Cox with his drivers Mike Crawford, Scott Mohler, were the heros of the advertising campaign.
MEDIA TESTING STREET VERSION
It was 2004, testing a new SRT-4 in Solar Yellow, a press fleet car, in and around San Diego. The car was quick, responsive, well-handling and the perfect cruiser, all the while easy on fuel. Pictured is Dean Evans, the editor of the Australian publication Fast Fours & Rotaries and he was quite impressed with the miniature Mopar!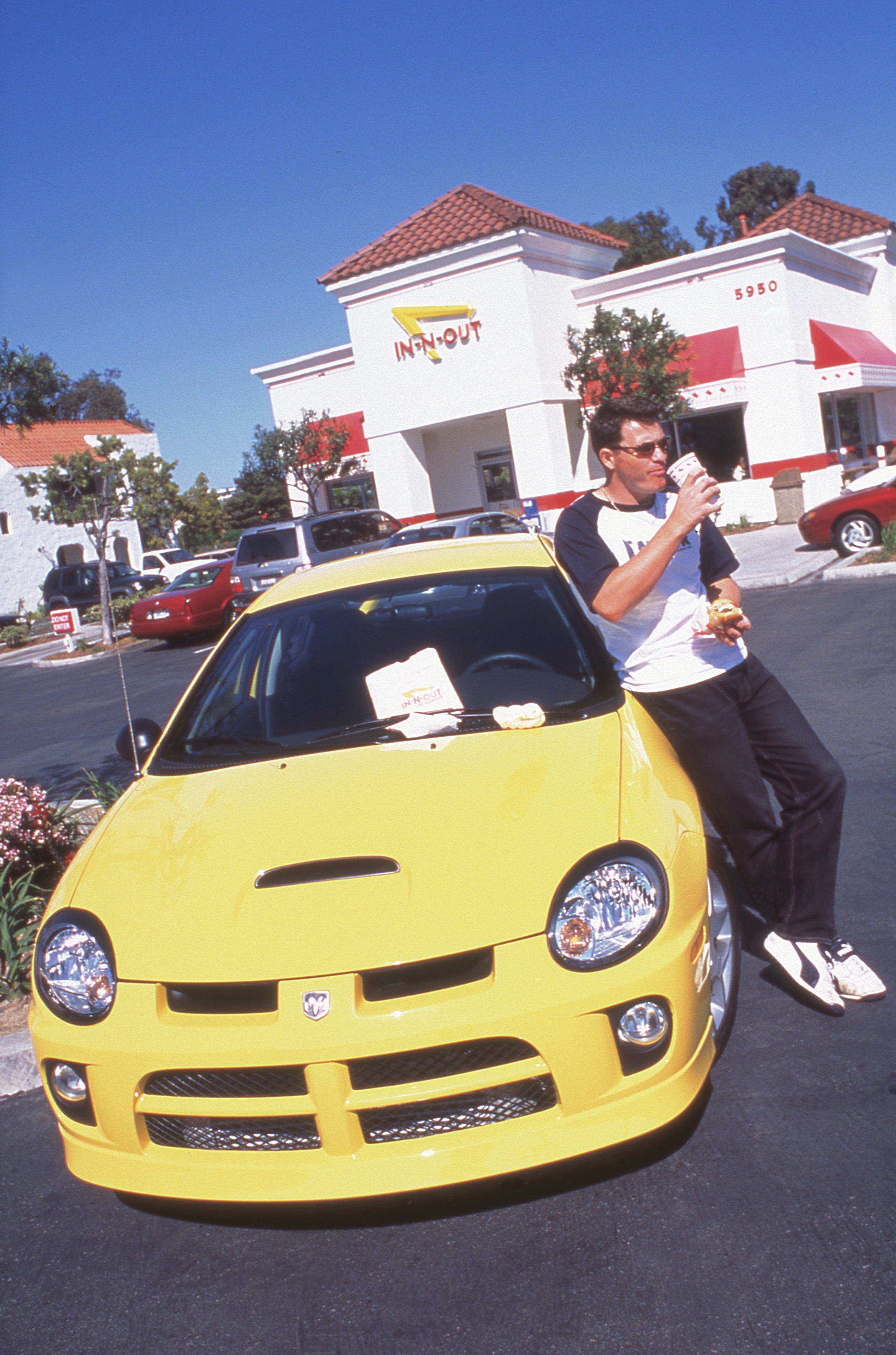 Up front, a unique fascia, integral air intake and an unpainted aluminum intercooler visible through the lower grille slots. 17-inch rollers (with 43mm offset) wrapped with sticky BFG G-Force rubber, SRT-tuned Tokico struts, stiffer springs, F&R sway bars, bigger brakes (4-wheel disc) among the upgrades. 60 mph to stop in 120 feet according to certified testing.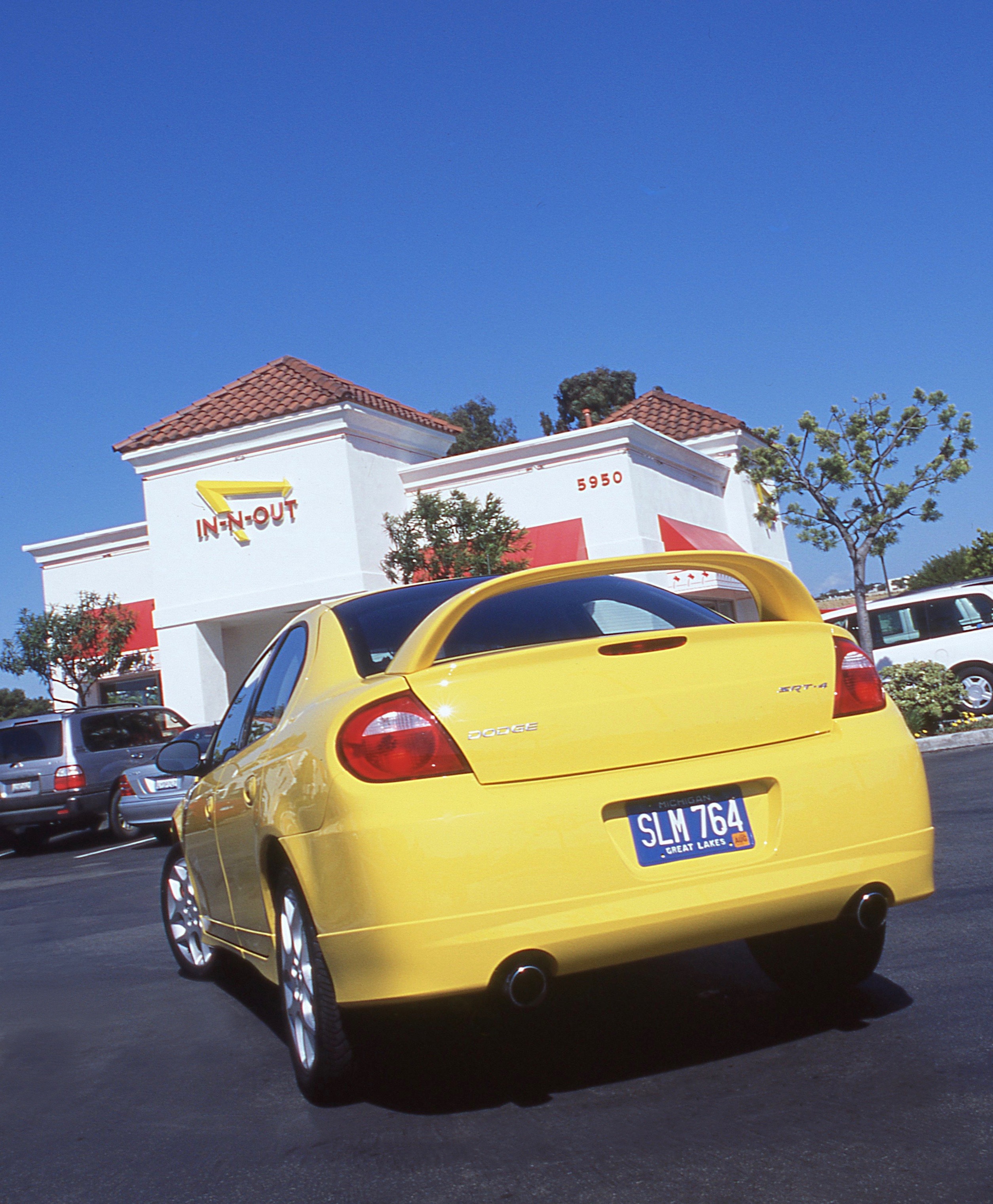 Large deck wing part of the SRT-4 package, as was a deeper rear fascia and side skirting. The exhaust system contained no mufflers, it was a setup that featured 2.25-inch pipes that ran through a catalytic convertor, then incorporating two resonators, exited out back via two 3.75-inch stainless steel tips. Top speed was reported to be 148 mph. John Fernandez, Director of Performance Vehicles Operations, said this of the production SRT-4: "We wanted a car that had a nice, balanced feel through the corners without an overabundance of body roll. We created a car with a high dose of power that also is highly controllable."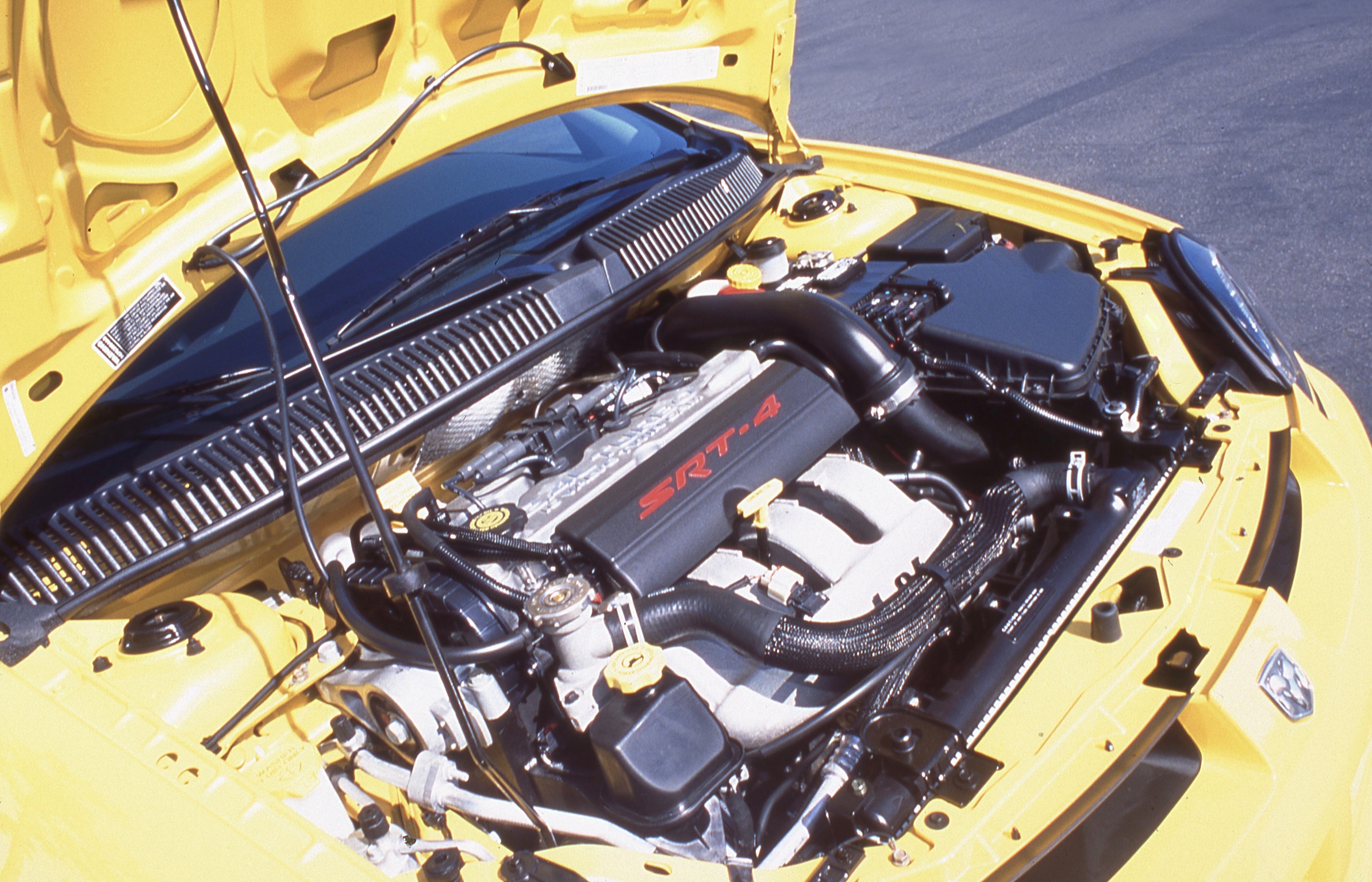 A reverse rotation Mitsubishi TD04LR-15Gk turbocharger and jumbo-sized intercooler was the heart of the SRT-4 production engine. 2004 model shown here with 230-hp delivered 0-60 mph times of 5.8-seconds, 13.9-second drag strip times on the 1320. Turbo boost range of 11 to 14 psi. Very flat torque curve: 220 foot pounds from 2,000 rpm to 6,000 rpm. 5-speed manual gearbox. The SRT-4 incorporated a very distinctive, noticeable, exhaust tone, dare to say: rumble!
PROVOCATIVE PROMOTION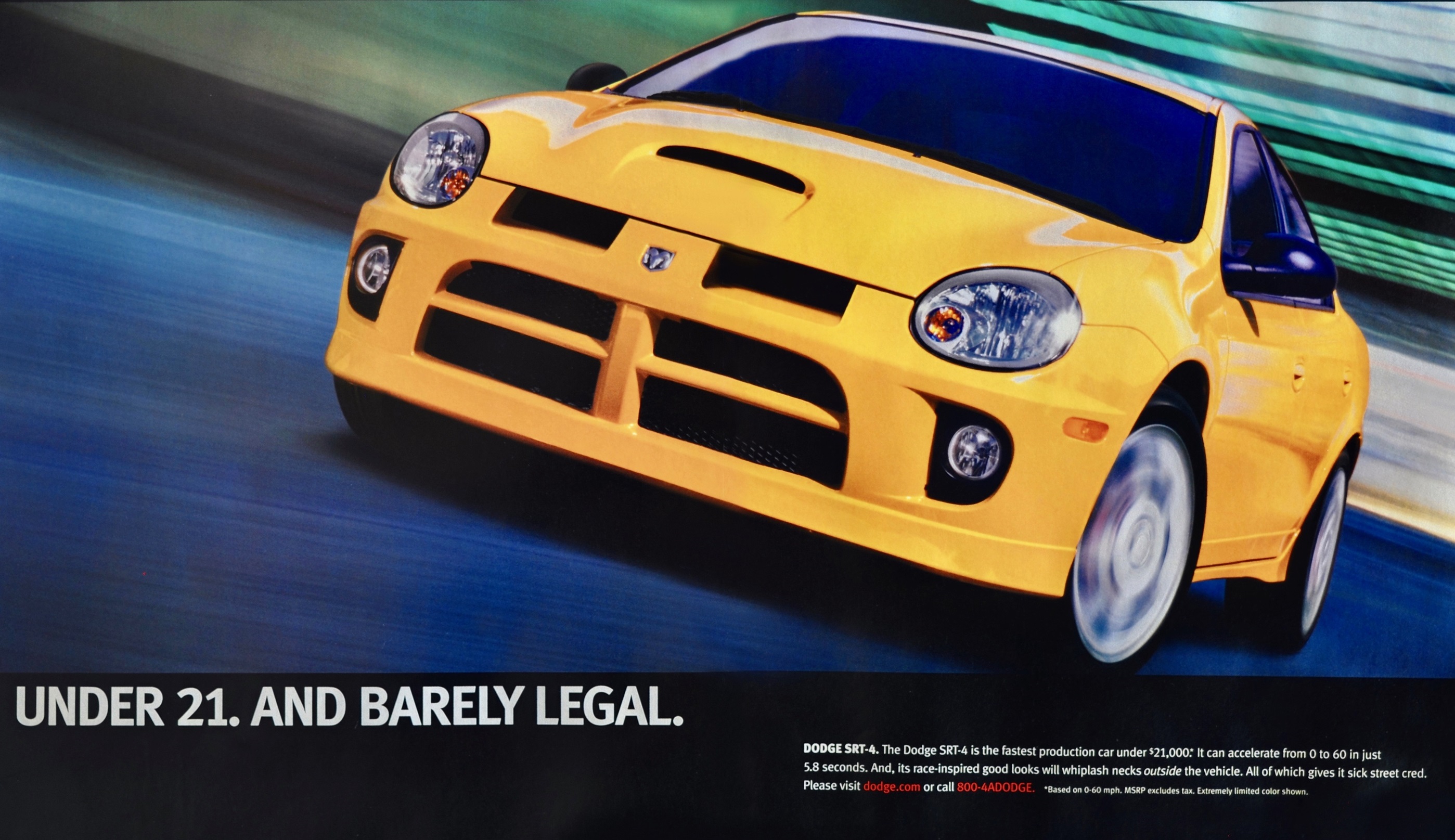 The factory advertising agency had some double-meaning fun with the ad copy for two-page national magazine ads that ran, and the "Under 21" was regarding the base price that came in just under 21K. With a listed 0-50 mph time of 5.8 seconds, it definitely delivered a lot of bang for the buck.
The 2004 "Adrenaline Therapy" Mopar Parts catalog highlights the performance products that were offered by the factory for SRT-4s, PT Cruisers and Vipers. Inside the pages, there was a clever "dig" to the import competition with these words: "Every generation finds a new way to celebrate power. Today's hot button is defining a whole new breed. These are the guys – and girls – who drive their mean front-wheel drive Mopars straight past those import crowds who claim to be so furiously fast."
RIP Shaun Carlson, a talented racer and fabricator who had gone on to running a Dodge Viper drift car program and Dodge Challenger drift car on the Formula Drift circuit, as well as being a driver of a Dodge Stratus R/T Team Mopar NHRA Pro Stocker for Don Schumacher Racing. He unexpectedly died at age 35 on October 4, 2009, of a rare genetic heart disorder. Some say he was the inspiration for Paul Walker in the wildly successful Fast and Furious movies. During his time, he made his mark in motorsports, both as an innovator and a driver.
Here's a video link when the NuFormz car debuted at the SEMA Show:
Author: James Maxwell