Fall is a sketchy time of year to drive a performance vehicle through the Rocky Mountains. The temps are creeping down toward freezing and the snow-capped mountains hint at more brutal conditions as the elevation increases.
Fall is also when the SEMA Show is held in Las Vegas, Nevada, where the weather tends to be pretty mild…warm even. Every year since 2012, with one exception, I've driven from Detroit to Las Vegas right around Halloween weekend. The week in Vegas? Easy. It's getting there and back that provides the adventure.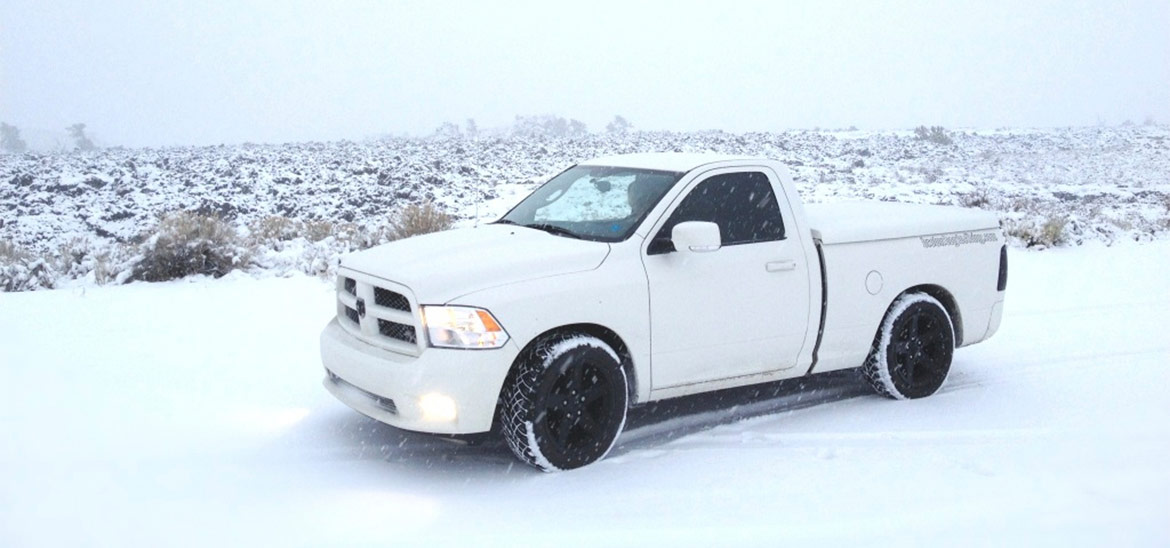 2012 was the first year I made the long drive while my wife Darla rode shotgun with me in our RAM R/T. Outside of being lowered, the truck was stock and sitting on 20" Nitto 420S summer performance tires. Needless to say, we made it to SEMA with zero issues. For the adventure home, we took a long detour stopping in to see some friends and hit a few shows in California to display my art. When we started our trek home, the Craters of the Moon National Park looked neat so we figured why not drive up through Idaho?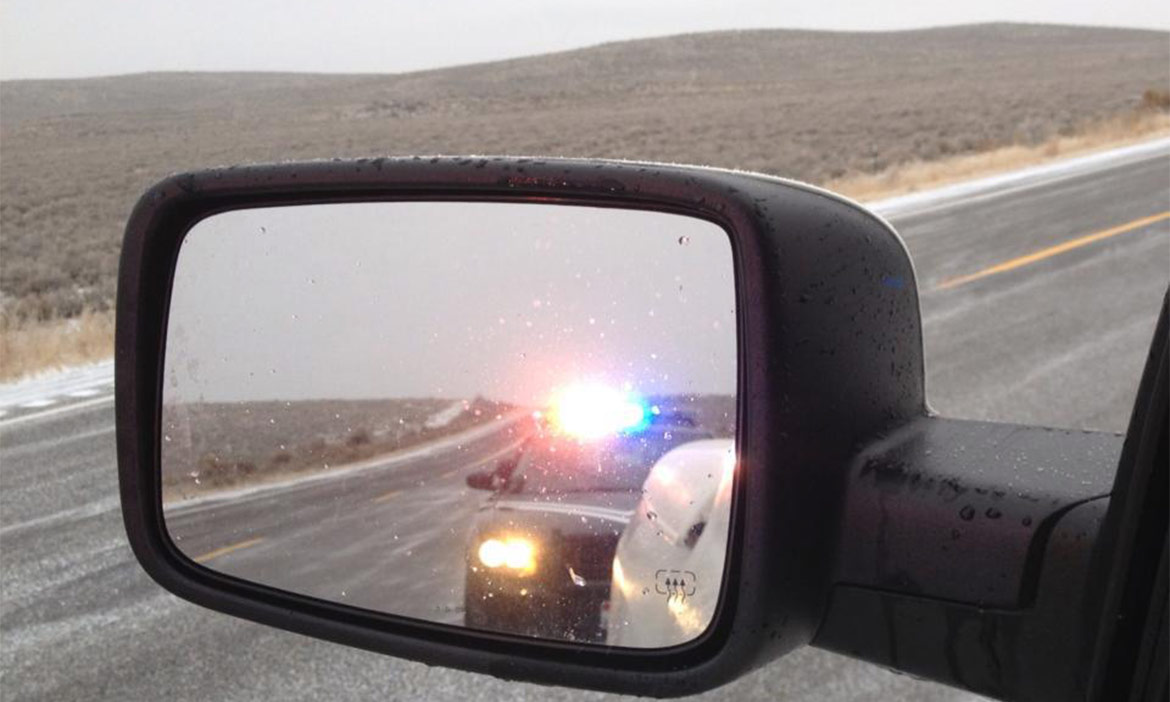 Almost immediately after driving past the park's welcome sign it began snowing. A lot. I slowed down, took it easy and didn't have a problem. Then the blizzard stopped momentarily and I took the opportunity to put the hammer down. A Charger was coming in the other direction. Lights flash. Crap. I pulled off to the side before he even started his u-turn.
As luck would have it, this was a fortuitous incident. We told him where we were from and what we were doing and he let me off with a warning. We decided to ask him about our route options from there.
"Is this truck a 4×4?"
Nope.
"Do you have winter tires?"
Nope.
"Do you have tire chains?"
Well, none of this sounded promising.
"Ok, so this (he points to the route we weren't planning on taking) is the way to go. It's still a main highway through the mountains so there will be plenty of plow trucks on it. If you find one, just stay behind it as long as you can."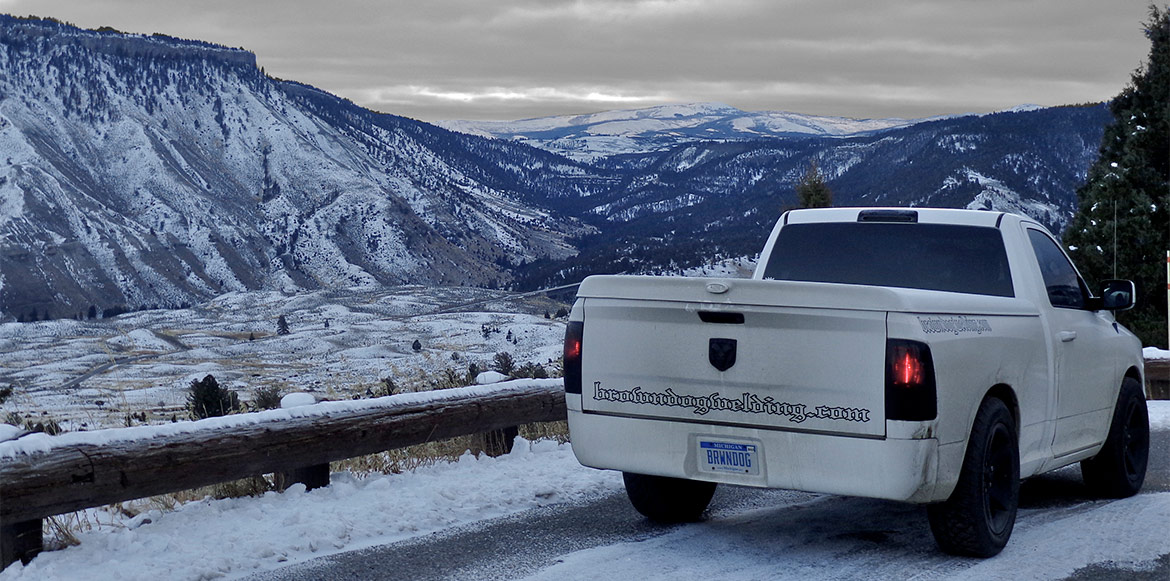 And this is exactly what happened. Well, this is exactly what happened after I attempted to go the scenic way we'd originally mapped out, only to turn back when white out conditions made distinguishing the road from the ditch quite difficult.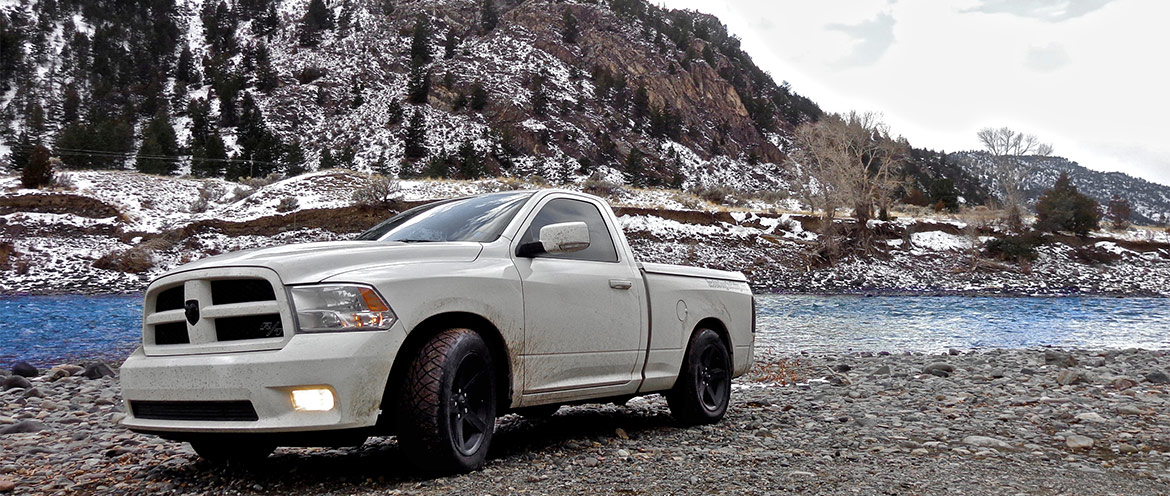 The snowy mountain roads through Idaho into Montana made for exciting times, though we did make it through unscathed.
Now fast forward to 2015. It's late October in Detroit, and I've convinced Dodge to give me an SRT® Viper ACR Extreme Aero for the 5,000 mile round trip trek. Forget about the weather, this was a barely street legal track focused machine that was being hailed as too wild for public roads by both the media and the brand itself. Everyone thought I was nuts for this idea. Even Tim Kuniskis thought I was crazy, but I think that's a big part of why he likes me and why he gave the trip the green light.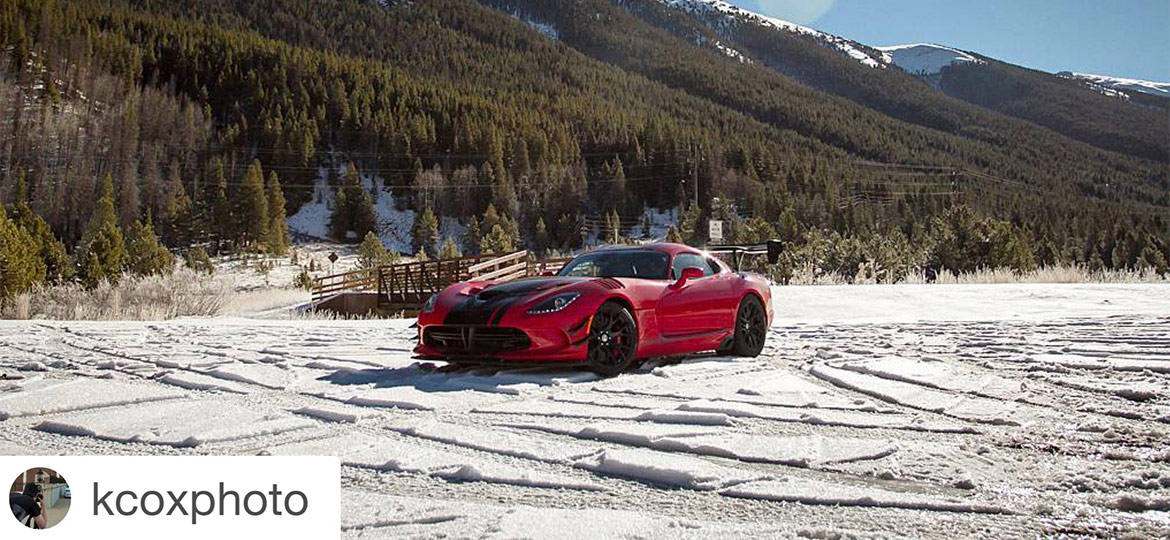 Dodge was concerned about the temperatures along the route, and rightfully so. They'd developed rubber for the ACR with Kumho, and the DOT approval was, in my opinion, probably like "hey, these are totally street legal and not at all track only tires WINK WINK NOD NOD." Kumho also says things on their site like "The Ecsta V720 ACR is not intended to be serviced, stored nor driven in near- or below-freezing temperatures, through snow or on ice" and "Warning: Ecsta V720 ACR radials meet DOT requirements, however they are not recommended for driving in wet conditions where standing water is present and there is the risk of hydroplaning." So, you know, not exactly all seasons.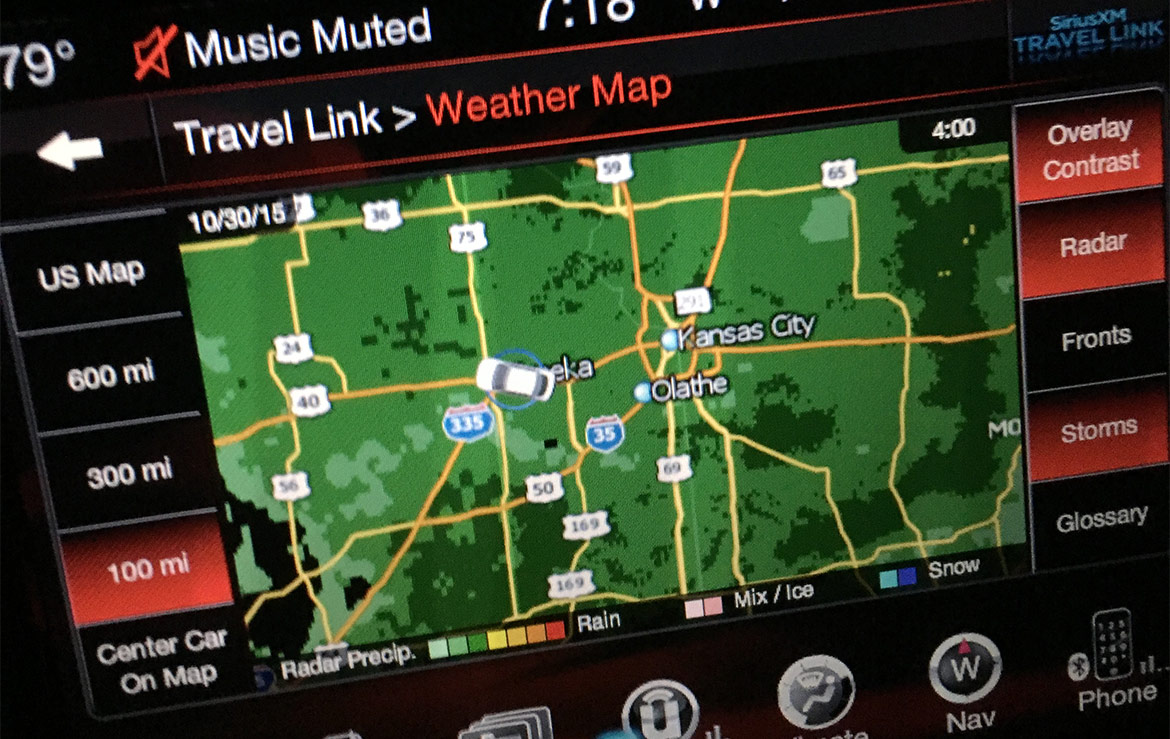 When I picked the car up from the SRT building in Auburn Hills, a couple of the engineers gave me a walk-through of all the unique features and settings on the ACR. But it was something said almost as an afterthought, and probably just because it was a cold and rainy afternoon, that had the most impact: "Oh, yeah, if you cycle through the traction options here there is a rain mode," longtime Viper engineer Jeff Reese mentioned as he pointed to the controls on the steering wheel, "it's actually really, really good." Later on my friend, racer, and fellow Dodge Garage writer John Hammer agreed and told me "a lot of times we'll actually race in that mode if it's wet out."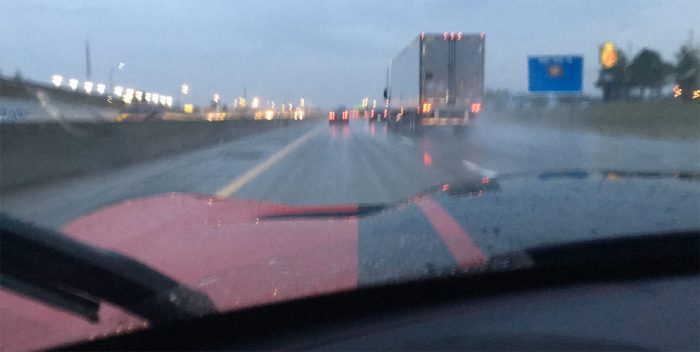 Unfortunately for my inner Justin Bell, it rained for the majority of the trip there, and the majority of the trip back. I couldn't believe how sure-footed the ACR was in those conditions, especially considering how comically proportioned the tires are: 295/25R19s in the front and 355/30R19s in the rear. The biggest wet threat ended up being to whoever followed me; the rooster tail shooting off the car's X-Wing might as well have come off a cigarette boat.
The rain finally let up as we made our ascent into the Rockies, but the temps steadily dropped. From the 50s, to the 40s, to freezing, to the teens.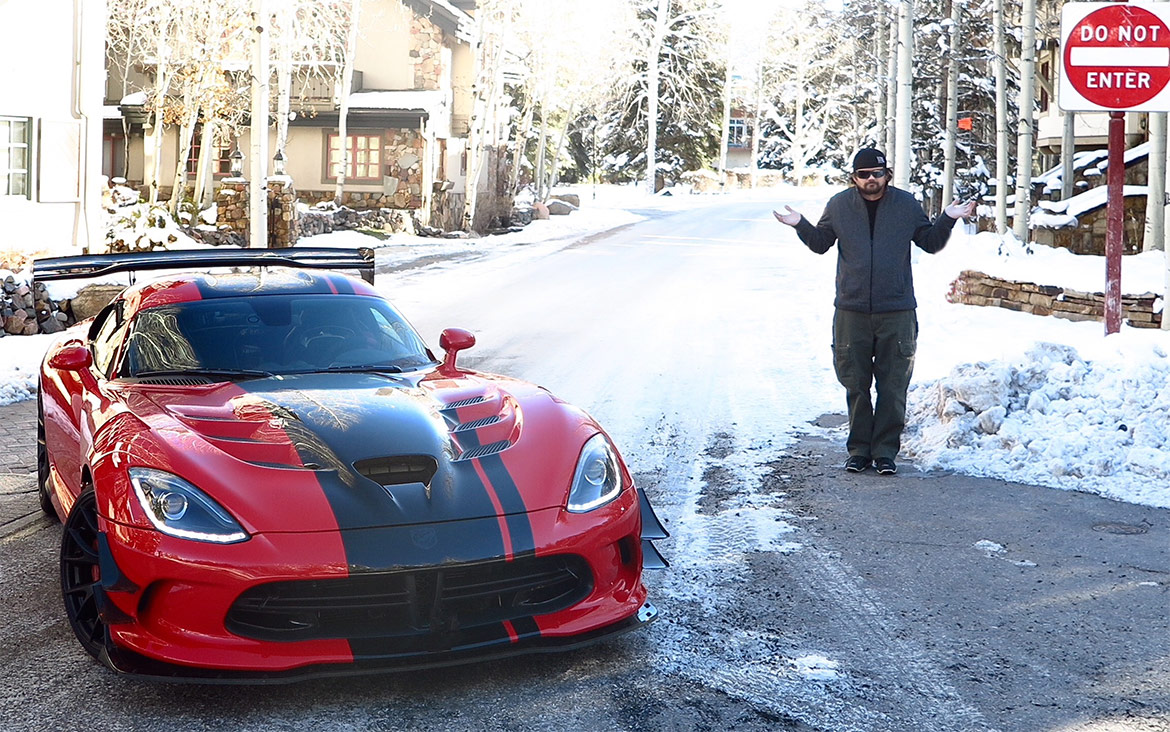 I'd be lying if I said this didn't make me a little nervous, but we kept an eye on the tire pressure and checked the sidewalls every fuel stop which, in the ACR, was every two hours or so. They seemed to hold up well, and in Las Vegas Dodge picked up the car from me and replaced all 4 tires, just to be safe. I thought the meats looked like they handled all we threw at it pretty well, and through the grapevine it sounded like the techs agreed.
There may have been a few white knuckle moments, but honestly the car handled some garbage driving weather without much drama.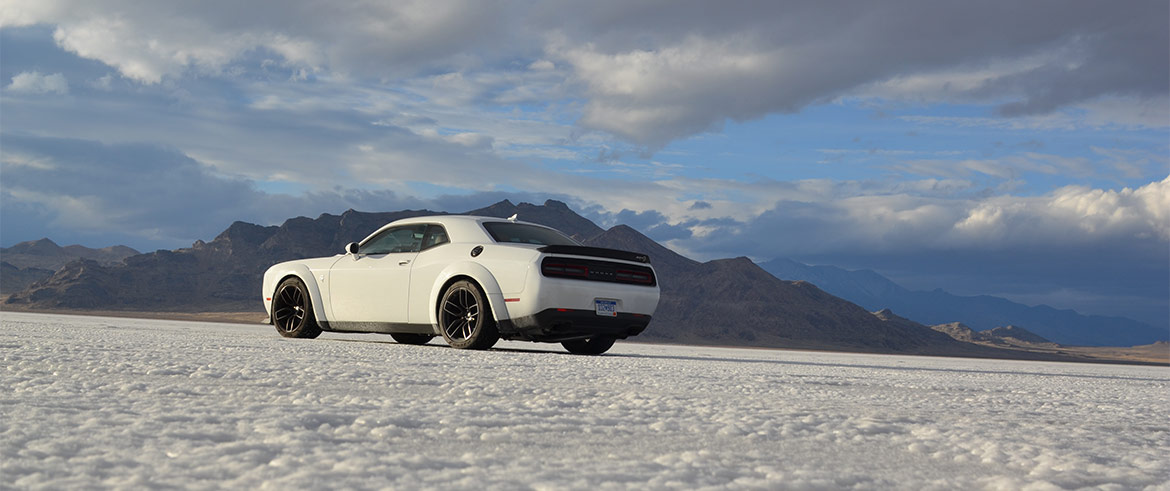 Two years ago in 2017 a '18 Widebody Challenger Hellcat wound up loaded down with luggage and sculptures for the SEMA excursion. Mother Nature smiled on us on the trip west with mostly dry and mild days and nights as we drove down to the Million Dollar Highway and Grand Canyon. It wasn't until the way back that fall became winter.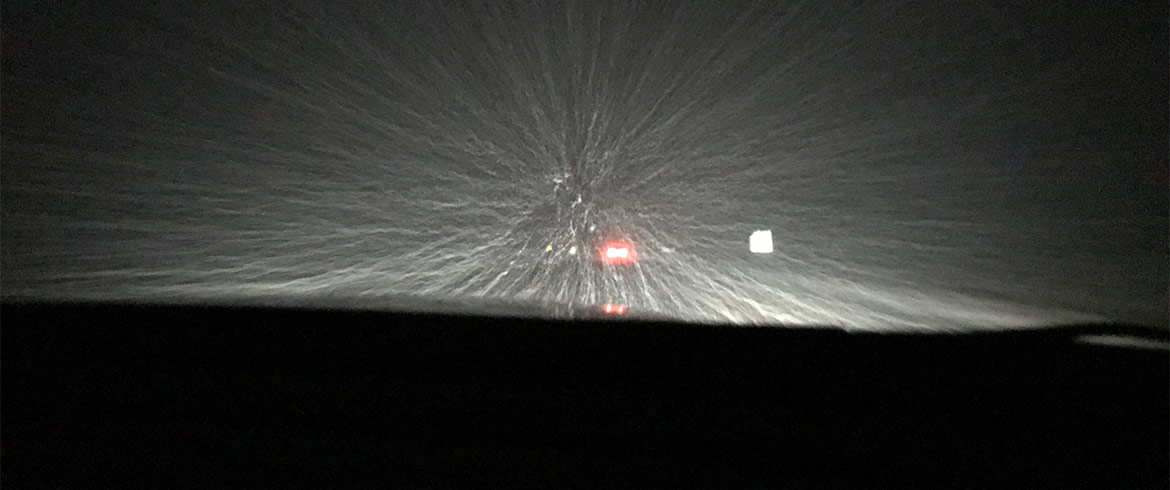 This happened in the mountains of Utah and into Wyoming, at dusk. Snow began falling. 707hp with RWD isn't ideal for any kind of winter driving, and the stock Pirelli P-Zero 305/35ZR20s might as well have been runners off of Santa's sleigh. Darla was a bit more nervous than me, asking more than once if I'd rather stop early for the night and wait the white stuff out. But, truthfully, I love the challenge. As a kid who grew up piloting full size, V8 powered, rear wheel drive vans on bald tires in Michigan, I'm always up for these situations. For 3 hours straight we bombed northeast. Visibility was pretty brutal so I tried to follow semi-trucks from a distance to gauge the upcoming road based on their tail lights. Those few hours, and a few moments where I *maybe* almost buried the car in the muddy Bonneville Salt Flats, proved to be the only times where weather messed with us in '17.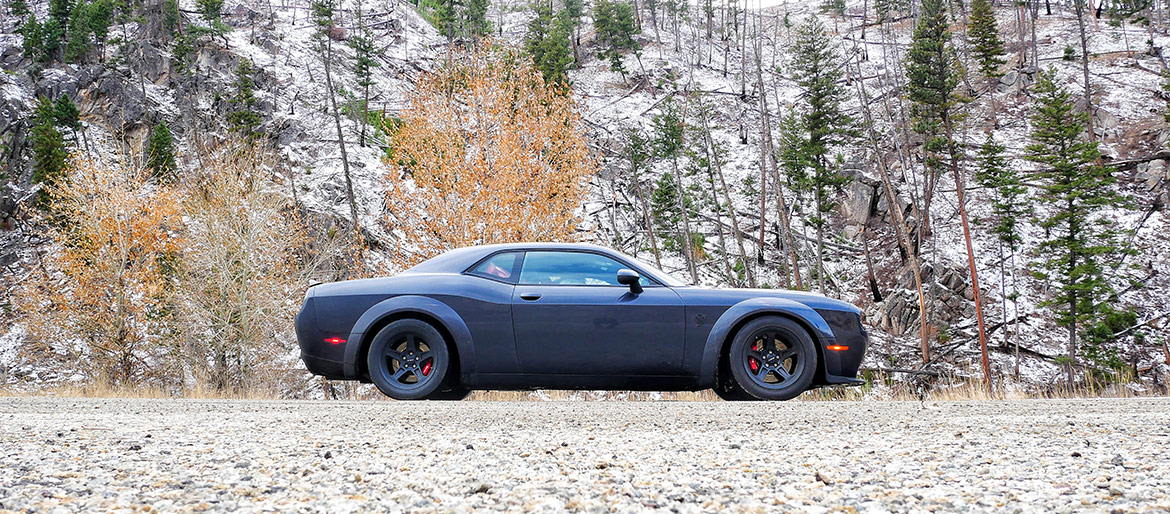 Then there was this year. We ended up driving the "backup plan" to SEMA. As far as options go, it's not a bad thing to have an SRT Demon in your back pocket! Well, to a point. While the SRT Demon-specific Nitto drag radials are off the car, their replacement was another high performance summer tire. It wears 295/40r18 Nitto 555 G2s up front, and the same tire but as a 315/40r18 out back. I was really, REALLY, crossing my fingers hoping to luck out with the weather. It didn't take long to realize the fall skies weren't gonna do us many favors.
We left on Halloween night, just as it started to rain. The temps dropped from the cusp of freezing to actual freezing, and within an hour the rain became snow. I'm not gonna lie, it was a bit nerve wracking, but I figured as long as the white stuff didn't accumulate we'd be fine. Obviously things like black ice or snow drifts are always a concern; after many years and hundreds of thousands of miles driven, you get a feel for vehicles and how they respond to slippery situations. Little things like smooth footwork on the pedals and slight corrections to the wheel tend to be the difference between staying between the lines or winding up on the back of a flatbed. About halfway to Chicago I did the unthinkable: I put my SRT Demon into eco-mode.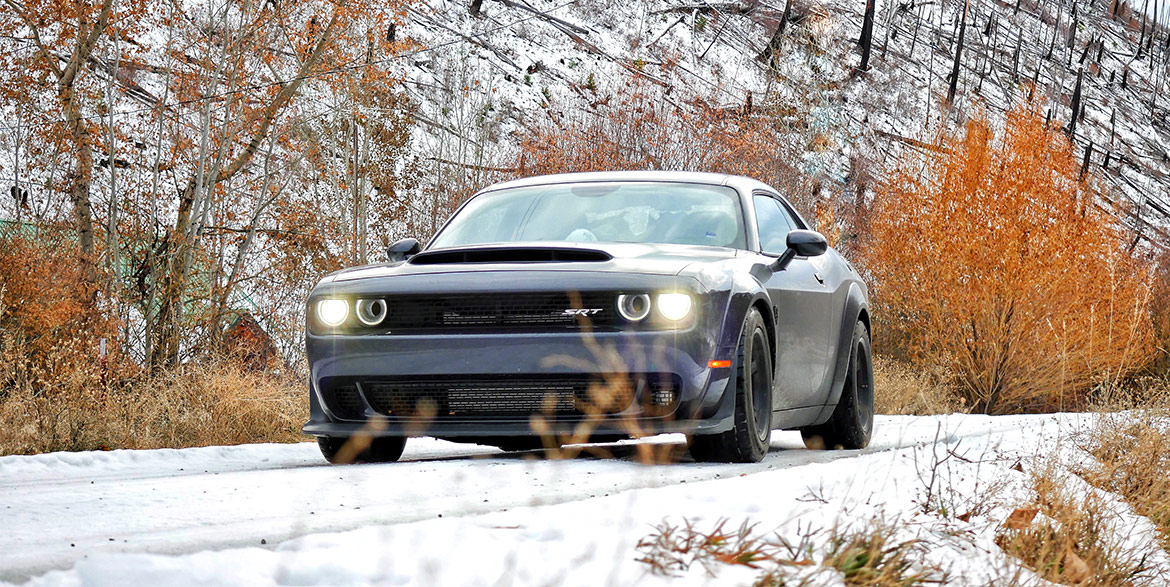 In the powered-down 500hp eco-mode the car is way less twitchy. The inputs are more gradual and the shifts are softer. The little green leaf made a noticeable and much appreciated difference. We made it to the west metro-Chicago area and stopped for the night. The hotel's parking lot was icy and there was 2-3 of snow on the surrounding grounds. We hunkered down until morning.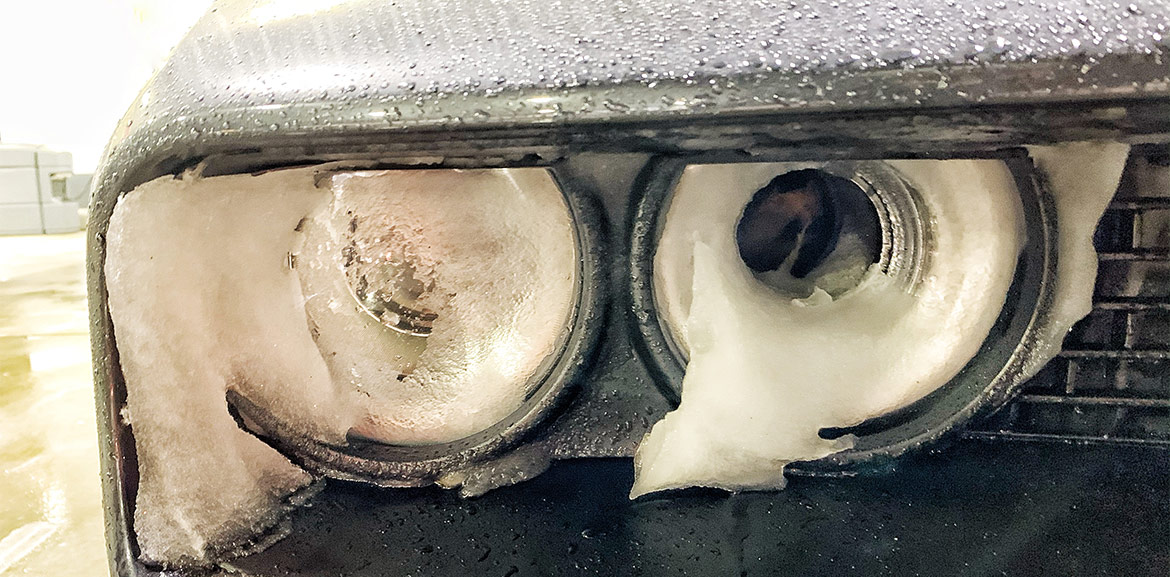 That was Thursday night. The next couple of days skipped the precipitation, but remained cold! We headed through Minnesota, North Dakota, and into Montana by Saturday afternoon. I really wanted to do route 93 from Missoula down through the Bitterroot Mountains and decided the risk was worth the experience. While we rose up in elevation and the sun started its nightly retreat, I wondered if mistakes had been made. The roads were slick with frozen patches where snow has melted down from the mountains, across the asphalt, then froze in the shadows with nowhere else to go. In some corners snow had built up and turned into slush. There wasn't much (any) traffic which made things simpler as long as I didn't slide us over the edge. I didn't, and on the backside descent our bravery…or stupidity, or whatever…was rewarded with an incredible array of mountain views at dusk. That night was spent in Salmon, Idaho, and while the temps remained in the single digits the next morning, by afternoon we were greeted by the warm, welcoming sun soaked terrain of Nevada. Outside of racing a snow front on our way back East, the SRT Demon didn't have to deal with any more crappy conditions. We made it home, safe and sound. As much as I like the idea of one upping each trip from the last, I don't mind Darla's thought: maybe next year we take something with all-wheel drive?