Dodge had an array of announcements for the Direct Connection catalog at the recent SEMA Show in Las Vegas, but the biggest news was the introduction of not one, but four Hellephant HEMI® crate engines coming over the course of the next 18 months. After the original Hellephant 426 Supercharged Mopar® Crate HEMI engine sold out in just two days, due to the low production volume of just 100 units, the company has decided to bring that engine back, along with three new engines with a similar overall architecture. The result is a herd of four Hellephants roaring into the Direct Connection catalog in 2023 and 2024.
Direct Connection Hellephant Crate Engine Series
When the Hellephant name was first introduced back in 2018, it was an all-aluminum, 426-cubic-inch engine topped by a 3.0-liter IHI supercharger, offering 1,000 horsepower and 950 lb-ft of torque on 93-octane pump gas. As mentioned above, that engine was called the Hellephant 426 Supercharged Mopar Crate HEMI and with an MSRP of $29,995 and just 100 units produced, it sold out in less than two full days.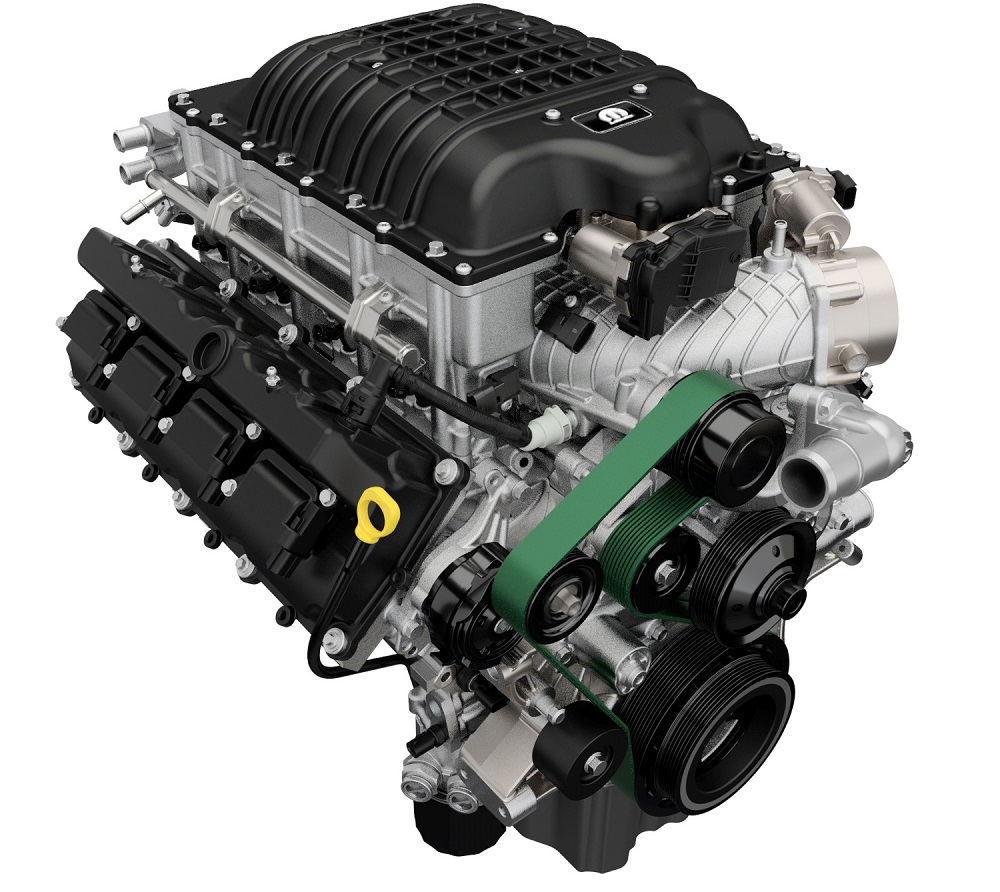 With the introduction of the Direct Connection Hellephant Crate Engine Series, the original Hellephant is back, but with a new name. It is now called the A30, but other than the name, the engine itself is unchanged. That engine will be the first to go on sale through Direct Connection, with the company planning to begin offering it during the second quarter of 2023. It already has a part number – P5160184AC.
The A30 name is made up by using the "A" based on the fact that it has an aluminum engine block, while the 30 is the "proof" on which the engine runs. In the world of cocktails, alcohol is measured in proof, which is twice the percentage of alcohol by volume, and that is the approach with these new engines. The 30 proof engine is designed to run on a mix of up to 15% ethanol, which is most normal pump gas in the United States.
The A30 is joined by the A170, which has the same all-aluminum engine construction, the same displacement of 426 cubic inches and the same 3.0-liter IHI supercharger with the same 3.17-inch pulley, but this engine is designed to run on E85 ethanol blend. The key physical difference with the A170 compared to the A30 is a fuel system that is upgraded for the E85, but with a unique tune, it leads to "over 1,100 horsepower." Since it can run on 85 octane, that makes this engine 170 proof. We can expect more precise power figures closer to when it officially goes on sale in the second quarter of 2024.
Next, the Hellephant Crate Engine Series includes two new engines, both of which are based on the current production SRT® Hellcat Redeye engine, measuring 376 cubic inches/6.2 liters and topped by the 3.0-liter IHI supercharger – but these aren't just Redeye engines with a bigger blower.
Compared to a Redeye engine, the C30 Hellephant has a larger 105-millimeter throttle body with a new design to the housing, blade, shaft and geartrain, upgraded cylinder heads with new valve guide and seat material, upgraded pistons, upgraded connecting rods with new material composition, an upgraded crankshaft damper, improved head and main cap fasteners, billet steel main caps, revised bushings and bearings throughout the engine and a supercharger which features an improved intercooler system, a larger snout and a new 3.02-inch pulley. This engine also comes with production-style exhaust manifolds, while the premium octane fuel tune leads to around 900 horsepower. We will get more official power figures closer to the on-sale date of Q4 of 2023.
As for the C170 Hellephant Crate Engine, it is a 376-cubic-inch/6.2-liter engine and it comes with all of the upgraded components of the C170, but it also comes with an ethanol sensor, upgraded fuel rails and unique fuel injectors to support the E85 engine tune. When this engine arrives in Q3 of 2023, the company expects it to offer over 1,000 horsepower.
Of course, if you can get by with "only" 717 or 807 horsepower, the original Hellcrate and Hellcrate Redeye are still available. These engines both feature a production-style 6.2-liter cast iron engine block, but the Hellcrate comes with a 2.4-liter IHI supercharger, while the Hellcrate Redeye comes with the 2.7-liter IHI unit. The Hellcrate (part number 68303089AC, MSRP $17,925) offers 717 horsepower and 650 lb-ft of torque, while the Redeye version (part number 69303091AC, MSRP $21,807) delivers 807 horsepower and 717 lb-ft of torque.
Direct Connection Race Engines
Finally, if the output of the Hellephant Crate Engine Series just isn't enough for you – or if you want to go racing with the Factory Stock Showdown in the NHRA – Direct Connection has two more options.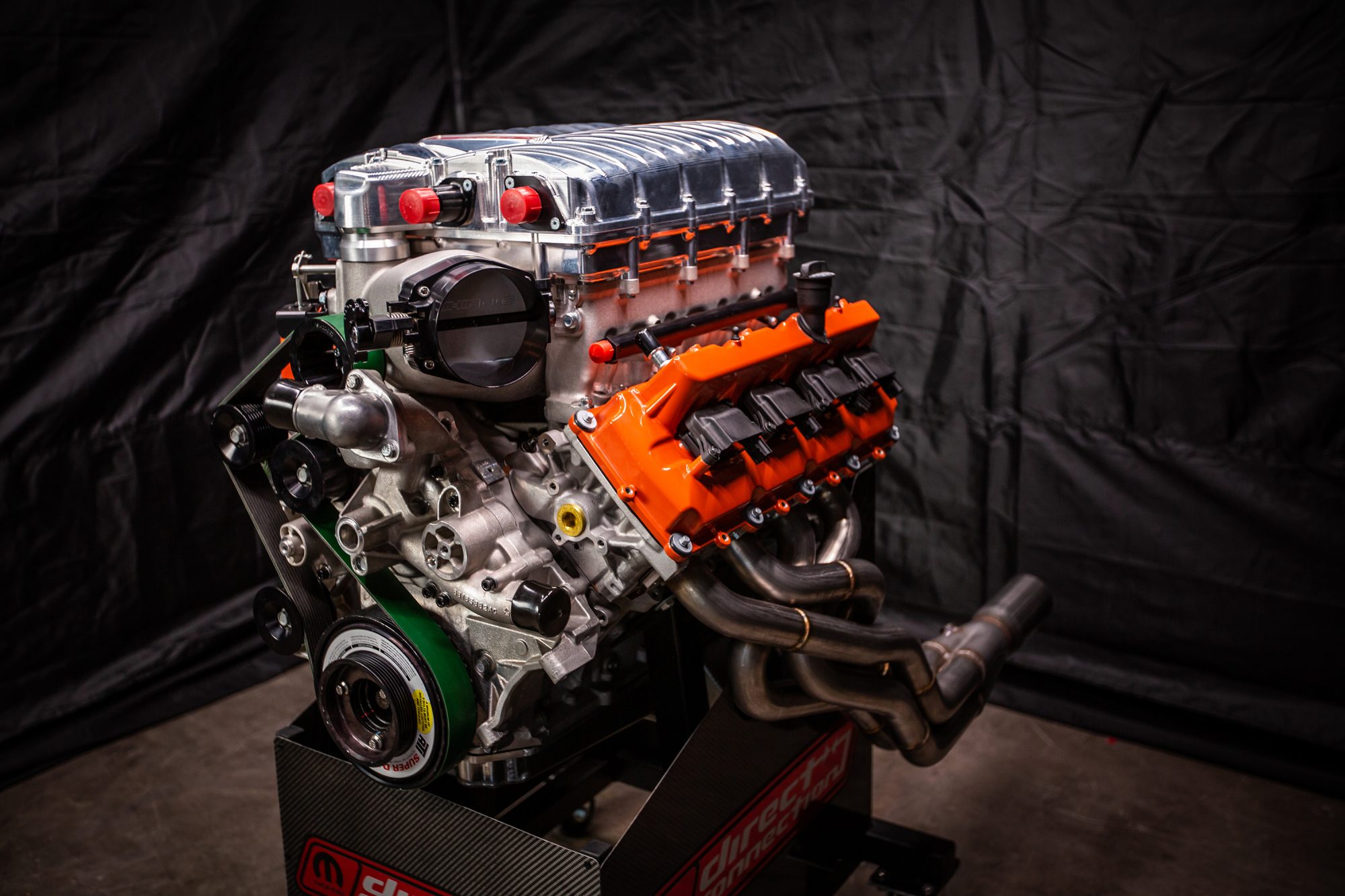 First, the Drag Pak HEMI is the same engine that comes with the competition-ready Dodge Challenger Drag Pak. This aluminum engine measures 354 cubic inches and includes features likes Drag Pak-specific cylinder heads, a Whipple 3.0-liter supercharger, Jesel valvetrain components, a Winberg crankshaft, Carrilo H-Beam connecting rods, billet pistons and AR headers, leading to an official NHRA rating of 650 horsepower on VP C16 race fuel.
Keep in mind that with this exact engine and proper tuning, the Don Schumacher Racing FSS teams are all running in the 7-second quarter-mile range, so that rating of 650 horsepower differs greatly from a 650 horsepower rating in a production car. These engines carry an MSRP of $56,995.
If that simply isn't enough, there is also the Direct Connection 1500 HEMI engine, which is the most powerful crate engine ever offered by any American automaker with a whopping 1,500 horsepower and over 1,000 lb-ft of torque on E85. This engine measures 426 cubic inches from a cast iron block topped by ported aluminum cylinder heads and the Gen V Whipple 3.0-liter supercharger. This engine is officially licensed through Don Schumacher Racing and has an MSRP of $59,990.