If you have someone on your Christmas list who is an SRT® Hellcat fanatic and you are looking for small-scale collectibles of the supercharged Dodge Challenger or Charger, you may have a bit of a hunt on your hands. Just about anything wearing the SRT Hellcat logo has become a popular collectible, especially in the area of die-cast cars. Fortunately, the folks at GreenLight Collectibles have a Dodge Charger SRT Hellcat that is fairly new to their lineup and it is available for purchase through their online store.
SRT Hellcat – Collectible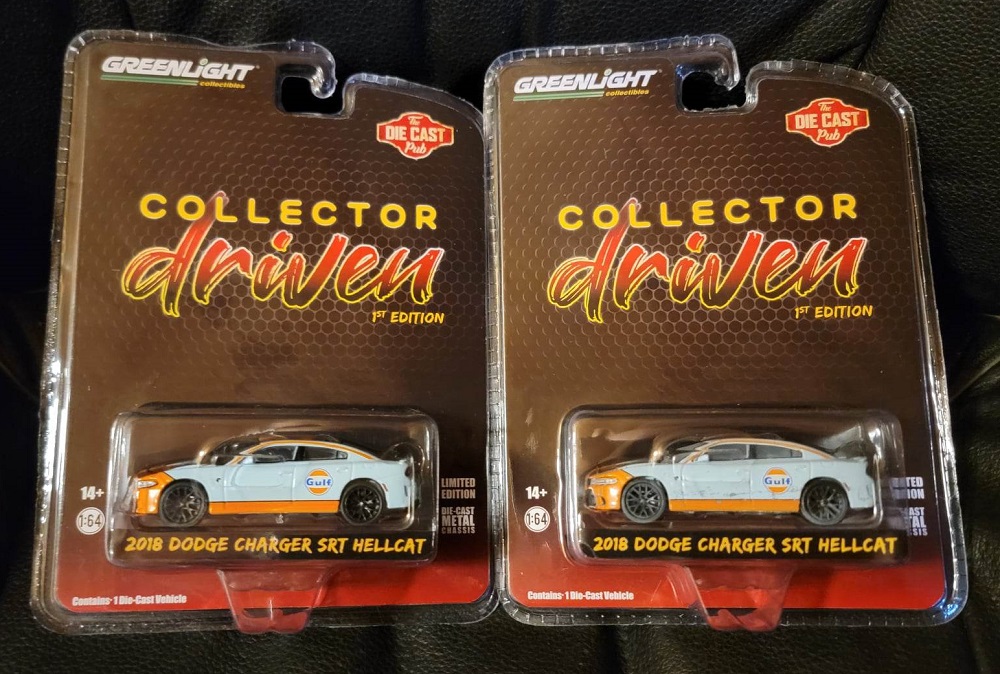 Since the SRT Hellcat name was formally introduced on the Dodge Challenger back at the 2014 New York International Auto Show, it has been one of the most popular monikers in the automotive world. Of course, the full-sized Challenger and Charger in SRT Hellcat have dominated the American horsepower war for the past 7+ years, but the collector's community cannot get enough SRT Hellcat merchandise – specifically in the way of die-cast toy cars. Hot Wheels was the first major brand to feature the SRT Hellcat in small scale, with a Challenger and Charger casting in a variety of different designs. A short time later, the folks at GreenLight Collectibles introduced their first SRT Hellcat Charger and over time, a few other brands followed, such as AutoWorld, Jada and Majorette.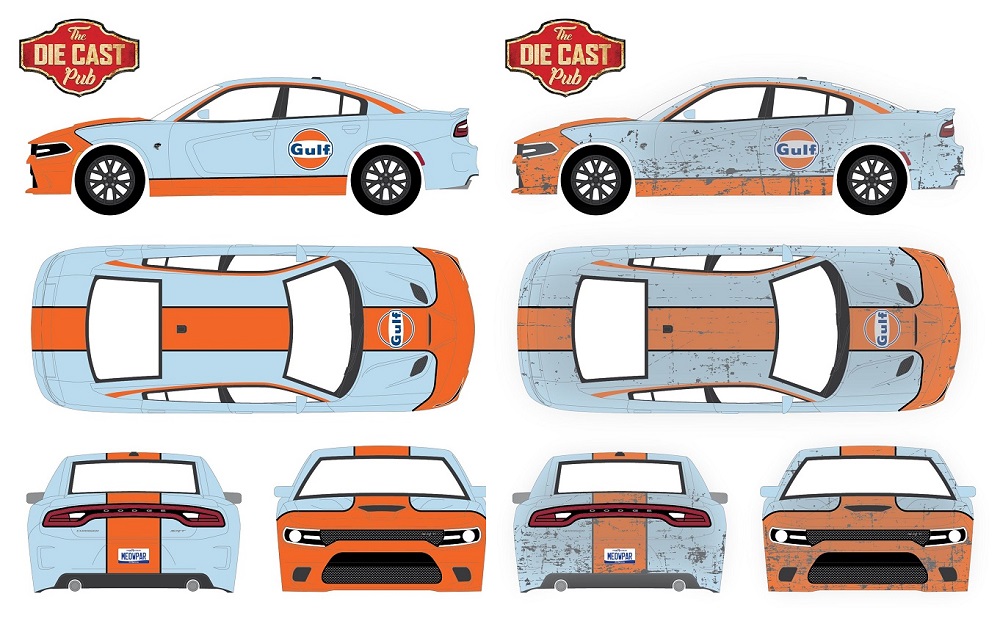 The one thing that all of these Dodge Challenger and Charger SRT Hellcat toys have in common is that they have become very hard to find. My wife and I are pretty serious collectors of Dodge die-cast cars and since the Challenger SRT Hellcat was first introduced by Hot Wheels, I have literally bought every single one that I have ever seen in my local stores. It has been somewhere in the area of 7 years now since those Hot Wheels SRT Hellcats first reached stores and in all of that time, I've only ever purchased 9 of them. For comparison, my local Walmart has a dozen of the latest Mustang from Hot Wheels available right now. Anything SRT Hellcat is still so collectible that every time any company issues a new SRT Hellcat toy, people begin hunting for it. Some are collectors like myself, while others are scalpers who try to exhaust the local stores and then sell the cars for a higher price online. In any case, it is always rare to see any 1/64th scale die-cast car from any company hanging on the pegs or sitting on the shelves at Walmart or any other big box store.
Fortunately, this new Dodge Charger SRT Hellcat from GreenLight Collectibles is not sold through big box retailers. Instead, they are sold through the company's website, preventing scalpers from cornering the market and charging sky-high prices. The method by which this car is being distributed is unique, but that is only a small part of what makes this miniature SRT Hellcat special.
The Collector Driven Charger SRT Hellcat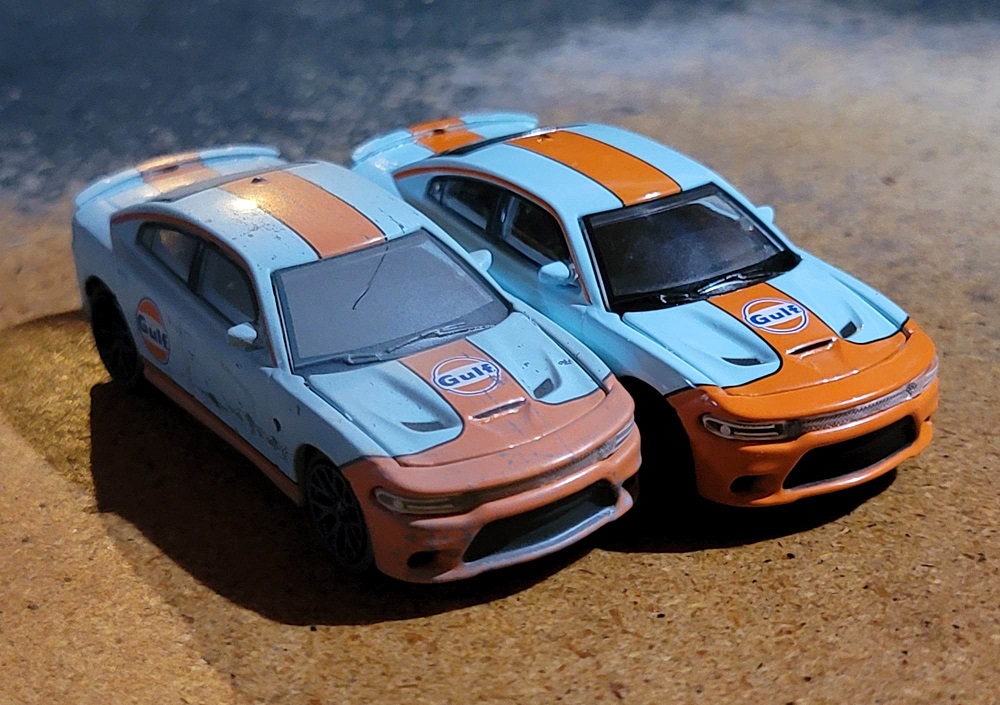 The 2018 Dodge Charger SRT Hellcat shown here is part of the GreenLight Collectibles Collector Driven series, available exclusively through the company's website. GreenLight is a more upscale brand, offering greater detail and more true-to-life proportions than Hot Wheels or Matchbox, so while kids surely play with these cars, they are generally marketed more toward collectors. Recognizing that, GreenLight reached out to a few members of the die-cast car collectors community for their input on creating a car that would have the greatest appeal to the collector's market. One of the people they reached out to was my wife, Amanda, who is an internationally known die-cast collector and the administrator of some of the largest collector's groups online.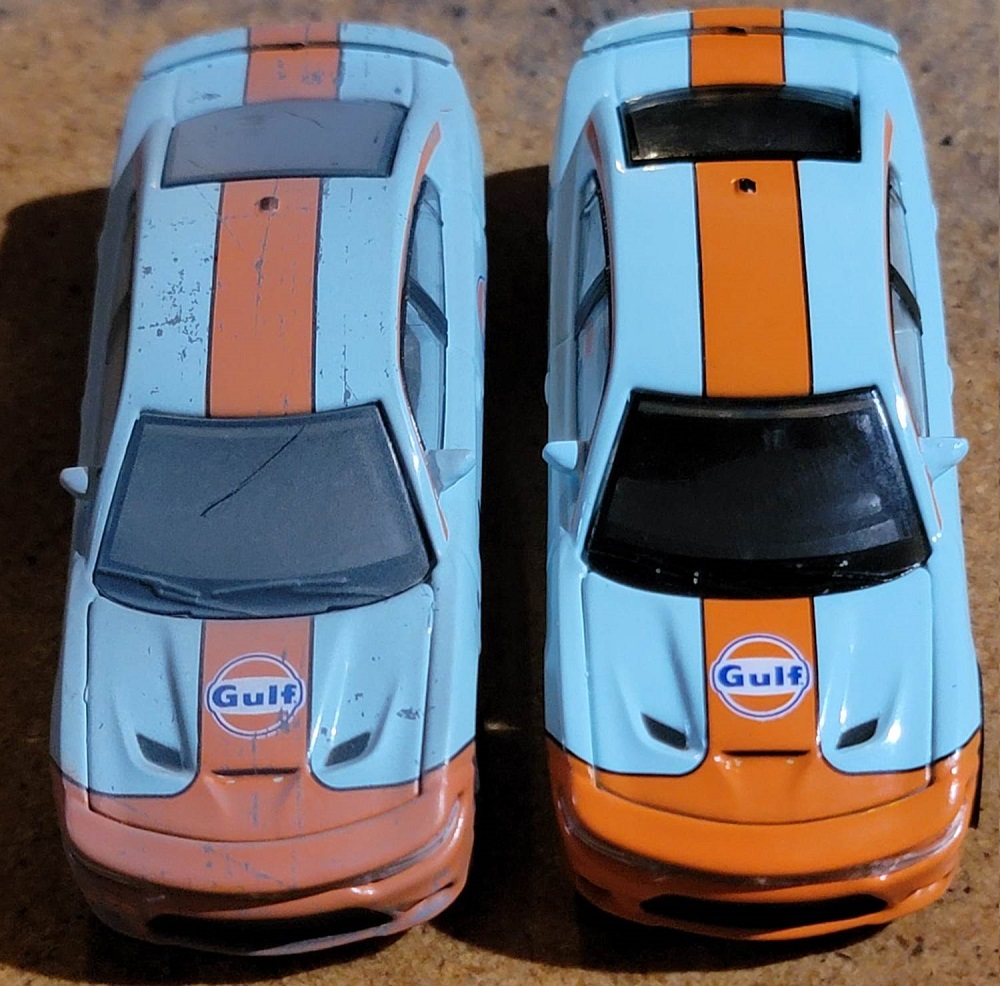 First, Amanda and her partner on the project polled thousands of collectors on which vehicle to feature for the first in the series and, not surprisingly, the Dodge Charger SRT Hellcat was chosen. Next, the group looked at possible paint options that would appeal to collectors and the Gulf Racing design was chosen, as it is easily one of the most recognizable looks in the motorsports world. It is also popular among collectors, making it an easy choice. Finally, Amanda proposed the name "Collector Driven" for the series, since the input for the design came completely from the collector community.
There is one more unique feature of the latest GreenLight Collectibles Dodge Charger SRT Hellcat. As a special nod to my wife for her help on the project, the Charger has a Michigan license plate that reads MEOWPAR – which is the license plate from our own SRT Hellcat Challenger.
As you can see in the images here, the GreenLight Dodge Charger SRT Hellcat comes in two forms – clean and dirty. These are both standard-issue versions, but there is also a "chase" version of each form. Every GreenLight Collectibles comes in a limited production version known as a Green Machine, with unique traits that allow it to stand out from the rest of the run. For the Collector Driven Charger SRT Hellcat Green Machine, the body is "raw" with exposed metal grain under a clear gloss coat and the body-length racing stripes are green rather than orange. Typically, chase versions are sent out to stores in cases at random with regular versions and it is just a matter of luck finding them on the peg or shelf, but for the Collector Driven series, there is a way for collectors to guarantee that they get one of the rare Green Machines.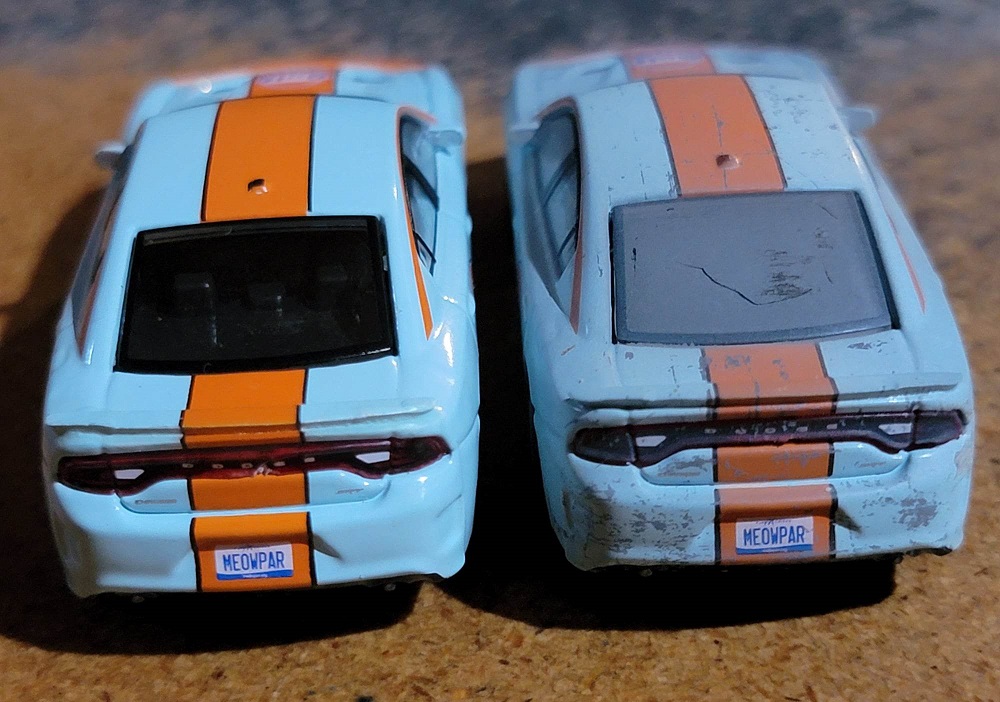 GreenLight sells these Gulf-branded Dodge Charger SRT Hellcats online for $9.99 each, but if you buy a case of six for $59.99, you get a Green Machine version for free. Anyone who knows collectible cars knows that the Green Machine alone will quickly climb in value, making the case a no-brainer for collectors. You can then gift the other five regular examples after keeping one regular and the chase for your own collection.
While these die-cast cars cost a bit more than the Hot Wheels at your local store, the GreenLight Charger SRT Hellcats come with more detail and more collectible value than the high volume items. Plus, unlike most die-cast SRT Hellcats, there is an easy way to buy these cars right now, without paying auction prices. Check them out on the GreenLight website.
If you are a collector of small-scale Dodge products beyond the Charger, GreenLight offers a wide variety of new and classic cars and trucks from both Dodge and Ram, with many more coming in 2023. This includes multiple variations of the 2015-2022 Dodge Challenger (including the Scat Pack, SRT Hellcat, Redeye and Demon), the 1945-1950 Dodge Power Wagon, the 1981-1993 Dodge Ram D250 and the 2018+ Ram 3500.