It's that time of year when yours truly partners up with David Carr from SRT® Engineering to hustle across the country racking up 4,000 miles along the interstates and freeways on a week-long adventure. We will travel through seven states competing at eight tracks along the way. These stops will include iconic race courses, a couple of auto cross events and even a blast down the drag strip. What's this event you ask? The Tire Rack Brock Yates' One Lap of America, which has been testing both man and machine since 1984.
The One Lap of America's roots go way back to the early 1970s when a group of speed-crazed folks lead by Car and Driver editor Brock Yates would drive flat out from New York City to Long Beach, California. Books have been written, movies have been made, but nothing beats getting behind the wheel to make that mad dash from sea to shining sea.
But that was another time and a form of protest over the nationally mandated 55-mph speed limit back in the days of CB radios and Stuckey's restaurants dotting the American landscape. These days, the event organizer, Brock Yates Jr., knows it's irresponsible to sanction an event that lets go-fast lunatics loose on America's roads and highways. That's why the One Lap of America was created and the whole premise is to let folks like me and others race against the clocks and the competition at challenging tracks across the country.
There's also another challenge, the long driving stints between each event that include up to 10 hours and 800 miles from race track to race track, all while observing all traffic regulations while traveling between stops. The One Lap competitors also have to finish the event on one set of tires and without a support crew. If you break down on the road or at the track, we hope you brought tools and spares because it can be a long tow home.
If you recall last year, David Carr and I finished first in the Truck/SUV class and 24th overall among 50-plus participants in Corvettes, Porsches and even Vipers. Our slightly modified Dodge Durango SRT, powered by a 475-horsepower 392 HEMI® engine, was flung around race tracks mercilessly and to the surprise of our fellow One-Lappers, and we laid down some great lap times. But this year, we've stepped it up a little bit knowing the competition will be coming for us after the thrashing they took last year from our SUV.
This time, SRT Engineering created a one-off Dodge Durango SRT Pursuit concept vehicle to compete in the annual One Lap of America, which is scheduled for May 4-11. Nicknamed "Speed Trap," the purpose-built Durango SRT Pursuit concept packs 797 horsepower from the supercharged 6.2-liter HEMI high-output V8 engine.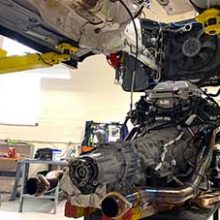 If more is better, the additional 300 horsepower will shock a few folks when it rolls out onto the grid. Our Speed Trap Durango SRT concept will feature exclusive Durango Pursuit Law Enforcement livery and, of course, a light and siren package, but we'll keep it cool. Other mods include Mopar® lowering springs and a low-restriction cat-back exhaust system.
Dropping the supercharged 6.2-liter HEMI high-output V8 engine into the Durango SRT was basically a straight swap since both the 392 and the 6.2-liter HEMI V8 engines share the same basic exterior dimensions. The Durango SRT hood also provided enough clearance for that menacing supercharger that'll make lots of boost. The SRT engineers also went with Kooks long-tube headers complete with high-flowing catalytic convertors to free up even more horsepower.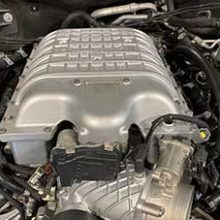 That's a good thing when pushing a 5,000-pound vehicle around a race course.
Moving all that power to all four wheels begins with a TorqueFlite 8HP95 eight-speed automatic transmission and then an MP 3015C transfer case. The torque split between the front and rear tires is 40/60 when cruising down the highway, but on the race course, we'll go all "Track Mode" and channel 70 percent of that HEMI engine's 707 lb.-ft. of torque to the rear and give the massive 305/35ZR20 Pirelli P-Zero tires a good workout on the pavement. The front Pirelli tires don't get off that easy; the remaining 30 percent of the HEMI engine's insane power will also have them screaming for mercy on tight turns and curves.
We'll be posting updates from the road, so wish us well. It's a long race and a lot of miles to cover, but with almost 800 horsepower under the Durango's hood, we'll shrink time and distance in a hurry!