Imagine ordering a brand-new 1970 HEMI® Challenger R/T, driving it 100 miles on the street and turning it into a full-on racecar to compete in NHRA Super Stock. That's exactly what was on Danny Crawley's mind in the fall of 1969 when Dodge introduced their new "Pony Car" to the masses. Danny got wind of this new machine while working as a transmission tech at McGinty Dodge located in Indianapolis. Being a drag racer for many years and flogging Pontiacs and Chevys down the quarter-mile, it was after Danny graduated from Chrysler's Vocational School and was hired at a McGinty Dodge that he saw firsthand how well built and engineered Chrysler products were. That also translated into seeing how fast these Mopar® machines were as Ronnie Sox and Dick Landy won many victories at Danny's home track – Indianapolis Raceway Park (IRP). This obviously made a huge impact on Danny, and he wanted to race the latest high-performance cars coming out of Detroit. So, with pen in hand, Danny along with a salesman, began the ordering process and checking the boxes on a new 1970 HEMI Challenger R/T.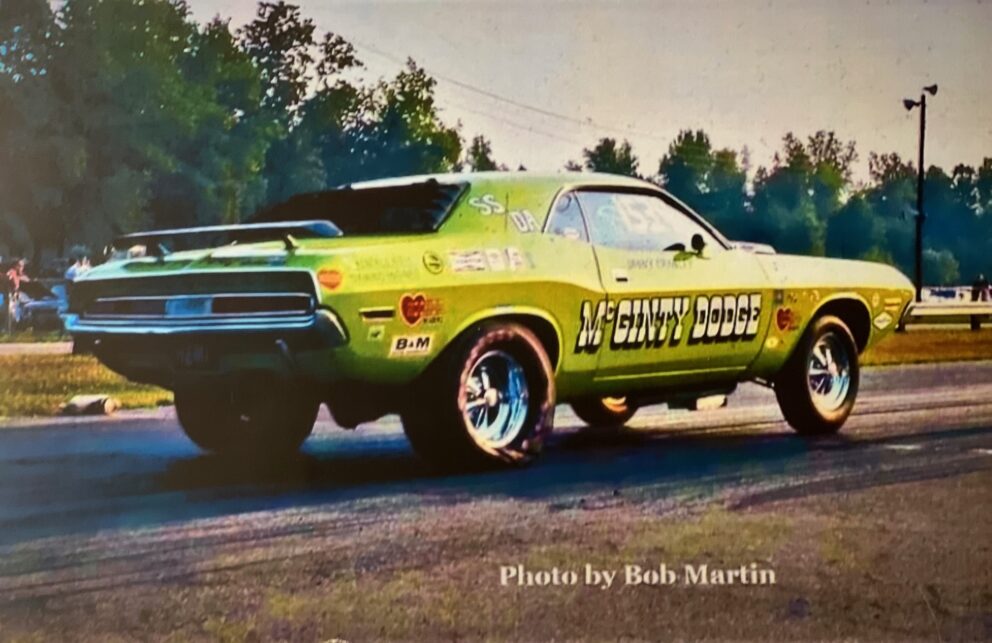 Along with the 426 HEMI engine and 727 TorqueFlite® transmission, Danny chose one of the new High-Impact colors for 1970 – Sublime Green. He then went ahead and clicked off other options that included black bucket seats for the interior, console, AM radio with eight track tape player, tachometer and 8-3/4 axle Performance Axle Package (Danny did spec out the indestructible DANA 60 for his HEMI Challenger R/T, but somehow the salesman wrote down the wrong option). Danny did order some creature comforts and convenience items, such as a driver's side six-way adjustable bucket seat and left-hand remote mirror. But one of the most intriguing options that Danny ordered on his Challenger R/T was the rear window louvers and decklid spoiler. In today's muscle car market, those two options alone on any 1970-1971 Challenger or 'Cuda add significant value to the car as it increases its rarity. But in the fall of 1969, Danny was not thinking about what the car might be worth some 50 years later, he was focused on going fast in one of NHRA's most hotly contested classes, SS/DA. Little did anyone know back then Dodge would only build approximately 150 automatic-equipped 426 Street HEMI Challenger R/Ts for the 1970 model year and this one has survived the ravages of time a quarter-mile at a time.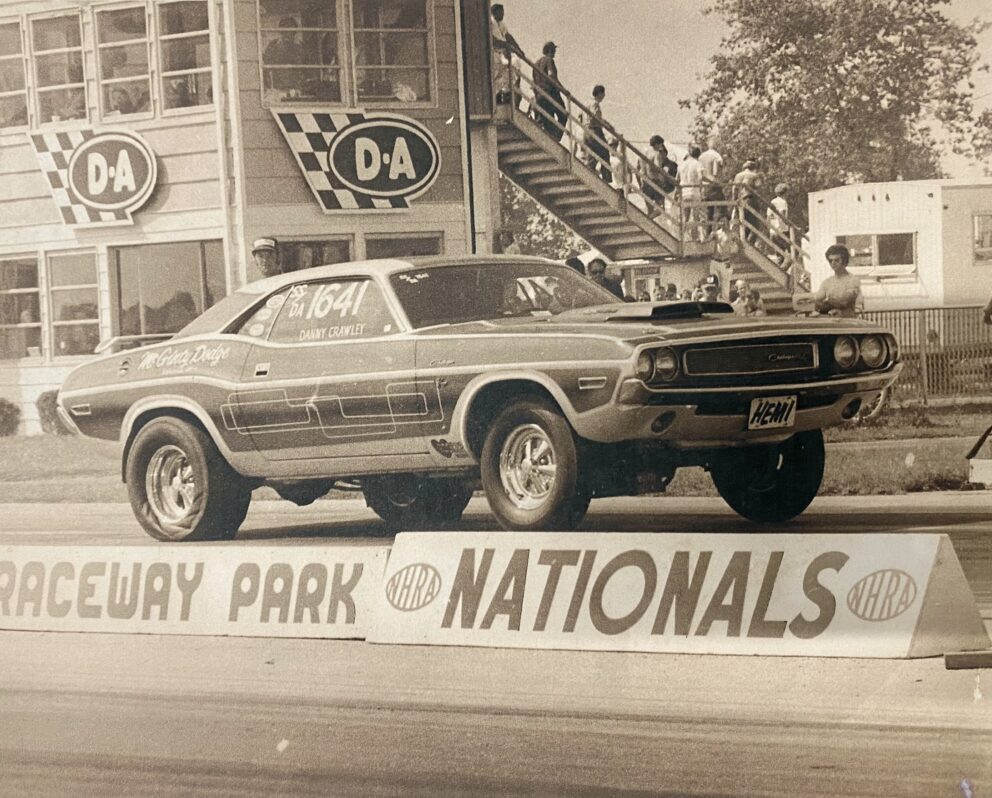 "I intentionally ordered the Challenger in Sublime Green as I wanted it to stand out on the drag strip," noted Danny. After reaching a sponsorship deal to run the dealership name on the side of the car, the dealer owner agreed to sell Danny the HEMI Challenger R/T at a cost which was approximately $3,500 and throw in a Dodge D500 truck for a tow vehicle. Despite taking almost six months to arrive from the Dodge Main Plant in Hamtramck, Danny was already hard at work plotting his next move on the Challenger. "I was able to negotiate a parts deal and purchased at cost a new fiberglass Challenger T/A hood for $240.00," said Danny. This part was Super Stock legal for all Challenger R/T models and offered fresh air a direct pathway into the HEMI engine's thirsty Carter AFB carburetors. This hood was functional and much lighter than the R/T's standard Sport/Rallye steel hood and looked much cooler. After putting around 100 street miles on the Challenger, Danny headed to IRP and ran the car in Pure Stock. "It clicked off 13.40-second ETs with no mods," commented Danny. But the Sublime Challenger didn't stay stock for long. Almost immediately, the HEMI Challenger R/T got turned into class legal Super Stocker sporting slicks, Cragar S/S mags, a modified 727 trans and a highly tricked out but NHRA legal 426 Street HEMI engine-powered vehicle with all the latest goodies, including a modified intake manifold, hotter camshaft, headers and other blueprint tuning secrets supplied by the dedicated engineers within the Chrysler Race Group. As the drivetrain and suspension got updated, so did the Challenger's appearance. "I had a local painter spray a custom metallic paint job on the car, but I didn't like it. Especially when sheets of paint were flaking off the car," laughed Danny. By the mid-'70s, I had the car painted in red imron and felt that never looked good."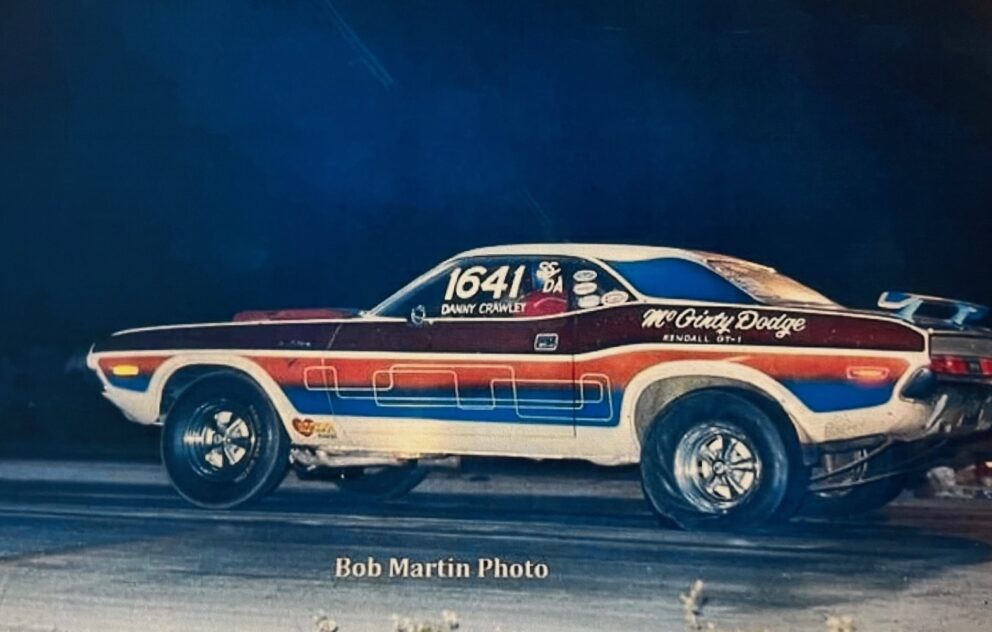 By the mid-'70s, Danny painted in red imron to freshen the look. He had raced for many years in the highly competitive Super Stock class that brought Danny class wins and track records, but he started to dabble in the highly lucrative up-and-coming Bracket Racing categories. They paid more cash and placed more emphasis on a driver's reaction time and dial-in skills. "Bracket racing was where the money was back then," smiled Danny. Along with more cash, Bracket Racing required less flogging of the driveline to stay on top of the competition in the dog-eat-dog battleground of NHRA heads-up class racing. With HEMI parts drying up by the mid-1970s, that was another contributing factor for Danny. Eventually, Danny felt it was time to take a break from drag racing and sell the HEMI Challenger R/T. "I was always in the Mopar hobby and began a successful transmission business with my race winnings," commented Danny. However, it was at one of Danny's last outings with his Challenger that would forever impact another Mopar racer. While at a big Bracket Race at Beech Bend Racing in 1977, "FOR SALE" was written in white shoe polish on the Challenger's passenger door glass and at that moment, the next chapter for this rare machine would begin.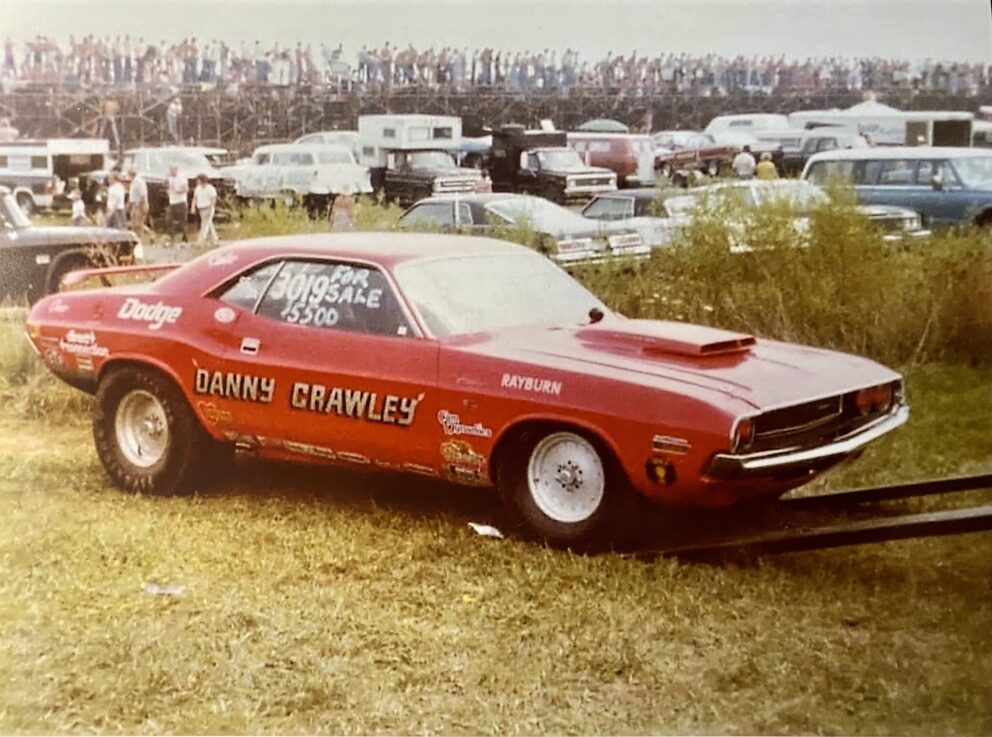 "Back in 1977, I got to go to Bracket Race Finals at Beech Bend in Bowling Green, Kentucky. I was racing my Coronet and Danny Crawley was there running his 1970 Challenger in the Super Pro Bracket class. Even though he had a 'FOR SALE' sign on it in big letters, the car found me," laughed Dave Turner, the HEMI Challenger's caretaker since Jimmy Carter was president. "My family and I sat in the bleachers around 2:30 a.m. or 3:00 a.m. watching Danny go rounds. He (Danny) got to the final and only broke out by only .001 of a second," reminisced Dave Turner. "We knew it was a really good winning car, but the trouble was I just bought a Plymouth GTX and a Plymouth Superbird and only had $2,200 on me. Danny wanted around $6,000 for the Challenger, so my dad agreed to loan me the rest of the money. The next week, we went to Indianapolis, bought the car and brought it home," said Dave. And what a car it was as Dave and his crew got to race his cool HEMI Challenger for the first time at National Trail Raceway prior to them closing for the season. "I got to semifinals in the bracket class, but really wanted to run it in Super Stock. Back then, you had to run off the established NHRA National Record, and at the time, the record for Super Stock D-Automatic was 10.65. The Challenger would run 10.70s in good air, 10.80 – 10.90 in summertime air, but it was not quite competitive enough," noted Dave.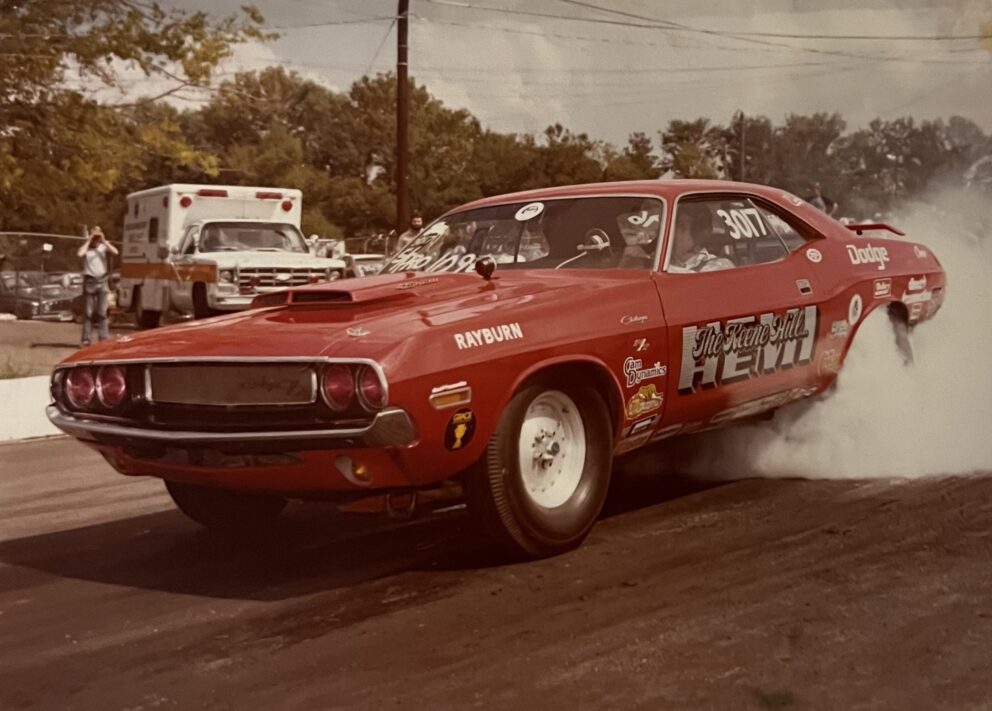 But that never dissuaded Dave and his quest to race in Super Stock, once one of NHRA's longest-running and toughest classes. "In 1979, we had Danny Crawley build another Street HEMI for the Challenger and install a Chrome Moly Roll Cage within the interior. The car ran better, but again the record got lowered," reflected Dave. "In the 1980s, I ran two Bracket Classes, Super Pro and Super 32. In 1990, I was the track champion in Super Pro at National Trail Raceway. I beat all the delay box racers. I didn't have a trans brake, I was just foot braking but the writing was on the wall. If you were going to win much, you were going to need a trans brake and delay box and I didn't want to race that way. In 1995, we decided to get away from all the delay box cars and dragsters. I started running Super Stock. By then, NHRA went to an index system. The Index for SS/DA was 10.50. After jumping through all the NHRA hoops, my first NHRA Super Stock race was the 1996 Springnationals in Columbus. I got down in the Quarter Finals, I red-lighted against Jeg Coughlin who would later go on to be a multi-time NHRA World Champion in Super Stock and Pro Stock!"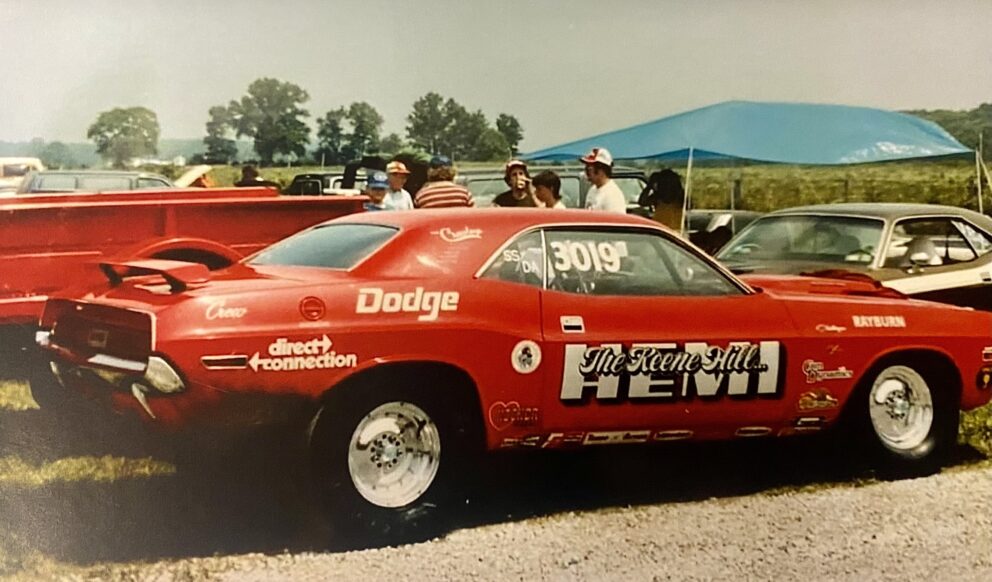 Now Dave was more determined than ever to keep the rare and unique HEMI Challenger R/T in the NHRA class it belonged to, Super Stock. Over the decades, he and his family, who are his part-time crew, have racked up some impressive racing accomplishments. These include an NHRA Divisional Points Meet at US 131 Dragway in Martin Michigan in 2000, a SS/DA class win at the 2003 NHRA Route 66 Nationals in Joliet, another SS/DA class win at the prestigious NHRA US Nationals in 2011 and a Super Stock quarterfinal at the Summit Racing NHRA Nationals at Norwalk Raceway Park. "Over the years, we've picked away at making the Challenger faster and more competitive for the class. With a minimum weight of 3,580 pounds for SS/DA, we've gone from running 9.80s in the quarter, to 9.21 at over 143 miles per hour," exclaimed Dave.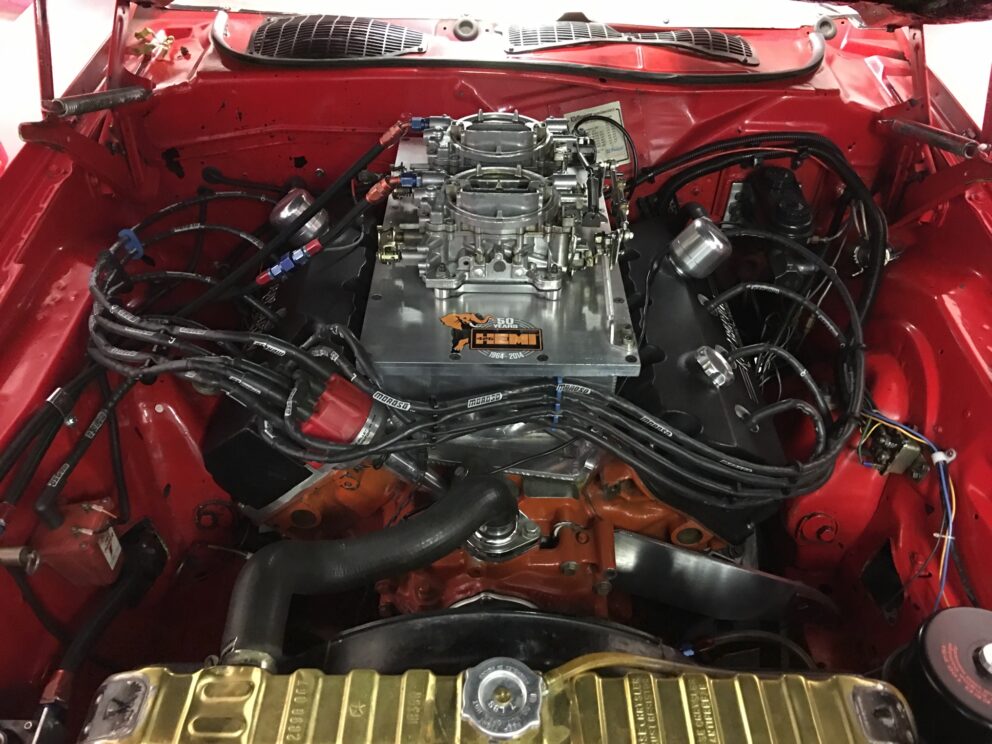 Dave knows there's more that can be done on the Challenger to make it faster, but he doesn't want to go all out and hack up this rare E-body. "On a 10:20 class index, the car still runs on leaf springs with housing floaters and ladder bars. The Challenger still has the original gas tank under it and the back seat, even though no one sits there," laughed Dave. "All the original wiring is still under the dash and even the parking brake. I just love this car and I'll probably race this Challenger until I decide to quit. Many people have helped me over these many decades in my racing passion including my dad, who eventually passed away in 2001. Still, I have wonderful people around me such as my wife Rosemary, son Matthew, nephew Mike Finton, and good friend and fellow Mopar Super Stock racer Sean Dornan. So many people have been a huge help over the years!"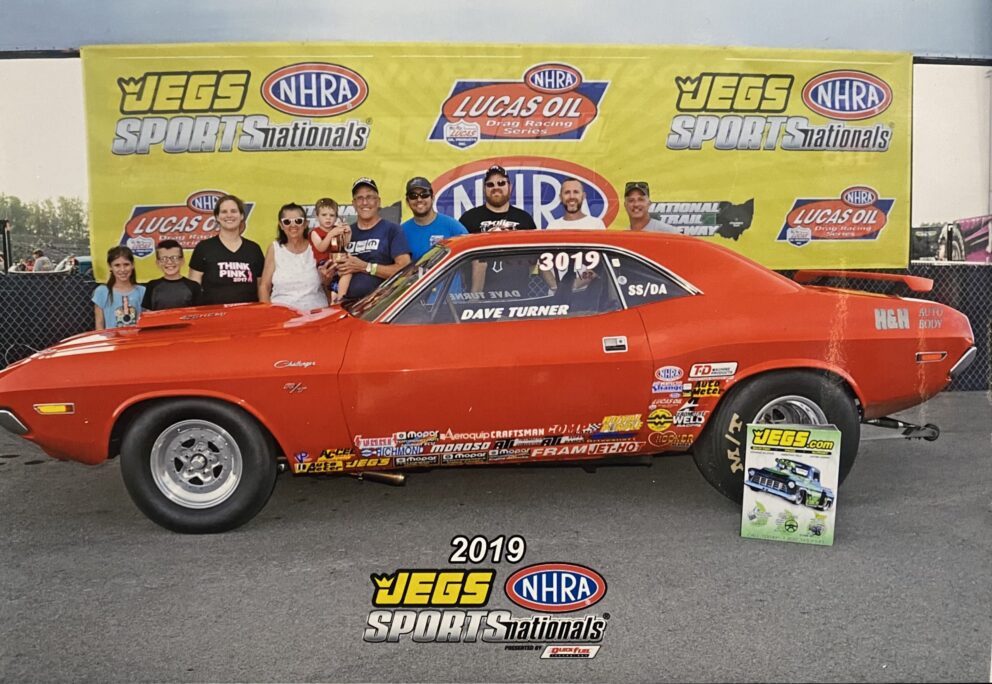 At 70 years of age, Dave has no intentions of parking his HEMI Challenger Super Stocker and just watching the corn grow from his front porch. His love of racing and owning cool Mopar vehicles will keep him firmly planted in the Mopar hobby for years to come.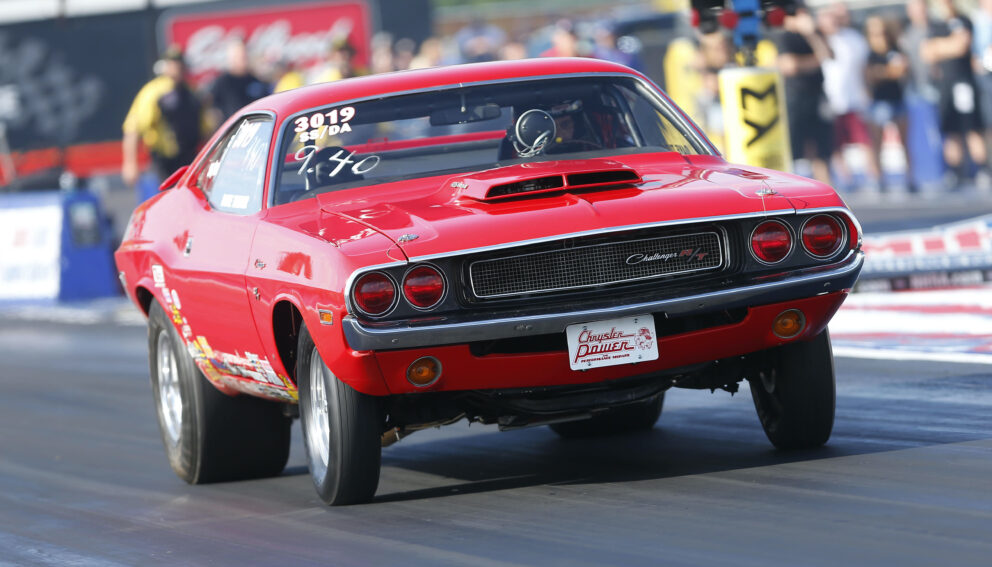 Here's a photo gallery of Dave Turner's rare 1970 HEMI Challenger R/T Super Stocker through the years. Check out the one pic of Dave's 1971 383 Road Runner he once used as a tow vehicle for the Challenger, now how cool is that?