— Rare HEMI® hood call-outs
— FY1 High Impact color option
— New wrap-a-round front bumper for '70
CLASSIC STYLING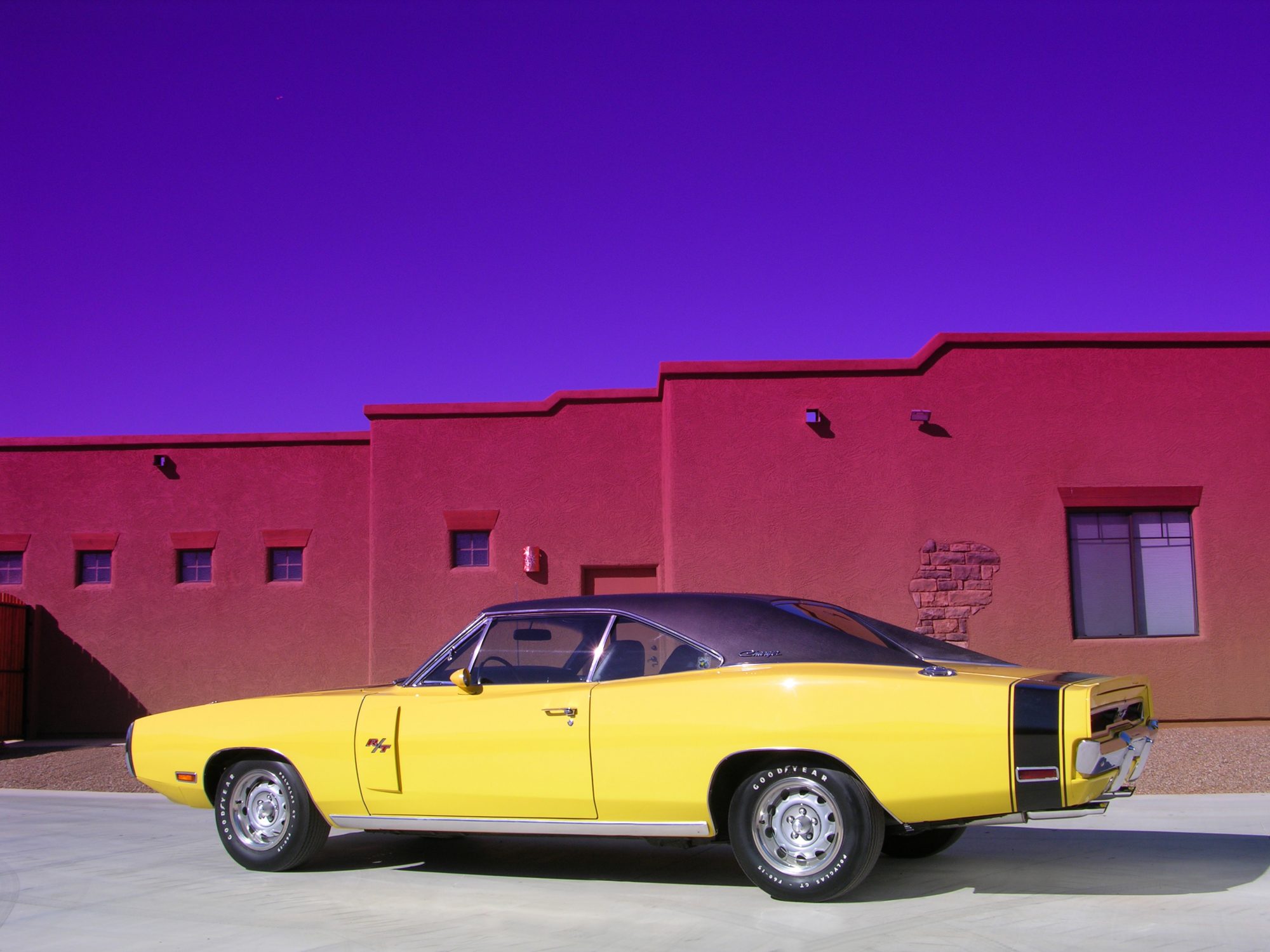 The brilliantly designed 1968-70 Charger body! While the basic structure (B-Body) was based off the Dodge Coronet platform, the Charger has a look all its own. Styling emphasis was over the rear wheels with the design tapering forward to convey a forward thrusting look. Full wheel cutouts, bulging rear fenders, racing-style fuel-filler cap mounted high up and an integral rear lip spoiler built into the deck were among its unique features. The classic "Coke Bottle" design!
1968-70 Dodge Chargers rode on a 117-inch wheelbase and were considered "intermediate" sized cars. Dodge General Manger Bob McCurry at the time called it the "family-sized sports-car" and even though the Charger was in reality an offshoot of the Coronet, overall it had a look and feel unlike any other Chrysler B-Body car; in fact, it was unlike any other car of the era, and the Charger was only available in a 2-door body style and never a convertible.
The pictured 1970 Charger R/T (painted Code FY1 "Top Banana" high-impact Yellow) has had an extensive "paper chase" done on it and it has been established that the car was originally purchased by a 15-year-old kid from the San Diego area. This vehicle was "special ordered" with a host of desirable options. Right off the bat, the youngster marked the box where it said "E74" which specified the 426-cid HEMI engine. Next, he chose "D21" which called out for the 4-speed gear box (complete with Hurst "Pistol Grip" shifter). "A33" Track Pak meant 3.54:1 rear gears, big Dana 60 rear axle.
This car had a scheduled build date of May 12, 1970, and was so heavily equipped with options that it required two separate price stickers (Monroney labels) on the window when new.
NEW FRONT END TREATMENT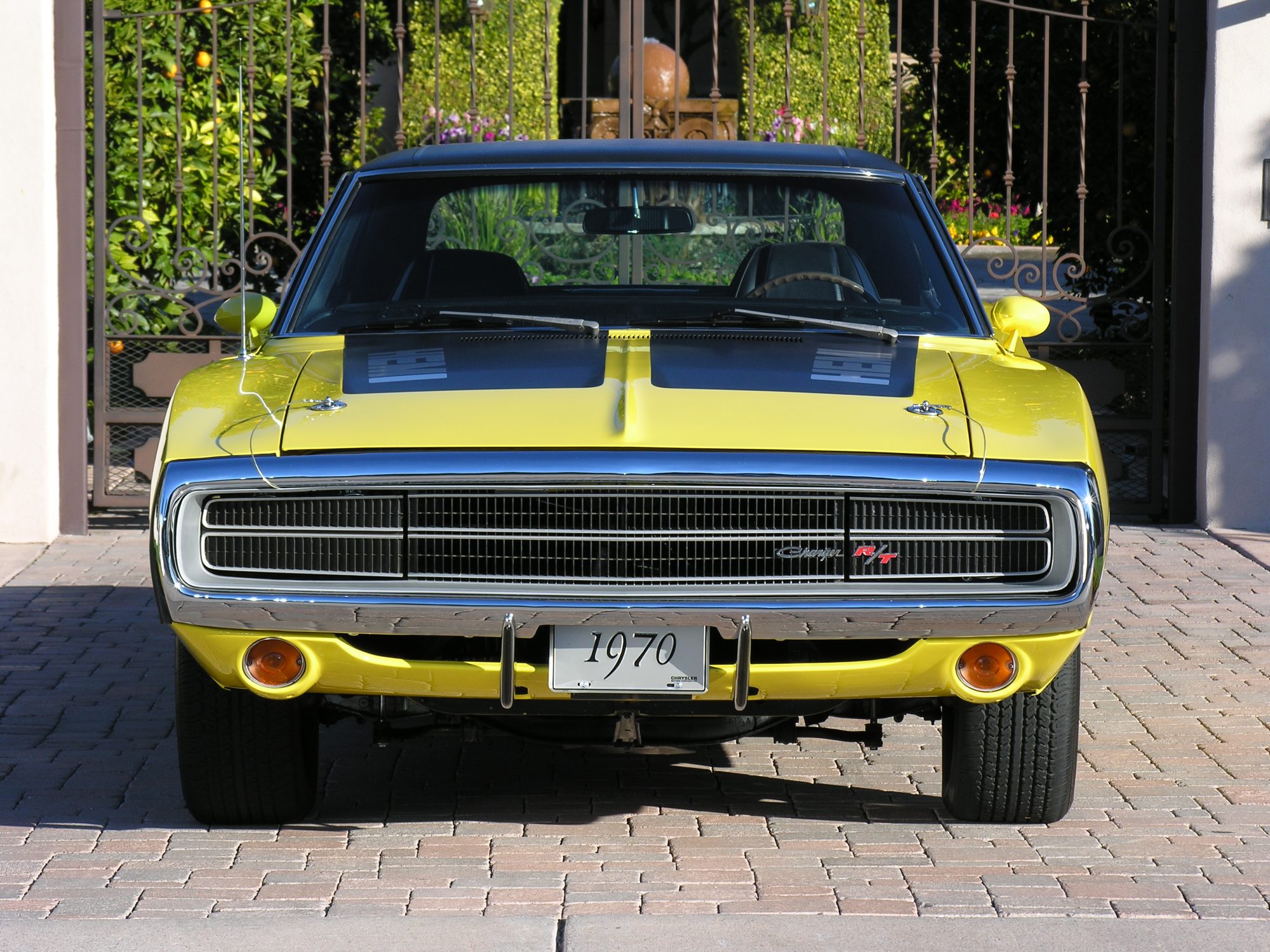 The wrap-a-round front bumper with electric concealed headlamps was new for the 1970 model year. When the lights are turned on, the electric motors open the doors in the grille. When the lights are turned off, the doors close.
THE LEGENDARY HEMI OPTION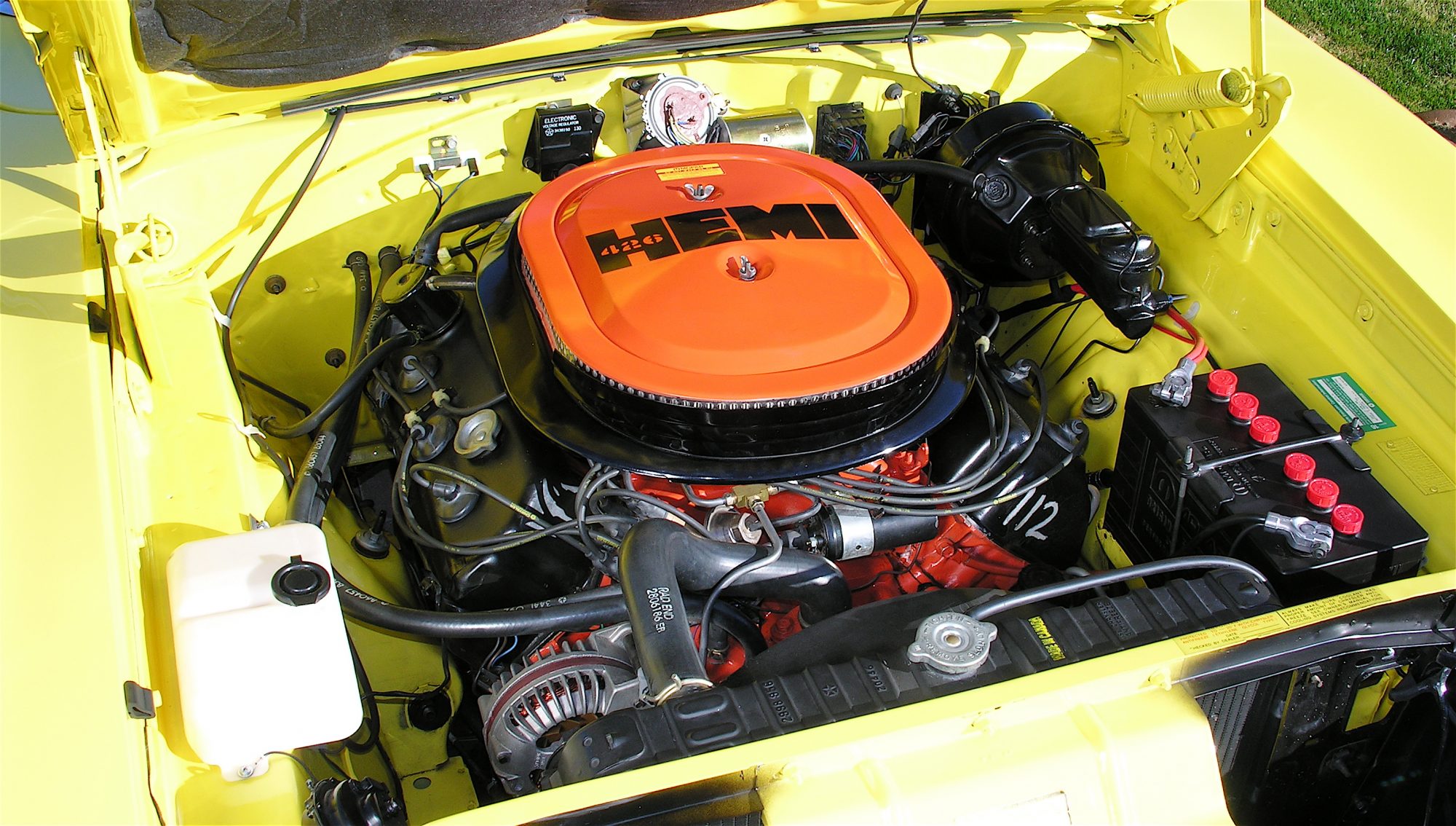 1970 Street HEMI engine-powered vehicles came with dual Carter carbs, 10.25:1 pistons, huge valves (2.25-inch intake, 1.94-inch exhaust) and free-flowing cast-iron exhaust headers, fed to a 2 ½-inch dual exhaust system. Horsepower was listed as 425 (at 5,000 rpm) with torque (lbs-ft) rating of 490, at 4,000 rpm. How many HEMI engine-powerd 1970 Chargers were produced? Records indicate a total of 112 for U.S. production, with an even split of 56 4-speeds and 56 automatics. There were also 12 built for Canadian consumption (transmission breakdown unknown).
WOOD IS GOOD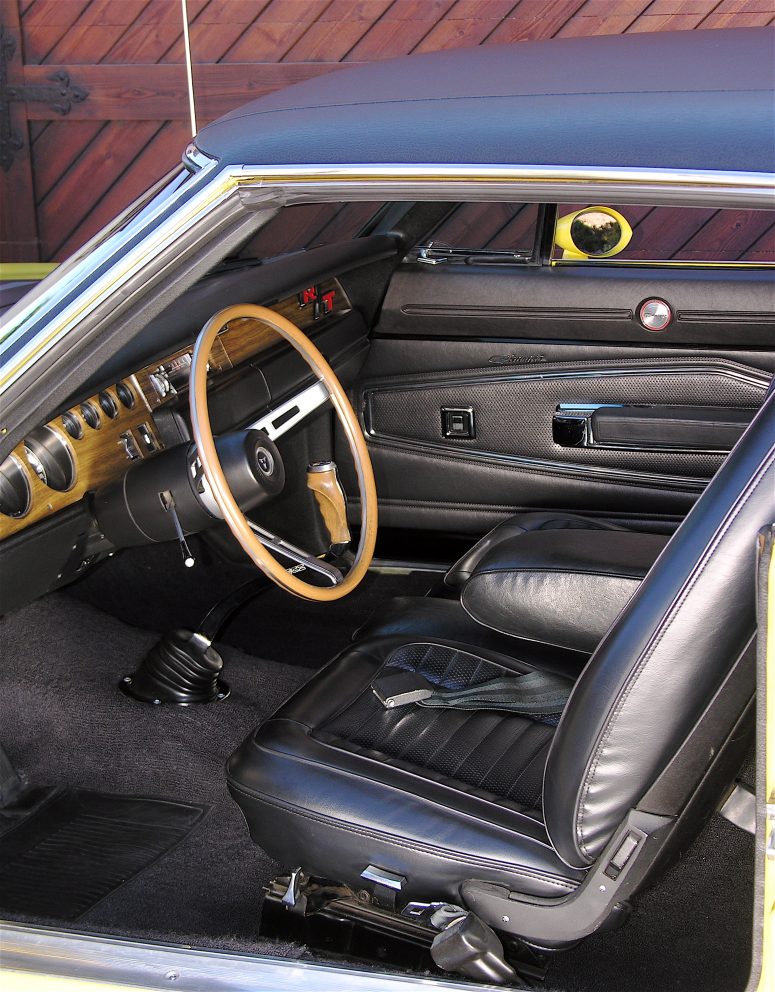 Charger R/T models came with standard simulated wood-grain treatment on dash and 150-mph speedo. This car has the "S81" three-spoke simulated wood grain steering, which came with stainless steel spider and vinyl-covered (padded) horn button. The bucket seats on Chargers in 1970 were "high-back" in design and featured integrated head restraints. Chargers with bucket seats were considered 5-passenger vehicles, but could seat 6-passengers, as equipped with the optional "buddy bucket" that doubled as a padded center armrest (when lowered).
Options include 8-track stereo tape unit (R22) which was integrated with an AM radio (transistorized). Three speakers are mounted in the dash. Power windows (P31) was a $105.20 option and came with flush-mounted switches.
V24 HOOD TREATMENT WITH HEMI CALLOUTS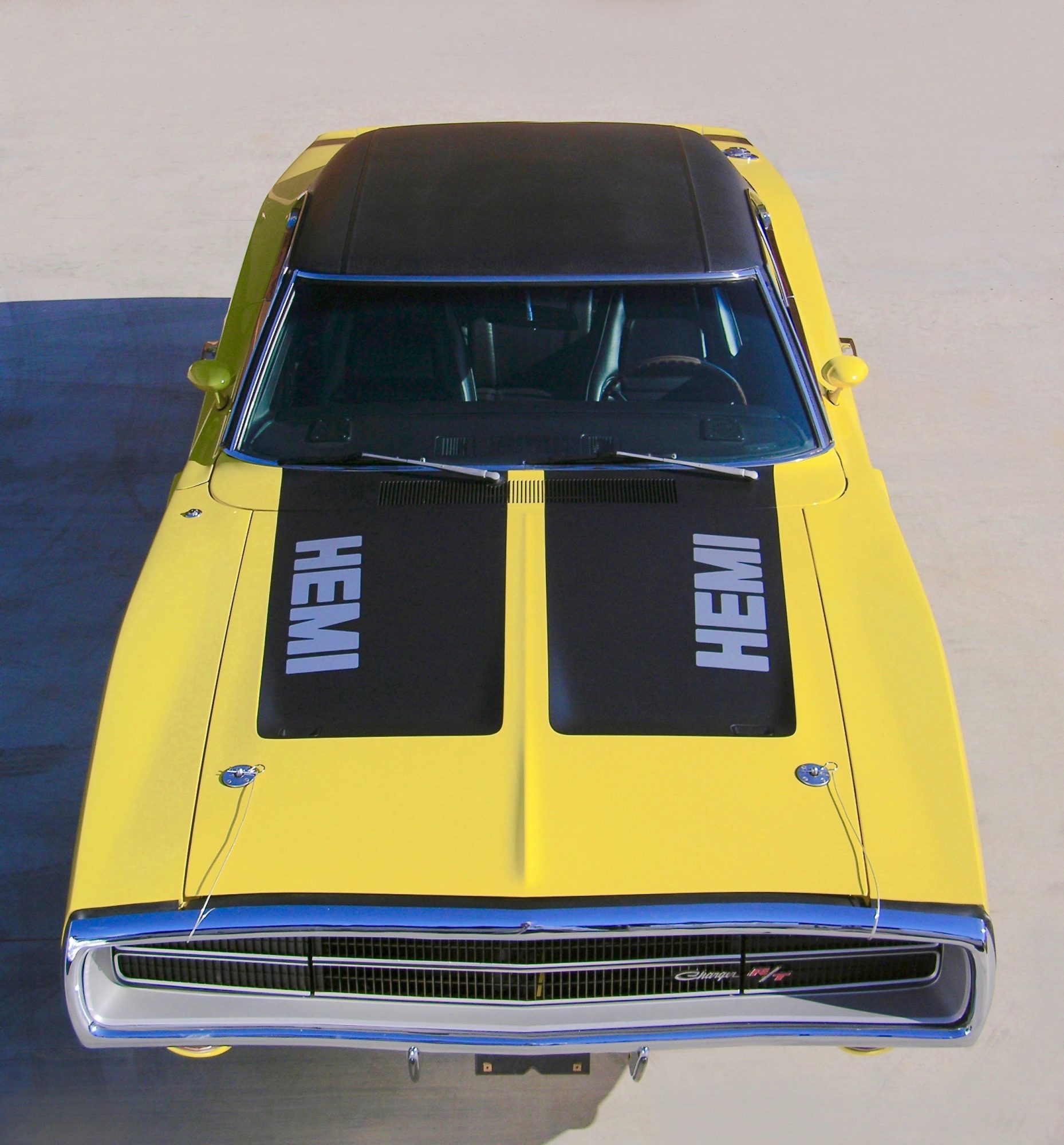 The big deal here is the hood! A rare factory option was "V24" which was $20.80 and included black treatment and "HEMI" callout letters.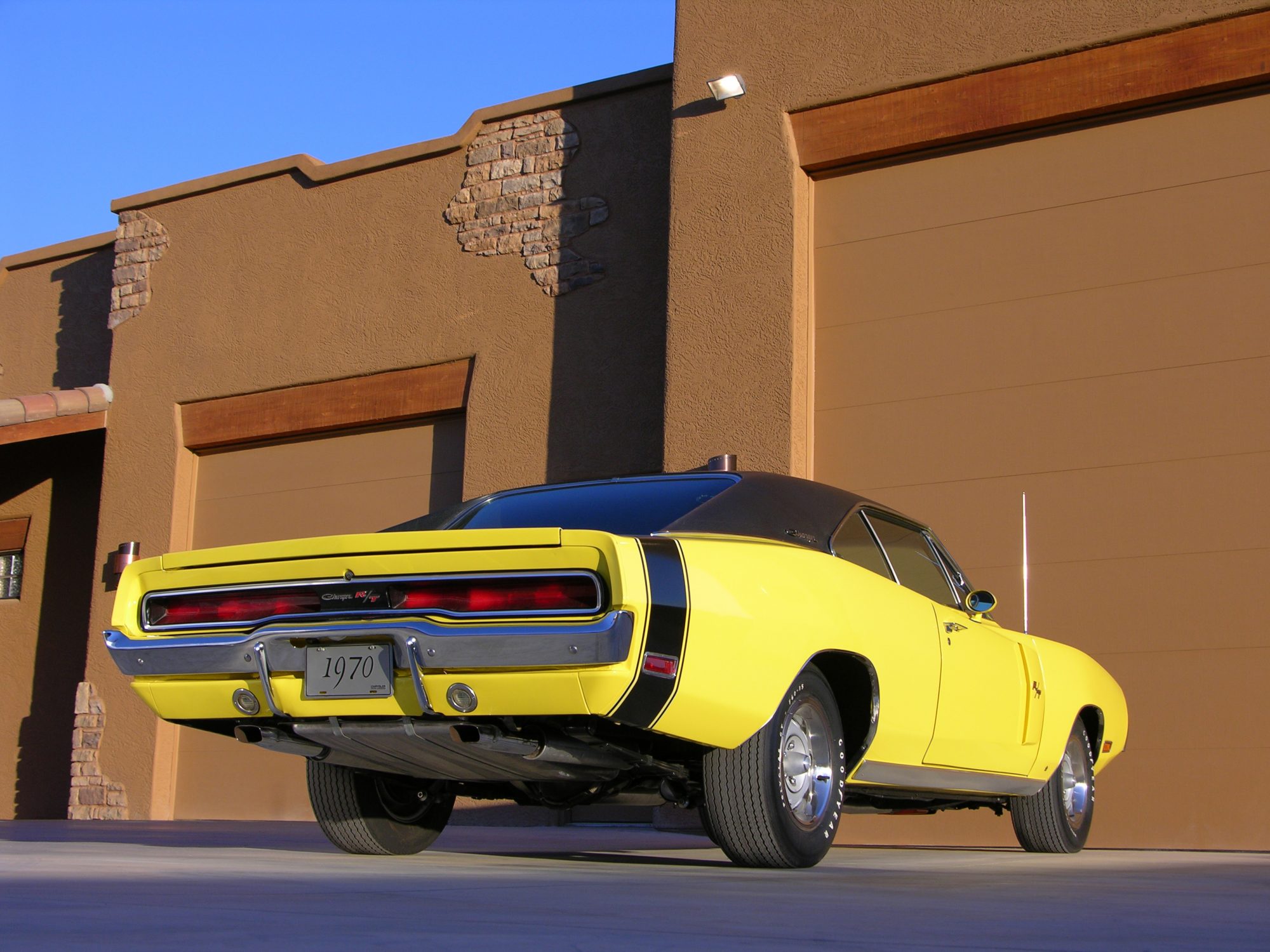 These were no lightweight cars! A bare-bones 1970 Charger R/T had a factory weight listing of 3,605 pounds, and when studying the original window sticker (which lists the weights of the various options) this Top Banana Charger weighed in at 4,029 pounds. The HEMI engine alone was listed as adding 232 pounds over the base engine.
EXTREME ENGINE DETAILING
For 1970, the HEMI engine got hydraulic lifters and a solenoid stop on the primary carburetor (causing the throttle blade to close completely when the ignition was turned off to prevent the possibility of "after-running"). These minor changes were done to meet the new 1970 emissions standards. On a 1970 Charger, the HEMI engine option cost $648.25 and was worth every cent. Those Carter carbs have the right numbers on them, #4742S (front), #4745S (rear, manual).
BUMBLEBEE RACING STRIPE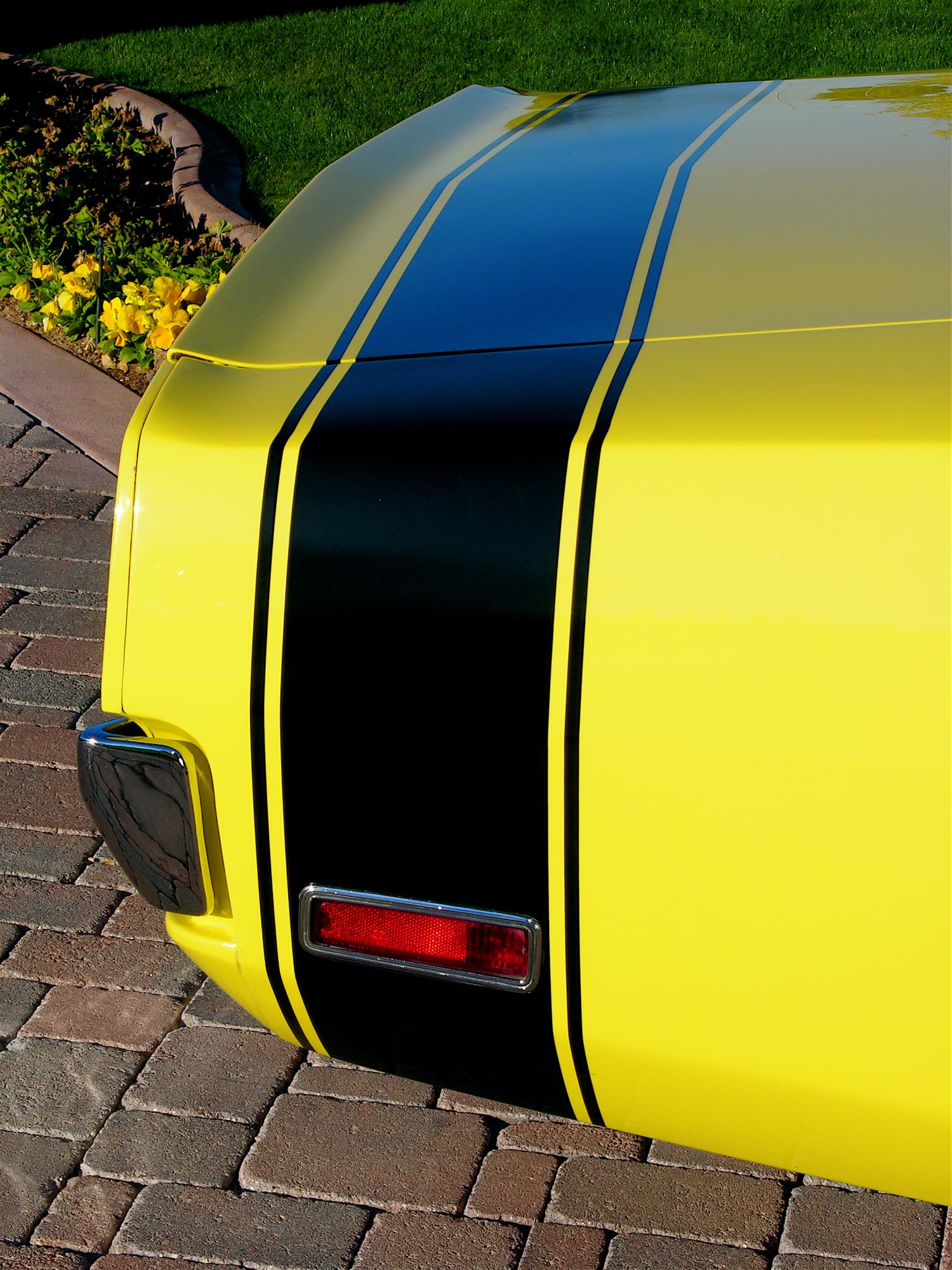 For 1970 model year, the Dodge Charger R/T was available with either a "Bumblebee" (shown here) or "Longitudinal Tape Stripe", depending on customer preference.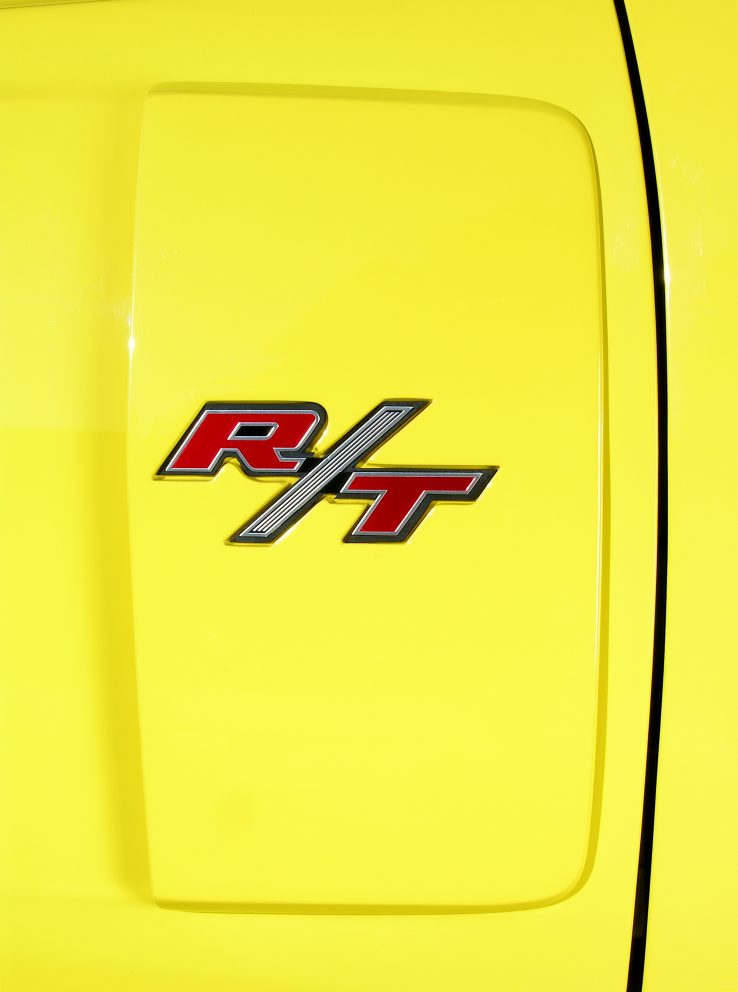 R/T models for 1970 received door-mounted "simulated body-side scoops" designed for instant recognition that this was the performance version of the Charger line.
WIDE TREADS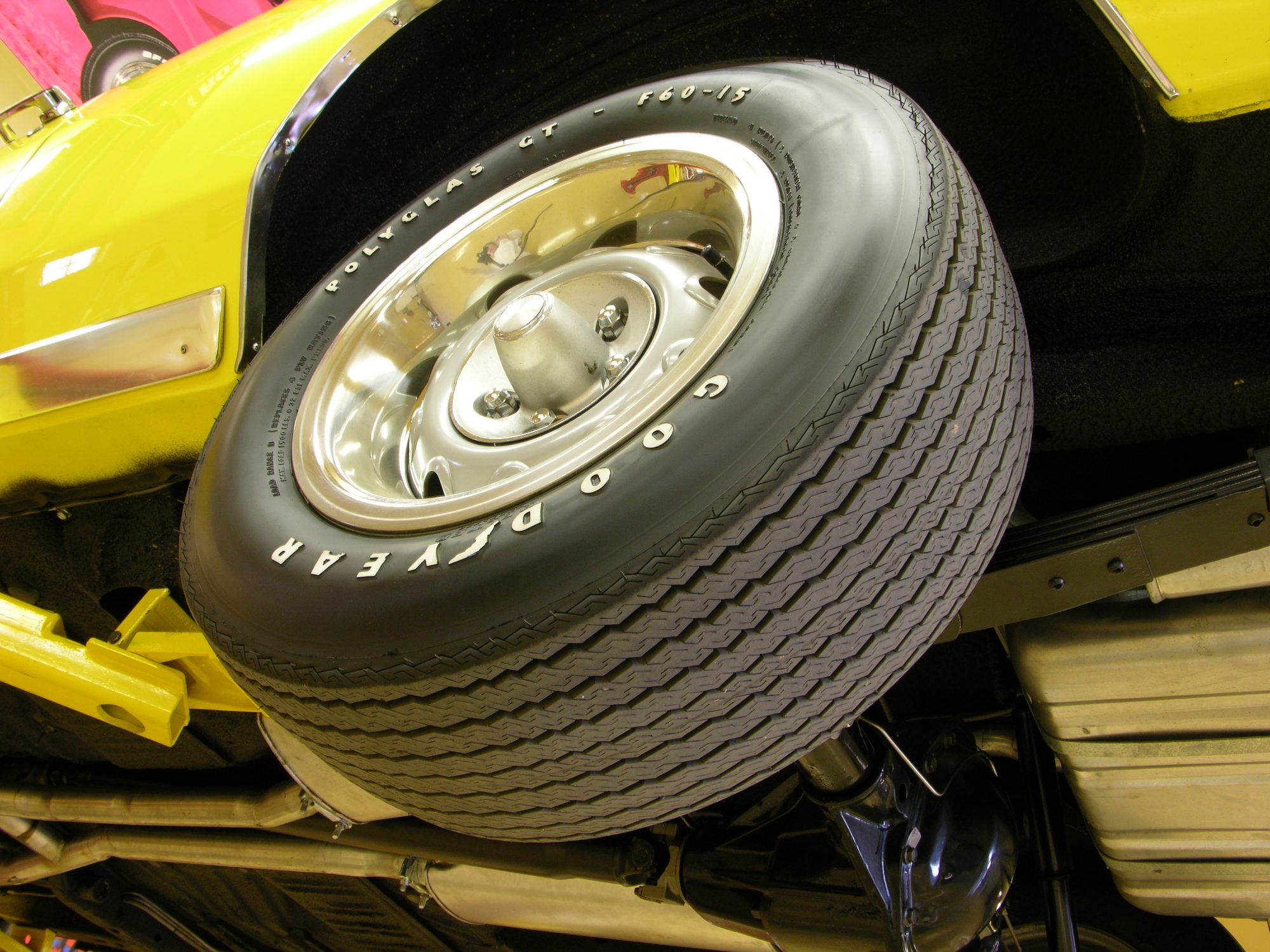 F60-15 Goodyear Poliglas GT rubber were known as the "U84" option around Dodge showrooms, RWL (Raised White Lettering) and at an extra cost of $63.25.
OPTIONAL STOPPING POWER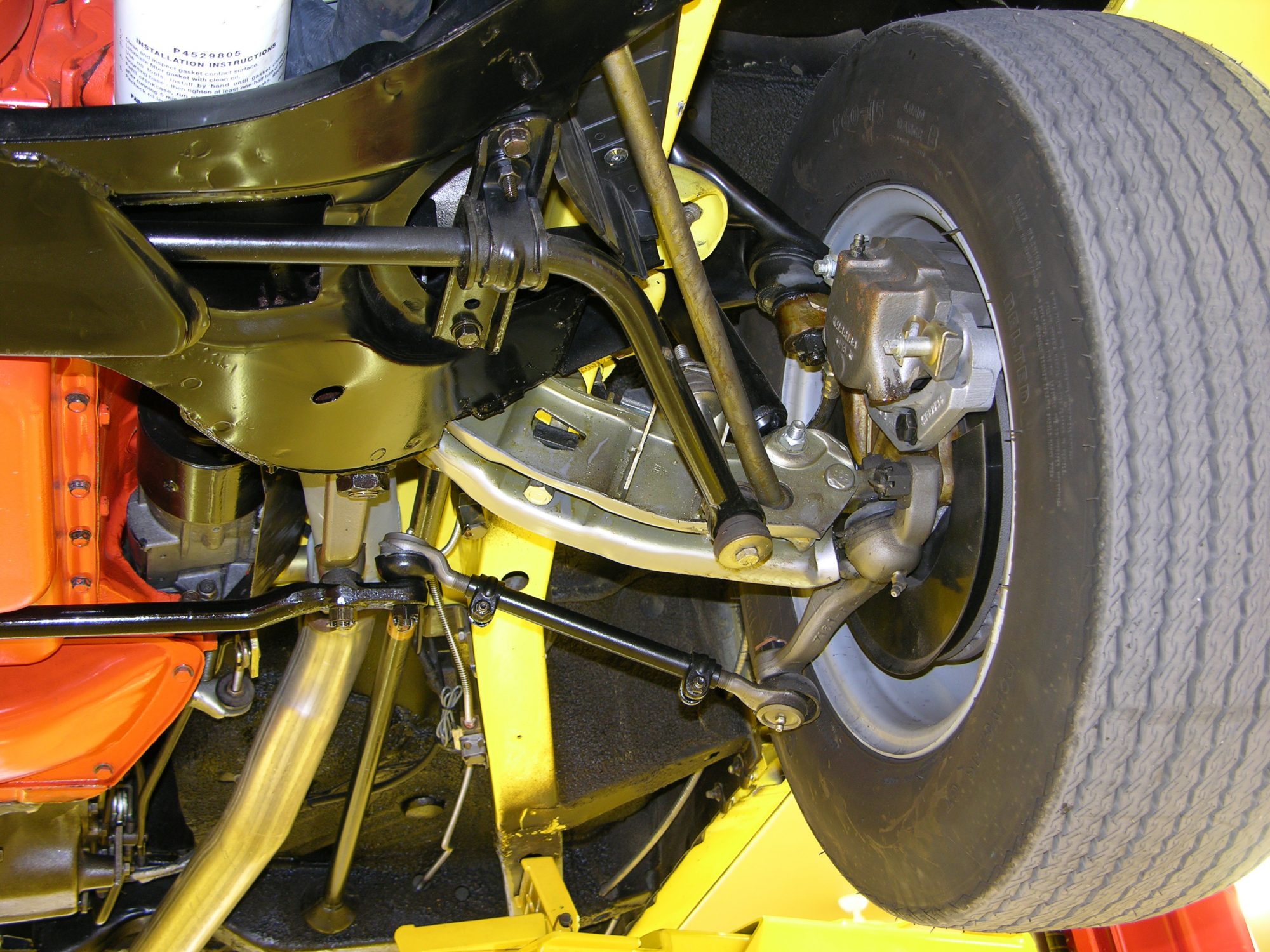 11.0-inch vented disc brakes (power) came as optional equipment (Code B41) in combination with 11 x 2 ½-inch rear drums. The discs have single-piston actuation with floating calipers.
PAPERWORK SURVIVED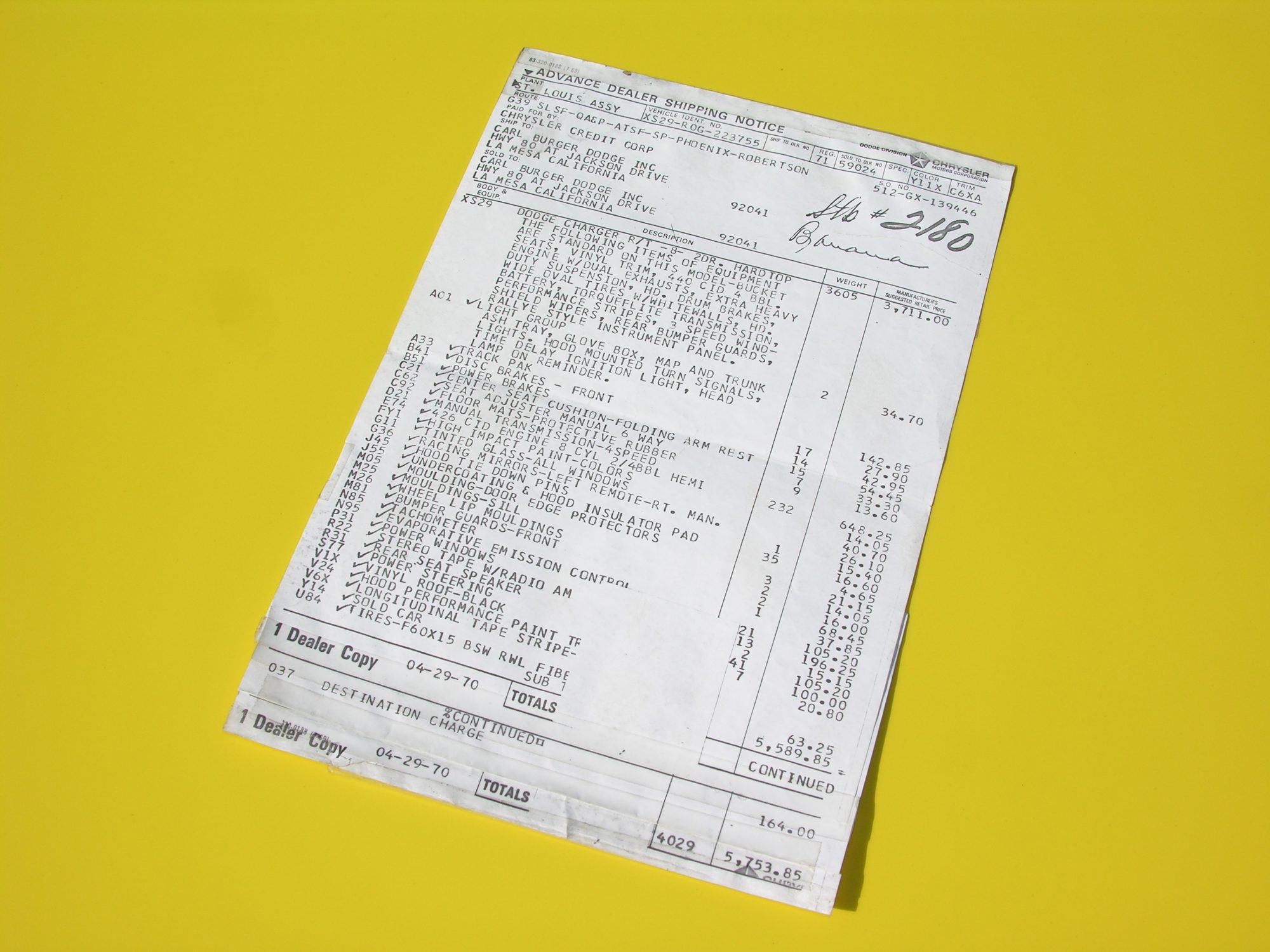 $5,753.85. A loaded R/T Charger!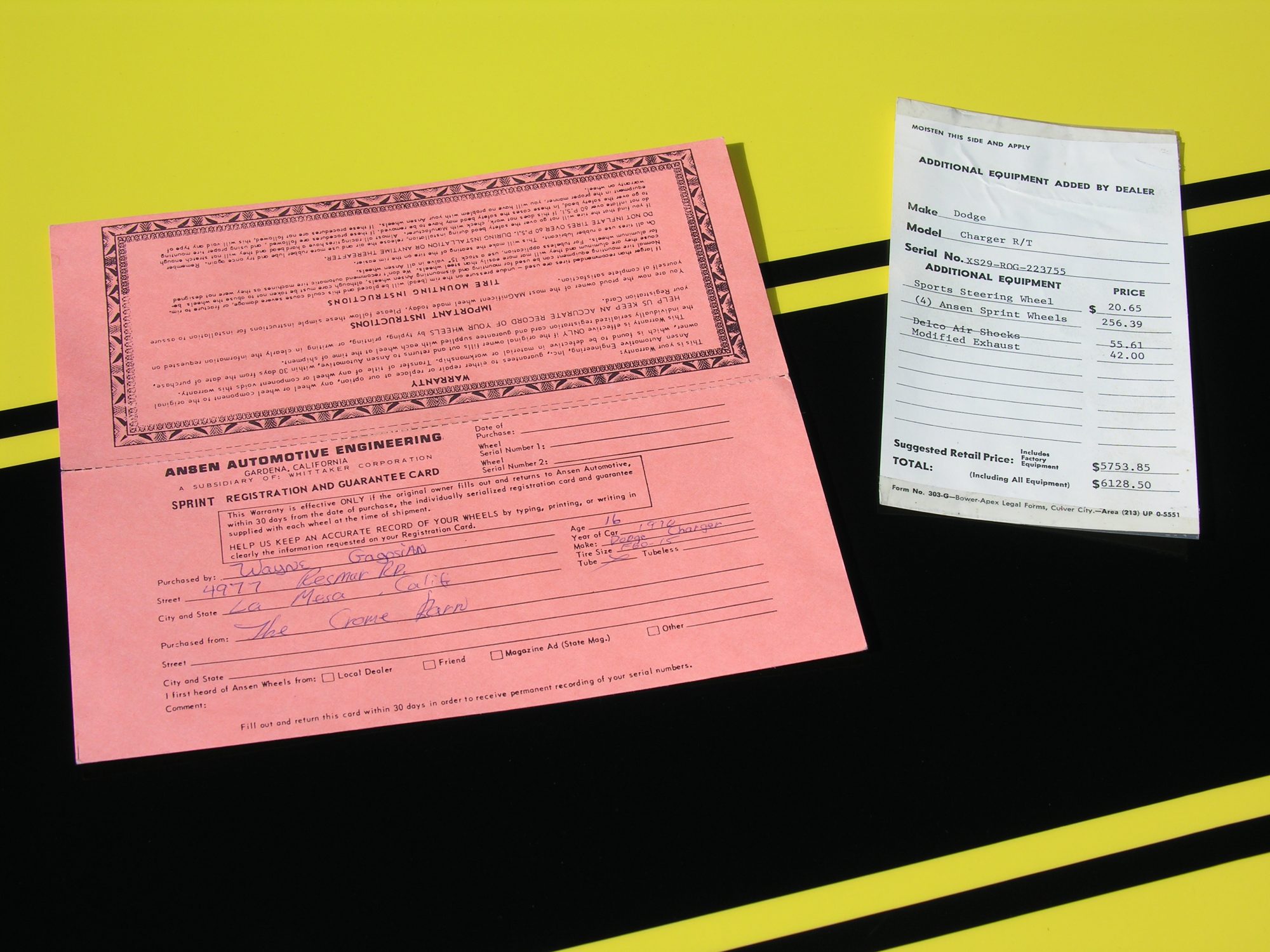 And, while at the Dodge dealership (Carl Burger Dodge, Highway 80 at Jackson Drive, La Mesa, CA), the teenaged buyer had them add Ansen Sprint aluminum wheels, Sport Steering Wheel, Delco Air Shocks, plus "modify" the exhaust system … at a cost of $374.65, raising the actual out-the-door cost of the car to $6,128.50, a lot of coin in late 1969!
Check out this 1970 Dodge Dealer Promo Film that highlights the Charger!
Author: James Maxwell