Back in October of 2021, Kevin Helmick piloted his Dodge Challenger SRT® Hellcat known as GRMPYCAT down the quarter-mile in just 6.99 seconds at 200.05 miles per hour, becoming the first SRT Hellcat racer to run in the 6-second quarter-mile range, the first in the 200 mile per hour range and claiming the record for the World's Quickest and Fastest SRT Hellcat in the quarter-mile. In early 2022, the Epling 007 Challenger ran a 6.96 at 200.47 and claimed the records, but since then, Helmick and his team have been making improvements to GRMPYCAT that included an all-billet engine block. With that new engine, continued seat time and constant tuning, running 8th mile events while working out the bugs with his turbocharged HEMI® engine. Helmick had his sights set on reclaiming the record and at the Import vs. Domestic World Cup at Maryland International Raceway (MIR), it all came together in grand fashion at his first quarter-mile event since 2021.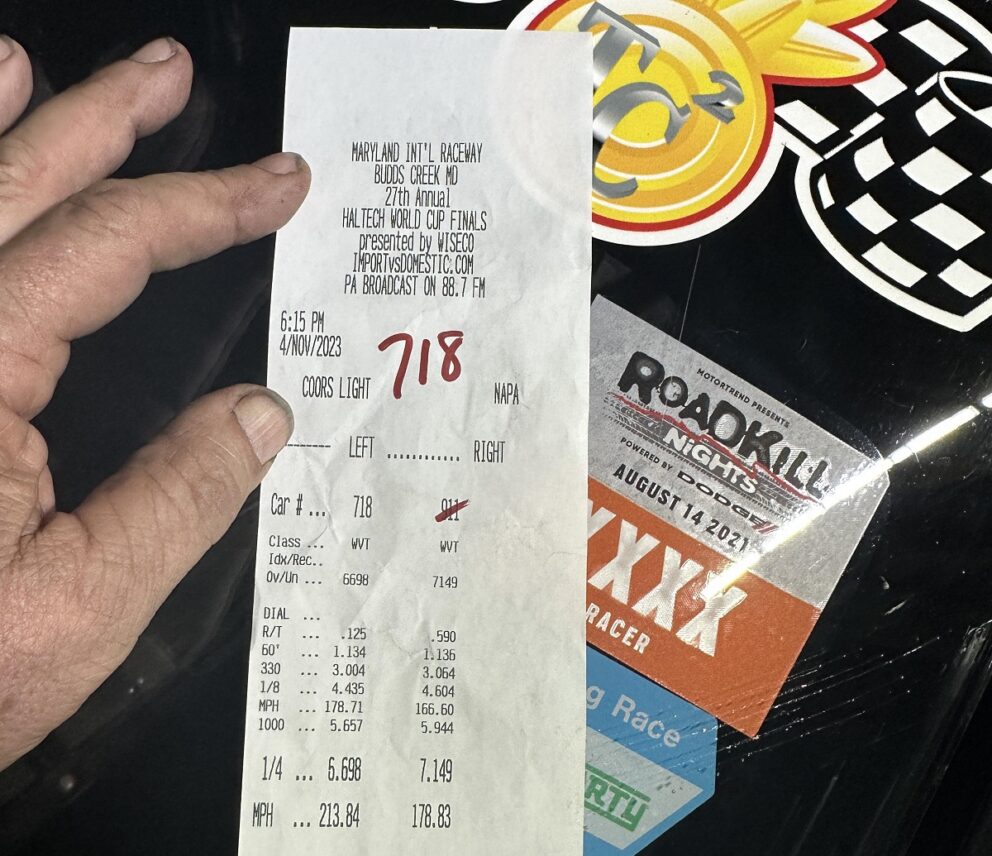 During the fifth round of qualifying at MIR, Kevin Helmick drove his GRMPYCAT Dodge Challenger SRT Hellcat down the quarter-mile in just 6.698 seconds with a trap speed of 213.84 miles per hour. With that run, he didn't just reclaim the record for the world's quickest AND fastest SRT Hellcat car – he smashed the previous records and set the bar so high that it will be very hard for anyone to beat his new number. You can watch that record run in the video below.
Last month, we talked about how the Dodge Challenger SRT Hellcat racecar known as GRMPYCAT had made the switch to a solid billet engine block. That engine is lighter and stronger than the iron block that he was running when he ran the 6.99, so we speculated that the new engine was capable of shaving at least a few thousandths off of his previous best, but as it turns out, this new engine actually shaved a few tenths – leading to a quarter-mile time that is dramatically quicker than anyone had expected.
You can get the full details on what makes GRMPYCAT roar in our piece from last month, but here is a quick rundown on how this Dodge Challenger SRT Hellcat is making the power needed to go from 0-213 in 6.69 seconds, in a standing quarter-mile.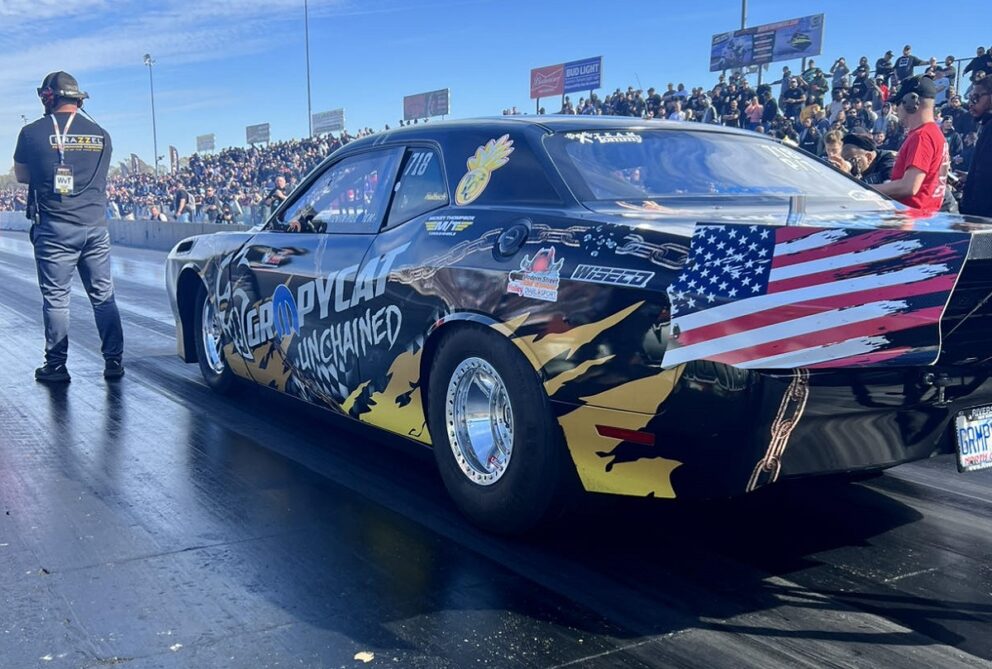 As mentioned above, the heart of this beast is a 440-cubic-inch billet aluminum engine block that was designed by Demon Performance and milled by Noonan Engineering. This engine is fitted with the best of the best components available, including ThiTek cylinder heads with scavenge ports for oil return, a Daley's dry sump oiling system, Jesel rocker arms, Manton pushrods and an FIS Jose 114 billet turbocharger. The engine was machined, spec'd and built by TKM Performance, assembled by Sammy Tompkins and tuned by Kevin Mullins, and at roughly 21 pounds of boost, this engine makes around 3,000 horsepower. All of that power is sent to the rear wheels by means of an ATI Turbo 400 transmission and a Strange Ultra Cab differential, equipped with a 3.60 gear.
Since we wrote about the car last month, there have been no major changes to the car, but a big key to setting this record was "learning all about Boost Safety settings in the Holley Dominator and getting the car to stop dumping all boost at 1.9 seconds into a pass," said Helmick.
In addition to that powerful HEMI engine and the tuning work over the past few months, Helmick had great conditions at the World Cup event, with temperatures in the 50s and a density altitude around -1,200 at the time of his 6.69 run. He would follow that 6.69 up with a 6.87 at 214 in the first round of eliminations, but a boost issue in the second round of eliminations ended GRMPYCAT's run for the World Cup win, but in smashing the SRT Hellcat World Record, his trip to Maryland was a success.
Of course, the biggest question when someone runs a big record number is always "can it go faster?" Kevin Helmick says "yes".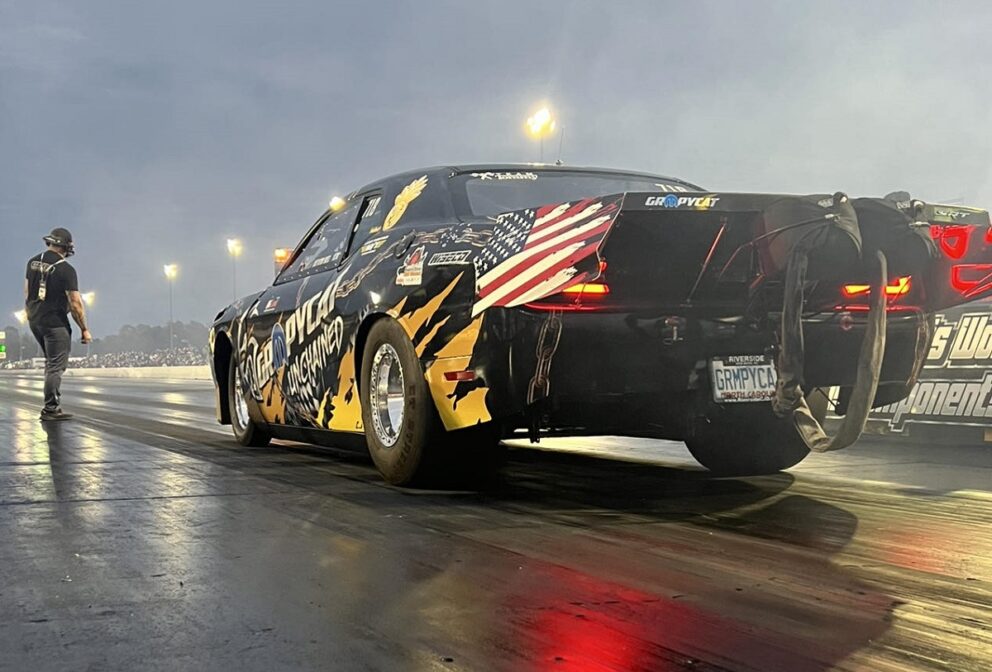 "I expect to run in the 3.9-3.8 range in the 8th mile and I expect to get 6.3 in the 1/4. I believe we have room and maybe even try out a 3.7 gear set for quicker ET. There is A LOT left, but at this level, it takes A LOT to gain a little. Maybe when we bore more and go from 440 to 468 or if the Noonan guys will build me some matched heads. Bigger turbos are out there, when things are working, she is an instant spooler. This billet block is a game changer. We would have shattered a couple blocks this year, and definitely would have lost one last week at Import vs. Domestic. Looking forward to next year, and as always, seeking more sponsors so we can do even more amazing things with this car."
Finally, we asked Kevin Helmick if there are any SRT Hellcat racers who pose a real threat to his record. As we reported back in April, the Epling 007 Dodge Challenger SRT Hellcat, which previously held the record with a 6.96, has been retired from competition, so that team isn't likely to take a shot at this new record, but there could be some challengers taking on the Helmick record soon.
"I don't know of any other Hellcats on this level that are NHRA certified builds. I understand there are some guys coming out soon."
In the meantime, Kevin Helmick and his GRMPYCAT Dodge Challenger have claimed the world record for the quickest and fastest SRT Hellcat car in the world in the quarter-mile, and right now that looks like a record that could stand for a long time – or until Helmick himself resets the record.
On-track images courtesy of Jen Wagner.