Yesterday, I took you through how drag racing was started; or how we think it was started. Detroit isn't really mentioned much in the history of drag racing. That is something I take issue with, though.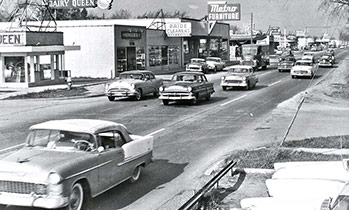 Between the late 1800s and 1950s, what cars even existed in the United States? I don't think they were floating BMWs or Kias down the rivers on steam boats to a town near you! The automotive car pool (pun intended) was made up of automobiles only made in the U.S. While there were originally hundreds of automakers in the U.S., most came and went or were bought out and lopped into a family with other brands. But the popular cars for hot rodding and racing during these decades were coming from Dodge, Ford, Chevy, Cadillac, Pontiac, Buick, Plymouth and AMC – coming straight out of Detroit. It reminds me of that scene in The Karate Kid where Daniel asks Mr. Miyagi where he got his beautiful collection of classic hot rods, to which he answers with one word, "Detroit".
While it's human nature to be competitive and find any way we can to make some sort of game or competition or means to measure abilities against another's,
I'm not sure anyone at the Big Three originally looked at racing as a means to move their product. Is it coincidence that drag strips and the NHRA popped up in the early 1950s at the same time the larger displacement V8 engine production started to take off? While it may not have been planned, it definitely made for the perfect combination for hot rodding and racing.
Prior to the 1950s, Dodge was producing a means of transportation and luxury, as were most automakers. It's hard to look at many cars pre-1950s era and think "high performance". Why would the automakers look at it otherwise? High performance wasn't really a thing before. We end up with an art-imitates-life-imitates-art sort of story here. Dodge started to take note of the happenings across the country with racing and noticed the need and opportunity for performance vehicles.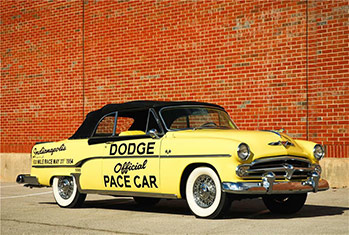 DodgeGarage's very own contributor Steve Magnante points out a turning point for Dodge during this time. In 1954, Dodge was invited to participate as a pace car in the Indy 500 and created the '54 Dodge Royal Pace Car Edition featuring the 241-cubic-inch Red Ram HEMI® engine. It packed a massive 140 horsepower in stock form. Coupled with an aftermarket carb set up made by Offenhauser, it jumped up to 170 horsepower. Car enthusiasts got a good whiff of what a few small mods could do with the latest Dodge power plants and caught a good buzz!
Each year Dodge continued to roll out bigger and more powerful packages for the speed freaks abroad. Likewise, the other Detroit OEM's did their part in feeding the machine, although we have to say, not near as well as Dodge. The cars kept selling and Dodge quickly picked up on the fact that the hunger for horsepower and performance was raging. If you build it, they will come; I just made that saying up just now, I swear.
All of this performance and high horsepower paved the way for Hot Rod and Motor Trend magazines. Coverage of the latest and greatest offerings, aftermarket, racing, and useful articles added just another level of fuel to the fire and helped in spreading the flame to enthusiasts everywhere. In 1962 Dodge released the 413 Max Wedge to go into the new B Body cars. It cranked out a rippin' 410hp or 420hp depending on the configuration. These cars were street legal, but with one real purpose; drag racing.
The car was pushed out as a street legal car that was also eligible to compete in the NHRA Super Stock class. The car was lighter than its competitors and cranked out some serious horsepower. In 1963 the legendary 426 engine was born. Many would say, this is what indeed started the "muscle car" era which would result in the Horsepower Wars just years later. Like I said originally, combine ego, testosterone, and horsepower, and the competition becomes one of the fiercest in the world.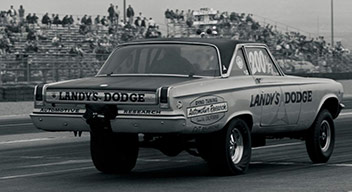 OEM's cranking out all of these high power, high performance machines, right from the heart of Detroit lead to some rich history for the city. Woodward Ave became the go-to place for late night street racing and cruising. During the late 60s and 70s it is rumored (no one will confess) that Dodge often would stick protype, R&D, and experimental parts and components in the cars of racers that were in good with those at HQ to see how they performed in real world situations. While it may just be legend, I prefer to think it actually happened. I picture some engineer guy coming up with a great new component, his good buddy Jim just bought the latest Dodge Charger and hits the strip AND the street often to flex his horsepower guns. Mr Engineer swings over to Jim's house Friday afternoon with the new widget in a dirty torn up cardboard box. He arrives at Jim's house to find Jim in the garage making some last minute tweaks before hitting Woodward that night to slay some Chevy. Few words are spoken. A few gazes, eyebrow lifts and "stick this in, keep it on the down low, and let me know how it goes". Jim nods, Mr Engineer gets in his car and heads home to his family, and Jim hurries to toss said part into his car and heads out to burn some rubber.
While that all may be fake, it is true Dodge got heavily behind sanctioned racers and race cars during the 60s and 70s to help push the sport, push the brand name, and push the technology. Dodge as well as the other Detroit Big Three start getting behind NHRA and drag racing, introducing cars spec'd specifically for drag racing, and even for specific classes. These cars and programs are still in place today in the form of the Challenger DragPak, Copo Camaro, and CobraJet Mustang. While these present day cars are no longer street legal, the OEM involvement is just the same.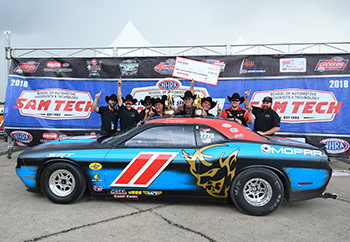 While most people mention the west coast as the womb in which drag racing was born, I have to disagree. One walk down the hallways of FCA HQ in Detroit, or any gift shop in the airport, or any classic/famous photo you see of early drag racing, what do you see? Let me tell ya, you see Detroit, or a car made in Detroit. No geographical area had more of an impact on the start and transformation of drag racing than Detroit. Tens of thousands of people, working daily in offices, factories, test facilities, and design studios producing what would eventually be an automobile. And if designed just right, would end up laying down some rubber on a street or drag strip somewhere in the world.