The hit AMC Network TV show Mad Men captured the decadent world of advertising agency life in the heady 1960s, when smoking in the office was considered the norm and the three-martini lunch with clients was a weekly occurrence. While the show's featured agency's name and cast of womanizing male characters were fictional, Mad Men did capture the flair of advertising life during the era when Madison Avenue fed consumers a steady diet of taglines, jingles and catchphrases that could change one's status in society. Mad Men also showed how agency alpha males called the shots with big ad budgets and had the art departments and copywriters push the boundaries when appealing to America's growing youth market thriving on rock 'n roll and fast cars. The show captured the reality of corporate America, including its Big Four automakers, wanting to reach car buyers under the age of 25 and busting at the seams with their own identity. The advertisers needed to communicate their client's brands, products and messaging in a real and authentic tone.
While the automotive engineers and product planners outdueled their rivals in the horsepower wars by introducing new engine packages and performance options, it was up to the agencies and their creative staff of artists and copywriters to convey these messages. The burgeoning baby boomer consumer base that had more disposable income than any other generation before them was ripe. With a new batch of performance cars coming out of Chrysler's Plymouth division, the corporation was looking for the "right" ad agency to lead the charge and connect with the growing population of young, rabid gearheads and drag racers.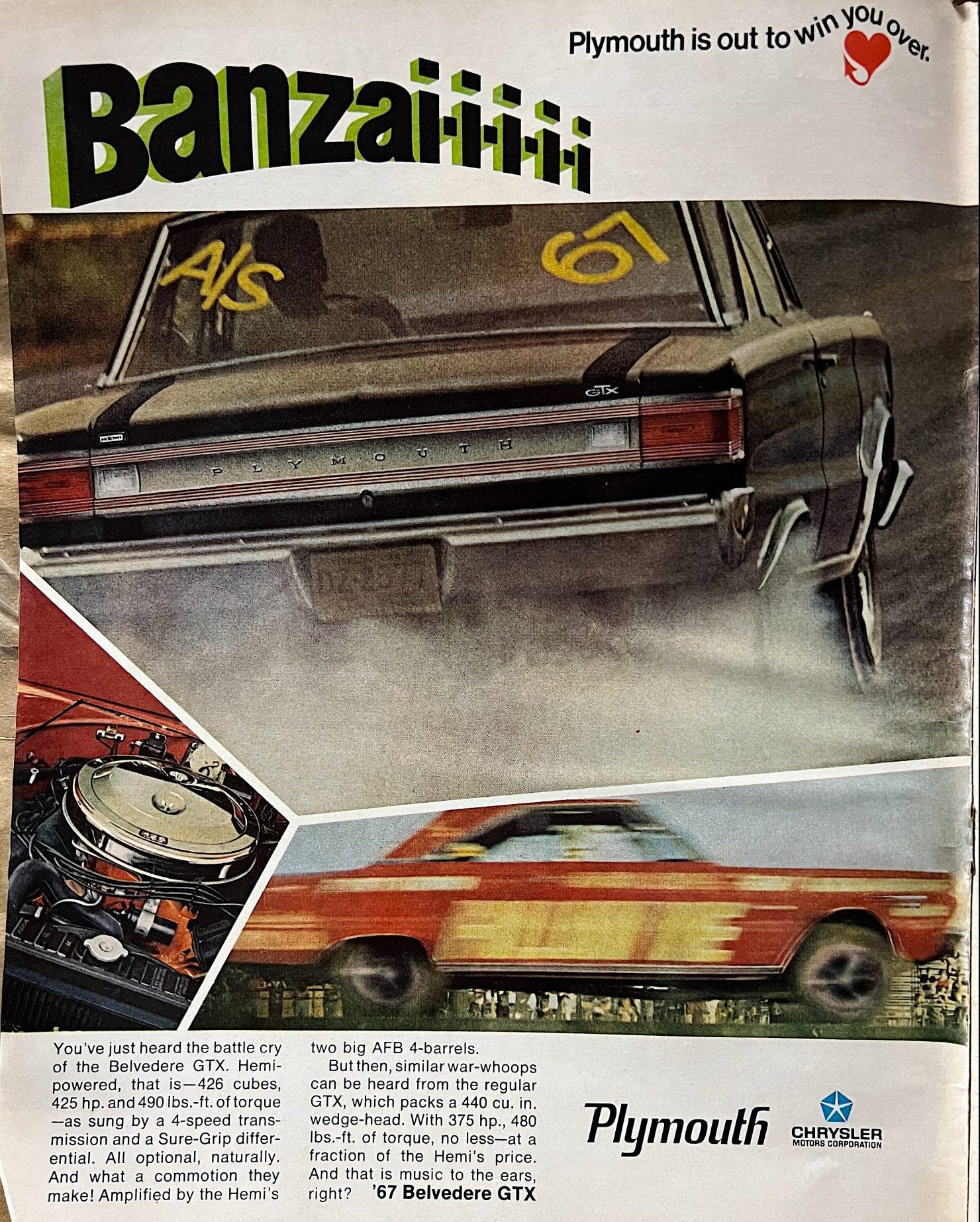 Jim Ramsey was at the right place at the right time. After graduating from Central Michigan University in 1962 with a degree in English and Social Science, Jim went to work for various agencies on numerous brands/nameplates until he landed at Campbell-Ewald, eventually becoming the head copywriter for all Corvette advertising. "I was really interested in sports cars and even owned a Triumph TR4 during this period. I thought if I could write about sporty cars, it would be the ultimate and ideal career move," noted Jim. "They made me the car enthusiast in-residence at Campbell-Ewald doing Corvette ads." But how Jim ended up leaving Campbell-Ewald to work on some of the most iconic Plymouth ads at Y&R is a story unto itself.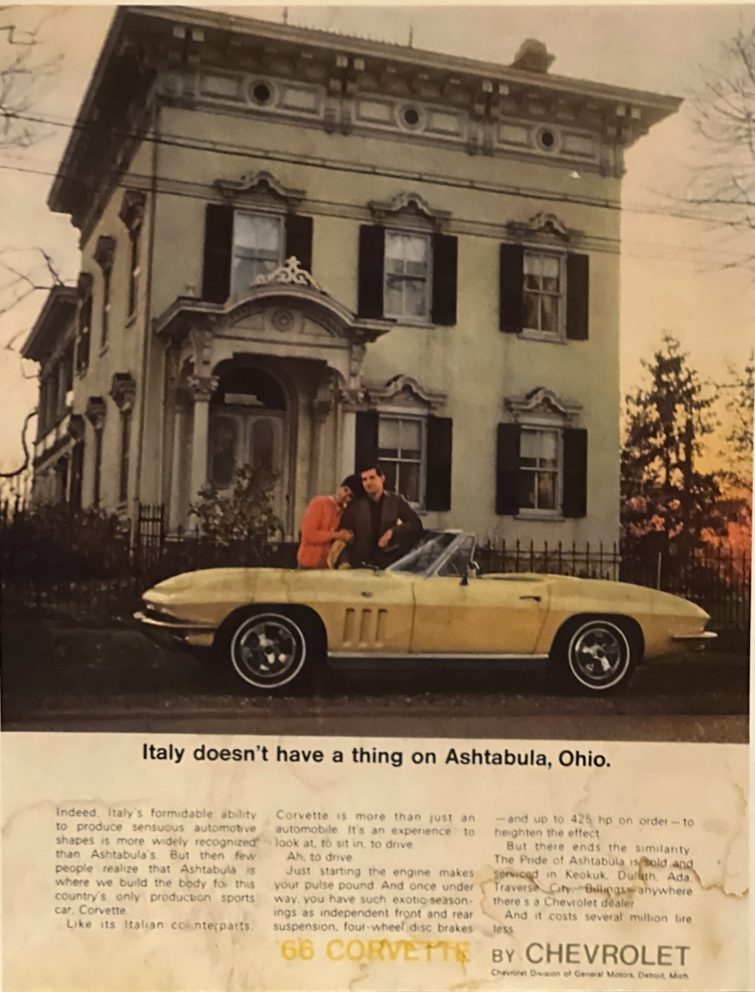 "It was great for a short while working on Corvette ads, but with Chevrolet declaring their moratorium on racing, I started looking at other automakers who were into racing," stated Jim. "I fired off a letter to Y&R and almost immediately they called me in for an interview. I brought in the Corvette ads I had written and the Y&R folks who I was interviewing with recognized the ads and even commented on how well they were written," smiled Jim. Soon, Y&R made Jim an offer, but he negotiated that he not just provide ad copy, but be a performance specialist and enthusiast specialist, allowing him to have input to all creative aspects of the marketing agendas for Plymouth's performance car lineup.
Within a month, Jim was working at Y&R in the downtown Detroit office and applying his craft of creative writing with artists and other copywriters as the agency was ramping up to take on their new assignments from Plymouth on the launch of the GTX and refreshed Barracuda, while working with very important Chrysler racing movers and shakers like Dick Maxwell, Tom Hoover and Bob Cahill. For Y&R, winning the Chrysler business was not easy as three other agencies were fighting for the same account. Y&R may have had the Chrysler brand business for marketing and advertising their line of luxury cruisers like the Imperial, New Yorker and Newport, but the Plymouth brand would require an all-together different tone and strategy. What won the business for Y&R was the tagline "Plymouth Is Out To Win You Over" created by newly-hired Jim Ramsey. "With the new Plymouth GTX and redesigned Barracuda making their debut in the fall of 1966, it was critical the agency with the right people be in place," commented Jim.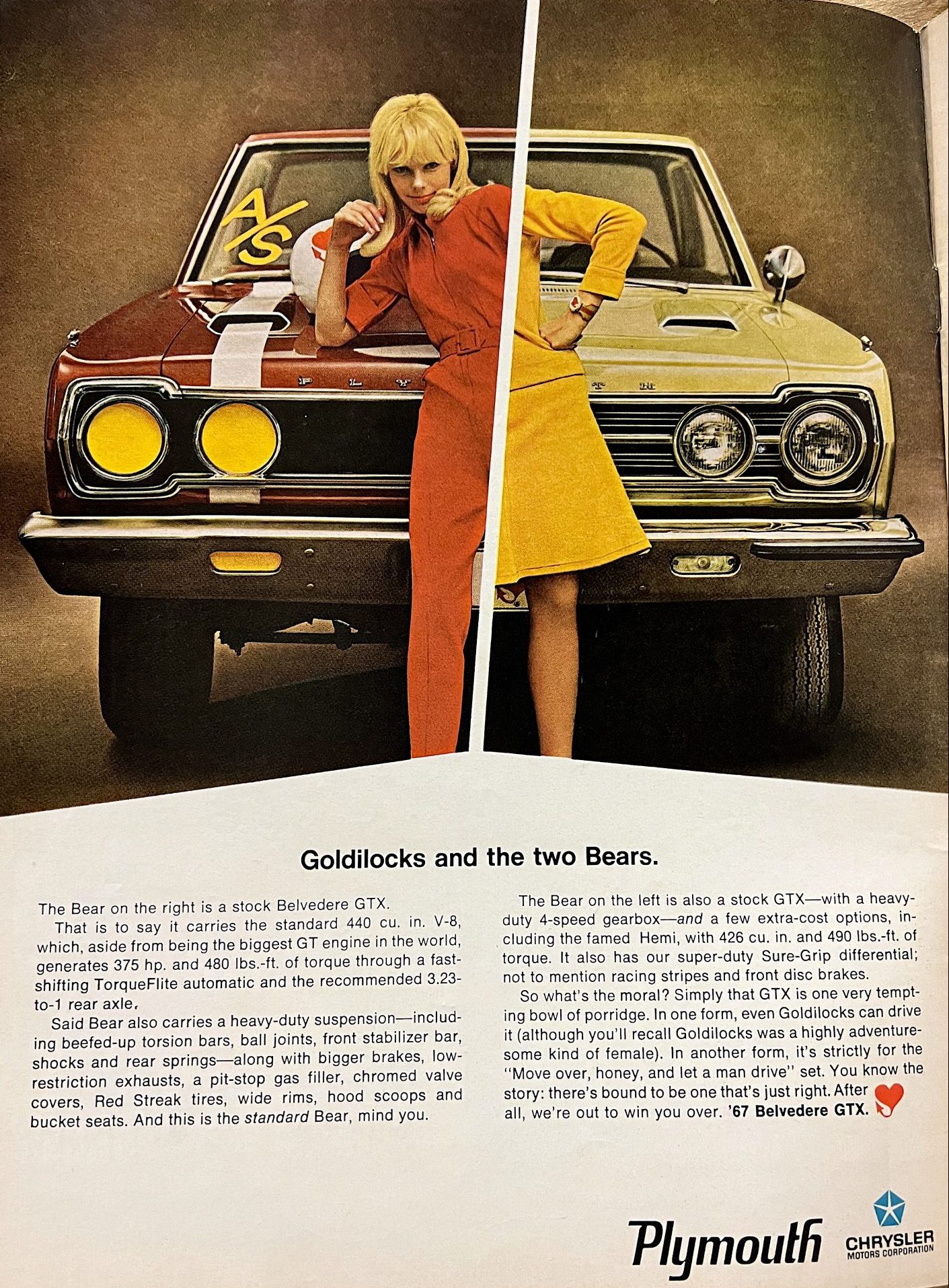 Plymouth may had been hot and heavy into racing years earlier with their 426 Max Wedge monsters and hellfire HEMI® engine-powered Super Stockers, but the brand wasn't connecting with young car enthusiasts. Pontiac, who was no longer in racing, had become the "performance car brand" in the US market. Their hugely successful GTO, marketed by colorful ads and catalogs (each with well-written copy and artwork under the guidance of Jim Wangers) moved the needle for Pontiac. It also didn't hurt that Pontiac's president, John DeLorean, issued strict marching orders to the agencies to create an advertising blitz and reach these young, influential car buyers at all costs. As a result, GTO sales soared while Plymouth struggled in the muscle car market. Chrysler's low-cost entry-level brand, made up of basic everyday economy cars for middle-aged drivers was about change. That's when Y&R was called in to create a completely new ad campaign. To be totally effective and to give the ad guys a true feel of the car's potential, Chrysler's product planners and engineers invited Jim and some of the other Y&R creative personnel to view the upcoming new models for an up-close view. "We headed to the Chrysler Chelsea Proving Grounds in the summer of 1966 to see the new 1967 Plymouth Barracuda and GTX. We took these new muscle cars for hot laps around the test track," said Ramsey. "During my time with Chevrolet, they'd never let us do that, and if anything, they kept the new product away from us at the agency."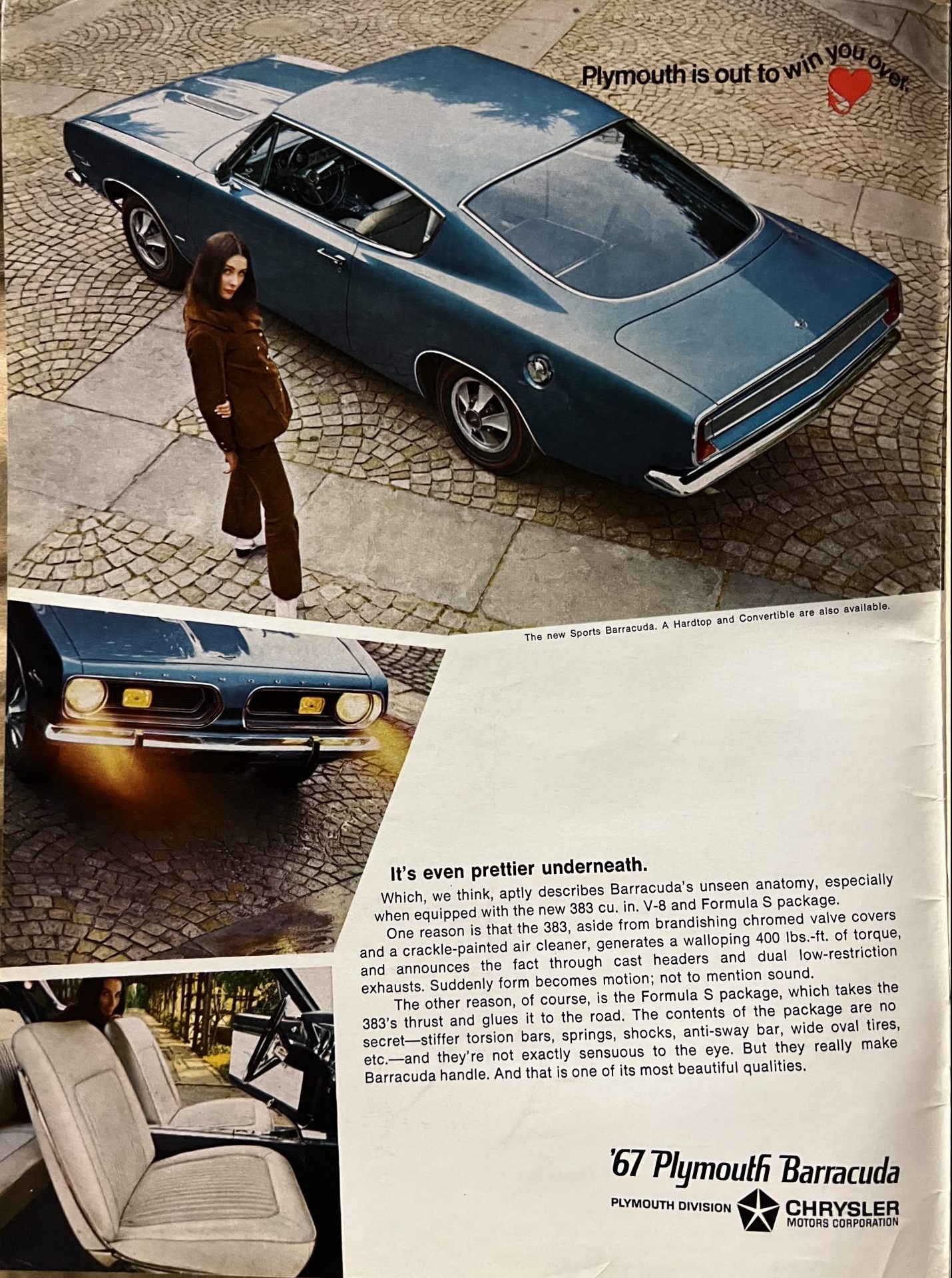 With the successful marketing and advertising launch of Plymouth's new intermediate muscle car, Jim was also working on material for the new Sox & Martin Supercar Clinics that were held at Chrysler/Plymouth dealerships across the country. The account folks knew Jim had high-octane gas running through his veins and that he knew the language of drag racers. "Chrysler's ad management team trusted the agency and gave us creative leeway," Jim noted.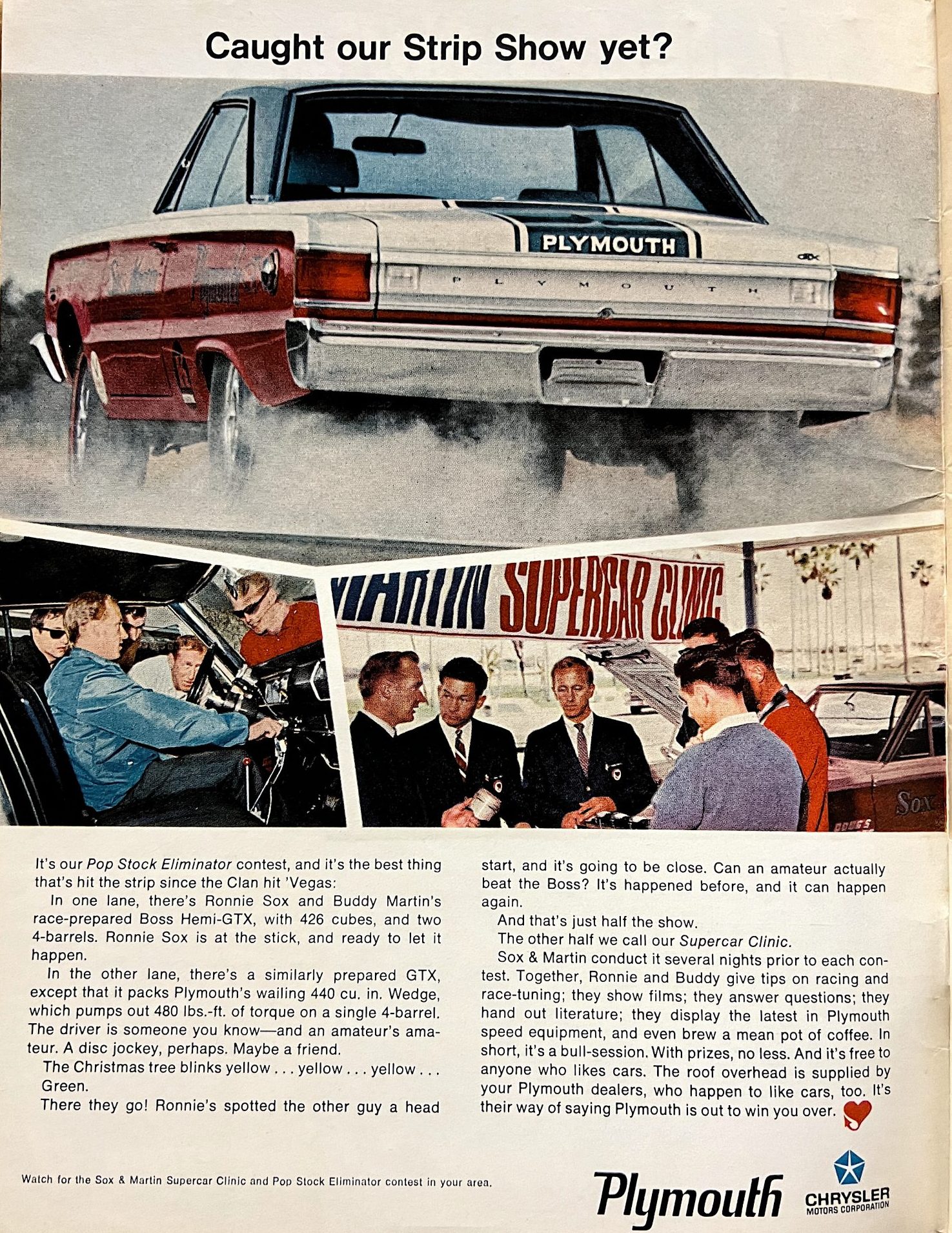 As 1967 got into high gear, Jim got summoned to Chrysler HQ in Highland Park, Michigan, to help develop a fresh marketing approach on a new muscle car that would be a game changer. The heads of Plymouth wanted Jim on this exciting new project that would forever change the performance vehicle landscape! "Chrysler understood the concept of stuffing a high-performance V8 engine into a lightweight business coupe, as Plymouth had done in the early 1960s with their Super Stockers," reminisced Jim. "The Chrysler Engineers had all the parts on the shelves to create such a car, so very little had to be done to get it into production. It was while one of the product planners was searching his brain for this new low-cost performance car that a wonderful thought occurred to him. He just happened to be watching the road runner cartoon on TV with his kids one Saturday morning, and that name and character just stuck in his head." Jim Ramsey and his team at Y&R began to have many meetings with the Chrysler/Plymouth product planners at Highland Park to review potential names for this new car and develop an advertising strategy, but you'll have to wait until part 2 when we dive into more detail on Ramsey's involvement and contributions in creating the adverting buzz around the legendary Road Runner muscle car and the evolution of the Plymouth Rapid Transit System!