Joe Schulte is an unassuming man. Now in his 70s, he goes about his business in the well-established Grosse Pointe suburbs while enjoying a semi-retired lifestyle. To look at him, you'd never know that this soft-spoken former ad agency guy was behind one the biggest high-performance parts programs in Chrysler's illustrious history of making fast and powerful machines that ate up the roads, the drag strips and the competition. It was Joe who came up with the "Direct Connection" name and helped launch the marketing campaign in 1974. Since then, these two words have become a rallying cry for Mopar® fans all over the world. Not only did Direct Connection change the way factory performance parts were marketed to street enthusiasts and grassroots bracket racers, it also helped professional teams put their competitors on the trailer. It was the first time a factory placed a focused strategy on developing go-fast parts, with real-world drag strip testing, while sharing that inside knowledge with Mopar racers and street guys.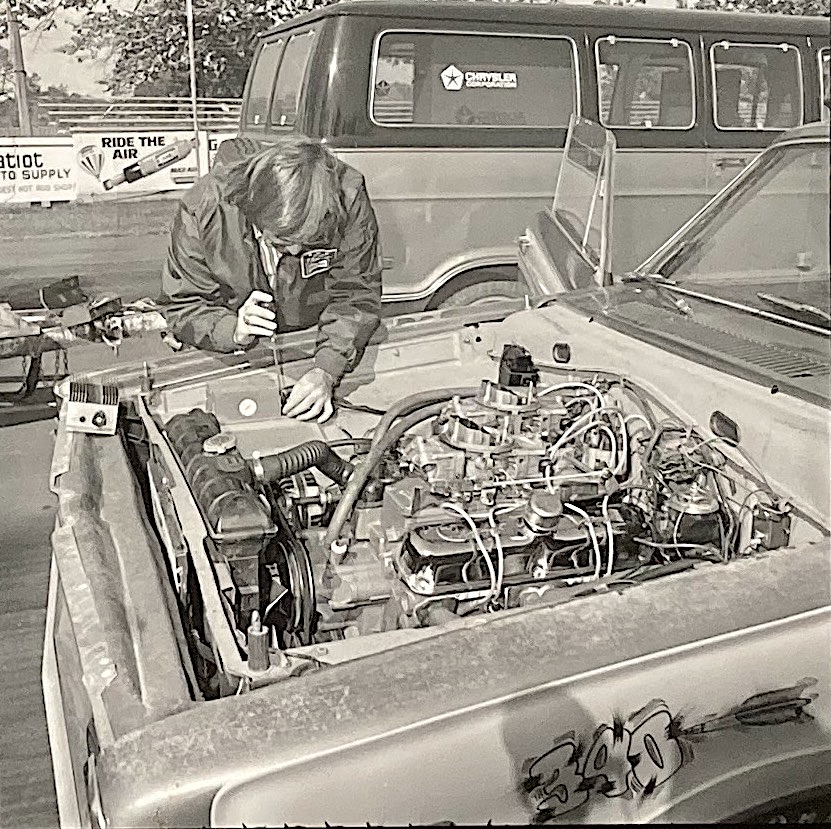 How Joe got the honor of coming up with the "Direct Connection" name is an interesting tale that began on Detroit's East Side. The son of a car dealer, Joe's love of automobiles came at an early age. After graduating from the Detroit Institute of Technology, Joe sold cars at Riverview Dodge in Detroit. But Joe's mother wanted him to pursue other career options and take advantage of his college education. During this era, Joe and future Detroit Dodge dealer Ken Meade became partners on a 1966 "D-Dart." This was a limited-production model with a special high-performance 273-cubic-inch V8 under the hood. Built to compete in the NHRA D-Stock class (hence the name D-Dart), the overall package had some success. But with engine woes from spinning the little small-block past 7,500 rpm, Joe and Ken decided to hang up their drag racing dreams and focus on their respective careers. During this time, Joe had a meeting with a family member and got him an interview with Plymouth's new advertising agency, Young and Rubicam (Y&R). With Joe's passion for cars and being a drag racer, he got hired and after doing a short stint as a traffic coordinator (a role that includes routing marketing and ad campaign materials and managing deadlines and budgets), Joe got promoted to Junior Account Executive at the age of 26. He was immediately assigned numerous Plymouth performance accounts and ad campaigns that included the Road Runner, GTX and Barracuda. Joe also worked with Jim Ramsey and the team in creating the Plymouth Rapid Transit advertising campaign that was launched in the fall of 1969.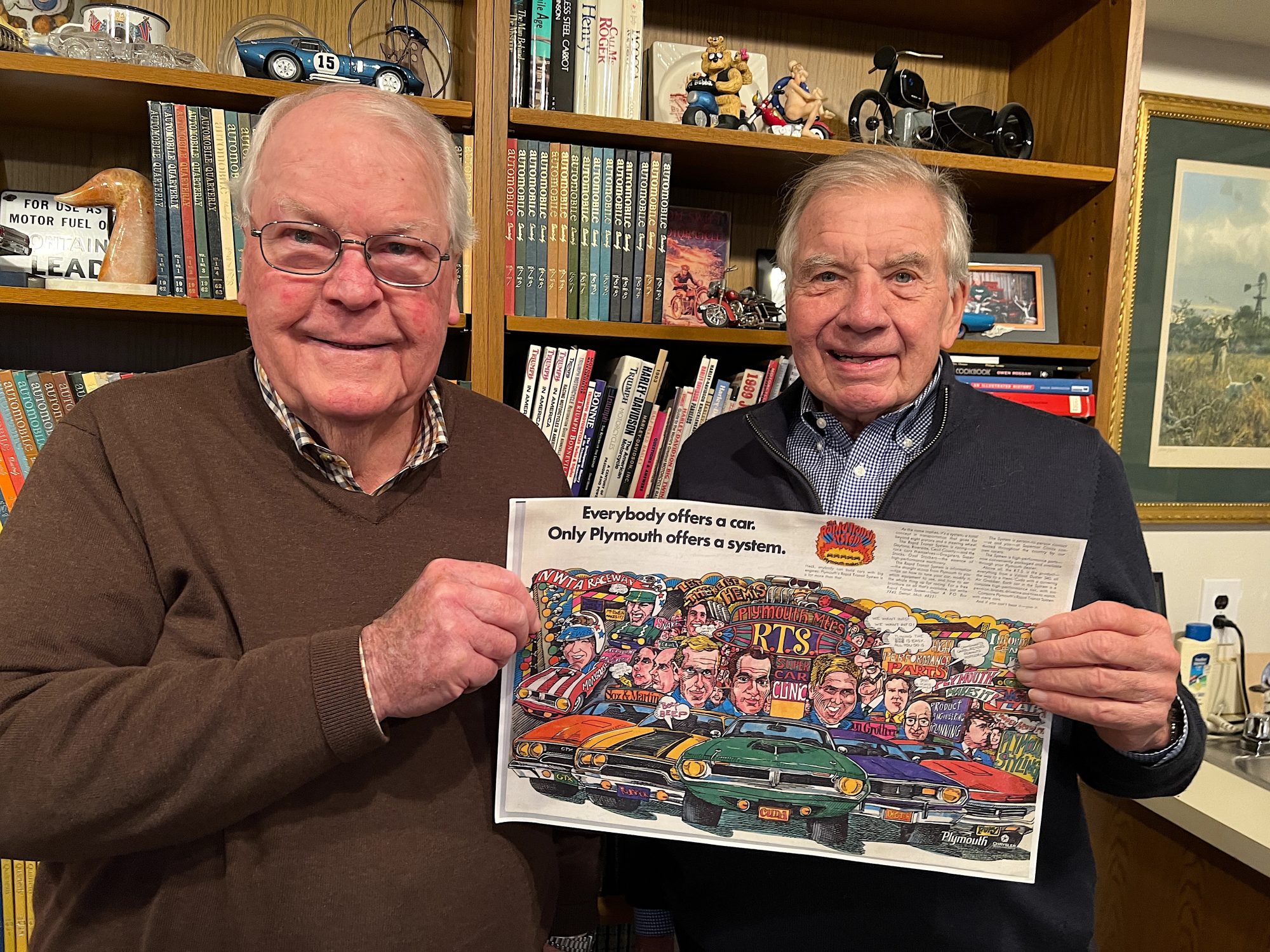 "Direct Connection can trace its roots back to the Plymouth Rapid Transit System, a fantastic program that I, along Jim Ramsey and others, worked on while I was at Young and Rubicam," said Joe. "The Rapid Transit System combined the current offering of Plymouth muscle cars, specialty high-performance parts like intake manifolds, camshafts and headers for Chrysler engines, and a wide array of tech bulletins, tuning tips and performance clinics hosted by factory teams like Sox and Martin. It was a way for owners to get more performance out of their cars with the support of the factory. No one in the industry was doing it back then except for Chrysler."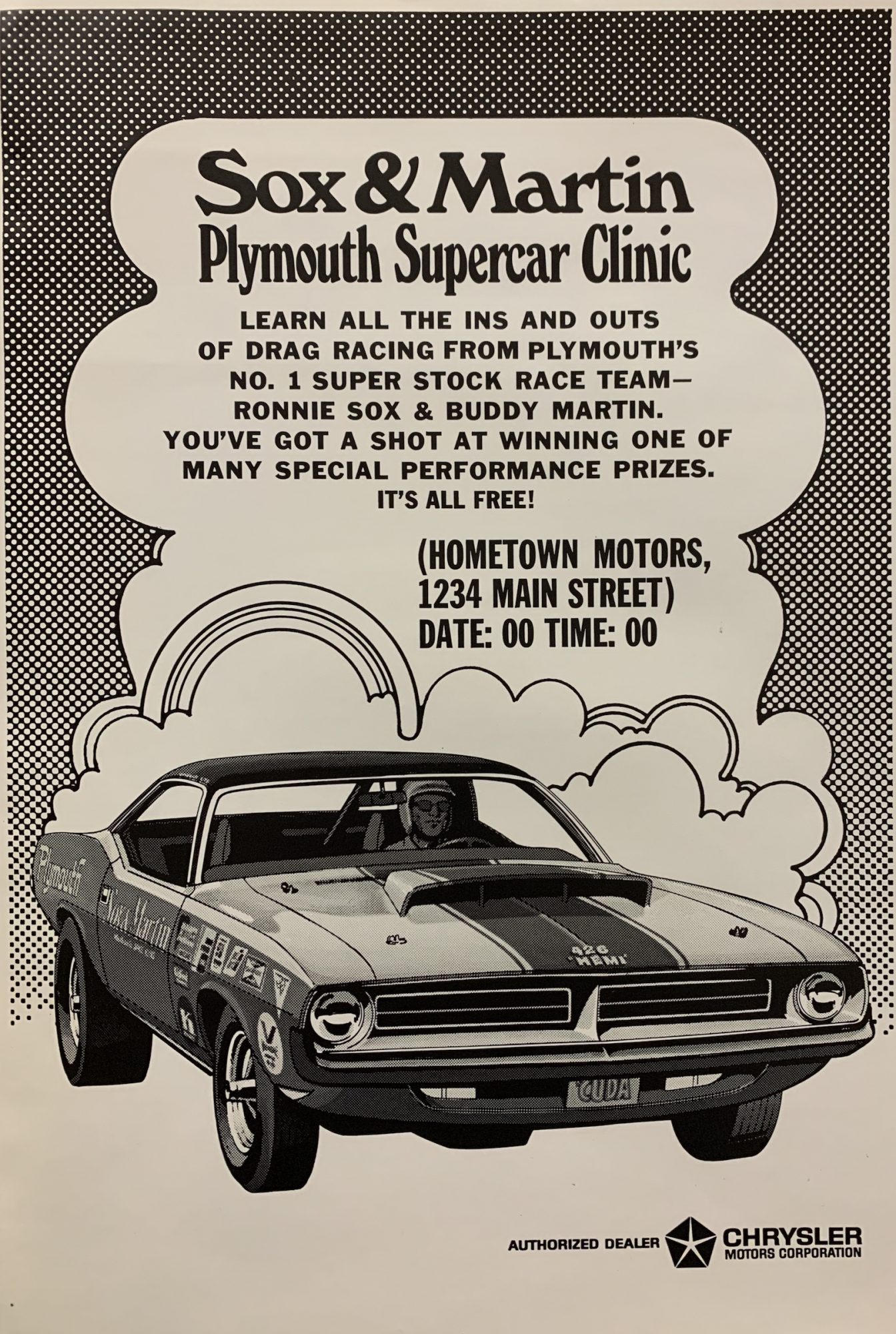 However, with tightening emissions regulations and crazy insurance rates, Plymouth's Rapid Transit System, with all its industry-leading initiatives, was all but shuttered by the end of 1971. The Rapid Transit System would appear in name only on some early print ads for the 1972 Plymouth Road Runner, but it was basically dead. After leaving Y&R around 1972, Joe worked at other agencies on various automotive accounts, but nothing compared to his time at Y&R when he was in his late 20s, driving a HEMI® engine-powered Plymouth Road Runner, and working on ingenious and cool adverting campaigns for Plymouth. By 1973, Joe was down on his luck and facing some uncertainty in his career direction. But an old friend and former client, Dick Maxwell, Chrysler racing boss, product planner and ex-Ramchargers team member, reached out. "Hey Joe, you've done this stuff for us in the past with the Sox and Martin and Don Grotheer Performance Clinics, the Plymouth Rapid Transit System national advertising campaigns and the dealer kits, can you help us on a project I'm working on? We're looking at creating our own distribution network on high-performance parts," asked Maxwell.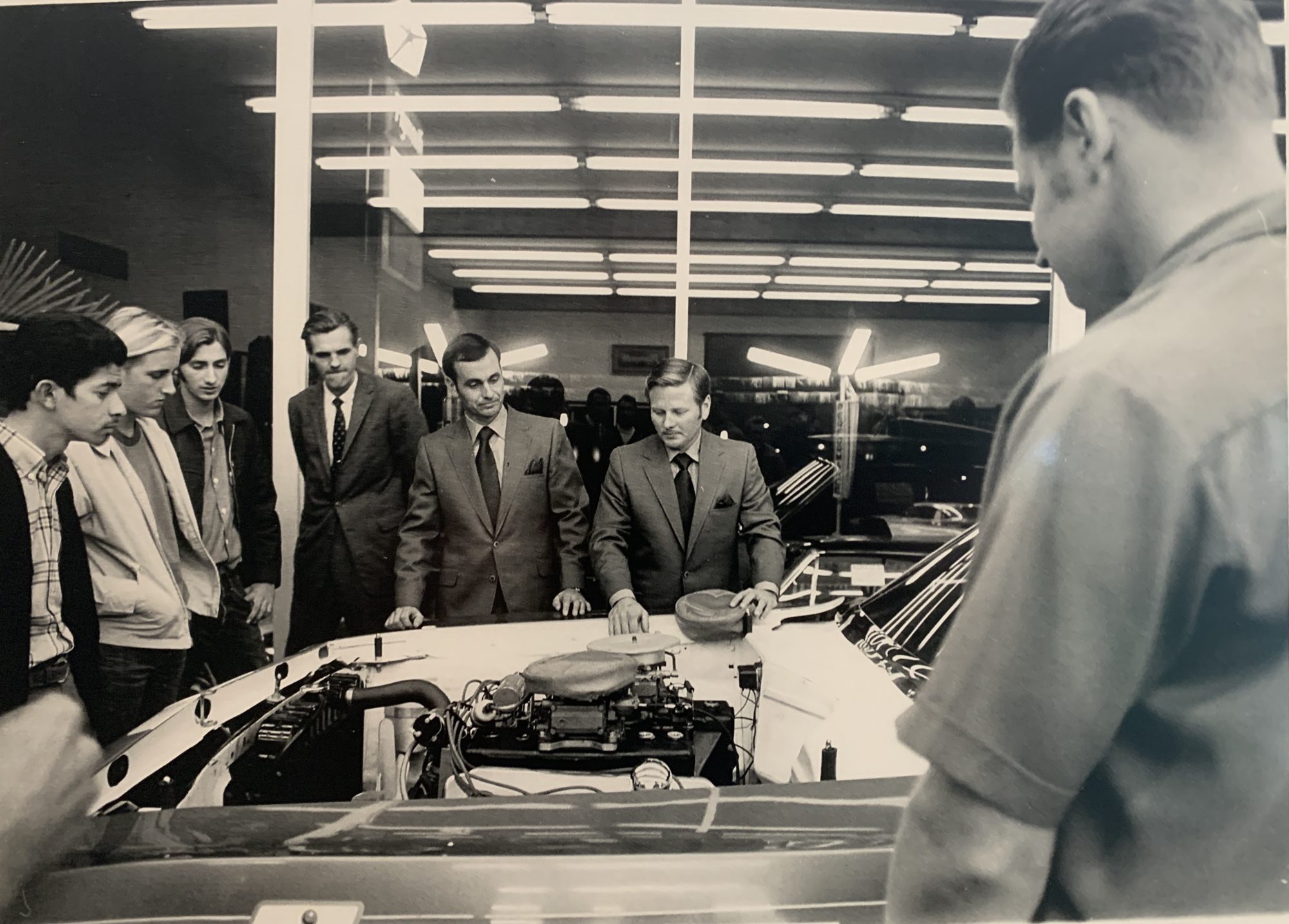 With performance being a "dirty" word in the industry in the early 1970s, the automotive landscape was changing. Combined with stricter emission regulations and the Arab oil embargo, performance cars began to languish on dealer lots and racing budgets got slashed. The Chrysler product planners that created and brought to market all the cool muscle cars got reassigned to less-than-exciting platforms. But there was still a glimmer of hope in Highland Park. Despite rigor mortis setting in on the 426 HEMI engine by 1973, there was still a pulse. The years of Chrysler testing and flogging this iconic engine (and others like the 340, 383 and 440), transmission science, and dialing-in the suspension settings on popular A-, B- and E-body cars, a treasure trove of valuable data existed within the file cabinets of Chrysler Engineering. If that information could be shared with legions of diehard Mopar Sportsman Racers along with hordes of street guys cruising up and down the boulevards and main streets across the USA, it would revolutionize the Mopar performance parts industry while leaving Chevy and Ford in the dust.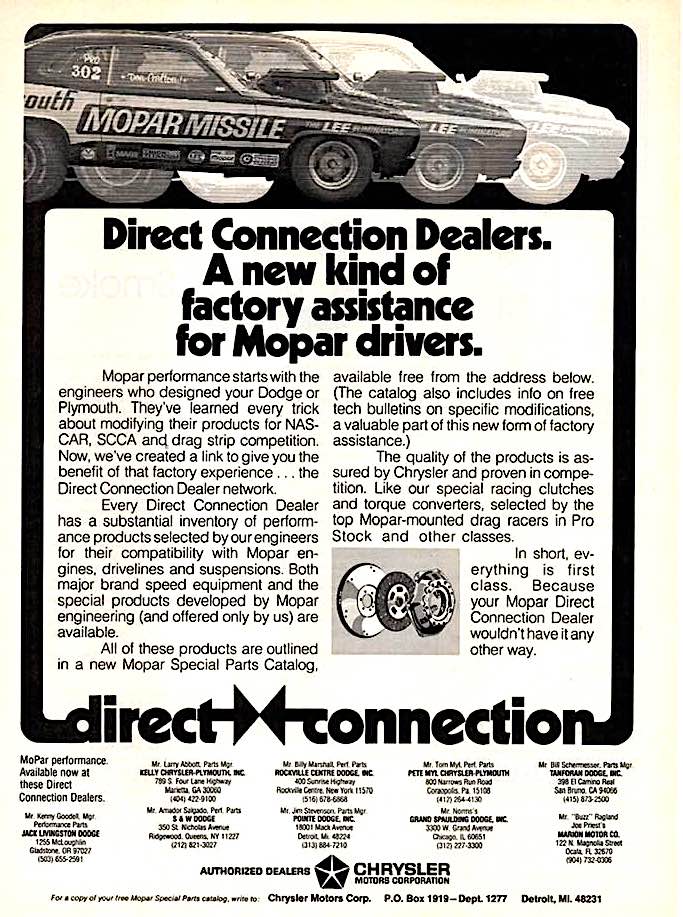 At a Mexican eatery on the corner of East Jefferson and Field Street in the shadows of the Detroit skyline, Joe Schulte had a lunch meeting with Chrysler's Dick Maxwell. "I didn't have an office at the time, so various restaurants around Detroit became my office," laughed Joe.
As the two sat down, Maxwell provided Joe more details on the new performance parts initiative he was spearheading. "We need to eliminate the 'heavy flywheel' of corporate overhead Chrysler has to carry through the Mopar system as it makes it difficult for us to be cost competitive," stated Maxwell. He also mentioned to Joe during their lunch meeting this new program would not only be the development and refinement of factory-engineered performance parts, but also provide enthusiasts and racers with technical advice and support. With Joe taking notes, his creative brain kicked into high gear. Within a matter of minutes, Joe scribbled out "Direct Connection" on a piece of paper on the table, slid a bowl of nachos out of the way, and showed it to Maxwell. "I think you have it," exclaimed Maxwell.
From there, Joe would go on to develop the concept on how to take Direct Connection to the dealers and then consumers. "I knew the real benefit we had over all the aftermarket parts manufacturers, these companies focused more on Chevys and Fords and not Mopars. With the Direct Connection initiative, the components we would offer is what Chrysler Racing thinks is right for your Dodge or Plymouth. Thus, these parts are coming direct from the factory race engineers to you, it was like a pipeline," noted Joe. Once the Direct Connection initiative was approved by Chrysler, Joe found an artist that came up with the concept of the arrows that became part of the infamous Direct Connection logo. Once launched, Joe wrote the headlines and copy for many of the early Direct Connection print ads that appeared in the pages of Hot Rod and Car Craft during the mid-1970s.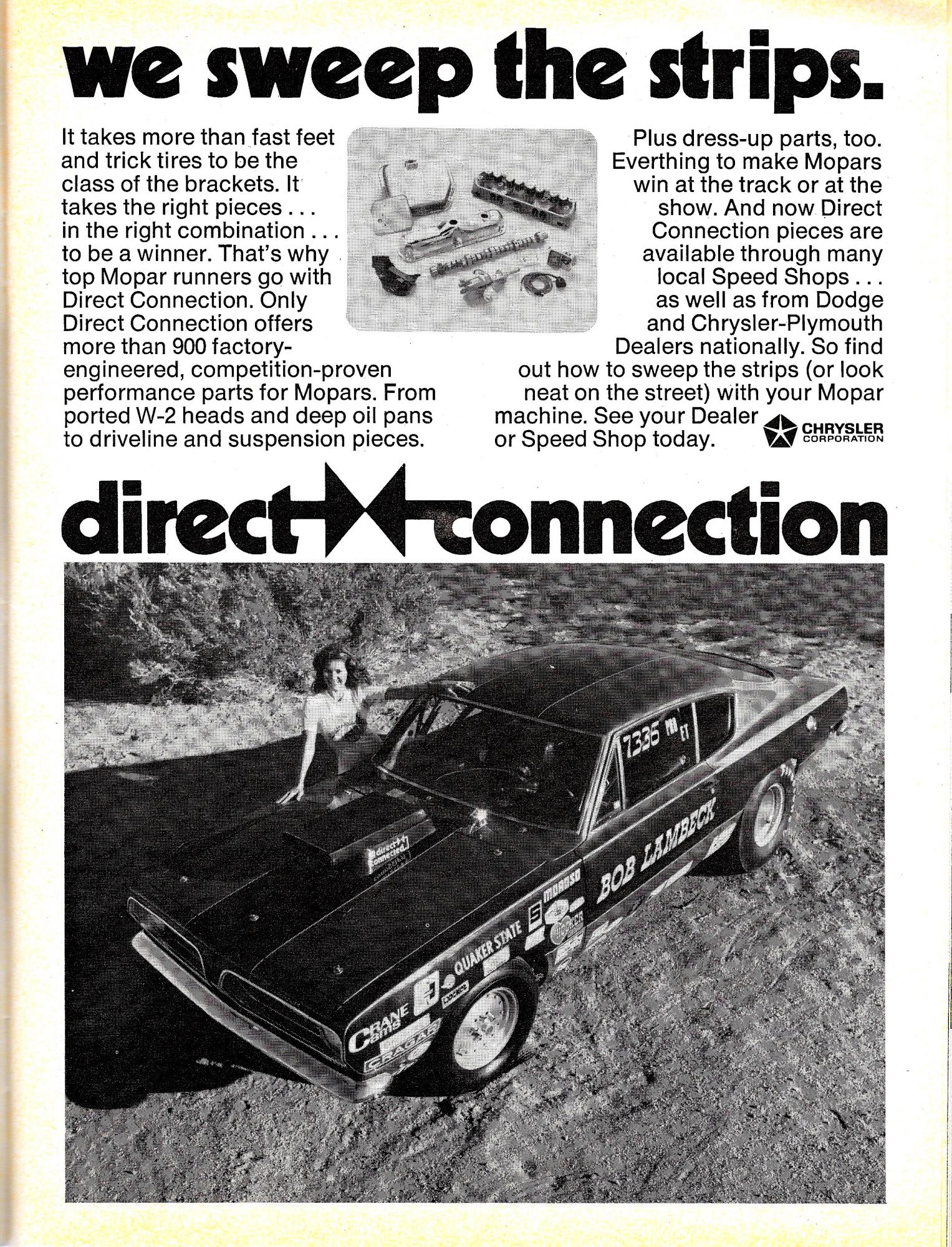 After the launch of Direct Connection, Joe continued to work for other advertising agencies that included marketing consulting for GM and Ford. Today, he's still active in the car hobby and gets out to many events as his love and passion for automobiles has never faded. So, the next time you see a vintage or reproduction Direct Connection decal stuck on the rear window of a 1969 Dodge Charger, or a Direct Connection license plate bolted on a front bumper of a 1973 Plymouth Duster 340, thank Joe Schulte for combining those two words that would forever change the Mopar world!