We've all had regrets during the course of our lives. In some cases, it involved a relationship breakup in which one of you walked out only to ponder "What was I thinking?!" But, if you're a die-hard car person, getting rid of a cool ride comes with many misgivings and even more sorrows. Despite a myriad of logical reasons, it will still leave you empty and regretful inside your soul when the new owner drives off.
College, family, functionality and even finances are usually what drives us (pun intended) to make these fateful decisions. And let's face it, we've all heard the stories. It's the mid-1970s, the U.S. economy is slowing, and a young couple with a child on the way trades in their low-mileage, 1970 HEMI® Challenger R/T for a brand-new 1976 Dodge Aspen station wagon with a Slant Six. Insert the "If we only knew!" comment here.
At the annual Muscle Car and Corvette Nationals (MCACN) last November, they had a special display for original/long-term owner vehicles. These irreplaceable cars were more than transportation; instead, they were a part of the family for many decades.
For Brad Schroeder of Mt. Prospect, Illinois, he was lucky to hang on to a prized muscle car that he's loved for over four decades, a rare 1970 Challenger T/A. This Challenger T/A is one of approximately 2,400 units built for only one year. His Challenger represents a short-lived period in which Dodge wanted to go SCCA Trans Am racing as another venue to promote its new Pony car as a machine that can turn right and left. By swapping paint and banging fenders with Z/28 Camaros and Boss 302 Mustangs, the Chrysler marketing execs at the time felt the Trans Am series would showcase the Challenger's great attributes. Dodge and their sister brand, Plymouth, only participated in the highly competitive racing series for one year, but Brad's affection for the street version of the Challenger T/A has lasted for a generation.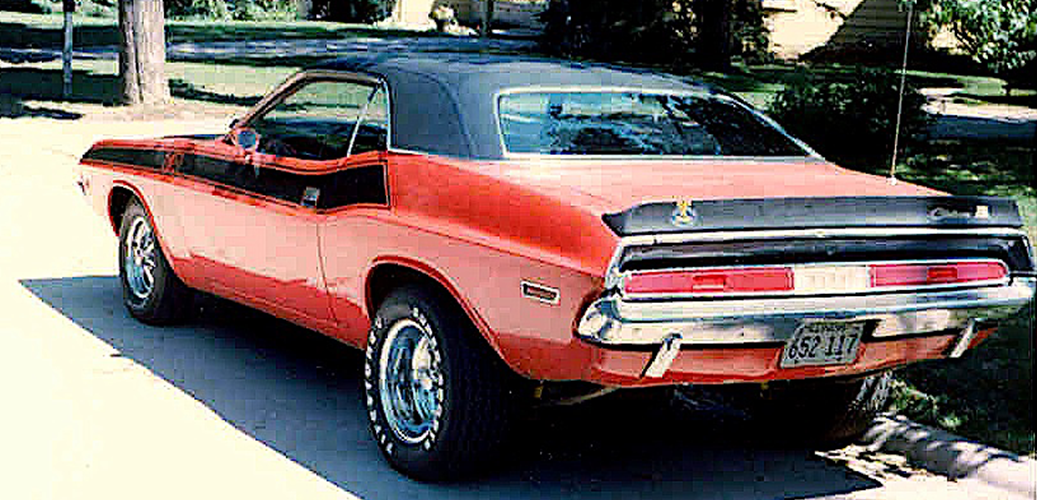 The passion for Mopar® began very early for Brad. As a 16-year-old growing up in the late-1970s, he was itching to drive and was reading every car magazine he could get his hands on. Back then, the Challenger T/A and Plymouth AAR 'Cuda were getting more popular due to their potent 340 Six Pack/Six Barrel engine that had three Holley carbs mounted on top of an Edelbrock aluminum intake manifold. Brad decided he had to have one and after months of searching, he found this Rallye Red 1970 Challenger T/A in the classified section of a suburban Chicago newspaper late in 1978.
"I was 18 years old when I bought my Challenger T/A. I was really proud to have bought my first car and the one I'd wanted after having searched for months. Even though it was eight years old, vehicles from the muscle car era, including Challenger T/As, were already getting some collector interest. The new cars of the era (the late 70s) were so weak and guys thought the days of impressive HP cars were gone, never to return," said Brad.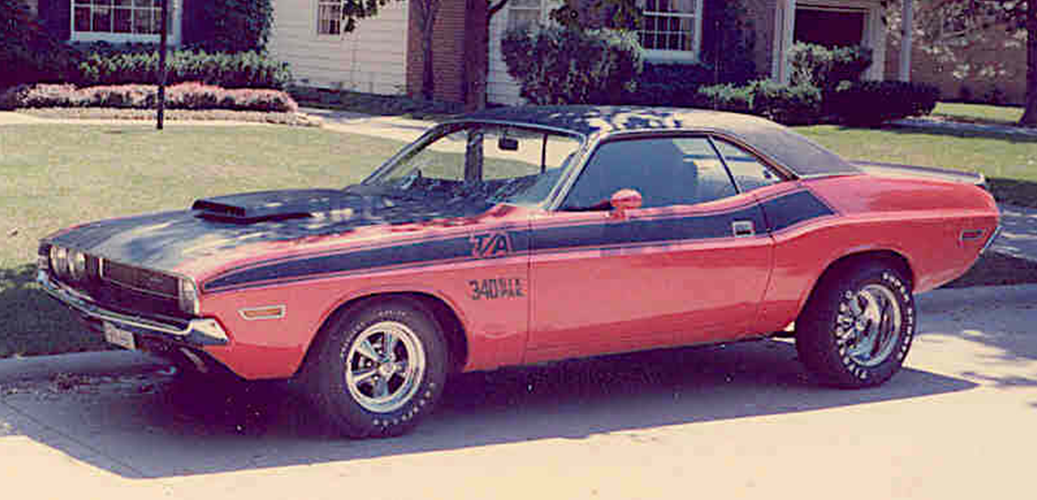 Like most car enthusiasts, Brad knew the red Challenger T/A was unique in many ways. Maybe it was the factory fiberglass hood, side-mounted exhaust, Pistol-Grip-equipped four-speed or wild looking stripes; whatever it was, it tugged on Brad's heart strings.
"I knew the car was rare and special as opposed to just being a 'used car'. It was wintertime when I found it, and it was intimidating trying to not get stuck in the snow and not slide off the road while driving! As a kid and new driver, I hadn't considered the winter drivability factor at all," Brad said. "My next 'dream' car purchase happened when I was an 18-year-old college freshman, and by then, a more experienced snow belt driver. I bought a used late model 4×4 SUV! Other than the terrible MPG, that SUV was perfect for winter driving, especially on the snowiest days!"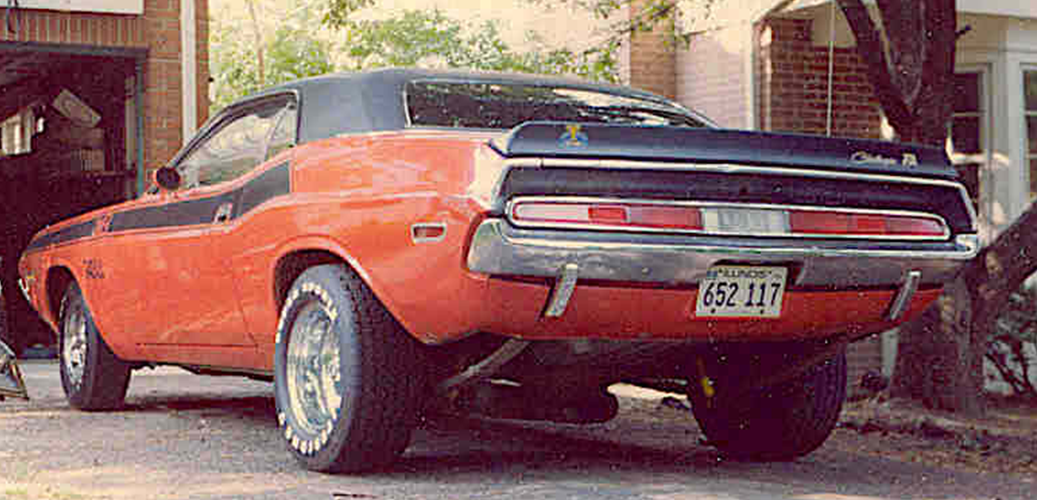 We're glad that Brad had the foresight to protect his Challenger T/A from the harsh Chicago winters. As you know, salt and snow wreaks havoc on many cars and some meet their demise rotting away in fields or behind some barn. Brad also hung on to the Challenger's paperwork, such as the window sticker and bill of sale.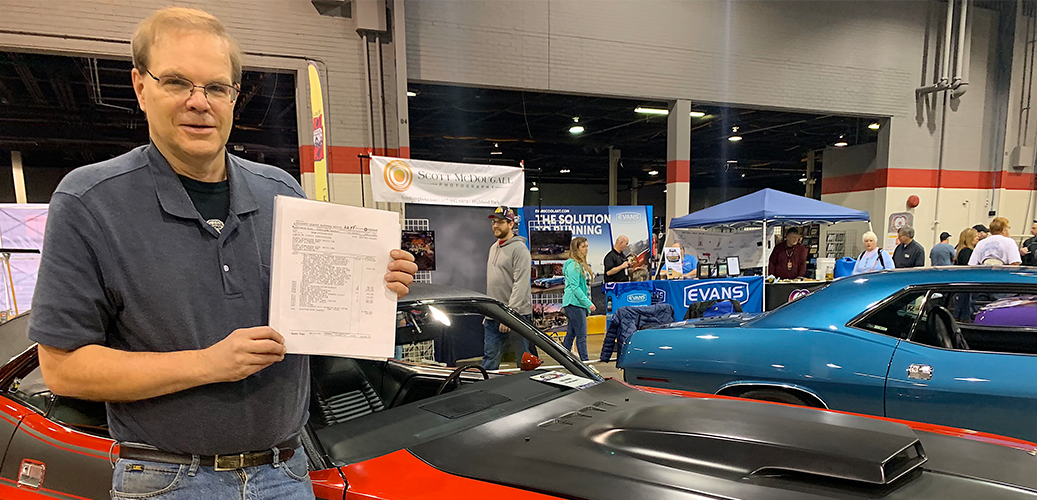 "I did a partial restoration after I graduated high school, with a new fender, some patch work done on some rust, and a new paint job. In the late '90s, I commenced on a ground-up, concours level restoration that ended up taking 16 years in time and three in shops, with many setbacks and costs well beyond my estimates. But at its first judged show, MCACN, it won concours gold with 986/1,000 points, so my persistence was rewarded," said a beaming Brad.
Along the way, Brad did manage to have some fun with his Challenger, and shared a memory with us that we can all relate to.
"My hometown was a fairly large Chicago suburb, without many safe open roads to really open her up. However, there was a naval air station in my town, with a stretch of road along one side of the base where there weren't places for cops to hide, and I have some great memories of going through the gears, the scream of the engine and how the front jumped up as I shifted into each gear, the rear fishtailing back and forth as it fought for traction. One night on that road, my friend, Steve, was in the passenger seat when I nailed it; as I went through the gears, I glanced over at Steve and his eyes were open big as saucers and I could hear him yell 'This car is fast!!!' above the noise of the screaming 340."
Today, Brad's fleet of Mopar vehicles includes a 2009 B5 Blue Challenger R/T Classic, which is ironically his first-ever new car purchase. Brad's also looking to add a Ram 2500 for a tow vehicle in the near future. However, for this die-hard Mopar guy, his first love will always be the 1970 Challenger T/A that never got away.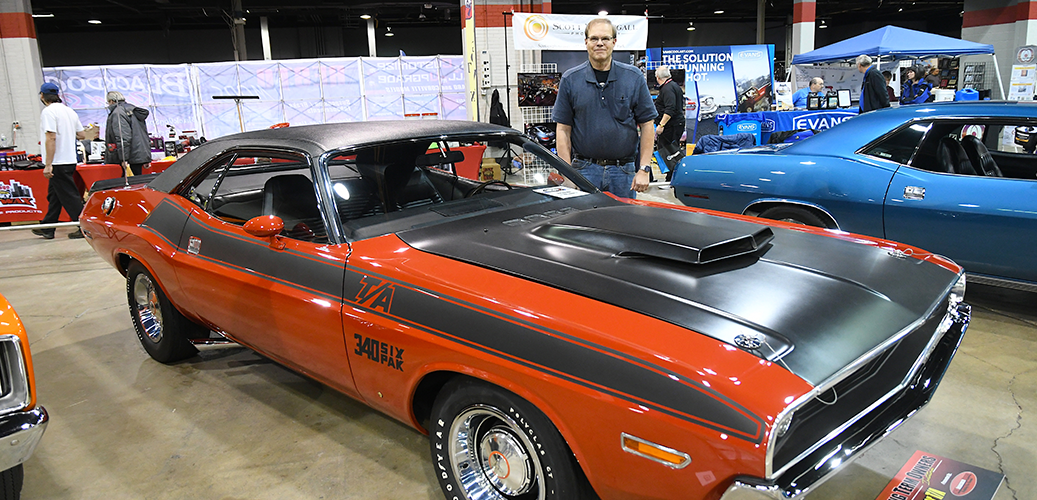 Future Chapters of Long Term Relationships: