Mike Marple is a quiet soft-spoken 64-year-old gentleman whose career path led him down the road to be an electronics product designer. His lives in a modest home in South Lyon, Michigan, with his wife, Paula. The two have been together since the 1980s and share many passions. One is their mutual appreciation of cool Mopar® vehicles that ironically brought them together in 1983. Back then, Paula owned a 1970 Plymouth Barracuda and her car just happened to be on display at a local Mopar show that young Mike was attending.
Talk about love at first sight.
It was during Mike's formative years, before he discovered girls, that made him love cars. He remembered watching the Plymouth Road Runner cartoon TV spots as a 10-year-old. Later on, before he could drive, Mike thumbed through the pages of Hot Rod and Car Craft Magazine and noticed the cool, colorful print ads Plymouth's ad agency created touting the new Road Runner's performance attributes.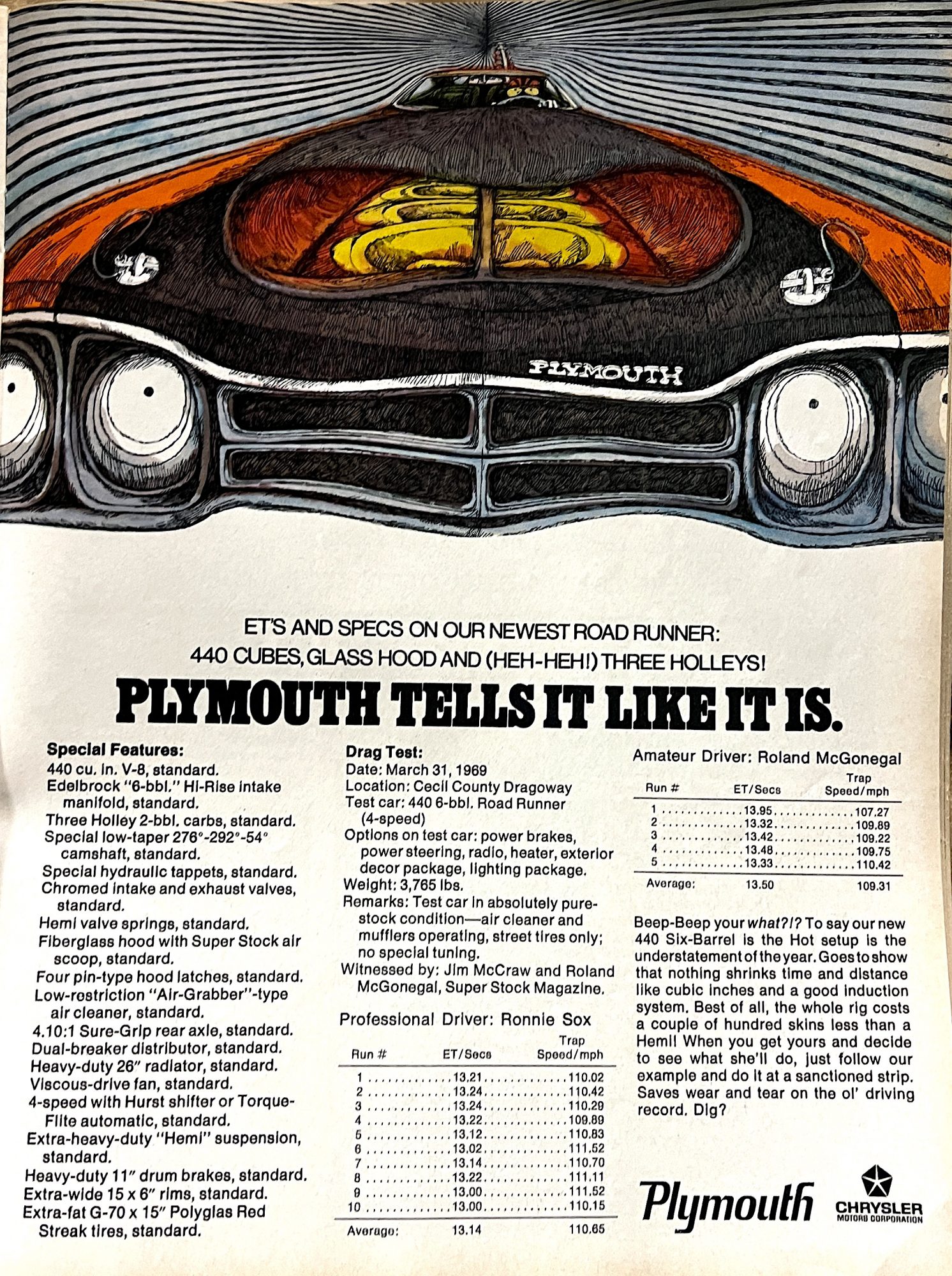 That's all it took to get Mike heading down that path of fast Mopar vehicles and being part of the community of like-minded gearheads. These Mopar diehards felt it was their God-given duty to battle the never-ending hordes of Camaros, Chevelles, GTOs, Mustangs and just about anything else that rolled up next him at the drag strip. By 1976, Mike was the proud owner of a 1970 Duster 340 that was blazoned in its high-impact Limelight green paint. It was this car that Mike began to tinker on. He discovered what made these things tick, and began modifying the engine to make more power. From this point, the seed was planted, and Mike's life would never be the same.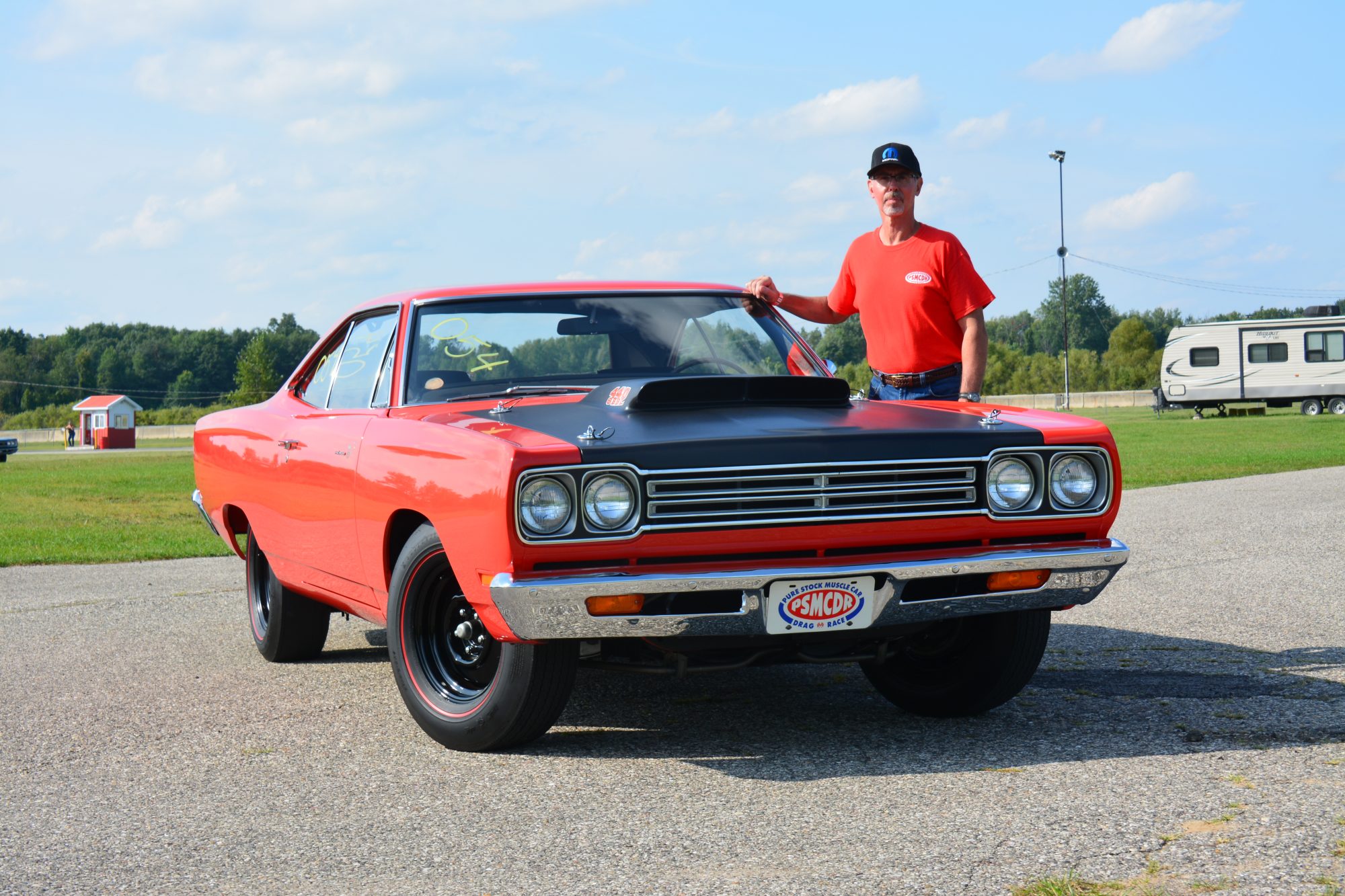 Fast forward to 2002, and Mike finally locates and procures his dream Mopar vehicle, a 1969 ½ "A12" Plymouth Road Runner. Maybe it was the 440-cubic-inch Six Barrel engine with its three Holley carburetors mounted on an Edelbrock aluminum intake manifold that was nestled under the long matte black fiberglass hood. With the contrasting with "R4 Red" paint splashed on the sheet metal, the Road Runner sure stands out among the crowd. It got Mike drooling and even more motivated to make the deal and bring the Road Runner home. "The Road Runner was solid and still wearing its original paint but was not running as the motor was seized. It also needed a full restoration which I started in 2003," noted Mike. Like many projects, they never go according to plan and was put on hold in 2008 for a few years but got finished up in 2015. During the long restoration process, Mike still had fun playing with cars as he had a 1971 Dodge Demon with a hopped-up 340 small block sporting W2 cylinder heads. It was a dual-purpose machine that Mike could play with on the street or strip.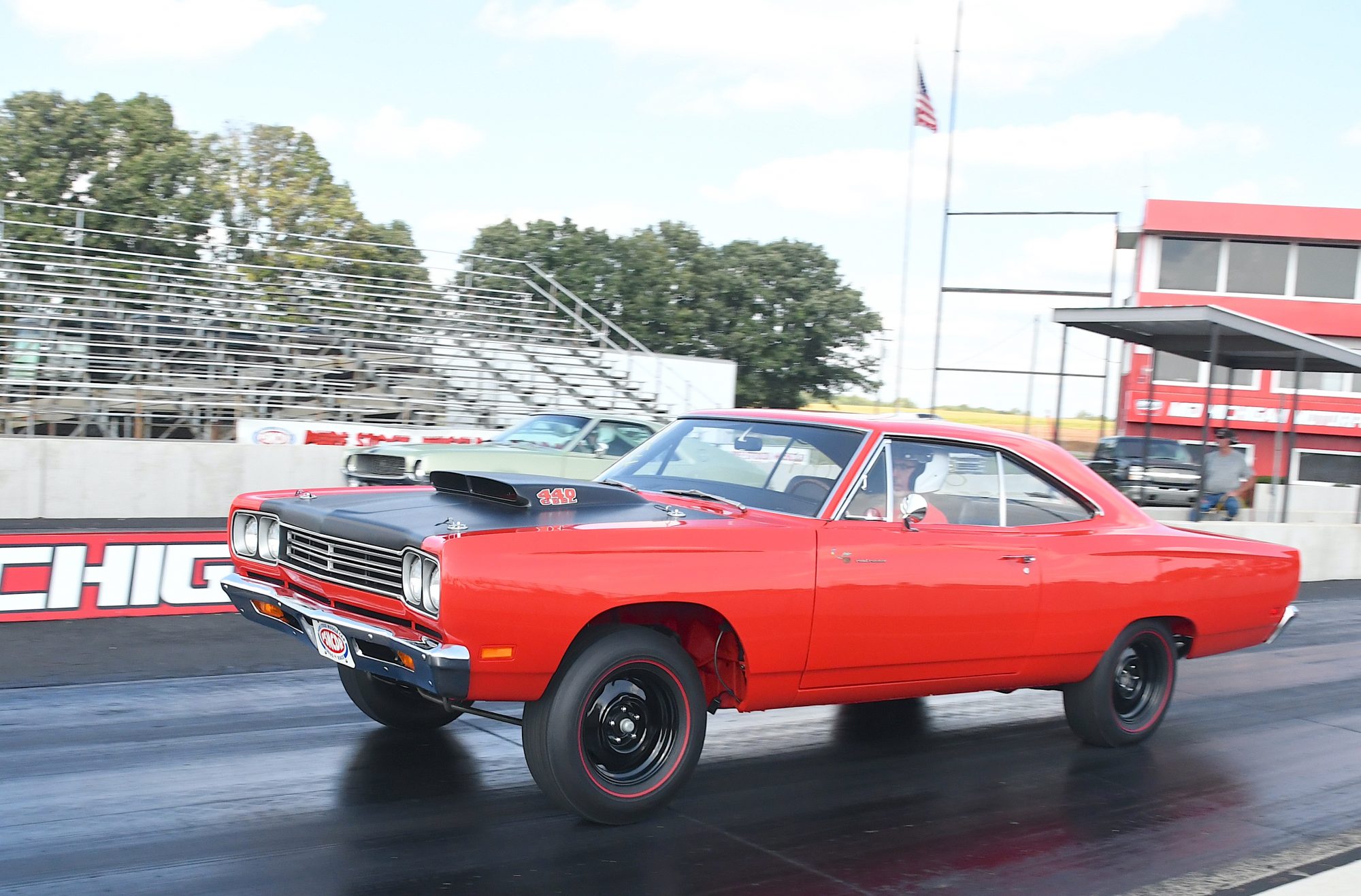 After the Road Runner was restored, Mike was not satisfied to do the "car show thing" and just sit on a lawn chair in some parking lot. He wanted to race his car and ventured into the world of Pure Stock Drag Racing back in 2016 with his prized Road Runner. "Back in 1984, I was looking to buy another muscle car. My wife and I went to Quaker City Dragway in Ohio to spectate at a Pure Stock race. That really started my interest in Pure Stock racing," smiled Mike. While many classic muscle car owners would freak out at the sight of a bug getting spattered on their car's grille, Mike's out doing his thing. He's burning rubber and destroying the $600 pair of G70X15 Redline tires in a mushroom cloud of smoke. It's not just for Mike's edification, punishing the rear tires in the burnout box serves a purpose. If there's any hope of applying the gobs of torque the 440 pumps out and getting the car to hook-up on the starting line, the tires need to be hot and sticky. As Mike pointed out, "Trying to launch my Road Runner on these skinny tires is always a challenge. Even though the reproduction bias ply tires we all run in the class have a better compound than the original ones from 50 years ago, you still need to concentrate very hard on how high of an engine speed to leave the line at. Depending on track prep, I launch anywhere from idle to 1,200 rpm, to even higher. Just depends how much the tires will hold."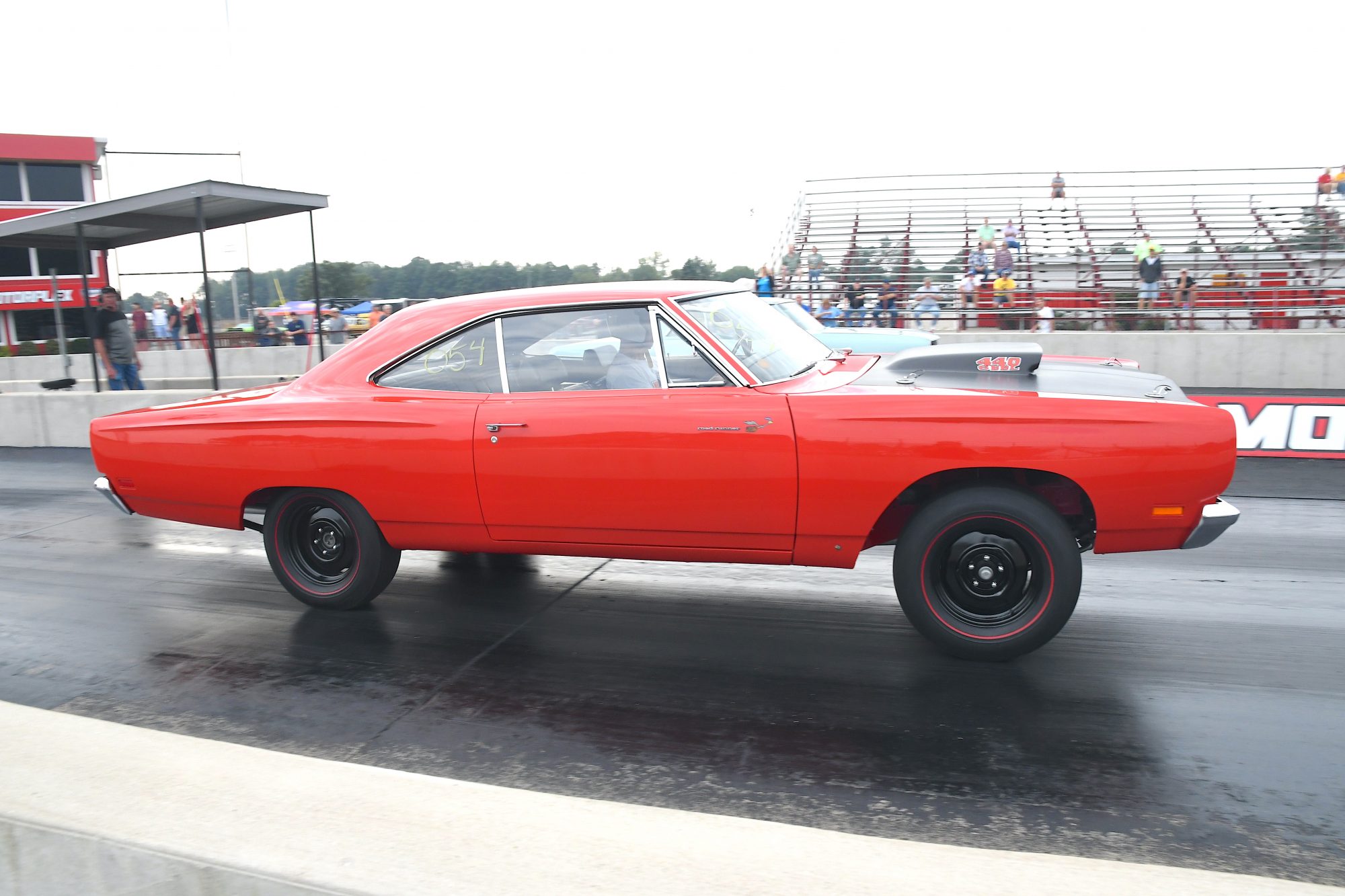 As many of you know, it takes many things to make a vintage muscle machine run a second or more faster in the quarter-mile then when they were new. Engine prep and the components that go into the motor are important. Beyond throwing new parts during the engine build, preparation and blueprinting is hypercritical in going fast. If you are adhering to the strict rules in the Pure Stock class, you can't deviate too much from how these things left factory. One has to be "creative". "When rebuilding my 440, the stock bore on the block was increased by .055 inches, and I used CP flat top forged pistons. I run a Mr. 6 Pack camshaft that has great idle characteristics but with a wide power band throughout the rpm range. The Pure Stock rules also allow us to increase the compression ratio by 1.5 points over the factory's advertised rating," said Mike. The rest of the Road Runner's driveline is basically stock other than a performance torque converter and a shift kit in the 727 TorqueFlite® automatic transmission. The rear differential is still the production Dana 60 spinning 4:10 cogs.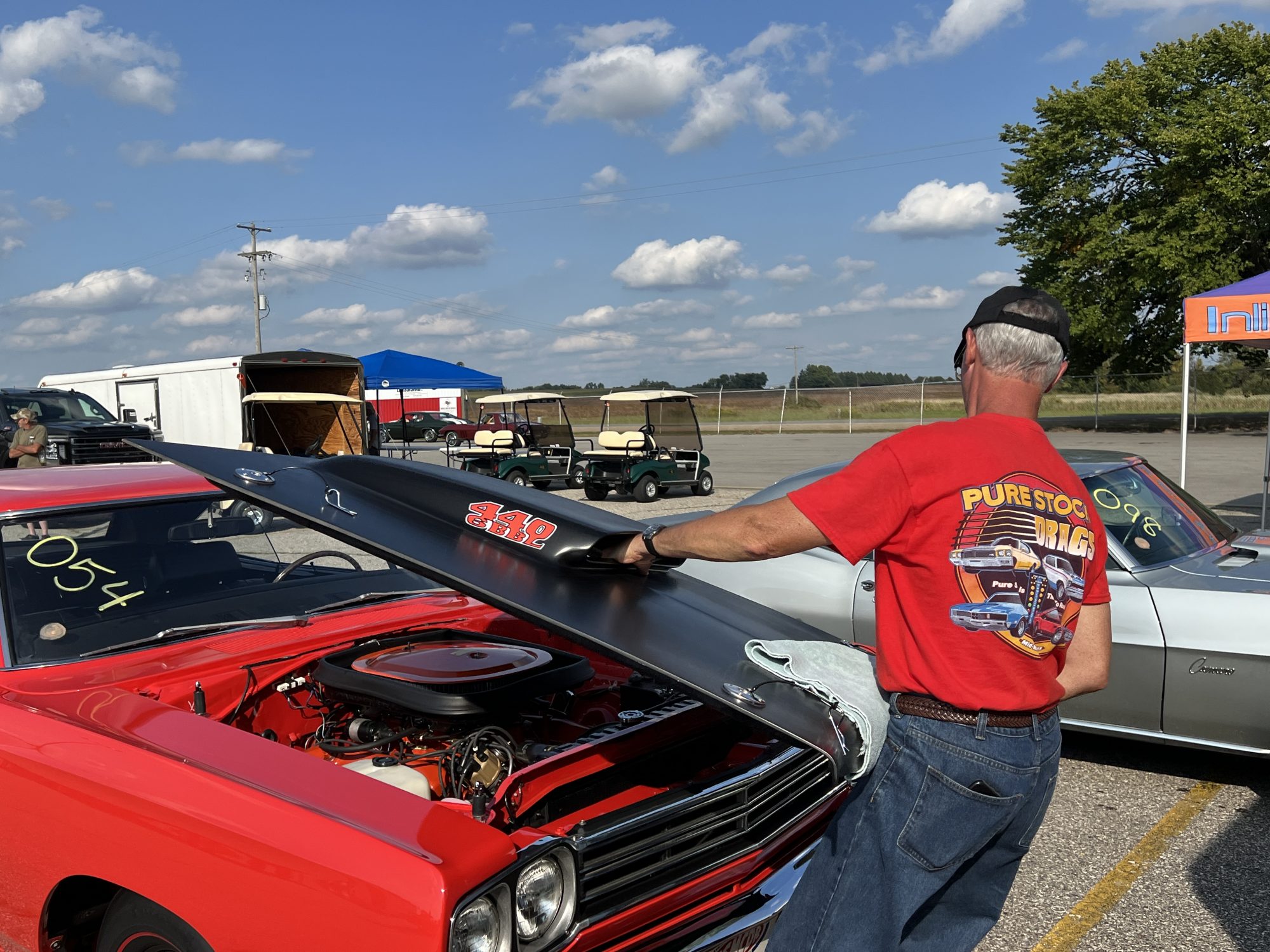 In race trim, Mike's Road Runner is no lightweight, despite having a lift-off fiberglass hood from the factory. His car tips the scales at 3,800 pounds give or take depending on how much fuel is in the gas tank and if Mike ate a big breakfast on race day. His Road Runner still retains all of its original production exterior sheet metal and factory interior trim, part of the stringent rules in that makes the Pure Stock Drags a cool class to race in. If the air is good and the track has bite, Mike's Six Barrel Road Runner can run 12.0 seconds at over 114 mph. When the planets and stars are lined up, his car has gone 11.84 at 115 in perfect conditions. Regardless of what the time slip says, Mike's Road Runner runs in the same league with the Pure Stock heavy-hitters such as 1969 427 Camaros, SS 396 Chevelles and Novas, and Ram Air Firebirds, along with an assortment of muscle Mopar vehicles running 426 Street HEMI® engine-powered vehicles.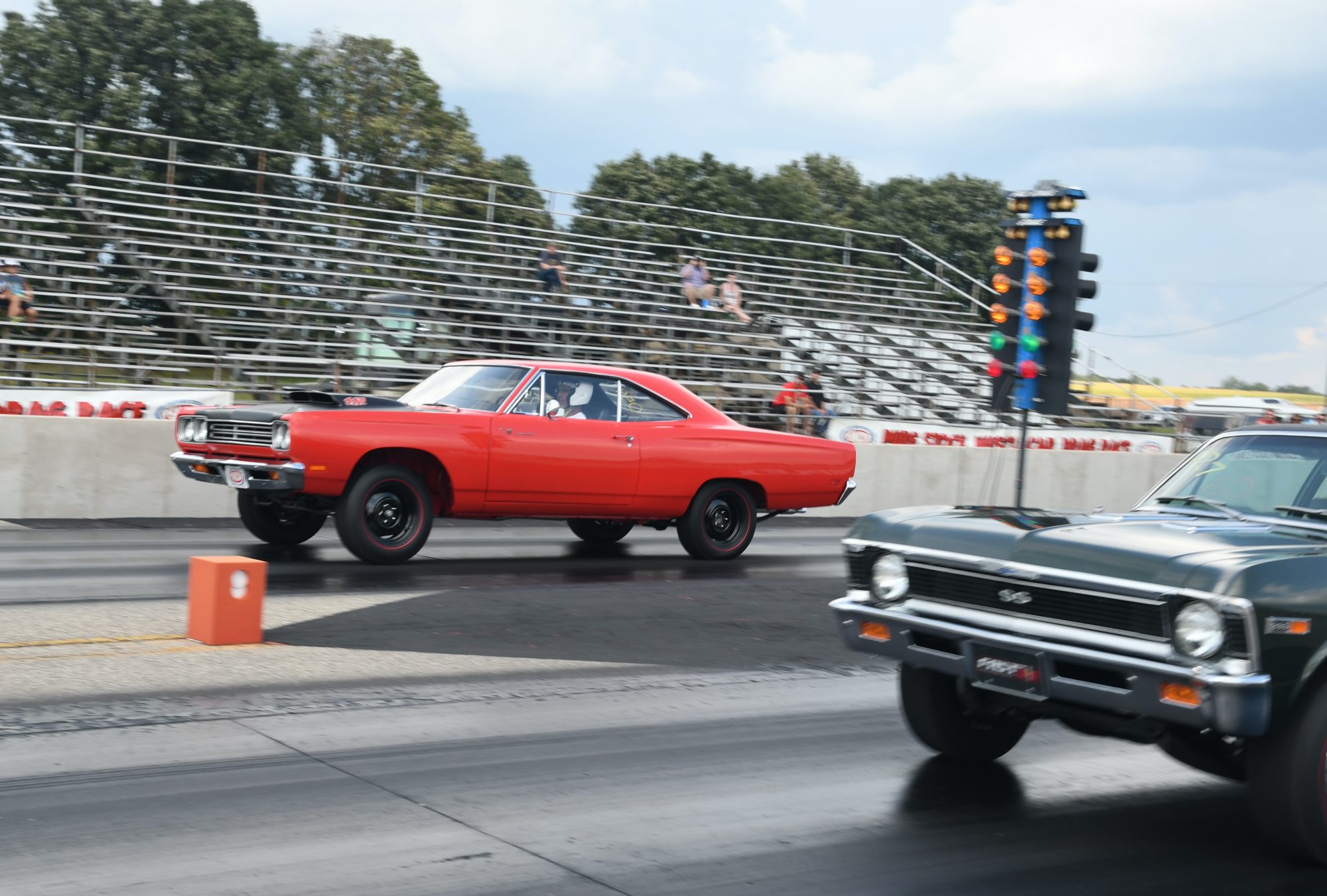 When we asked what advice he would give an enthusiast looking to use their vintage muscle car for what it was intended for, Mike gave us these words of advice. "Give it a try. You'll be racing all different makes of rare muscle cars, not some clapped-out racecar with open headers in the lane next to you. Once you've started, you'll be hooked. It's like going back in time when the staging lanes at drag strips across the country were packed with the latest muscle cars coming out of Detroit. But more important, you'll meet some great people who share the same passion and interest."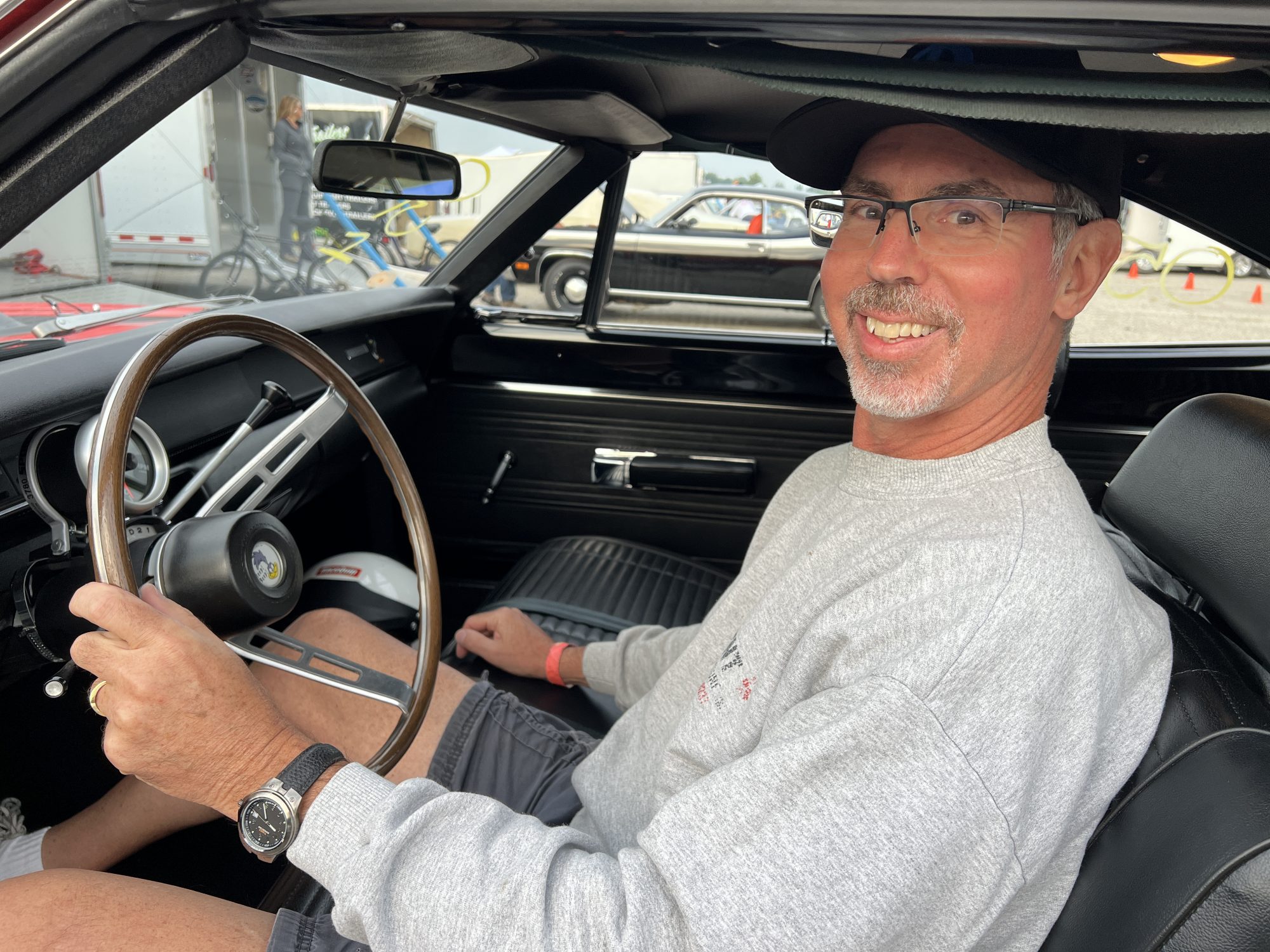 We have more images of Mike's rare A12 Road Runner for you to check out!