For years, theories have spread as to why Chrysler launched their optional High Impact Paint colors in the summer of 1969. Could it have been the booming economy that allowed production of these frivolous features? Society's newfound desire for individuality? Or was it as simple as too much free love and good dope? Whatever the case, these unique options have always made Dodge stand out and generations of Mopar® nuts are thankful. While competitors tried keeping up in the wake of Chrysler's fresh new look with their own bold blends, like Grabber Green or Hugger Orange, their shallow imitations couldn't compete with Chrysler's sharp new shades.

These side-by-side original PPG charts from 1970 prove that Chrysler led the charge in providing high-profile paint options, which distinguished the muscle car era. Aside from offering a much more colorful palette than Ford (on the left) or Chevy (on the right), Chrysler's colors could also be placed on nearly any model, unlike the competition who limited their few exciting enamels to performance models only. Today, High Impact Paints (HIP) have become incredibly desirable and increase the value of a classic Mopar vehicle tremendously, although when originally ordered, these new pretty pigments only set customers back an extra $15! Chrysler's High Impact Paints were available from 1969 through 1973 and included ten captivating new colors, let's take a look at them individually and see what makes each color essential to Chrysler's history.
FC7 PLUM CRAZY
Royal, regal and totally radical! Dodge's Plum Crazy (or In-Violet for Plymouth and Chrysler) was the most vibrant variation of purple ever seen to come straight from a manufacturer. The adored FC7 plum paint quickly provoked a cult-like following that intensifies with every passing year. The color was available from 1970 to 1971 and has made a successful comeback with Dodge as part of their Heritage Color Collection.
EV2 HEMI® ORANGE
HEMI Orange, or TorRed for the Plymouth and Chrysler counterparts, is the center of a spirited debate. Is it orange? Is it red? The answer is both, the illusive color gives off orange hues in bright lighting and a reddish tone in darker lighting, resulting in the confusing difference in names. The color was originally available from 1969 to 1972. In 2009, the names "HEMI Orange" and "TorRed" returned to Dodge's lineup, but as two separate colors, further fueling the orange versus red debate. Like Plum Crazy, the newest take on TorRed has also been made available with Dodge's Heritage Color Collection.
FM3 PANTHER PINK
Only the boldest and baddest cars could dare rock Panther Pink (known as Moulin Rouge to Plymouth and Chrysler), by far the most audacious color to ever be sprayed on a car right from the factory. That goes for the drivers as well, it takes a lot of guts for a dude to be seen driving around in what is usually considered such an effeminate color. As a result, many real FM3 cars shamefully received haphazard paint jobs by second-hand owners to cover their blushing beauty. Boys aside, what little girl didn't grow up fantasizing over a hot pink 'Cuda, or was that just me? Chrysler's flushed addition had Dodge girls "tickled pink" and blew the doors off those Pepto Bismol Mary Kay Caddys.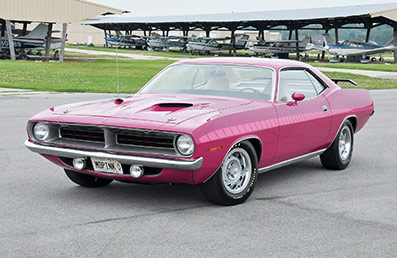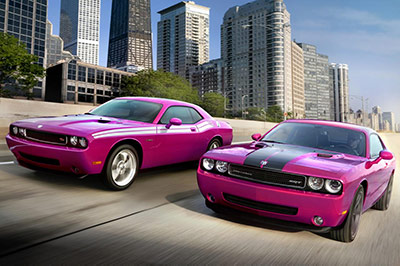 The classic color was modernized in 2010 with the unveiling of the limited-edition Furious Fuchsia, which was made available only to Dodge Challenger SRT® and R/T models. While the modern magenta fits perfectly on Dodge's late-model muscle car, I can't help but imagine the potential beauty of true Panther Pink on the newest widebody Dodge Challenger SRT Hellcat … drool.
FJ6 SASSY GRASS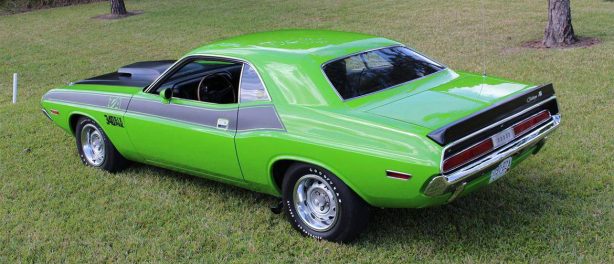 Making its debut in 1970 and sticking around until 1971, Sassy Grass (or Green Go) was almost as flashy as its controversial name. One of Chrysler's many childish (but hilarious) double entendres, antics like this color name help define the brand's rebel attitude. Dodge paid homage to the classic color with a similar blend called Green With Envy, but opted to bring back the name Green Go in 2017.
FJ5 SUBLIME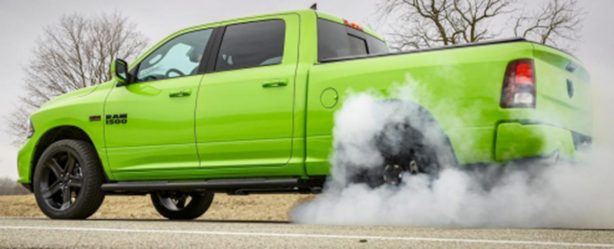 Glowing like a toxic goo, the stunning Sublime (or Limelight) was only available in 1970 and quickly became one of Chrysler's more popular pigments. The color is often mistaken with the deeper FJ6 Sassy Grass, but in person, you notice Sublime's luminous gleam that stands out from other shades. Sublime has made a successful return to modern Mopar vehicles, being made available on limited productions like the Dodge Daytona Charger, SRT Hellcats, and even some Dodge Ram pickups! FJ5 is the kind of color that demands your attention, and as of 2019, Dodge will be turning heads once again with Sublime's availability to all Challenger models. Click here to find out more.
EK2 GO MANGO
Available only in 1969 and 1970, Go Mango (or as I like to pronounce it "Go Man Go!") challenged the competition and dared other manufacturers to release their own bold blends of orange (you're welcome, Grabber and Hugger Orange). The color was known as Vitamin C to Plymouth and Chrysler, a fitting title as the color brightened up the streets in the 1970s. Go Mango lit up the world once again in 2006 on the R/T model and in 2016 on the SRT models.
EL5 BUTTERSCOTCH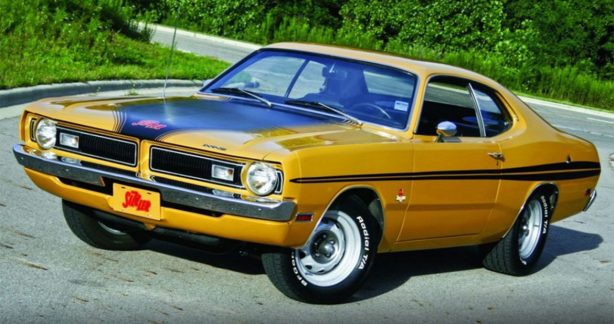 The semi-obscure EL5 Butterscotch (also known as Bahama Yellow) presented a tamer side to Chrysler's new color lineup while still catching the eye of consumers. Appearing docile next to the wilder side of the color chart, Butterscotch offered the perfect amount of pizzazz for economy cars and performance models alike. The color was available from 1969 to 1971 and while it hasn't yet made a return to the Heritage Color Collection, there is no doubt the color would compliment Mopar's modern muscle cars.
EF6 BRIGHT GREEN
Arguably the rarest of all HIP colors, Bright Green (known as Rallye Green for Plymouth and Chrysler) was only available for a limited production run in the spring of 1969. The seasonal availability of the color not only made it incredibly rare, but also earned it the nickname "Spring Green". Even at the most prestigious of auto events, you'll be lucky to find an original, real-deal "Spring Green" car.
FY1 TOP BANANA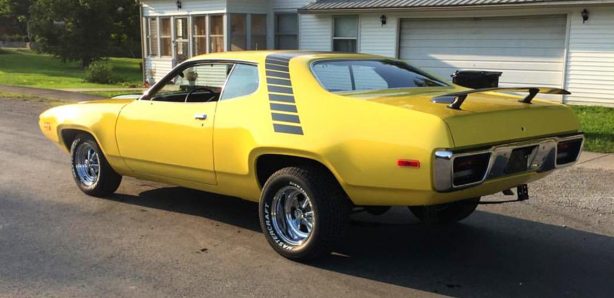 The longest enduring of all High Impact Paint colors, Dodge's Top Banana (or Plymouth and Chrysler's Lemon Twist) "peeled" onto the streets in 1970 and lasted all the way until 1973 during the final phase out of the muscle car era. The color was massively produced (by Chrysler's standards) and quickly became a popular choice for high-end performance models, utility vehicles, economy cars and everything in between! Dodge brought Top Banana back to the lineup in 2006 on its Charger Daytona R/T model, but has since replaced the name with the less insinuating Yellow Jacket.
GY3 CITRON YELLA/CURIOUS YELLOW
No, it's not Lemon Twist! No, it's not Sublime! No, you are not tripping … I hope! This thrilling one-year-only 1971 flip-flop color plays mind games even worse than HEMI Orange/TorRed. In bright lighting, GY3 appears to be a vibrant yellow, while in darker lights, it is more comparable to a lime green. The popular name associated with GY3 was Plymouth's Curious Yellow, though the lesser appreciated Dodge name Citron Yella makes me grin. Typical of Chrysler's wacky colors, Curious Yellow was the center of controversy upon its debut. It was theorized the color was named after a taboo, sexually charged Swedish film I Am Curious (Yellow) that had been recently banned from theaters across the U.S. While the original intentions may have been to run the color for multiple years, the movie name debacle caused the color to be axed shortly after its introduction, making it a semi-rare one-year-only color.

While Dodge's designers hide many hilarious innuendos in their paint names, they just couldn't get away with them all. Chrysler had to reject these HIP color name suggestions: Catch Me Copper, Unforeseeable Fuchsia, Hi-Ho Silver, Well-Red, Cost of Living Rose, Fisher Body Rust and Frank Lloyd White.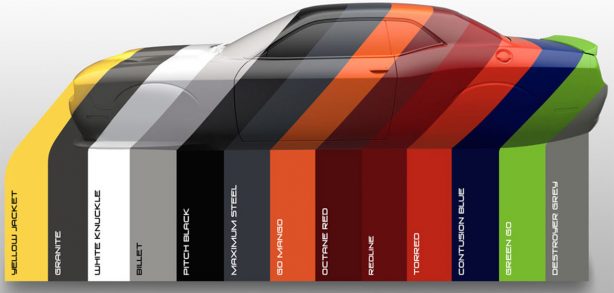 As quickly and mysteriously as they arrived, Chrysler's High Impact Paint colors were phased out over a short period of time and finally came to a complete halt in 1973. While it's fun to reminisce about the glory days, it's also important to remember that Dodge is reigniting the horsepower wars, and with the return of the muscle car models, we have also seen the return of many HIP colors. Sublime, Plum Crazy, TorRed and Go Mango have already received a throwback return to Dodge's Heritage Color Collection. What High Impact Paint color do you want to see return next?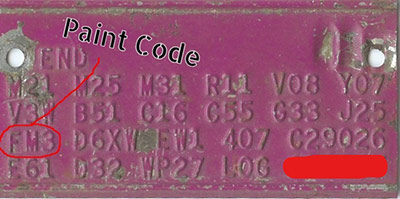 *Pro-tip* The first letter of the paint code indicates the year the color was produced: E = 69, F = 70, G = 71, so on and so forth. The second digit indicates the color base. The third distinguishes the shade.