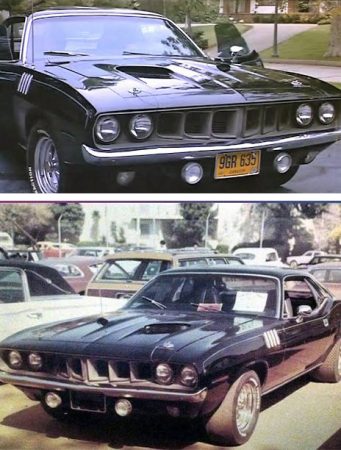 Whether the film makes you cry out in fear or burst out in laughter, the creepy, corny cult classic Phantasm is must-see horror flick for any Mopar® fan. Rudy Munis, a creature feature connoisseur, grew up watching these 1970s made-for-drive-in specials and found himself enamored with the star of the Phantasm film, this triple black 440-6 barrel 1971 Plymouth 'Cuda!
While to it's core Phantasm depicts a tale of brotherly bonding between protagonists Mike and Jody as they battle with an evil undertaker, the '71 six-pack 'Cuda steals the spotlight! Fat Cragar mags, old-school flush wheel flares, and look at that rake! The car exudes muscle and drips "day-two" nostalgia. With its iconic '70s street machine styling, the legendary Phantasm 'Cuda has earned a notoriety that nearly supersedes the films themselves. The Phantasm series received a total of five flicks so far, with each sequel becoming more and more cheesy, but each movie car 'Cuda becoming more and more badass! Growing up with his eyes glued to that murdered-out 'Cuda, Rudy knew someday he would build himself one just like it.
It was the Mopars at the Strip event in Las Vegas where Rudy came across this perfect blank canvas candidate for the build. Despite an incomplete attempt at a "Curious Yellow" paint job, the dark primer across this 'Cuda made his mind go straight to that iconic black out 'Cuda. After spotting a "For Sale" sign, Rudy stopped dead in his tracks and turned to his friend to say, "That car could make the perfect Phantasm tribute"! Despite his friends egging him on, Rudy went home empty handed. The black and yellow '71 'Cuda continued haunting his dreams well after the event, so after two long months of negotiations, he managed to wrangle himself a stellar deal on the car.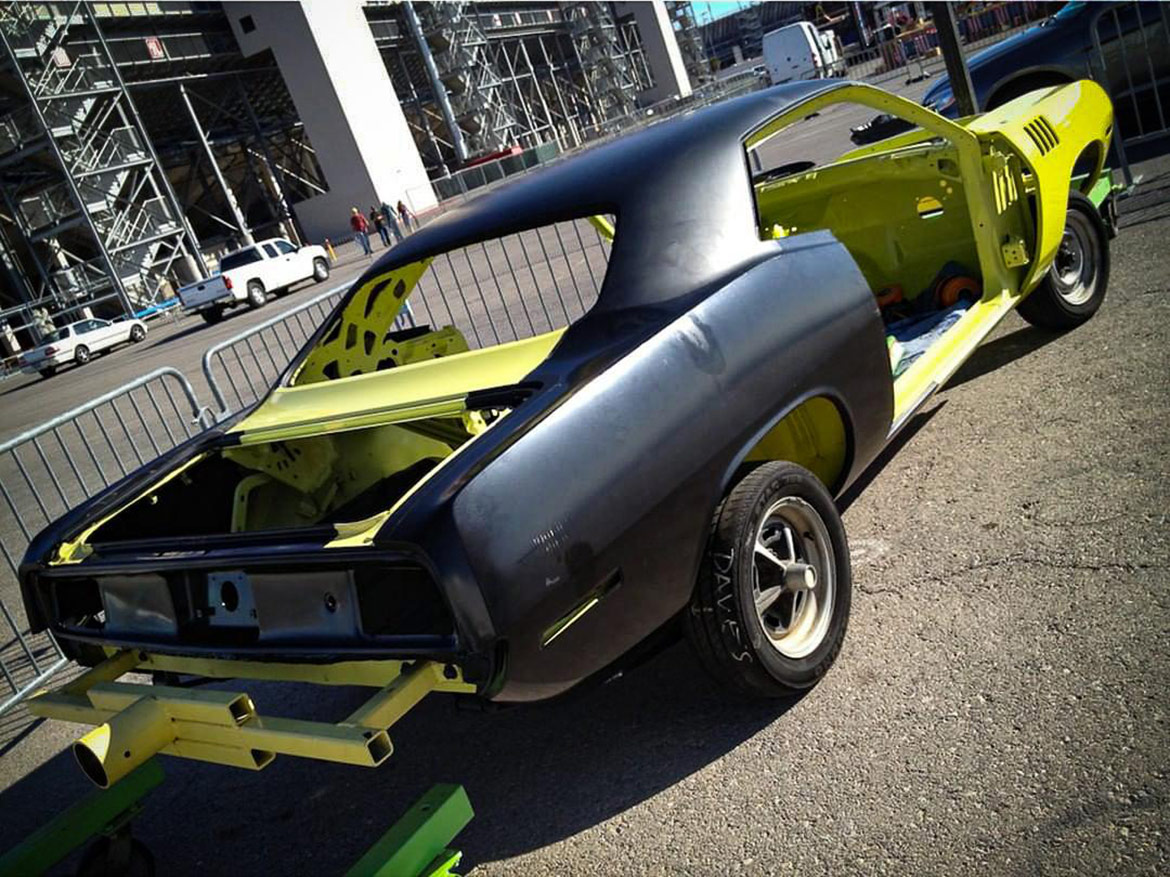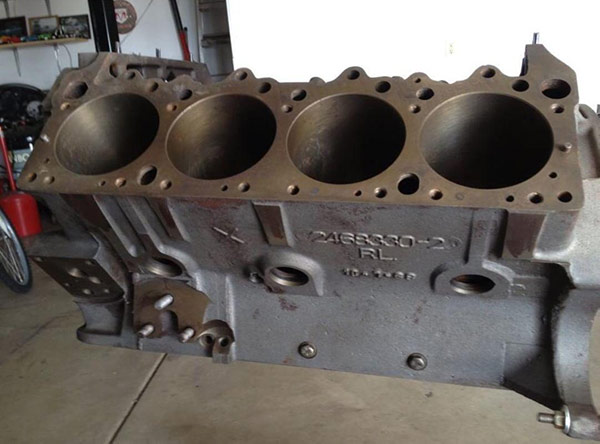 Unlike previous restorations Rudy has done, he didn't feel the need to restrict himself to NOS OEM only parts and pieces for his Phantasm build. This is a tribute car based on a modified 'Cuda, so while he is keeping the car as screen accurate as possible, he is still given more freedom than a factory-styled restoration.
Rudy had gone straight to work prepping the 'Cuda for its new role as a Phantasm tribute car when a good friend called him out of the blue to offer up an unbelievable deal on a 426 HEMI® engine (hearing stories like this has me thinking I need to make new friends). While the first Phantasm film featured a triple carbureted 440-6 barrel 'Cuda with fat wheel flares, the sequel showed a 'Cuda with the almighty 426 elephant engine. On that note, Rudy quickly snatched up the engine and decided he would build the car into the HEMI engine-powered beast from the second film.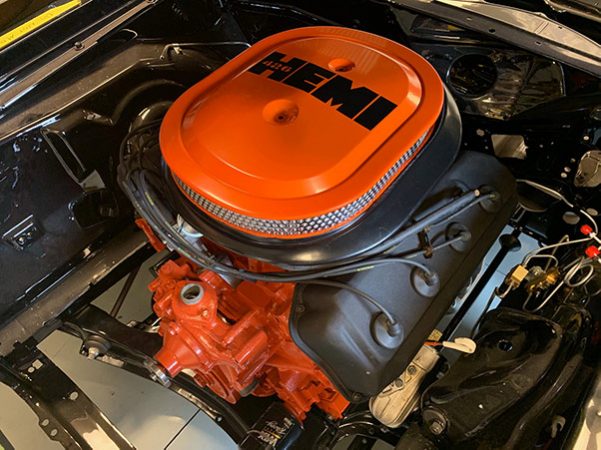 The real movie car wore a striking gloss black paint, and as any good body man knows, black paint requires laser straight panels and perfect prep. Rudy took the 'Cuda to Finer Details Restoration, where it was prepped for paint and shot in a coat of single stage black, staying true to its old-school style. Since Rudy plans to make this car a driver and not a show pony, he added subframe connectors from US Car Tool to stiffen the chassis and undercoated her in a thick layer of rustproof paint. Staying streetable while still reaching for peak power, the Gen II HEMI engine was sent out to Mendez Motorsports, where they added some extra umph. On the dyno, the engine made an impressive 525 horsepower and 472 lb.-ft. of torque!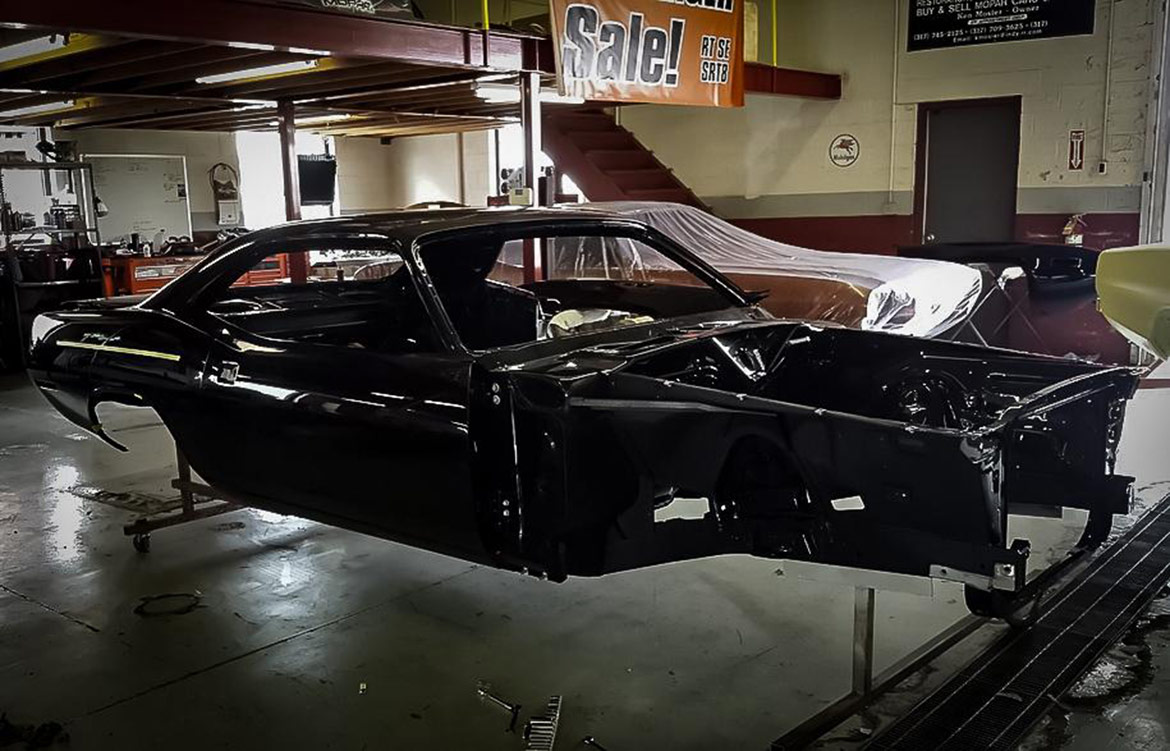 Now, to the untrained eye, Rudy's car may look like your typical stock HEMI 'Cuda clone, true enthusiasts of both Mopar muscle and this cult classic horror film will pick up on the subtle distinctions of the Phantasm car. The real movie 'Cudas always wore fat Cragar Mags and Remington XT-120 tires. As you can imagine, hunting down these correct vintage hot-rod parts was like searching for a needle in a haystack! Additionally, the Phantasm 'Cuda wore incorrect emblems off a shaker car on its rally hood, as well as fat turned-down exhaust tips with the rear valance cut-outs filled in.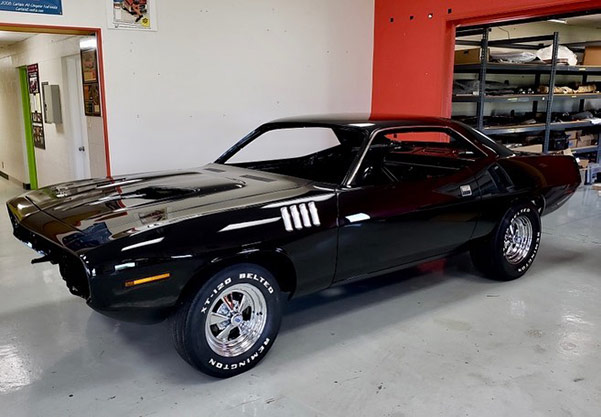 Rudy takes his involvement in the Mopar community seriously, but he also finds a strong passion for the old-school horror flicks he got hooked on as a kid. "As much as these modifications will bother the purists, I want to build the closest replica that's ever been done of a Phantasm 'Cuda. Adding all of those other options and details would just make it another HEMI clone. Not that there's anything wrong with that, but I want this as if it drove right off of the big screen."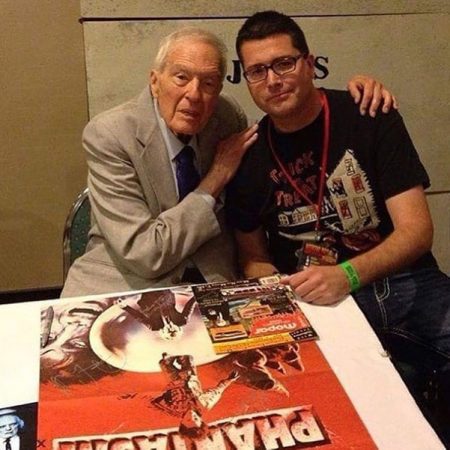 Since the beginning of this build, Rudy worked tirelessly to track down the original movie cast and even the film's producer, Don Coscarelli, so everyone could sign the 'Cuda's glovebox door. Pictured here is Rudy with Angus Scrimm, the actor known for portraying the terrifying "Tall Man" of the Phantasm films. Being a car-guy and 'Cuda fan aficionado himself, Coscarelli still stays in touch with Rudy to keep up to date on the car's progress.
With the paint work finished up and the drivetrain complete, Rudy is down to just the final finishing touches on his Phantasm 'Cuda. It won't be long before you see this sinister '71 prowling through graveyards, solving mysteries and fighting off ominous undertakers.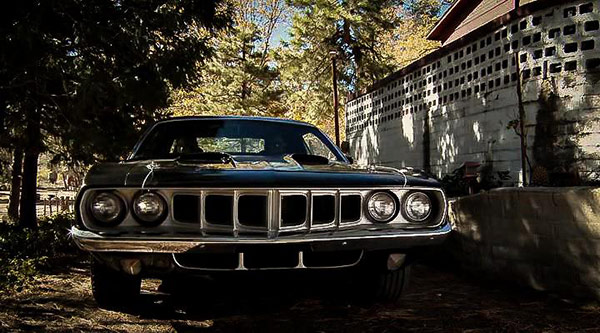 With the paint work finished up and the drivetrain complete, Rudy is down to just the final finishing touches on his Phantasm 'Cuda. It won't be long before you see this sinister '71 prowling through graveyards, solving mysteries, and fighting off ominous undertakers.