One month away … and counting!
Just four weeks are left until automotive auction history is made on October 13, 2021. That's when the Great Texas Mopar® Hoard Auction Event will find new homes for over 250 vintage and special interest cars, vans and light trucks. Gathered together on the Texas prairie by the late John Haynie, these vintage vehicles are heavy on the Mopar and include some rare and desirable items.
And don't forget, there's more to the Great Texas Mopar Auction than the 250-plus cars selling on Wednesday, October 13th. There are also thousands of vintage parts, tools, dealership sales items, model cars and collectible automobilia. These goodies will sell – also with no reserve – during a second online-only auction to take place the following day, on Thursday, October 14, 2021.
Until then, here's another preview of some solid Texas Mopar vehicles that'll be up for grabs. And yes, we'll be back next week with even more.
The 1960 Plymouth Valiant was one of the most significant models ever released by Chrysler Corporation. Throughout the sixties and into the seventies, the compact-sized Valiant (and its Dodge cousins Lancer and Dart) sold millions of units and created a legend for durability and solid engineering.
This 1961 Valiant V100 two-door sedan is one of 143,078 Valiants built in the model's second year of production. But while the majority of those Valiants were utilitarian four-doors and station wagons, just 22,230 were two-door sedans like this example. Though most American cars of the early sixties weren't designed with rust prevention in mind, early Valiants seemed especially prone to rust and corrosion.
That's why this cute little two-door is so special, it has virtually no body rot. We ran a magnet along the fenders, rockers and quarter panel extensions and were amazed by the solid, rust-free condition. What's even better is the light blue paint is mostly original so we can be sure nobody has messed around with plastic filler in efforts to hide trouble. And don't forget, Lee and Richard Petty's 1960 Hyper-Pak Valiants wore a similar shade of blue!
Though a three-speed manual transmission was standard equipment, Plymouth smartly put the shift lever on the floor for a sporty vibe, as seen here. All Valiants were Slant Six equipped until the 1964 model year. Here, the remains of what appears to be a low-deck 170-cubic-inch Slant Six are present under hood. It doesn't have to stay that way. We can see someone with a sense of history plunking an aluminum block 225 (tall deck) Slant Six in place. Maybe even with a reproduction Hyper-Pak four-barrel intake manifold. Then again, any V8 you can imagine could be made to fit with some imagination!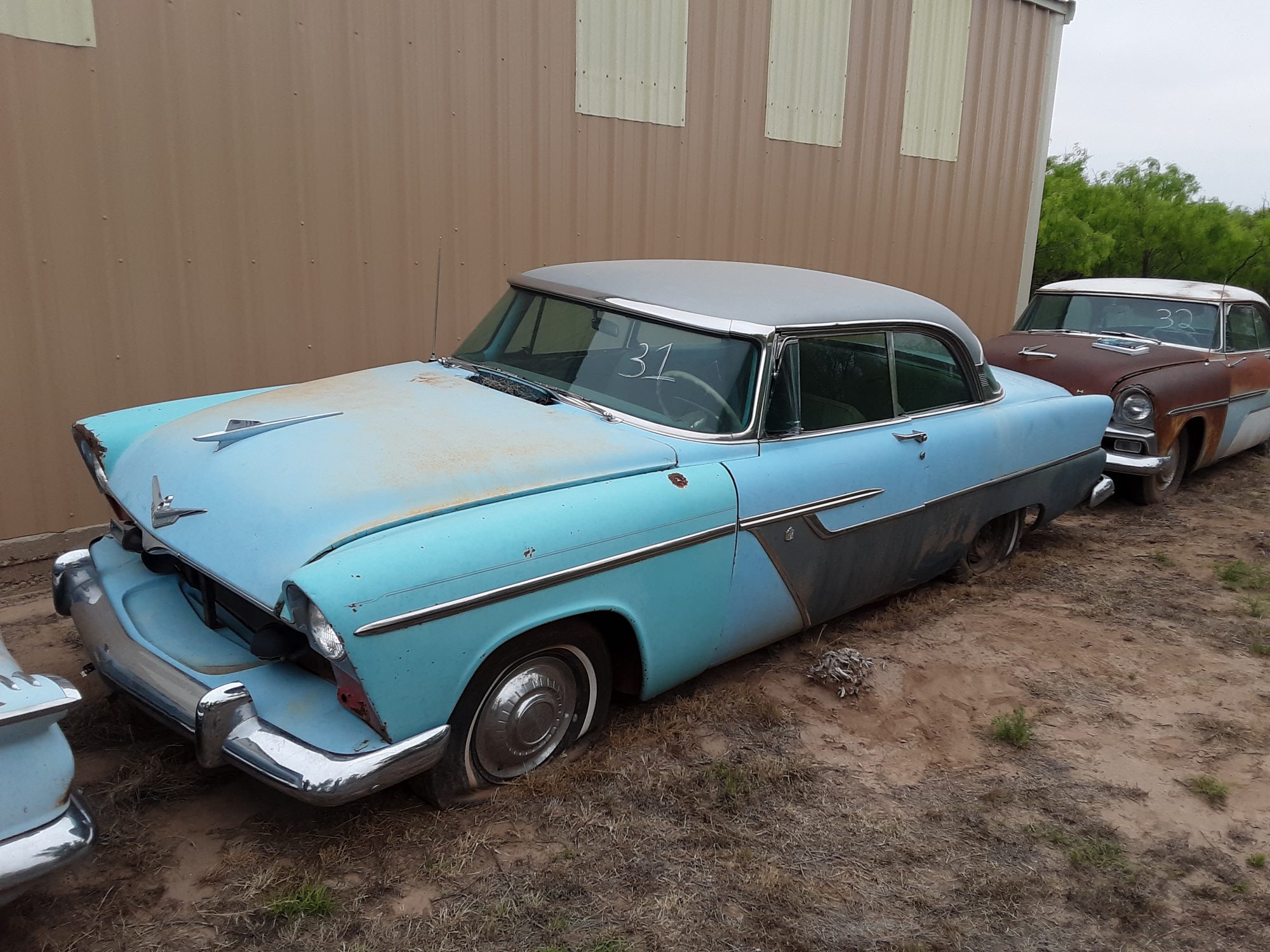 The 1955 model year brought great things to Plymouth. Gone was the frumpy, tall and awkward body styling of 1954, replaced by chief stylist Virgil Exner's first move toward the lower, longer, wider trend that swept Detroit at the time. It was called "the Forward Look" and indeed, the look was supported by slanted headlamp hoods and body side paint graphics that seemed to be running forward into a brighter future.
This 1955 Plymouth Belvedere also features something all new for Plymouth, its first optional V8 engine. From its start in 1928, Plymouth was Chrysler Corporation's lowest priced offering and power came from sleepy four- and six-cylinder flathead engines. Not here. For an extra $104, this one has the optional Hy-Fire overhead valve V8 with polyspherical heads. With a mere 241 cubic inches and a two-barrel carburetor, it makes 157 horsepower, a full 57 horsepower more than the standard 217-cube flathead six of 1954.
Though 157 horsepower may not seem like much today, the fifty-percent increase in power over 1954 gave the 1955 Plymouth V8s a sensational boost in passing power and off-the-line acceleration. And this is just the base 241 V8. An optional 259-cubic-inch V8 with 167 horsepower (or 177 with the available four-barrel carburetor) was also offered. It is no wonder that 60.8 percent of the 672,100 Plymouths built in 1955 had V8 power. This one was also built with the $165 PowerFlite two-speed automatic transmission and has manual brakes and steering.
Inside, the original instrument panel, seats, upholstery and carpet remain, as well as a vintage Motorola AM radio that fits into the original radio-delete spot on the instrument panel. It was common to purchase direct-fit aftermarket radios like the Motorola after folks realized the boredom of no-radio motoring. So it was Motorola to the rescue.
The body does have some rust along the rocker panels and rear wheel openings, but happily there are no signs of hasty repairs or plastic filler to mask the trouble. This pleasant little Belvedere hardtop would make a great Gasser, Rat Rod or maybe even a factory stock restoration. You choose.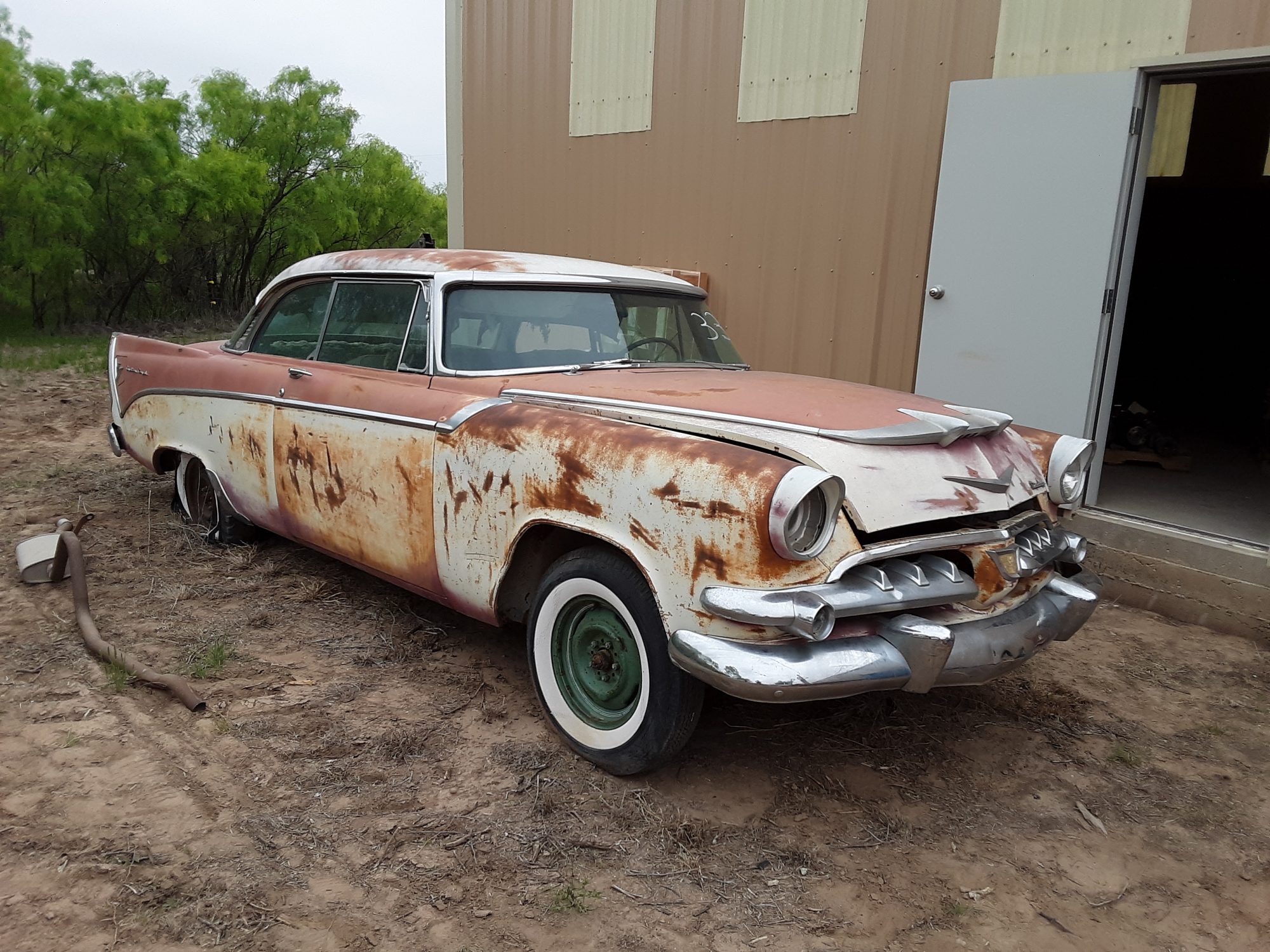 It may not look like much sitting nose high without its engine, but this 1956 Dodge Custom Royal two-door hardtop is a ripe starting point for any one of several possible outcomes. As the chrome "vee" hood emblem suggests, it was originally built with one of five possible V8 engines: the 189-horsepower Red Ram with a two-barrel carburetor, polyspherical heads and 270 cubic inches; the 218-horsepower Super Red Ram with a two-barrel carburetor, polyspherical heads and 315 cubic inches; the 230-horsepower Super Red Ram with a four-barrel carburetor, dual exhaust, polyspherical heads and 315 cubic inches; the 260-horsepower D-500 with a four-barrel carburetor, dual exhaust, hemispherical heads and 315 cubic inches; or the top dog 295-horsepower D-500-1 with dual four-barrel carburetors, dual exhaust, hemispherical heads and 315 cubic inches.
Since the all-out D-500-1 was only offered with a three-speed manual transmission (and this Dodge has the push button PowerFlite two-speed automatic), we can rule out dual-quad HEMI® super status. But no matter, as a sporty two-door hardtop, we can see this one as a gasser with a straight front axle and 392 Fire Power HEMI engine, as a Viper V10-powered Pro Tourer riding on an aftermarket Roadster Shop chassis, or anything in between.
Unlike Plymouth, which only entered the V8 age in 1955 (see Lot 31 above), Dodge got hip to the ways of the "bent eight" in 1953 and never looked back. By 1956, 90.3 percent of Dodge cars had automatic transmissions, 94.8 percent had heaters, 62.6 percent had reverse lamps and 24.3 percent had power steering, all features found on this example. Surprisingly, those same factory production records say that just 17.3 percent had power brakes – also seen on this car. Add it all up and this 1956 Dodge Custom Royal is a great representation of all that made Dodge a solid buy in 1956. And it's still solid today, with only minimal floor pan rust marring the nearly pristine body shell.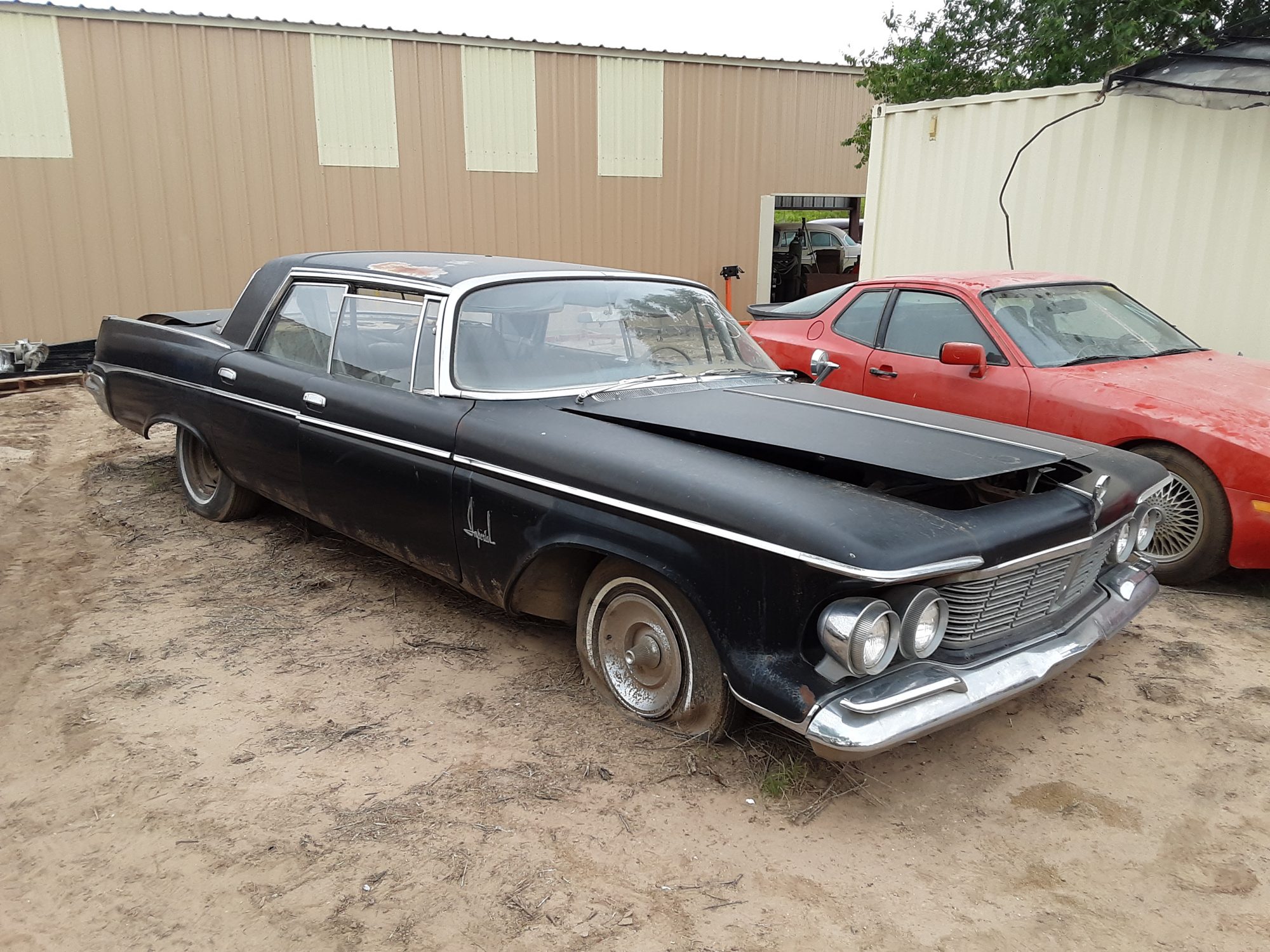 Two things stand out regarding this 1963 Imperial Custom four-door hardtop, the possibility it was once used by President Lyndon Baines Johnson on his Texas ranch and the fact such a luxurious car was factory built without a radio. The L.B.J. part of the equation is apparently supported by paperwork and documents that will be supplied by the Haynie family as the October 13th auction draws closer. An identification sticker on the front bumper reading "Department of the Navy N.A.S. Dallas" may also be the tip of the L.B.J. ownership iceberg.
Beyond the possibility of former presidential lineage, the idea of someone plunking down $5,243 for the car and not ponying up the $168.80 for the optional Electric Touch-Tuner AM radio with power antenna is odd, very odd. In place of the factory radio receiver and dials are simple metal buttons and a plate to cover the empty void with some degree of elegance.
The rest of the package has the expected amenities like a 413-cubic-inch big block V8, push button 727 TorqueFlite® automatic transmission, air conditioning (a $590.20 option) and the standard issue power windows, power brakes and power steering found in each of the 33,717 Imperials built in 1963. Of those nearly 34,000 1963 Imperials, 3,264 were Custom series four-door hardtops like this. But of those, only this one has probable L.B.J. history. Again, John Haynie's heirs state that paperwork and photos supporting the presidential claim exist and will be provided prior to the auction date.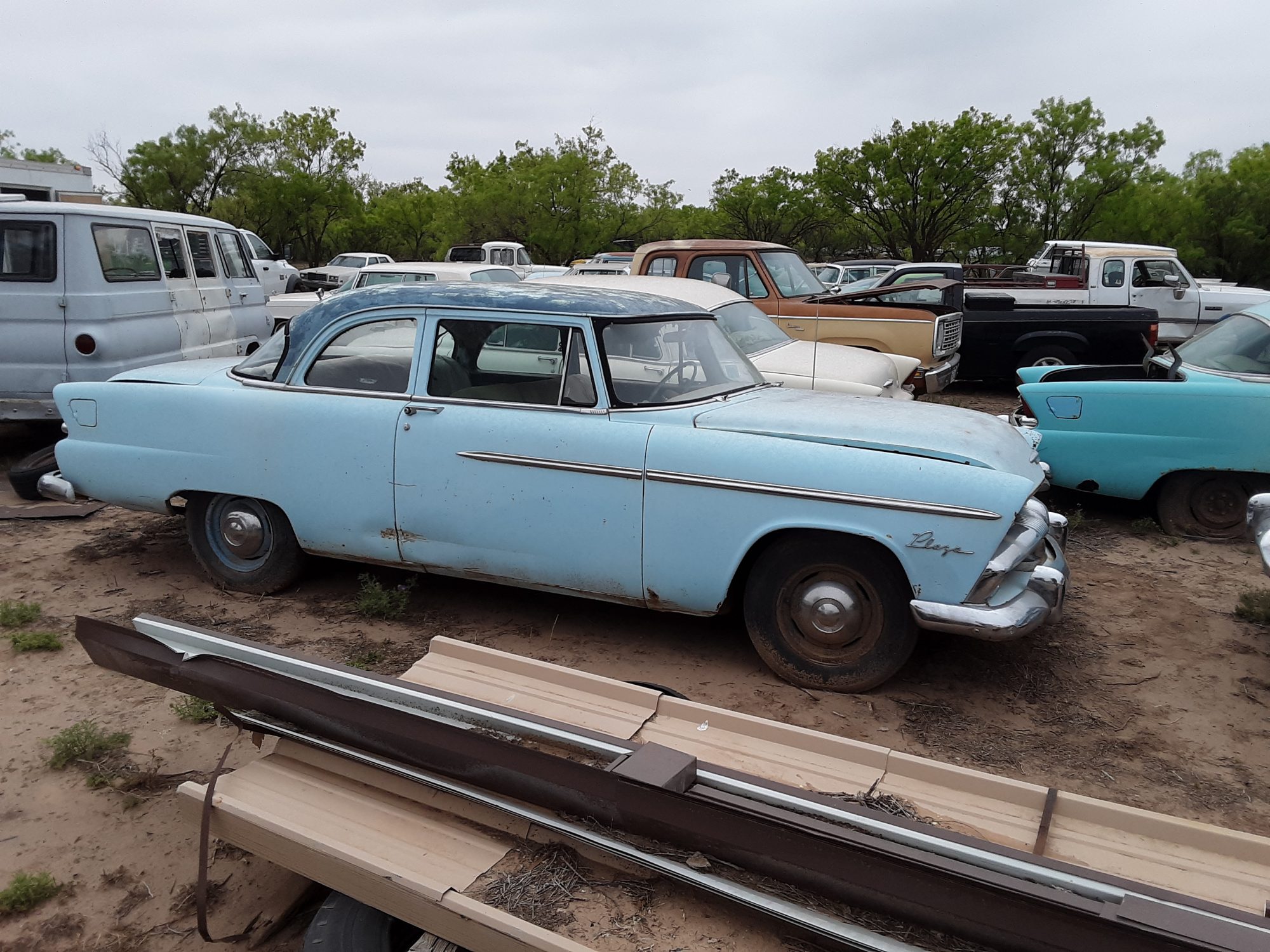 Though it hails from the extreme opposite end of the luxury spectrum from the 1963 Imperial just described, this 1955 Plymouth Plaza two-door sedan shares radio delete status. One of several 1955 Plymouths in the Great Texas Mopar hoard, this example was likely sold to a traditional buyer who wasn't impressed by the newfangled V8 options. Rather, it packs the basic 230-cubic flathead six used since 1936 with minimal upgrades.
The only touch of luxury comes from the optional heater ($70.00). Beyond that, its as basic as basic can be with manual steering, manual brakes and non-tinted glass. Naturally, a column shifted three-speed manual transmission gave its original owner a good workout with its non-synchronized First gear which required (either) lugging in Second gear or double-clutching in stop-and-go traffic. But what may have been a challenge in daily operation 66 years ago can be seen as a rare opportunity for full engagement between driver and car in these days of self-corrective steering and autonomous cars.
Getting back to that radio delete detail, close inspection reveals the twin circular buttons that blocked off the volume and tuner knobs are still there. But where the rectangular receiver block off plate went, a vintage Motorola AM radio has been installed. Typical of the aftermarket AM radios made by Motorola in the 1950s, it is possible the silence of the open road was too much for the original buyer or maybe a second or third owner added the "tunes". Perhaps the allure of Gene Pitney or Elvis' first hit songs was too much to resist.
With its clean and solid body and unmolested original condition, this stripped Plaza deserves a happy fate with someone ready to appreciate that sometimes less can be more.
That's it for this week's preview of the Great Texas Mopar Hoard Auction Event, presented by Spanky's Freedom Car Auctions. We'll be back next week with another selection of nifty machines as the October 13, 2021. live-streaming online auction event draws closer.
Meanwhile check out these other cool Mopar vehicles up for grabs:
The Great Texas Mopar Auction: Preview
The Great Texas Mopar Auction: Part II
The Great Texas Mopar Auction: Part III
The Great Texas Mopar Auction: Part IV
The Great Texas Mopar Auction: Part V
The Great Texas Mopar Auction: Part VI
The Great Texas Mopar Auction: Part VII
The Great Texas Mopar Auction: Part VIII
The Great Texas Mopar Auction: Part IX
The Great Texas Mopar Auction: Part X
The Great Texas Mopar Auction: Part XI
The Great Texas Mopar Auction: Part XII
The Great Texas Mopar Auction: Part XIII
The Great Texas Mopar Auction: Part XIV
The Great Texas Mopar Auction: Part XV