It's official! The dates for the Great Texas Mopar® Hoard Auction Event have been set! The 250-plus project cars will all sell on October 13th and the parts, tools and automobilia will sell on October 14th. And remember, this is an online-only auction. All vehicles and parts are located in Texas and will need to be transported to their new owners' homes after the auction. But that's an easy matter and Spanky's Freedom Car Auctions is all set to help arrange shipping and freight activities with major auto transport companies who are standing ready with dozens of big rigs.
Another major detail about the Great Texas Mopar Auction Event is that every single item will be sold at no reserve. If you're new to the auction world, a "reserve" is when the seller (consignor) seeks to protect his or her items from unrealistically low bids by placing a "reserve". This way, if a certain assumed value isn't reached during bidding, the item is protected and doesn't sell as it "fails to meet the reserve".
Well, Spanky's Freedom Car Auctions and the estate of the late John Haynie are willing to roll the dice and let the chips fall where they may by eliminating the reserve. The ultimate goal of the event is to get these fantastic vehicles back into circulation. The late John Haynie did the world a huge favor by hoarding these classics. But now that he's moved on, they deserve to find caring homes and new lives on the open road – or car show circuit – as the case may be.
No doubt, many bidders will come away with exceptional values. That's the nature – and thrill – of no-reserve auctions. And that's why this event is sure to make collector car history. You can't afford to miss it!
So until the October 13th vehicle auction (again, the massive parts, tools and automobilia collection will sell the next day, on October 14th), let's preview more of the 250-plus vehicles that make up the Great Texas Mopar Auction Event.
1956 marked the second year of Virgil Exner's influence on body styling as lower and wider bodies replaced the boxy, upright designs of 1954 and before. This 1956 Dodge Royal Lancer wears the regional Texan trim package. Its one of just 289 Texans built to help Texas Dodge dealers stimulate showroom traffic. A beautiful restoration on a solid rust-free platform, it packs the 315-cubic-inch Red Ram polyspherical V8, with a two-barrel carburetor and dual exhaust, the two-speed Powerflite automatic transmission – with first-year push button controls and manual drum brakes with manual steering. Other goodies include optional Motor Wheel 15×5.5 chromed wire wheels and modern air conditioning added on for comfortable summer cruising. Of the 48,780 Dodge Royals built in 1956, only 289 were built with the Texan package. This beauty has been shown and comes with a sign board describing its rarity. Click on the video link for a fun walk-around.
John Haynie liked police cars. After all, most of them are basically muscle cars with a second set of doors – and a badge. This 1988 Plymouth Gran Fury is something special. While most law enforcement agencies scrub away all traces of their former identity before selling used cruisers at public auction, somehow this former Ohio State Patrol AHB (Plymouth's code for police equipment in 1988) unit escaped into Haynie's hands in complete condition! That means it's still got the M.P.H. Industries K55 radar unit, Federal Signal Corporation "Interceptor" radio and siren controller, General Electric tuning equipment and Jet-Sonic roof-mounted emergency lights. Usually, police car collectors pay a fortune to reunite this type of equipment with former cruisers. Not here, it's still present! Though 1988 police models lacked the 360s and 440s of earlier Mopar squad cars, the ELE code 318 in this one made 175 horsepower and was the hottest rear-wheel-drive offering in Plymouth's otherwise mostly front-wheel-drive lineup of the late 1980s. It's also got the AHB-spec certified 125-mph speedometer, full gauge package – plus a supplemental mechanical oil pressure gauge installed by the Ohio fleet garage. As a last-gasp rear-drive police model (1989 marked the final year for Gran Fury police units), it deserves a special place in someone's collection. And yes, it comes with the magnetic "out of service" body banners you'll need for street driving. See more by clicking the video link.
Another 1956 Dodge vehicle, like the Texan (Lot Number 154), this one is a Royal, the middle trim level between the entry-level Coronet and top-tier Custom Royal. Like the Texan, this recently painted example packs the Red Ram polyspherical head V8 with a two-barrel carburetor (with either 270 or 315 cubes, exact size is unknown) backed by the two-speed Powerflite push button automatic transmission. But unlike the Texan, this one is a little less ready for the road because its rear window glass is removed and an in-process headliner installation hangs from the interior roof. We're told the glass and trim are included. A magnet test reveals solid outer body skin and serviceable two-tone plum and black paint. This 1956 rides on Dodge's final-edition coil spring front suspension (torsion bars replaced them in '57) and has first-year 12-volt electricals to better run the headlamps and original equipment AM radio. It's clean and needs only a few days' effort to be back on the cruise circuit. Watch the walk-around video by clicking the link.
The 1959 Dodge vehicles wore some of Detroit's most sinister grille styling. Sweeping "brows" over the quad headlamps gave every '59 Dodge a sinister vibe, which some have called a "nightmare in steel", especially when viewed in your rearview mirror as one accelerates to pass. And that's cool … if you ask us. But while top-level power came from the new 383-cubic-inch wedge with optional Super D500 dual quad induction, this humble Coronet four-door sedan has the base 318 polyspherical head V8 with a single two-barrel. But inside, where the typical push-button pod would go to the left of the steering wheel, this one has the less-is-more column-shifted three-speed manual gearbox! That's important because of the 151,851 Dodge passenger cars built in 1959, just six percent had manual transmissions (the other 94 percent were automatics). Sporting solid and rust-free front fenders – a rarity, especially where the headlamp "brows" tended to rust through within a few years – the rest of the body is equally sweet, though a few small patches are visible on the trunk floor. Though its been dormant for a few years and likely needs a brake and coolant system flush before use, this humble yet sinister family sedan awaits your commands. The video link has more info on this amazing survivor.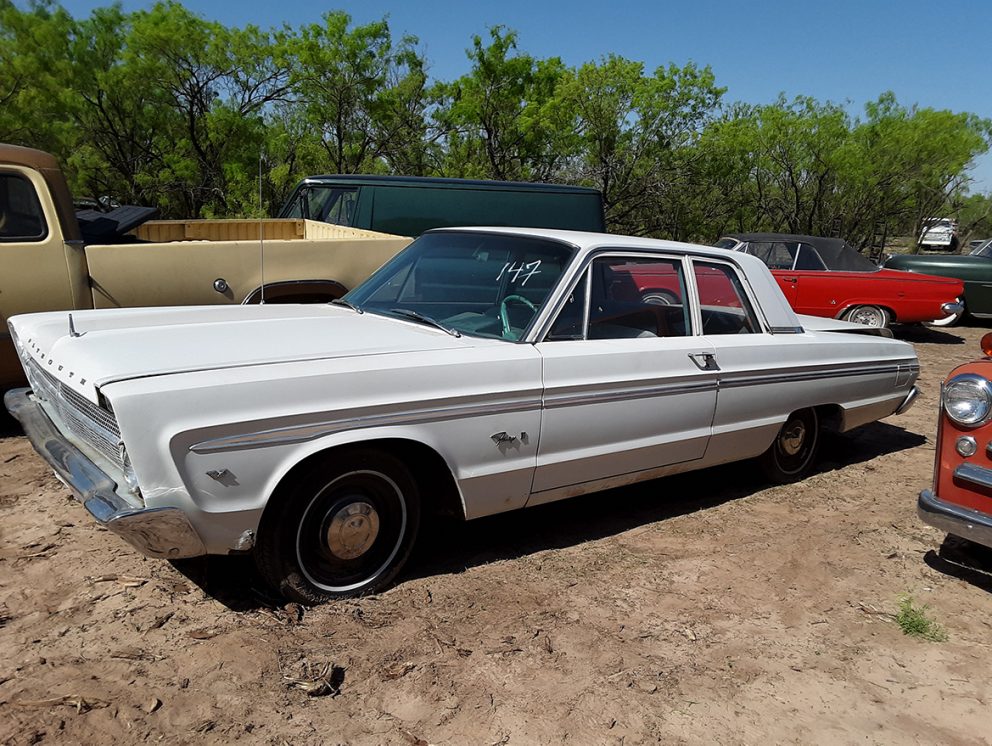 It's often forgotten that Chrysler came close to offering the 426 Street HEMI® engine in full-size C-body Fury models in 1965 as a way to get NASCAR to accept the mighty HEMI engine for sanctioned competition. In fact, a handful of home-brewed, non-factory HEMI C-bodies campaigned in 1965. This 1965 Plymouth Fury II has the base level two-door pillar sedan body style and would make an ideal starting point for a "what-if" 1965 Street HEMI phantom build. Originally built with the 318 polyspherical head V8 and TorqueFlite® automatic with power steering and manual drum brakes and an AM radio, a later Chrysler small block with an Edelbrock four-barrel carburetor has been bolted down in its place. Still awaiting connections to the radiator, throttle linkage, exhaust and related support systems, the body is quite rust free though a few spots of bubble-through exist on the front fender and the trunk floor has been patched. See the walk-around video for more. A total of 66,757 Fury IIs were built in 1965, of them just 4,109 were two-door pillar coupes like this. Plop a 426 Street HEMI engine in it and make it one-of-none.
That's it for this week's preview of the Great Texas Mopar Hoard Auction Event, but we'll be back next week with more, and more the week after that … and the week after that. Until the October 13th, 2021, date when these classic vehicles will find new homes.
Check out these other cool Mopar vehicles up for grabs!
The Great Texas Mopar Auction: Preview
The Great Texas Mopar Auction: Part II
The Great Texas Mopar Auction: Part III
The Great Texas Mopar Auction: Part IV
The Great Texas Mopar Auction: Part VI
The Great Texas Mopar Auction: Part VII
The Great Texas Mopar Auction: Part VIII
The Great Texas Mopar Auction: Part IX
The Great Texas Mopar Auction: Part X
The Great Texas Mopar Auction: Part XI
The Great Texas Mopar Auction: Part XII
The Great Texas Mopar Auction: Part XIII
The Great Texas Mopar Auction: Part XIV
The Great Texas Mopar Auction: Part XV
The Great Texas Mopar Auction: Part XVI