FUNNY HONEY
As Women's History Month comes closer to the finish line, we still have a few more lady racers who ran under the Dodge and Mopar® banner we'd like to acknowledge. One was Della Woods, a Michigan favorite whose Funny Cars blasted down Detroit Dragway, Motor City Dragway, Milan Dragway and other famous tracks well beyond the borders of the Great Lakes State. Della began her racing career in the mid-1960s and, like any drag racer, wanted to go fast. Today, Della Woods may not be as well-known to race fans as Shirley Muldowney, but she was facing off against the boys in her nitro-fueled Dodge door slammers and Funny Cars well before the Women's Liberation Movement was gaining traction.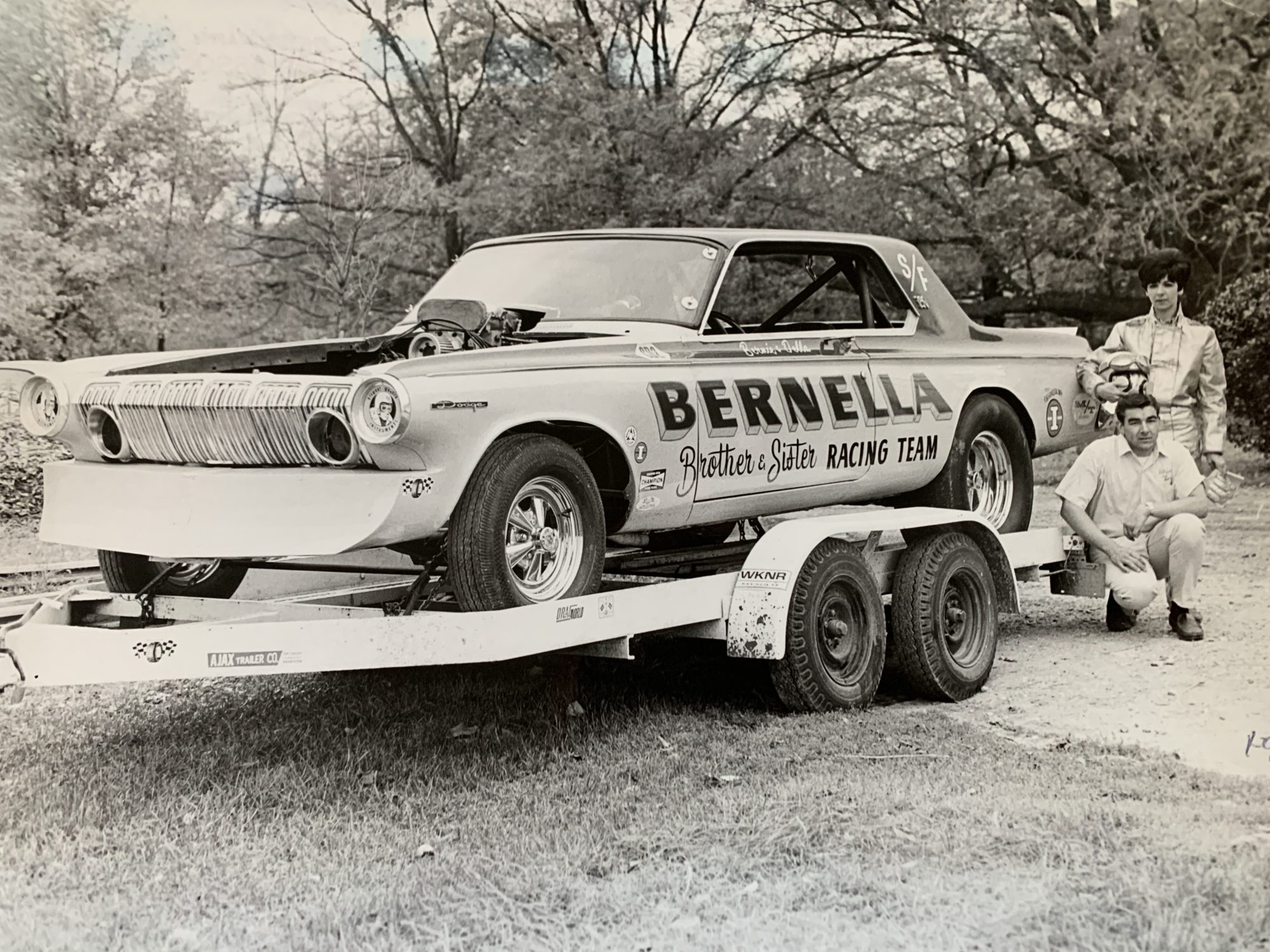 "In 1965, my brother Bernie bought Al Ekstrand's 1963 426 Max Wedge Dodge and took it to the local racetrack. Before his second outing, he asked if I would come along and help him. They had a powderpuff race that day," reflected Della. "Bernie said 'Hey, you want to give it a try'? I said 'Sure, why not?' I won that race at Motor City Dragway and that was the beginning."
The Dodge that Della's brother bought from Ekstrand was a retired Ramcharger Dodge. It was a pretty tricked-out piece with its aluminum front components, high-compression race engine and weight shifted around for better traction. "We went to Milan Dragway the following week. The other racers tried to burn us down, but we won. We eventually modified the engine to run on nitromethane, but didn't realize you had to be licensed by the NHRA, as this was all new to us." As their 1963 Dodge morphed from a Super Stocker to an A/FX machine, the car was resprayed in yellow and "BERNELLA" was painted along the side. The name was a combination of Bernie and Della and they promoted themselves as a brother-and-sister racing team.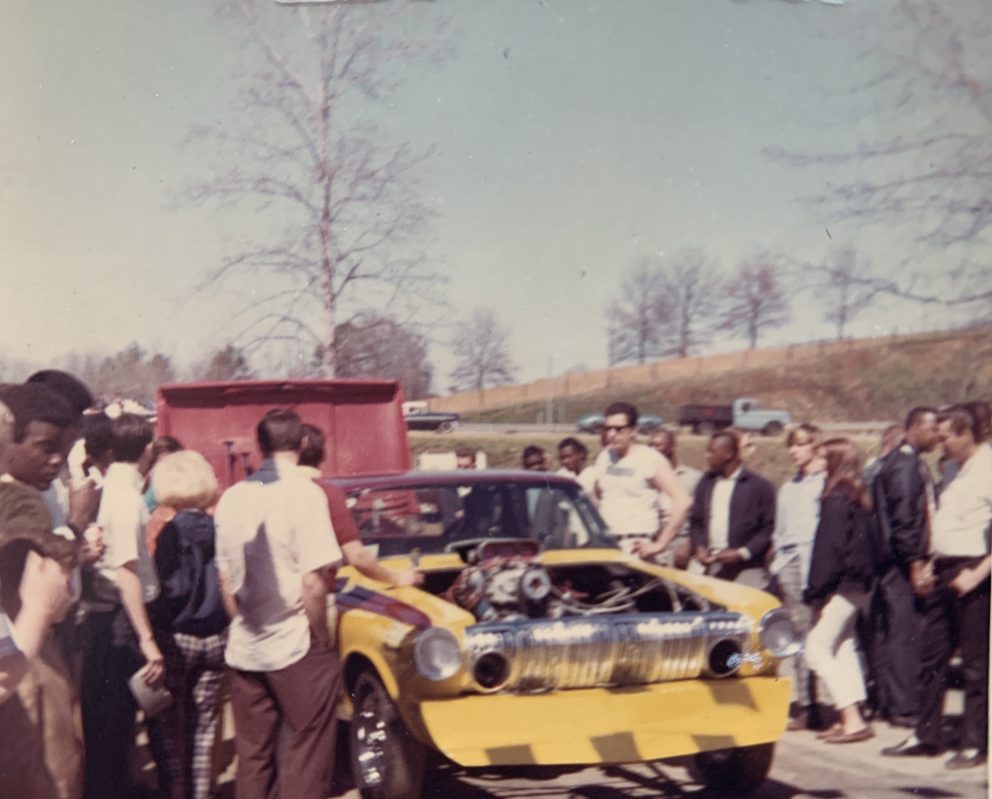 When it came to getting an NHRA Funny Car license, that was another struggle for Della. "They (NHRA) gave me the license, then took it back. We went to a match race and the NHRA threw us out of the track by force," laughed Della. Faced with this obstacle, Della was undeterred. She would travel to outlaw tracks to face off against other Funny Car racers, but eventually she needed the NHRA's approval to run in their events as that's where racers gained recognition. "They (NHRA) said I'm not licensed to run fuel despite spending a great deal of money advertising the race. We called the NHRA offices and told them if they take my license, they should also take Paula Murphy's (another female Funny Car racer) license. Andy Granatelli (CEO of STP oil and gasoline treatment products and race promoter) got his attorney involved and, lo and behold, I was told to make the runs. I had to get the signatures of at least two current NHRA Top Fuel and Funny Car licensed drivers to get reinstated. We went to Milan where Roger Lindamood, Don Garlits and Don Kohler all signed my NHRA licensed," smiled Della.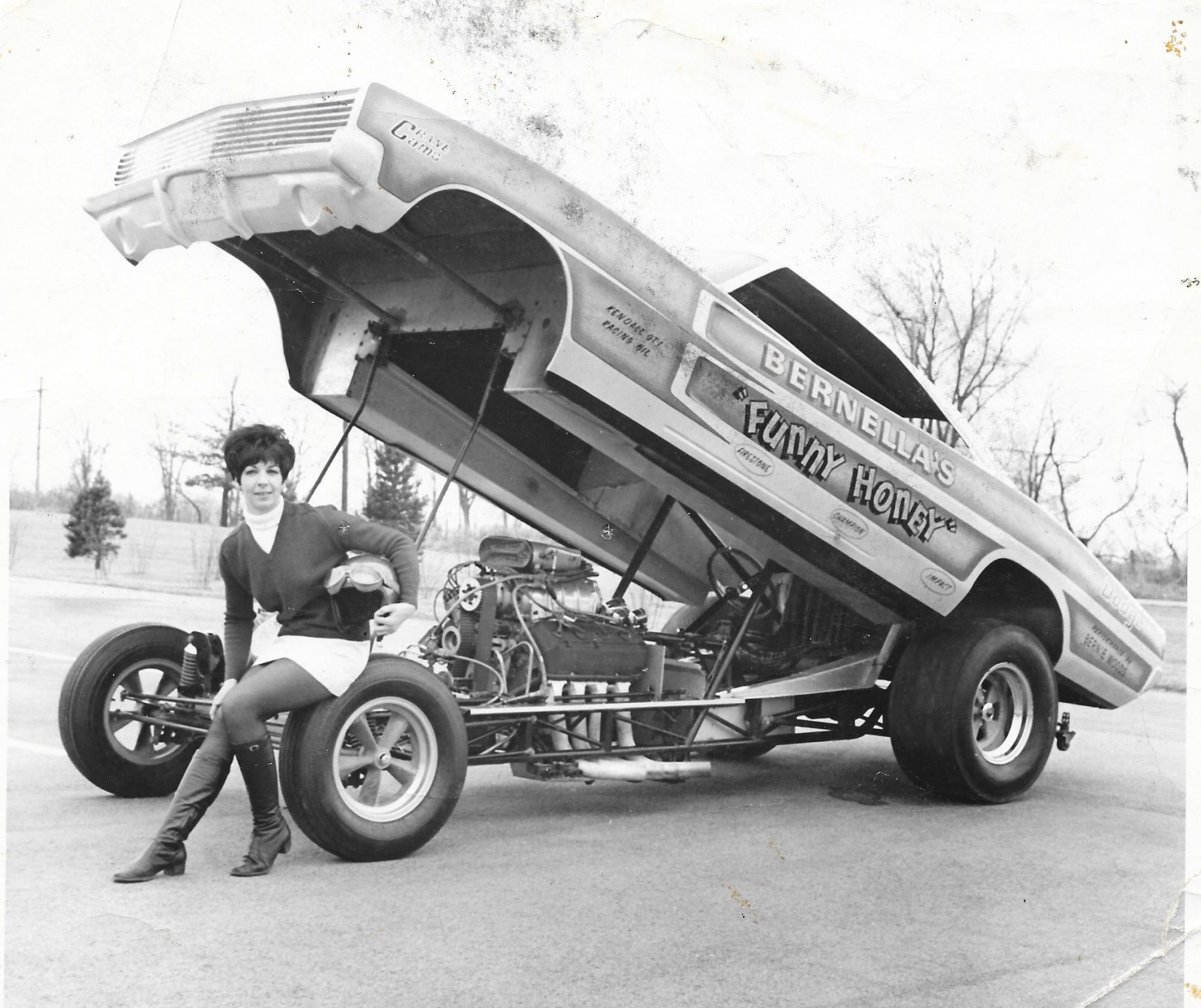 The 1963 Dodge 330 that Della and Bernie built into a nitro A/FX machine was sold at the end of the 1968 season. Things began to get serious for the duo as they ordered a brand-new fiberglass flip top 1969 Charger body to go on their new chassis. With some marketing support from Dodge's advertising agency, BBD&O, it was suggested that a catchy name be developed for Della's car – one that would get more attention among track promoters and fans. It would be one of the BBD&O execs that came up with the moniker "Funny Honey" and Della wasn't too pleased, but understood the game. "Racers and fans would come up to me and ask if I was really funny and I'd just shake my head, smile, and get back to working on the car," said Della.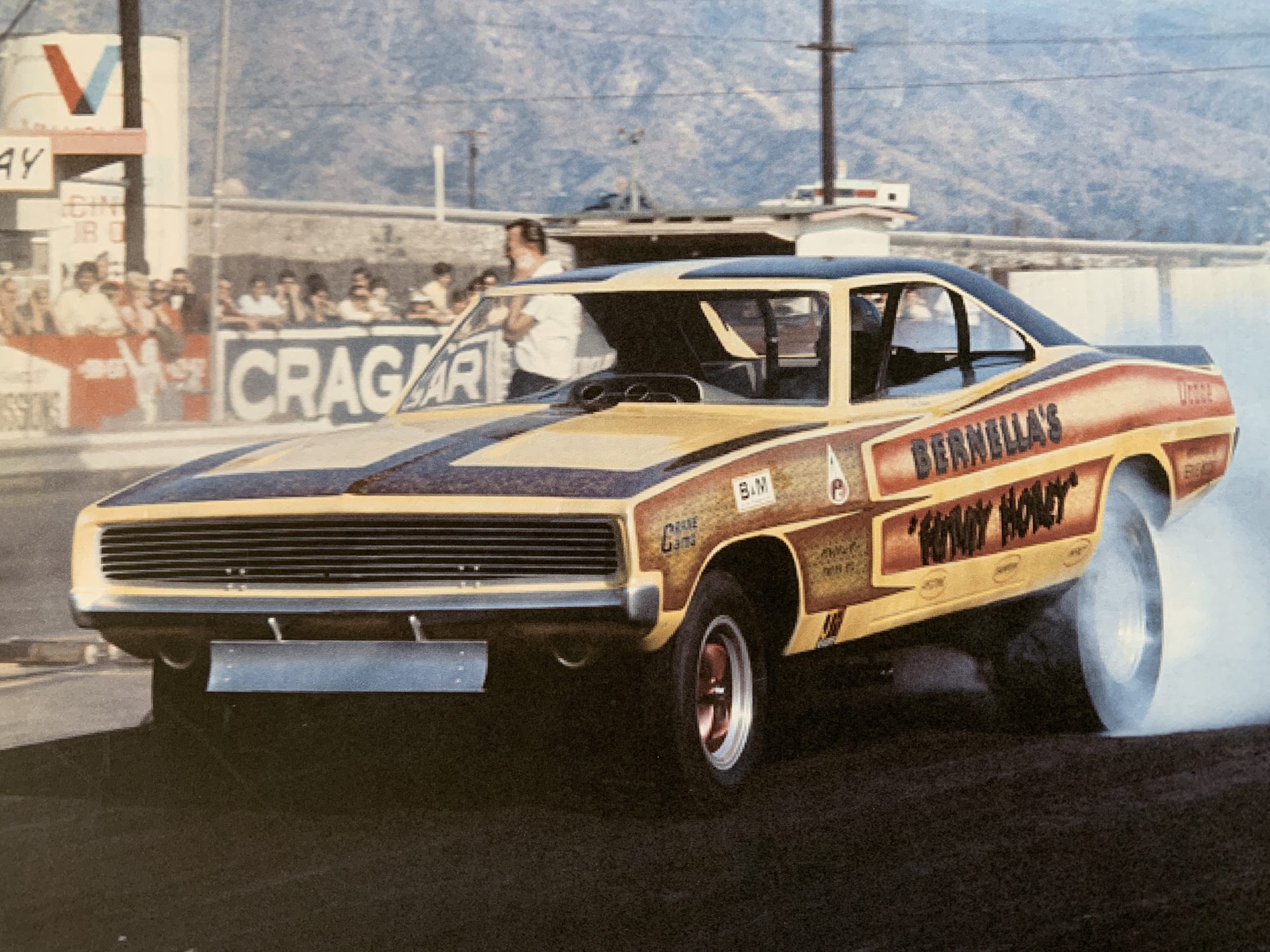 With the team's new Charger bodied Funny Car, it was still a fight for Della to race among the men. Despite her early success at the drags, it was an uphill battle for the racing establishment to accept female drag racers. This was especially true of one who would put on a fire suit, gloves and boots and climb into a nitro-gargling Funny Car whose handling characteristics were as predictable as a guided missile with a faulty gyroscope. Even by the late 1960s, NHRA was pushing back on accepting women into the nitro classes. "They (NHRA) told us it's too dangerous for a woman to run an AA/FC. If a woman got hurt or killed it would be bad for the NHRA's image," commented Della.
Eventually the NHRA relented, but it was still not a done deal for Della. She and her brother needed to generate income to support their fledging racing operation. "The late 1960s and early 1970s were very tough on women in the sport. At that time, the only other female Funny Car driver was Paula Murphy on the West Coast," indicated Della. "We would run into each other often at match races across the country as the track promoters booked us in. Paula was accepted by the West Coast drag racers and got many match races. Unfortunately, we really struggled to get the same exposure and acceptance here in the Midwest."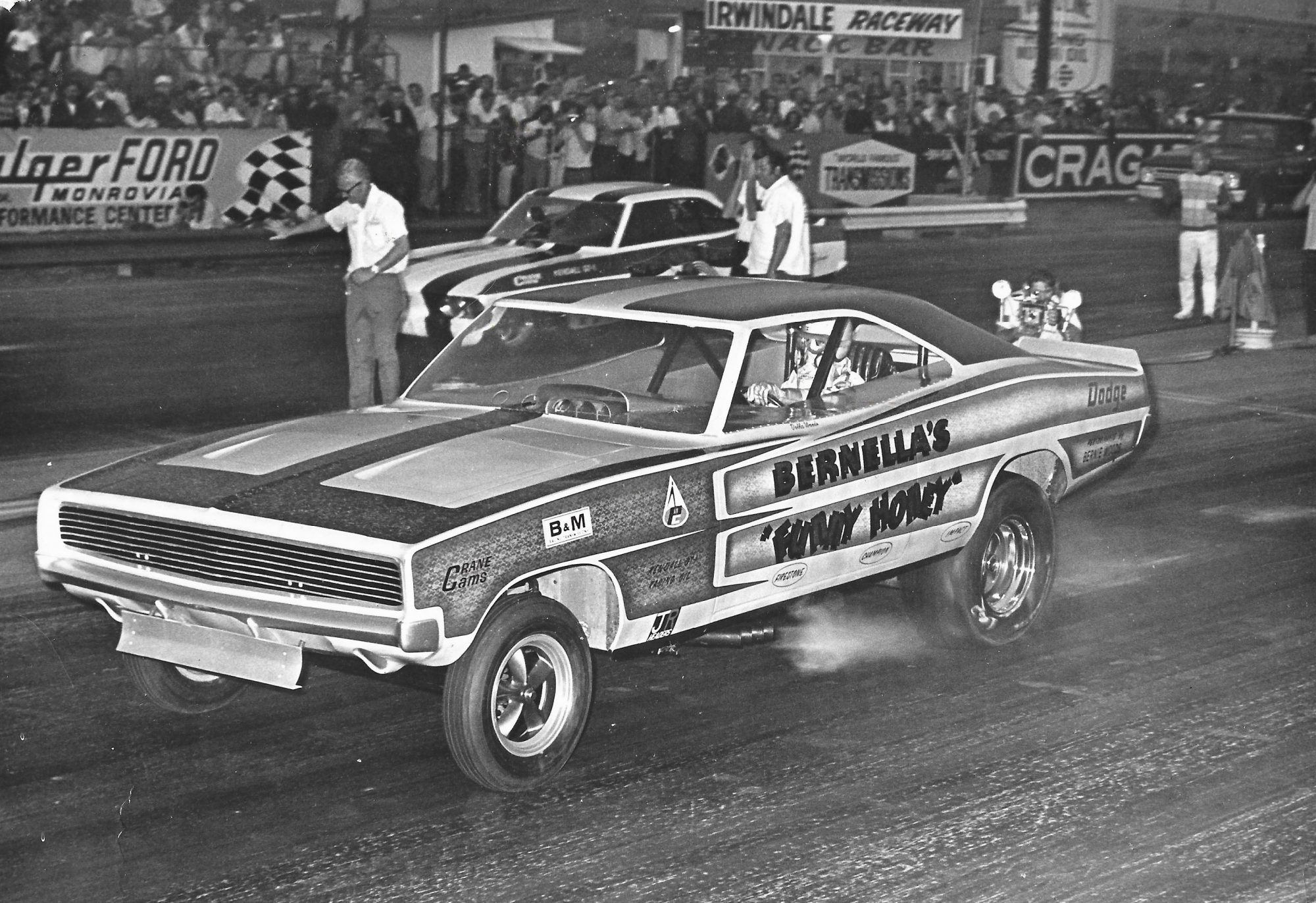 Eventually Chrysler took notice of Della's grit and determination in competing in a male-dominated sport, especially in the Funny Car class, which was becoming very popular among the legions of fans swarming to drag strips all over the country. "It was a great feeling since our dad worked for Dodge," said Della. "We never had a full-blown sponsorship deal, though we did receive parts from Dodge and Mopar®. If it wasn't for Chrysler's help, we never could have raced. Being from Lake Orion, which is well north of Detroit, we were considered a couple of hicks from farm country, but Bob Cahill (Chrysler Drag Racing Manager) had faith in us. He put us on the same parts deal as Don Garlits. We'd get warranty HEMI® blocks, cranks and cylinder heads from Mopar and turn them into good pieces to run on our Funny Car. It was amazing what my brother Bernie could do with those used parts." Despite their miniscule funding as compared to the factory teams, Della's "Funny Honey" Dodge Charger Funny Car was always competitive and whoever she lined up next to on the strip had their hands full.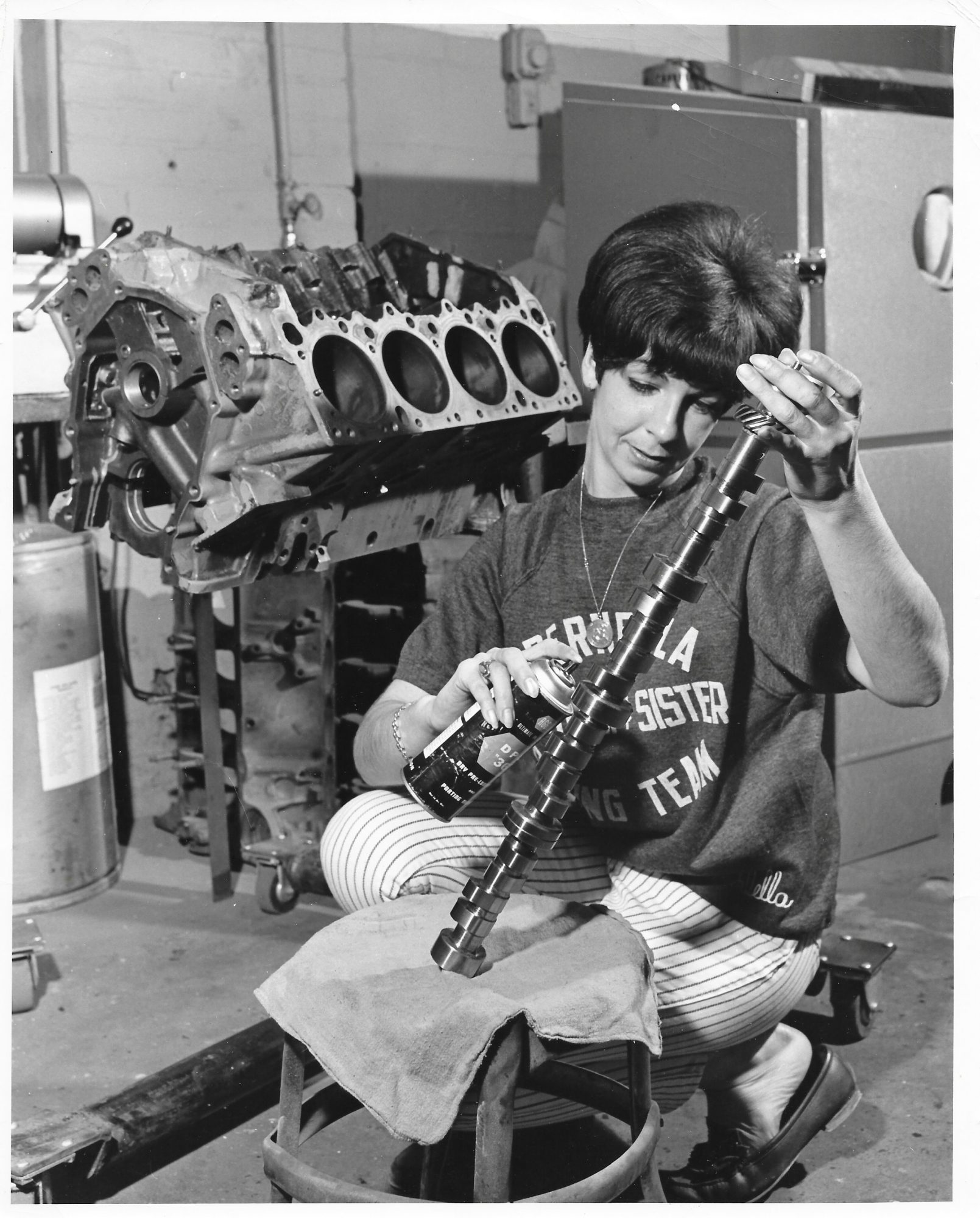 Even though Della campaigned a Charger Funny Car, the other Dodge racers looked at her and her brother Bernie as renegades. Maybe it was the fact they did their own thing and didn't have to follow team orders. Maybe it was competing with men and not backing down. Or maybe it was Della's run-ins with the NHRA over the whole licensing deal that made her a badass. Whatever the reason was, her reputation as a serious racer quickly spread around the pits and the competitors took note.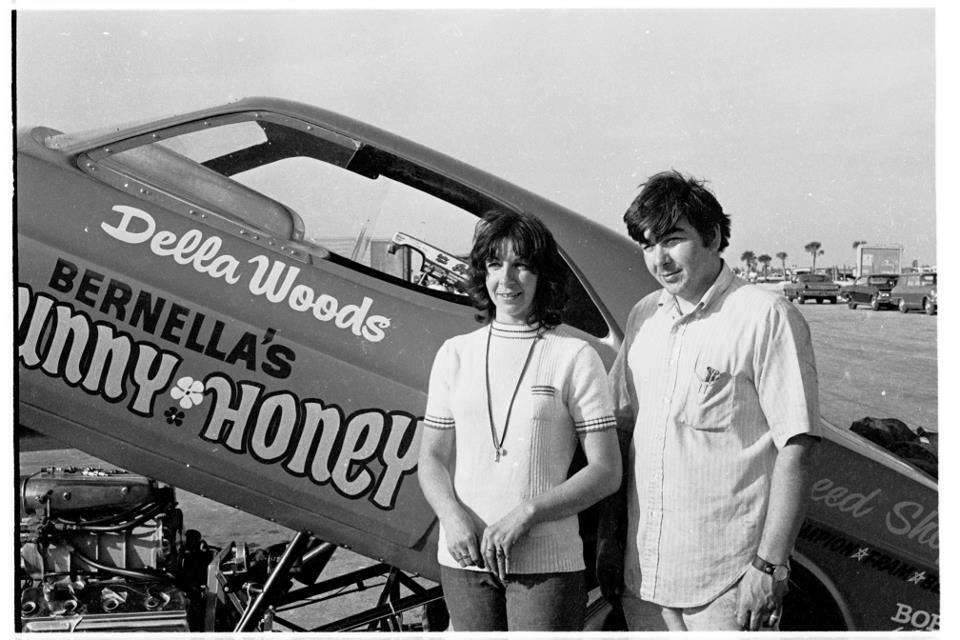 During the late 1960s, the Coca-Cola company sponsored the Coca-Cola Cavalcade of Stars Funny Cars. It was here that Della Woods in her "Funny Honey" Charger got to race the biggest names in the sport. Della and her brother also built a new Dodge Challenger Funny Car to stay competitive with the big name teams.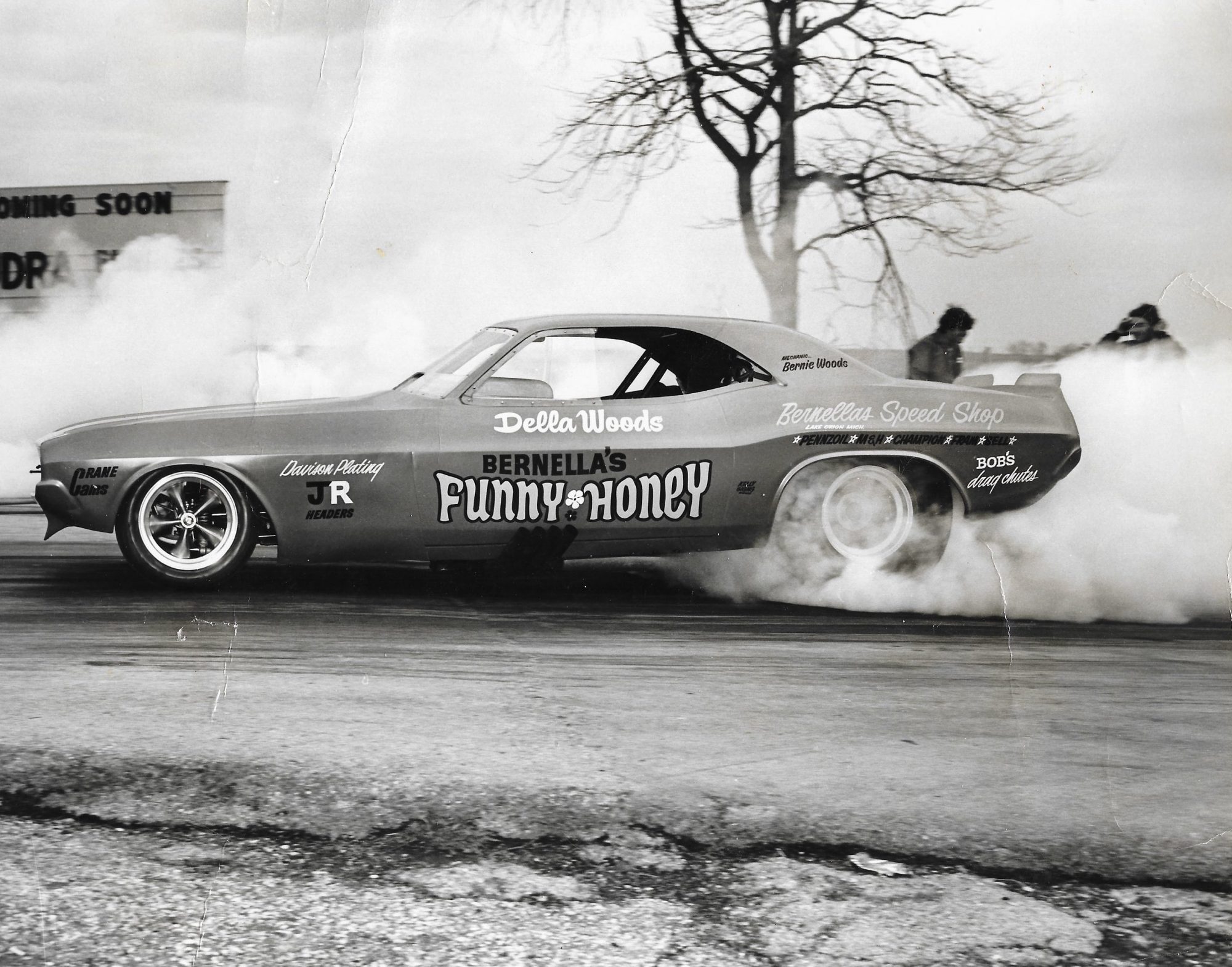 "Not only did we make more money than we ever did before, but we ran with the big guns. Over the years, I raced The Mongoose, The Snake, Roger Lindamood, The Golden Commandos, The Ramchargers, and many more famous racers and teams. We learned so much from these guys and they were all awesome to hang out with at the track," reminisced Della. By 1972, though, Della would take a step back from the sport to focus on her family and her career as a hairstylist. She had gotten married to De Nichols and settled down, but that would not last for long.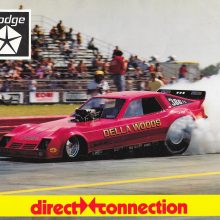 As the 1970s gave way to the 1980s, Della was itching to get back in a Funny Car. She missed the sport tremendously, so she and De Nichols put together a proposal and sent it Dodge and Mopar to run a new Dodge Charger bodied Funny Car. "We received some financial support from Dodge's ad agency, BBD&O and uniforms from Mopar Performance," noted Della. During the second act in her racing career, Della would break more barriers, becoming the first female driver to break into the five-second ET barrier in a Funny Car. She would also be the only female Funny Car driver to make it to the semi-finals at an NHRA national event (a record that would stand for over 22 years). But as Della would tell you, "It was always a team effort throughout my racing career. I couldn't have done it without help and support from my brother Bernie and husband De Nichols," declared Della. "They both loved working on racecars, and with additional support and encouragement from my son Dean, cousin Mike and the whole family, they always helped in so many ways."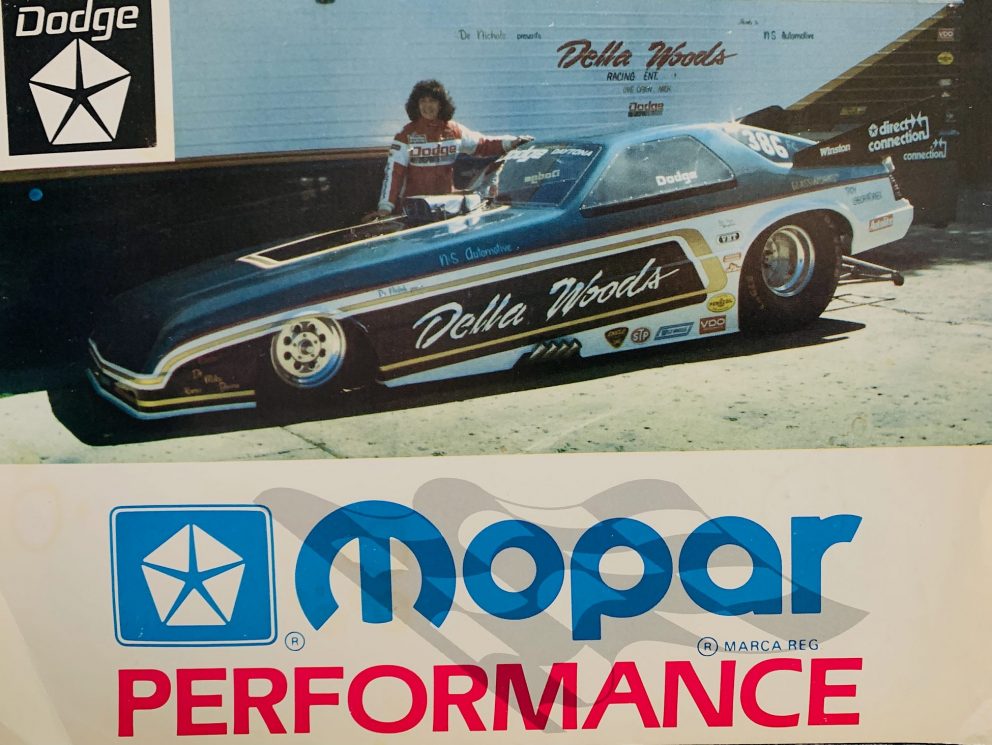 With backing from Dodge, Mopar and Kendall Oil, Della raced her Daytona Funny Car up to 1988. In the years since she put away her Nomex® driving suit, Della's received an NHRA Lifetime Achievement award, NHRA Division 3 award, and has been acknowledged by the Michigan Motorsports Hall of Fame. She was also inducted into the Mopar Hall of Fame, along with the East Coast Drag Racing Hall of Fame. When asked what advice she'd give aspiring young girls that want to get into drag racing, Della had this to say, "If you love the speed and excitement the sport offers, then you can do it."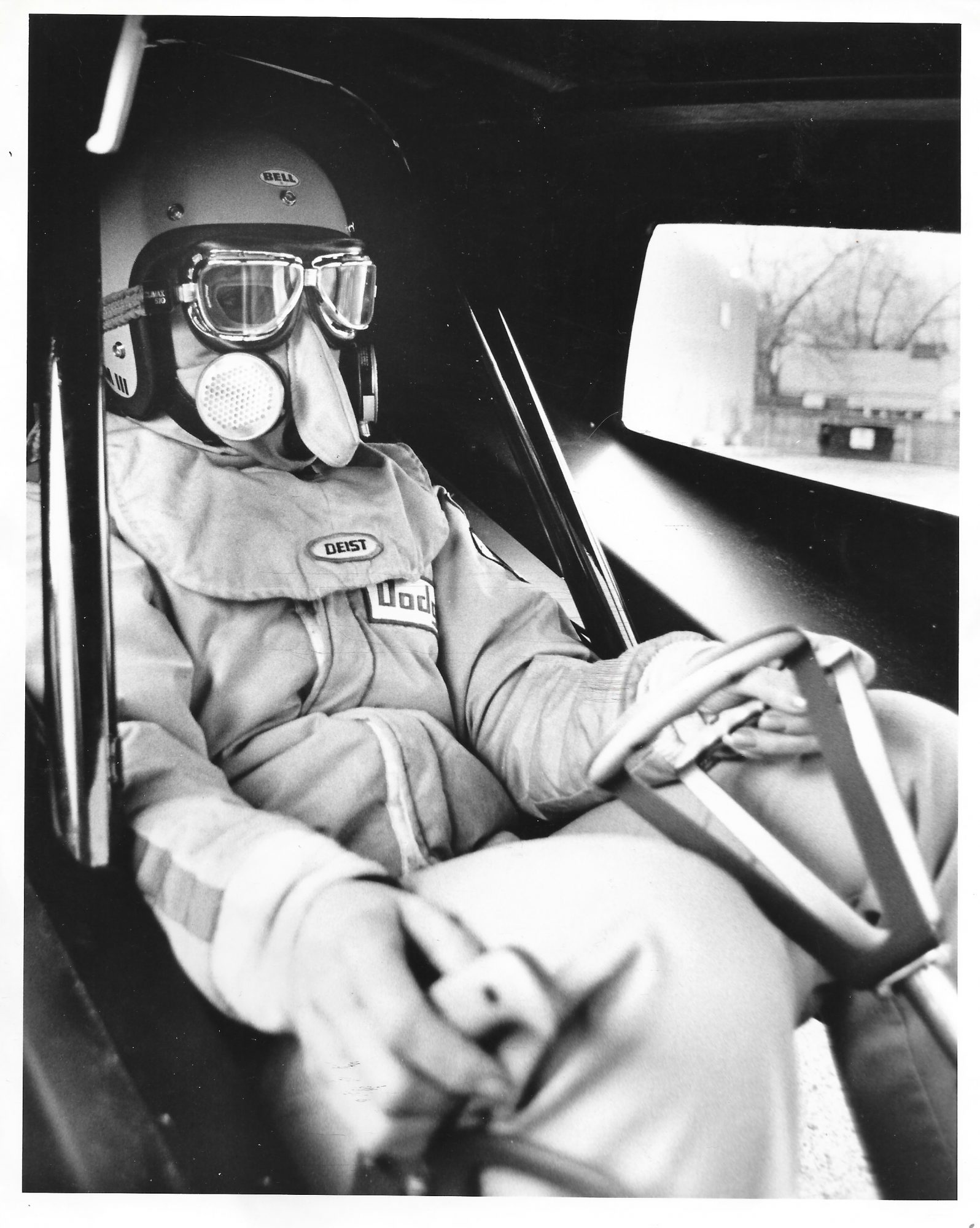 Check out these awesome images Della Woods shared with us of her illustrious racing career!
Check out these female drag racers!
Mary Ann Foss-Jackson
Neichaun Tatum
Shirley Shahan
Judy Lilly
Adrianna Straub
Leah Pruett