As we celebrate Women's History Month, DodgeGarage will be highlighting some pioneering fast females in drag racing history. These ladies were trailblazers and not afraid to show the men their taillights in quarter-mile competition beginning in the early 1960s and continuing today.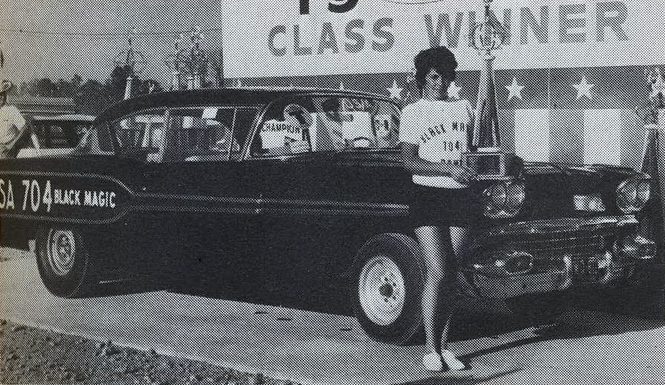 One such lady racer was Mary Ann Foss. Raised in a small Ohio community near Mansfield, she always loved cars and going fast. In 1963, she along with her father, Pete Frech, got serious about drag racing and built a 1958 Pontiac Chieftain for the NHRA Stock Eliminator class. Even though it was considered "entry level", racing in the Stock class required strict attention to detail when it came to engine assembly.
Back then, racers ran off the national record, and if your machine wasn't blueprinted and set up just right, you were easy prey to the racer in the next lane. It was at the 1964 NHRA US Nationals that racers, along with some of the corporate folks, took notice of Pete's tuning and Mary Ann's driving skills as their big Pontiac won the D/SA class. This iconic race always had one of the toughest fields of Stockers and if you won your class, that was a major achievement. When asked if she felt any resentment or pushback from male drag racers, Mary Ann said she was too busy getting the car prepped and being in the right state of mind. "I really didn't think of myself as a female racer, I was a racer, and loved to drag race," said Mary Ann.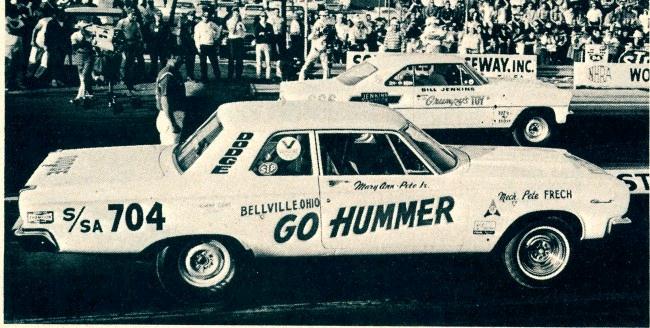 By late 1965, Mary Ann was racking up many wins, and because of the points she had amassed, got invited by the NHRA to compete at the World Finals in Tulsa. It was a chance meeting with the top Chrysler brass; Bob Cahill and Dick Maxwell, that put Mary Ann behind the wheel of a Super Stock A900 HEMI® Coronet for the 1966 and 1967 season. Named "Go Hummer", from an old Dodge advertising slogan, Mary Ann took to the big HEMI engine-powered Dodge like a fish to water. She made it all the way to the semifinals at the 1966 NHRA World Finals before red lighting to Bill Jenkins. Mary Ann would go on to win Super Stock at an NHRA Division 1 Points Meet in Maryland. No easy task for any driver, as she had to beat championship drivers like Bill Jenkins, Jere Stahl, Ronnie Sox and Ed Miller on her way to victory.
The lady from Ohio continued to add more wins to her growing list of racing accomplishments as she defeated Dick Landy, Arlen Vanke and, once again, Ronnie Sox to win the first and only eighth-mile drag race held at National Trail Raceway. By the end of the 1967 NHRA season, Mary Ann finished second in points to fellow Mopar® racer Ron Mancini in NHRA's hotly contested Division 3 Super Stock class.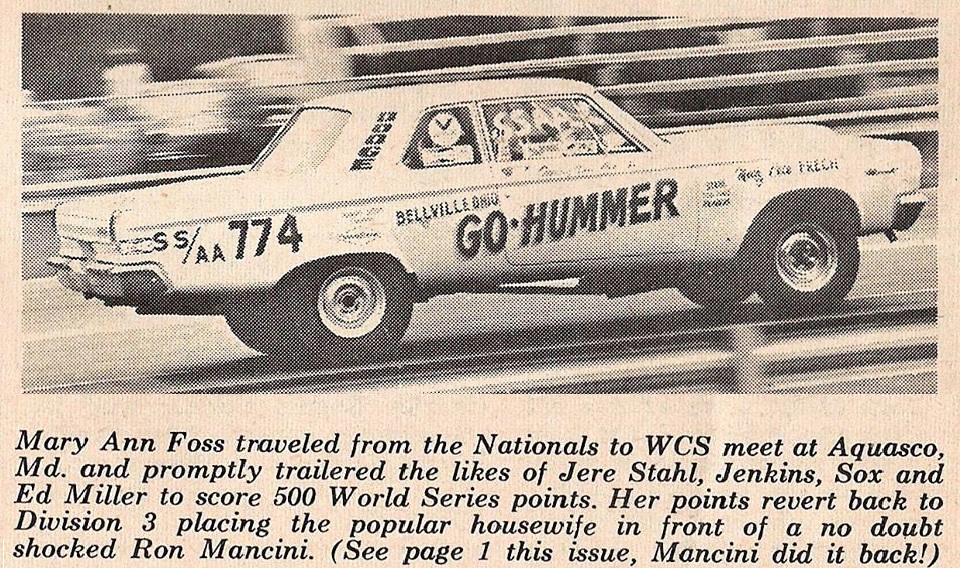 By late 1967, Mary Ann, along with fellow female Mopar racer Shirley Shahan, got invited to Detroit to a tech clinic conducted by Chrysler Race Group lead engineer and godfather of the 426 HEMI engine, Tom Hoover. Not only were both ladies, along with other factory-backed racers, shown the latest tips on preparing the 426 HEMI engine for competition, but they also got a sneak peek of the 1968 Super Stock HEMI Barracuda "mule" car that would be entering competition by early 1968.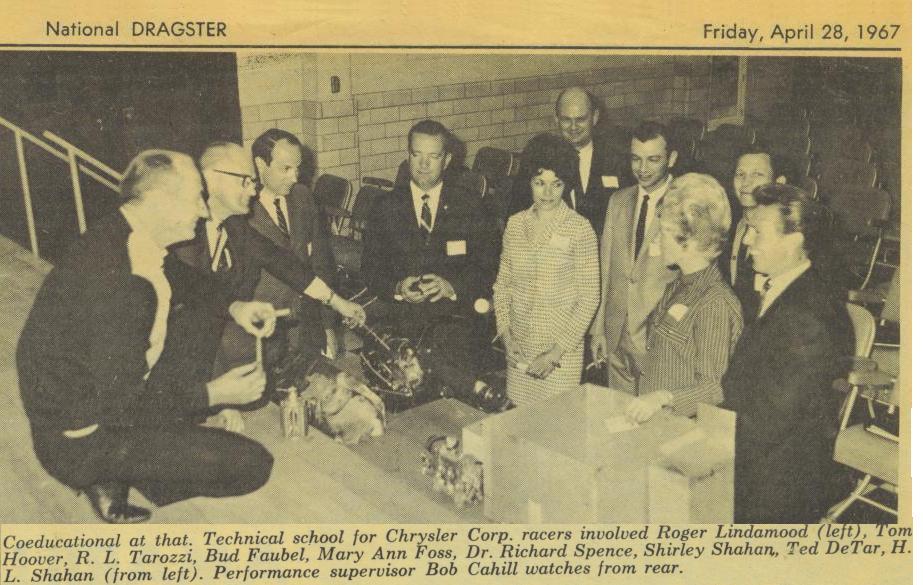 With Mary Ann's stellar driving record and her dad's great engine building skills, Chrysler was very impressed with this 30-year-old mother of four (soon to be five) and her ability to balance home life while putting some of the biggest names in drag racing on the trailer. It's no wonder they extended her contract and provided her a full factory deal in 1968 with a new Super Stock HEMI Dart.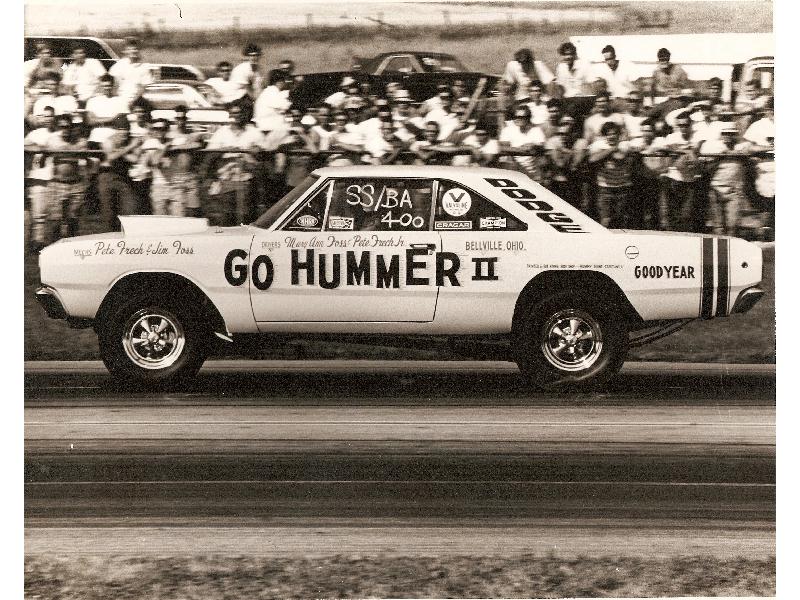 With her new HEMI Dart (aptly named "Go Hummer II"), Mary Ann went racing. Although the Dart claimed some wins, it was not as successful as her 1965 Coronet. It wasn't from a lack of working hard and trying as both Mary Ann and her dad worked their butts off making the Dart fast and consistent. She did get to represent Chrysler in the 1968 Mobil Economy Run. This annual event ran for many decades and was created to provide real fuel efficiency numbers during a coast-to-coast drive on public roads, featuring the regular traffic and weather conditions any driver could expect. "That was a neat deal, I flew from Mansfield, Ohio, to L.A. I drove a 1968 Dart with a six-cylinder engine across the country to the Indianapolis 500 track. Got to do laps around the Indy 500 track as fast as we could go, but being just a six-cylinder, it just wasn't that fast," laughed Mary Ann.
While in California, Mary Ann was a hired gun for Dodge and got to drive Dick Landy's 1967 Street HEMI Coronet at the Hot Rod Magazine Drags at Riverside, California. While Landy focused on his new HEMI Dart, Mary Ann was tasked with going rounds in his Coronet. "I got along okay with Dick. I'm not sure how he felt about women drivers at that time, but I was driving well at the race and the factory guys were once again impressed," reminisced Mary Ann.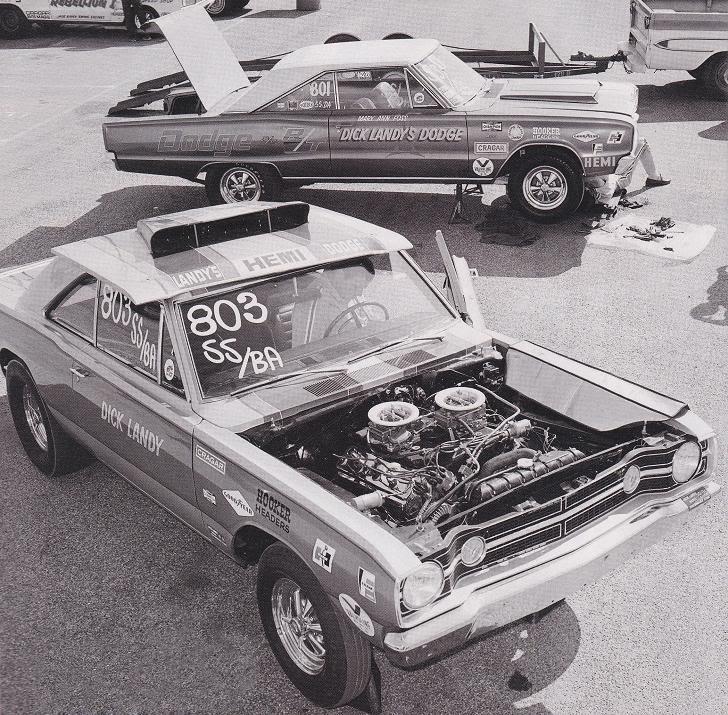 By 1969, Mary Ann got remarried to a childhood friend, Bill Jackson. While Chrysler offered them another sponsorship for 1969 and into 1970, both Mary Ann and her husband Bill declined the offer, a decision they both regret today. The couple, now with their blended family, still went racing throughout the 1970s, 80s, 90s and into the 2000s. Some of their children also built racecars and raced with mom and dad. "I'd told my kids when they were growing up, they had two choices, they can go racing with us or stay at home to do the sports thing – they ended up going racing," chuckled Mary Ann.
Just a few years ago, Mary Ann hung her racing helmet up for good. She probably misses blasting down the track in her eight-second Super Comp Dragster, but this 84-year-old lady drag racer, who made history a quarter-mile at a time, had this advice for future female racers. "Be yourself! Don't think you are special because you are a girl. You have to love drag racing … the late nights, early mornings, heat, cold, rain, broken parts and being able to take a loss even though your heart is breaking."
Wise words indeed!
Check out these female drag racers!
Neichaun Tatum
Shirley Shahan
Judy Lilly
Della Woods
Adrianna Straub
Leah Pruett