The Great Texas Mopar® Hoard Auction Event is just days away! On Wednesday, October 13th, and Thursday, October 14th, the lifelong collection of the late John Haynie is going up for grabs in a no-reserve, all-online auction hosted by Spanky Assiter's Spanky's Freedom Car Auctions.
Don't miss your chance to own the classic vintage Mopar vehicle of your dreams. Register today at FreedomCarAuctions.com and begin bidding NOW. Winning bids will be counted on auction day as the final "sold" hammer drops on each lot number, but you can get the ball rolling right now if you choose.
As we've shown over the past few months in these weekly preview stories, the cars, vans, pickups and light trucks in the Great Texas Mopar Auction Event are mostly project cars that don't run. BUT … as the pictures and videos show, they're mostly complete and have minimal corrosion so they're solid candidates for your restoration, custom, pro-tourer, drag racer, rat rod or parts car project. Transportation after the sale will be available via multiple options.
This week's preview story features vehicles from the bottom and the top of Chrysler Corporation's brand hierarchy. At the entry level, two Plymouths represent the more affordable end of things while the Chrysler and Imperials represent higher priced vehicles with more creature comfort baked in.
Interestingly, today, these notions of retail price (when new) are mere vapors and in many instances, modern buyers prefer the mass-market Plymouth models over their more costly (when new), upmarket Chrysler and Imperial siblings. It's no secret a 1970 Plymouth 'Cuda attracts more attention than a 1970 Imperial because of the Plymouth's higher fun-factor, even though the Imperial may have cost three times as much when new.
Regardless, any car that's managed to survive for five times longer than the 10 or so years envisioned by its original designer is worthy of note today in 2021. And that's exactly why the five cars presented here are each special in their own way – regardless of the nameplate on the fender or decklid. Let's dive in and examine another batch of nifty vintage Mopar vehicles that'll be offered up at no-reserve on Wednesday, October 13, 2021, during the Great Texas Mopar Auction Event.
The Plymouth division of Chrysler Corporation had been in business for a decade when this 1938 Plymouth P6 Deluxe four-door sedan was built. The styling of the grille and headlamp pods was controversial because of a new wrap-around valance panel connecting the left and right front lower fenders that gave the waterfall grille a short, stubby look versus the 1937 design which lacked the body-color connecting panel. Dealer and customer complaints were sufficient enough to trigger a mid-year rework.
Why so much panic over styling? Let's remember that in 1934, Chrysler and DeSoto launched the revolutionary Airflow lineup with streamlined styling and Detroit's first-ever unitized body shell construction. Problem was that the public didn't get it. Sales were horrible and Chrysler and DeSoto quickly backpedaled with conventional models – sold side-by-side next to Airflows – to save the day. It was a sad fate for the Airflow's seeming leap forward. This marketing fiasco set a tone of fear and paranoia at Plymouth (and Dodge), thus the kneejerk mid-year restyle.
And of that mid-year restyle, to restore sales, the headlamp pods were lowered two inches and then pulled rearward a full four inches. The change gave the shorter grille and lower valance some visual "breathing room." The stubby criticism subsided and sales rebounded somewhat.
This gently restored example has the early-build "stubby" nose and – to modern eyes – looks pretty much like any other late 1930s "potato era" sedan (a reference to the general shape of the body). But as potatoes go, there is much to like. From the roomy interior with easy-entry "suicide style" doors to the optional $18.95 Duo-Airstream under-dash heater to the floor-shifted three-speed manual transmission, everything appears neat and tidy. The "mohair" seat and door coverings are all very serviceable and due to its radio delete status (the push-button AM radio would have cost an extra $56.70), there's nothing to distract from the soft purr of the 201-cubic-inch flathead six.
One – or actually two – very unique features are the fiberglass rear fenders. You read that right. Both rear fenders are heavy-gauge fiber reinforced plastic. Don't confuse them with Henry Ford's experiments with soy-based plastic body panels of the same era, these fiberglass items are strictly aftermarket parts from J.C. Whitney or a similar source. In fact, J.C. Whitney and others supplied a wide range of fiberglass replacement fenders, decklids, hoods and even doors in the 1950s and '60s as an inexpensive alternative to costly metal parts from the factory … and we see a set here.
Though the rear fenders are replacements, the rest of the body is solid steel with no obvious signs of rust or rust repair (see the magnet test in the accompanying video). So that's the story of this 1938 Plymouth, a car that could be either hot rodded or put back into service after a minor mechanical check-over. Oh, and it has been fitted with aftermarket lap-type seat belts for an added touch of safety. What would you do with it?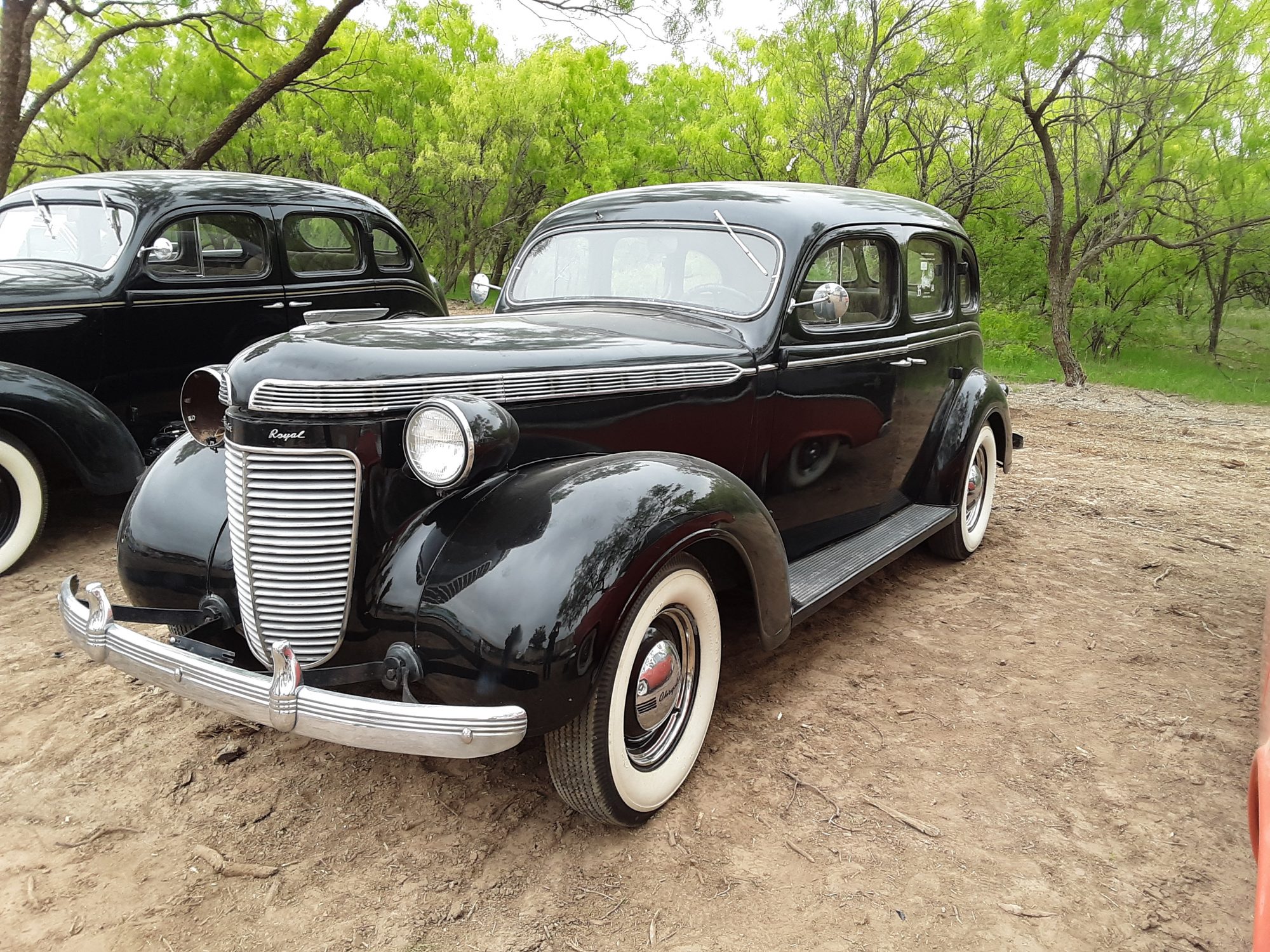 When we look at the rather conventional "potato era" styling of this clean 1937 Chrysler Royal four-door sedan, it's easy to forget that Chrysler's ultra-modern streamlined Airflow series of 1934-1937 was in its final year and one probably sat next to this Royal at the new car dealership way back when. The story of the Airflow is fascinating and can easily be found online and in magazines and books written to describe a styling and marketing miscue topped only by Ford's Edsel fiasco of 1958-60. But for now, let's focus on this comparatively mundane – but charming – creature.
Though Chrysler was mainly known for large, expensive eight-cylinder cars on the higher end of the price scale, the Royal line arrived in 1937 with six-cylinder power to lure entry-level customers seeking Chrysler status for roughly 25-percent less money. This example is in excellent rust-free condition and the body panels all attract a magnet (see video). Inside the "suicide door" body, the upholstery is in very serviceable shape and the floor-mounted three-speed manual transmission shift lever invites a drive (after systems check to ensure proper function, of course).
A unique feature of this example is seen in the trunk area where Chrysler offered two distinct designs on its four-door body shells. The majority (62,408) had an ungainly looking trunk compartment that protruded out below the rear window like a beer belly (as seen on Lot A). But if maximum trunk volume wasn't a priority, the sleeker "hump-less" configuration seen here was offered on just 1,200 cars. And get this, the sleeker style seen here cost $910, $10 less than the more useful – but lumpy looking – extended trunk version.
At the other end of the car, while one of them is missing (it's inside the car), the original bulb-type headlights have been converted to sealed beam units for brighter nighttime illumination. Proof of this car's driving capability is seen in a sticker on the left rear window indicating it participated in a five-day long VMCCA (Vintage Motor Car Club of America) driving tour of presidential libraries on April 12-16 of 2004. Also found inside are a set of matching 1937 vintage Texas license plates (reading 794 839) that might just be the originals issued to the car 84 years ago.
The original 228-cubic-inch flathead six wears red paint on its cylinder head, a likely indicator it has the optional aluminum high-compression 7:1 head with smaller combustion chambers for a full 100 horsepower versus the 93 horsepower generated with the base 6.5:1 compression ratio. According to former Chrysler engine designer Willem Weertman's superlative book "Chrysler Engines 1922-1998" (SAE International), this engine was all new for the 1937 model year and though its 228 cubic inches were 13 inches smaller than the 241-cube inline six it replaced, power was identical thanks to larger valves. This workhorse saw service in entry-level Chrysler applications through the 1954 model year by which time it had grown to 264 cubic inches, producing 119 horsepower. With all that history and having survived intact for the past 84 years, let's hope this one finds a loving home.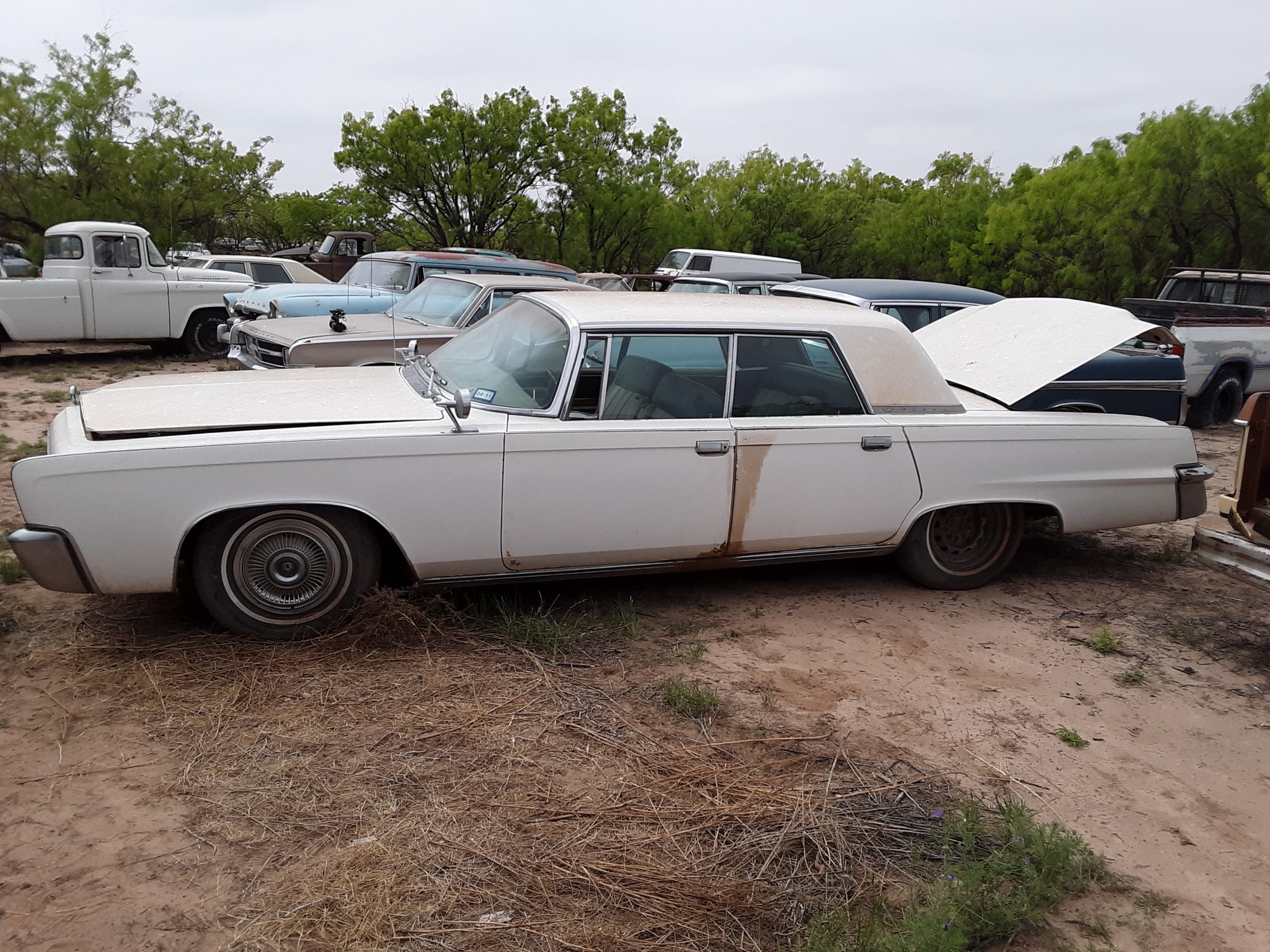 What do this 1966 Chrysler Imperial Crown four-door hardtop and any Charger R/T have in common? If you answered, "a standard issue 440 big block engine," you'd be correct! It's sad to reduce such a luxurious vehicle to simple engine donor status, but for many, a four-door Imperial isn't as exciting as a two-door Imperial, let alone a Charger R/T. And that's a shame, especially when that Imperial is as solid and free from rust as this example.
Though a few small bubbles of corrosion are present along the lower door edges, a magnetic inspection of major external panels shows this Texas beauty to be in great condition. Absolutely loaded with standard-issue power steering, power brakes and power windows, extra cost goodies include air conditioning ($452.25), Autopilot cruise control ($94.90), door edge guards ($6.40), outside right mirror ($6.75), split front bench seat with leather trim ($102.25) and we can't forget the AM/FM push-button radio ($227.75).
In total, $884.30 in extras were added to the $5,733 base price when this unit was built at Chrysler's Jefferson Avenue luxury car plant in Detroit. And we might be missing the possibility of a tasty Sure Grip differential (just $56.35) within the 8-3/4 rear axle, an item – like the 440 big block engine – that triggers the vehicle-busting parts scavenging gene in many Mopar fans. So, what's it going to be? Will this one be purchased for restoration or for its 7.2-liter cast iron heart? The fates will decide…
Built 11 years before the 1966 Imperial Crown listed above, this 1955 Imperial hardtop is much more fortunate thanks to its very desirable and sleek two-door body and "fabulous fifties" styling. Then again, its 354 Firepower HEMI® engine moves it closer to the endangered species list because hot rodders love to snatch these HEMI-headed motivators for their freestyle creations. We get it.
Seen in 1955 for the first time, Chrysler chief stylist Virgil Exner brought clean yet exotic shapes to the entire Chrysler Corporation lineup. From Plymouth to Imperial, Exner's "Forward Look" influenced other Detroit stylists – and competing carmakers – like never before. Here, the flattened "pancake" hood remedies the bulbous, upside-down pot belly seen in 1954 and the full, semi-circular wheel openings bring a sporting flair despite the Imp's huge 133-inch wheelbase.
The wrap-around windshield, slender B-pillars and flattened roof surface (versus the domed roof skin of 1954) emulate the chopped top trend popularized by California "kustomizers" like George Barris. In a word, Exner's 1955 Imperial was a trend setter. This is one of 3,418 two-doors built in 1955 (plus another 7,840 four-door sedans – no convertibles were made) and would be a fantastic sight restored to perfection with a set of gleaming chrome Motorwheel spoked rims – which were a factory option.
Behind the all-original 354 HEMI engine under hood, the standard-issue automatic transmission is joined by standard power steering and power drum brakes. Surprisingly, air conditioning was not ordered in this example despite the black paint. Body and floor rust are a bit more severe than most of the cars in the Haynie collection, but again, patch panels are available and with its beautiful body design, the effort of rust repair would be a fitting gesture of respect for this car.
As revolutionary as Chrysler chief stylist Virgil Exner's 1955 designs were, his 1957 lineup brought Chrysler Corporation into the finned age. This 1957 Plymouth Savoy two-door hardtop is so low, wide and sleek that certain competing "legends" (think Bel Air) seem thick and lumpy by comparison. It's a fact that Chevrolet's similarly low and wide 1959 models were a direct result of GM stylists' shocked reaction to cars like this 318-powered example from the John Haynie collection.
Thanks to all-new torsion bar front suspension, the traditional front coil spring locating towers and high-mount upper control arms could be replaced by more compact equipment that allowed a lower cowl height. This, in turn, set the stage for a lower roofline and body silhouette. Another profile-lowering "trick" that was also used by Chevrolet in 1957 was Chrysler's company-wide switch in wheel rim diameter from 15 (1956) to 14 inches. The shorter rolling stock contributed to sportier looks.
Though Plymouth's ancient 132-horsepower 230-cubic-inch flathead six was standard equipment, this Savoy packs the optional 301-cubic-inch polyspherical head V8 with a single two-barrel carburetor and 215 horsepower. The four push buttons (Low, Drive, Neutral, Reverse) protruding from the left side of the instrument panel tell us the optional Powerflite two-speed automatic transmission was ordered new. Manual drum brakes and steering simplify things, as does the omission of air conditioning.
Some rust through is present on the rear wheel lips and quarter panel extensions but as these cars go, it's an extremely solid foundation for a restoration or custom build. Found on the car are a set of 1967 Texas license plates (PSG 890) that speak to its dry-state history. Plymouth made just 31,373 of these two-door fastback hardtops in 1957 (versus 168,293 Chevrolet Bel Air two-door hardtops). You can be sure there won't be a dozen others like it at your first car show.
Well, that's it for this week's preview of the Great Texas Mopar Hoard Auction Event. The October 13th online-only auction date is just weeks away. Be sure to visit the FreedomCarAuctions.com website for bidding registration info. And remember, a second no-reserve auction consisting of thousands of vintage parts, tools, service manuals, model cars and other automobilia takes place on the next day, Thursday, October 14th. We'll be back next week with a very special roundup of Super Stock Mopar project cars here at DodgeGarage.
Meanwhile, check out these other cool Mopar vehicles up for grabs:
The Great Texas Mopar Auction: Preview
The Great Texas Mopar Auction: Part II
The Great Texas Mopar Auction: Part III
The Great Texas Mopar Auction: Part IV
The Great Texas Mopar Auction: Part V
The Great Texas Mopar Auction: Part VI
The Great Texas Mopar Auction: Part VII
The Great Texas Mopar Auction: Part VIII
The Great Texas Mopar Auction: Part IX
The Great Texas Mopar Auction: Part X
The Great Texas Mopar Auction: Part XI
The Great Texas Mopar Auction: Part XII
The Great Texas Mopar Auction: Part XIII
The Great Texas Mopar Auction: Part XIV
The Great Texas Mopar Auction: Part XV
The Great Texas Mopar Auction: Part XVI
The Great Texas Mopar Auction: Part XVII