Once again, Dodge Garage has reached out to original and long-term owners of vintage Mopar® muscle cars to hear their stories and find out first-hand what is was like to drive these factory-fresh machines. At the annual Muscle Car and Corvette Nationals (MCACN) back in November, hundreds of the world's rarest and most unique high-performance cars from the last five decades came together at the Rosemont Center outside Chicago. The MCACN event warms our souls when temperatures nosedive in the windy City. After all, it's our love of high-octane fuel, gobs of horsepower, racing stripes, massive hood scoops, and wild colors resembling an open bag of Skittles that keep us all toasty on the inside.
Each car has a story, and if we're lucky, there's an original owner still on this planet who's willing to curate these tales. How did he, or in this case she, come to buy their brand-new muscle machine that became a part of their life. What was it that triggered a reaction in their brain that said: "I want that one"?
In 1971, Lena Pymale was a 18-year-old growing up in Calvin, West Virginia. During this time, the Women's Liberation movement might have been in full swing in cities like New York, Chicago and Los Angeles, but hadn't yet reached the sleepy hamlets of West Virginia. As a young lady growing up during the muscle car era, Lena was car shopping and didn't want the same traditional econobox she saw other young women driving. Rather than settling for a plain, sensible car with an anemic six-cylinder engine or a small V8 with a two-barrel carburetor on one end, and a single exhaust on the other, she wanted a car that looked like it was going 150 mph standing still.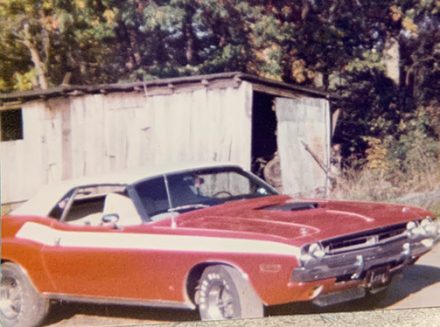 Lena had her sights set on something that would stand out, especially when cruising down main street in her home town. One night, she and a friend went by the local Dodge dealer; Mansfield Motors in Richwood, West Virginia and spotted a Sublime Challenger convertible sitting in the showroom. Lena decided she had to have that car, so the next day, she went to the dealer to place an order.
The R/T package was no longer available on convertibles for 1971, but that didn't stop Lena from ordering a droptop with some cool options. She made sure to check off all the right boxes when going through the dealer data book with the salesman. First, she ordered the optional 383 Magnum V8 rated at 300 horsepower. It still had all the goodies like a Holley four-barrel carburetor, high-lift camshaft, low restriction exhaust manifolds, dual exhaust, windage tray, and other items.
Since Lena was a gear head, she also ordered the Challenger with Chrysler's famous New Process four-speed manual transmission that came standard with a Hurst Pistol Grip shifter to row the gears. To send that power downstream, a 3.23 positraction differential helped Lena smoke the standard issue F70X14 Goodyear Polyglas tires at will.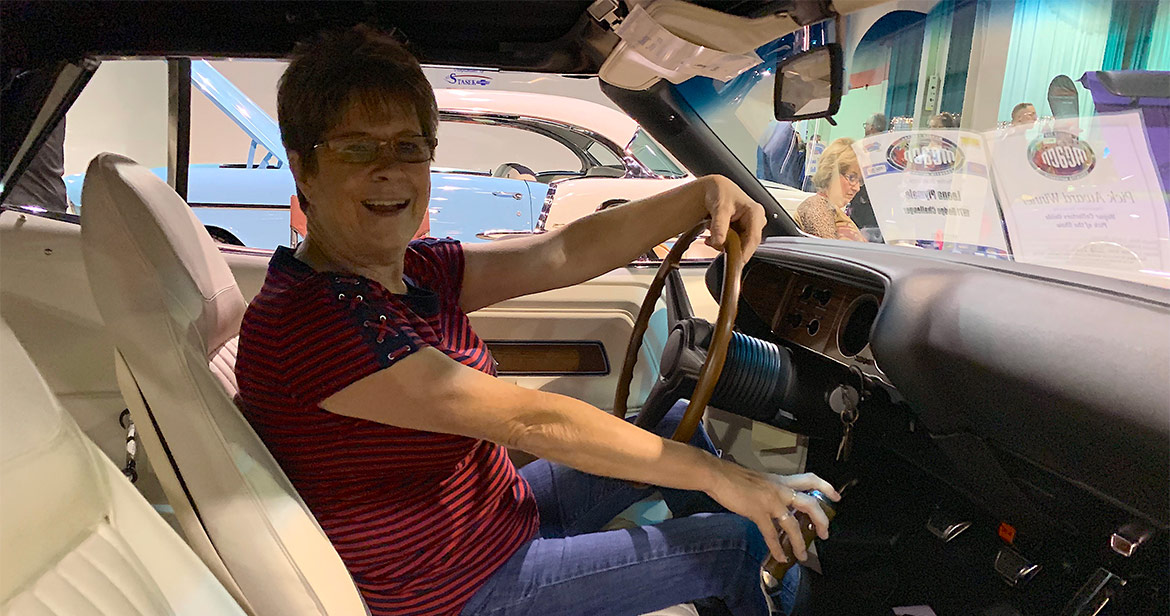 From the outside, she wanted the car to look fast, even when parked. She chose the Rallye Red paint, white convertible top and matching white bodyside tape stripes, chrome racing mirrors, front and rear spoilers, 14-inch Road Wheels, and quad chrome exhaust tips. Inside, the white high-back bucket seats, Rallye dash with tach, and console gave the Challenger even more of a muscular feel.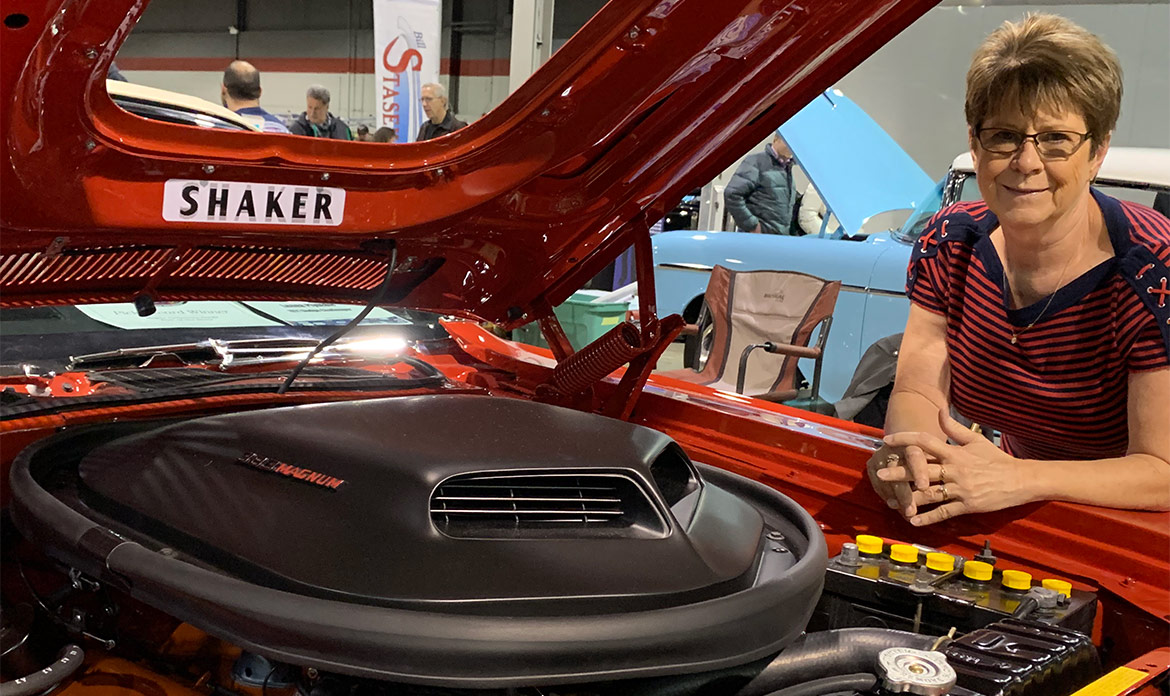 Probably the most unique option Lena ordered was the Shaker hood (option code N96 for all you numbers freaks). Sitting on top of that 383 Magnum, the Shaker's bubble scoop quivered while the big-block sat idling at traffic lights. Don't forget, this is a non-R/T Challenger convertible with a factory Shaker hood. How cool (and rare) is that? We're not sure if Lena knew that when she thumbed through the 1971 Dodge Challenger sales brochure, but we're sure glad she noticed it in the option guide.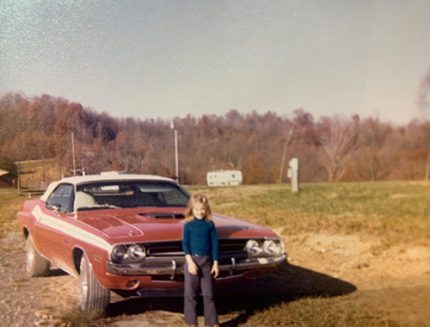 The order was placed in May 1971 but as the saying goes, the waiting is the hardest part. Lena's Challenger would not show at the dealer until late July. The impatient teenager ended up purchasing a used 1970 Plymouth 'Cuda and practically gave up on the Challenger until she got a call to let her know that the car had finally arrived at the dealer. Apparently the hold-up was a parts supply issues for the convertible top.
Reluctant to take the Dodge and quite happy with the 'Cuda, Lena drove down to the dealer anyway. When she saw it for the first time, sitting all clean and shiny in the wash bay, Lena fell in love with the Challenger.
Lena's fondest Challenger memories include putting the pedal to the metal, dumping the clutch, and squealing the tires, much to the chagrin of her uncle. He just happened to be the town's police officer. After hearing numerous reports of a red Dodge Challenger doing burnouts, he knew it was his niece and gave Lena a tongue lashing. Lena's Challenger did take her on many road trips including many up to Michigan from her home state of West Virginia.
Before parking the Challenger outside in 1979 for a long-term hibernation, it was used in many local parades such as the Cherry River Festival and carried two senators down main street in Richwood to wave at spectators. By 1985, it was moved inside but the elements and general wear and tear had already begun to take its toll on rare E-Body. In 2008, Lena, along with her husband, son, and brother, disassembled the Challenger in the hope of doing a complete restoration, but to first timers attempting such a daunting task, they found out the hard way they were in over their heads.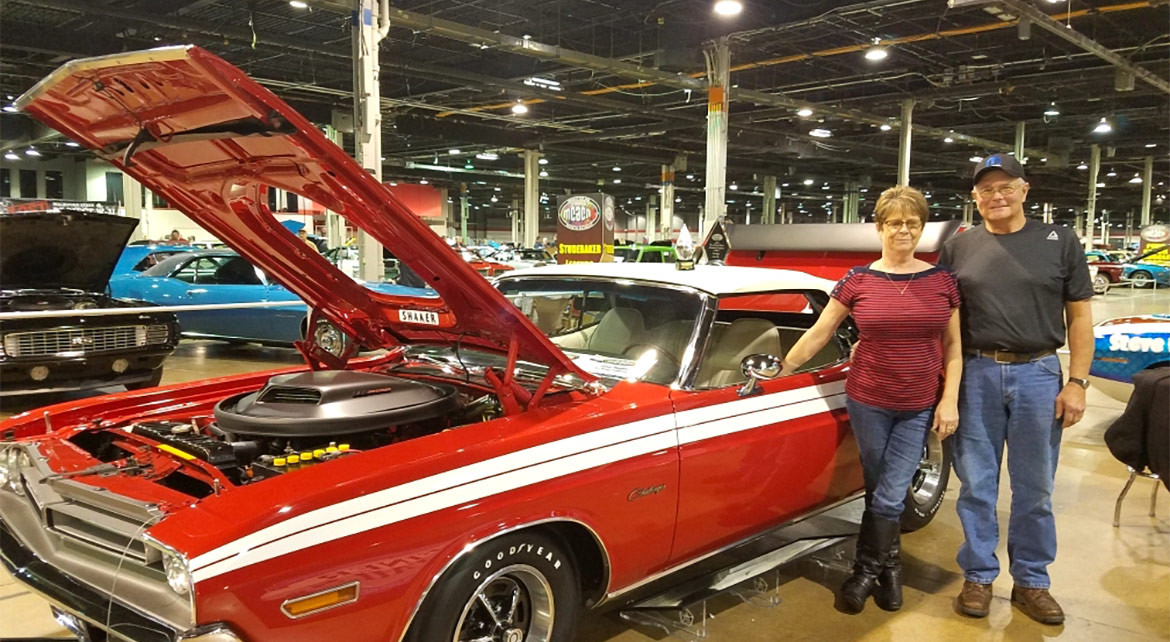 That's when they sent the Challenger to The Finer Details in Danville, Indiana. Here, the crew basically stripped her car down to bare metal and began to meticulous process of making Lena's machine better than new. After a long wait, much longer from when she originally ordered the car in 1971, Lena's Challenger is better than ever as it claimed two prestigious accolades at the 2018 Muscle Car and Corvette Nationals. These included the Platinum Pick Judges Choice for best Dodge vehicle and the much coveted Concours Gold award.
Lena's father may have been a Chevy guy and wanted her to buy a Corvette that summer of '71 but we're glad she bought the Challenger convertible instead. Besides, Dodge Girls have more fun.
Visit past Long Term Relationship Chapters:
Future Chapters of Long Term Relationships: