Car shows aren't just about the vehicles on display, they're also about the owners and their unique bond and connection to these rare machines. These muscle cars withstood the ravages of decades of being driven through rain, snow, salt and ice, while being pounded mercilessly, and still asked for more before being parked with a blown engine and massive rust holes in the quarter panels.
Luckily, not all high-performance machines from the golden era of affordable muscle suffered this fate.
As always, the annual Muscle Car and Corvette Nationals show had no shortage of original or long-term owners standing by the cars they've had in their possession for decades. We had a chance to speak with an owner who took delivery of a very rare and possible one-of-one Dodge Challenger R/T convertible in the summer of 1970.
As a young 21-year-old returning from the Navy, Bill Chambers was in need of a car. Prior to his stint of going abroad and serving his country, Bill had been driving a 1967 Ford Galaxie 500; unfortunately, his younger sibling wrecked his car prior to Bill returning to civilian life. After some heated family discussions, Bill decided it was time to go look for a new ride in his home town of Green Bay, Wisconsin. Armed with some extra cash from his Navy pay, he was on the prowl for a hot looking machine. Bill was interested in a Dodge Charger R/T at his local Dodge dealer, but when his eyes saw this beautiful 1970 Challenger R/T convertible sitting on the lot just outside the showroom, he had to have it. With its Dark Burnt Orange Metallic paint, white convertible top, and Burnt Orange matching interior complete with high-back bucket seats, console and Rallye instrument cluster, it zapped Bill's eyeballs.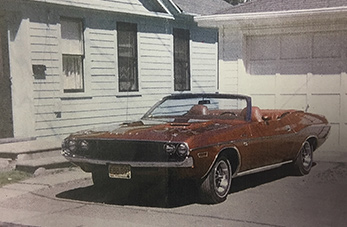 He knew right then and there he had to have it and after some negotiating with the salesman, Bill was the proud owner of what would become one rare machine. With a 335-horsepower 383 Magnum under the hood, Bill's Challenger R/T convertible had no problem pulling out into traffic and running down the highway with ease. With a 727 TorqueFlite and 3.23 rear gears, the Challenger R/T ragtop was the family hauler for five years through the snowy Wisconsin winters. Bill had his fun with the Mopar® vehicle; he would often put his foot into it and watch the tach wind up to 6,000 RPM and then whack the optional "Slapstick" speed gate shifter with his right palm as he went through the gears.
Bill also recalls what it was like hauling down the nearly 4,000-pound Dodge with its drum brakes. Unnerving at best, but you never forget.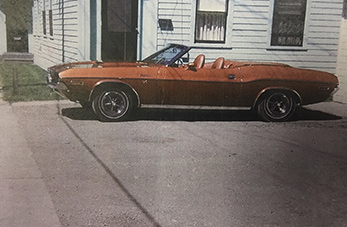 Bill got married soon after he bought his Challenger R/T convertible and in the late to mid-1970s, Bill's family was growing. So were the lines at the gas pumps. You see, it was the era of the infamous oil embargoes, and if your daily driver was a high-compression, big-block muscle car that guzzled fuel through the massive four-barrel carburetor, your world just got sideways in a hurry.
That's when Bill made the decision to store the Challenger and start driving an import econobox and, eventually, an AMC Pacer.
Wayne and Garth would be proud.
Being a two-car family, Bill was able to hang on to his rare Dodge, but there were some lean years in which he and his wife had some heart-to-heart discussions about selling the Challenger, especially when the house payments were coming due. Luckily, the Chambers family hung on to the Challenger and put it away for many years until it was time to restore it in 2006.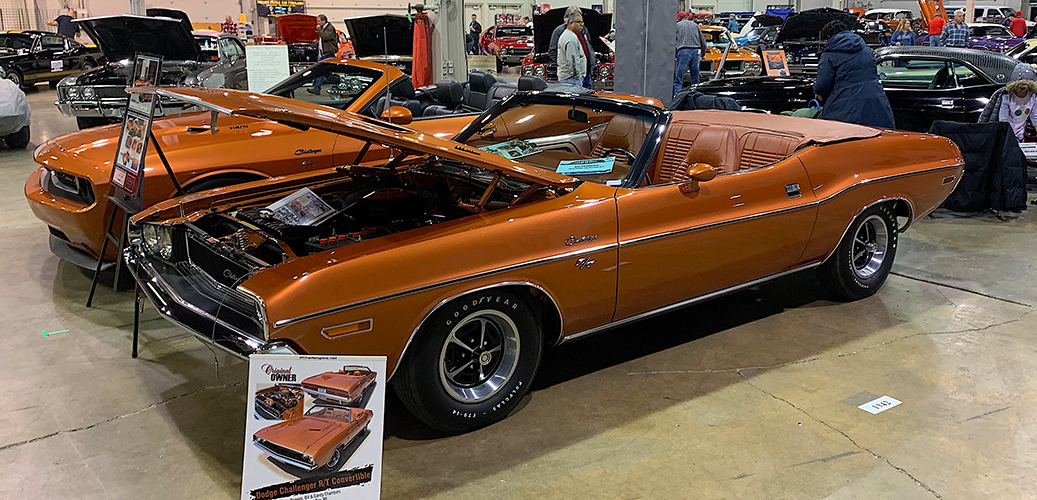 It was a project that took over five years, but it was in good hands with the folks at Muscle Car Restorations in Chippewa Falls, Wisconsin. Through painstaking and meticulous craftsmanship and the addition of some old stock parts, Bill's Challenger emerged better than new. Good thing; it was discovered the reason Bill's Challenger R/T convertible was loaded with boatloads of options was because it was ordered as a dealer demo.
With so many creature comfort items, the option list on Bill's Challenger R/T convertible reads more like a luxury car than a muscle machine.
Bill was so happy over the outcome of his Challenger's restoration, he ordered a brand-new 2010 Challenger R/T, did a convertible conversion and painted it Dark Burnt Orange Metallic to match his 1970. Now he has a matched pair of original owner Challenger R/T convertibles that are 40 years apart.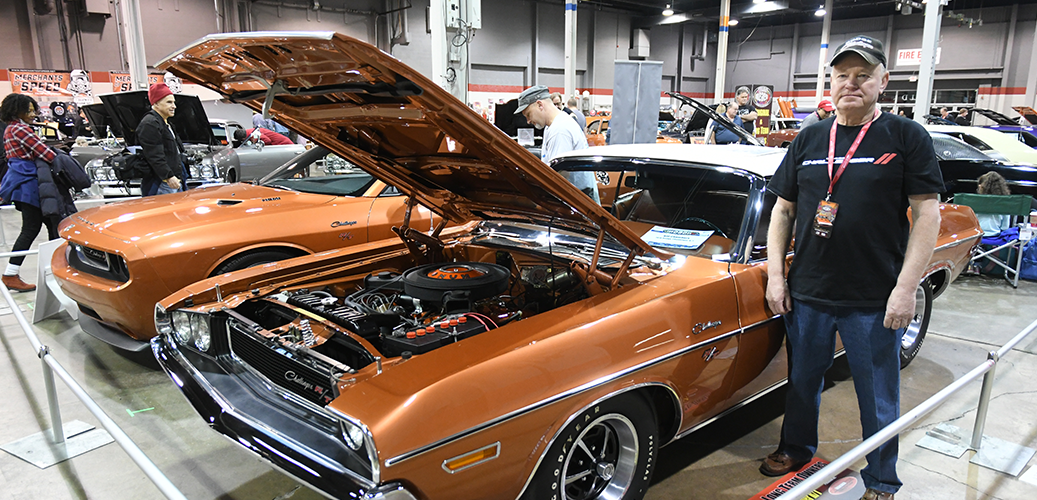 Like most original owner features we've covered in Dodge Garage, these unique cars become part of the household and help form a bond among family members. This is no different as Bill and his son, Rob, travel together around the country to show off both Challenger R/T convertibles and tell the tale of the one that never got away.
Visit past Long-Term Relationship chapters:
Future chapters of Long-Term Relationships: