SEMA stands for Specialty Equipment Market Association and the annual SEMA Show that's held in Las Vegas, Nevada, is a special event that previews new "trends" and innovations in the industry. Part of the event has competition between high-profile builders as well as lesser-known shops, all to come up with worthy, head-turning cars and trucks that get recognition for fresh ideas. Display vehicles are inside, outside and in the various hallways. The parking lots out front have overflow displays; everywhere you look there's something to see and absorb. While it was disappointing with the cancellation of all Stellantis displays (as a result of the then-ongoing UAW negotiations), an all-out effort was put forth to walk the entire place and gather up the "best of the best" of everything Mopar®!
The 2023 SEMA Show welcomed more than 2,200 exhibitors and approximately 160,000 attendees to the Las Vegas Convention Center (LVCC) campus to network and discover the next-generation products that will drive business success, industry growth and the future of the aftermarket in the coming year. For buyers at speed shops and automotive-related wholesalers and retailers, the exhibitors offered them a chance to seek out "the next big thing" or at least what they project that to be.
The New Products Showcase, located in the North Hall, had a huge selection of parts and components for performance applications, and walking in and around all the show floors there were parts, parts and parts in, on and around the feature vehicles. SEMA is the place to be for anyone connected with this exciting industry!
DIRECT CONNECTION TEAM DRIVERS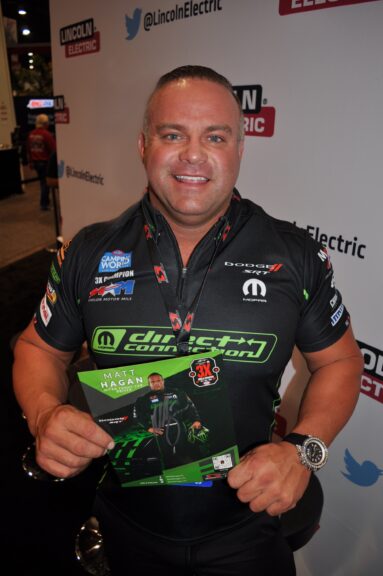 With SEMA taking place immediately after the NHRA Las Vegas event, it was a natural for Direct Connection team drivers Matt Hagan and Leah Pruett to attend the show!
NEW DODGE HORNET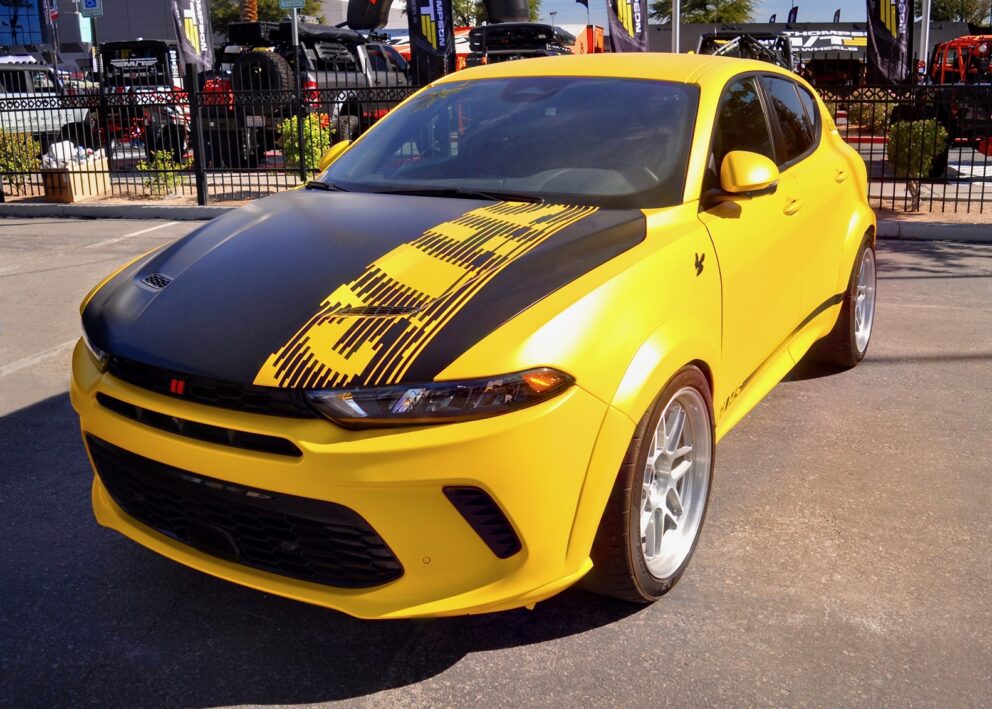 Mike Musto brought his Widebody Dodge Hornet GLHS Project, which was featured in the Hoonigan exhibit space. The car includes hand-formed metal wheel flares and Direct Connection lowering springs, center exit exhaust and other upgrades. The GLHS name comes from the old Dodge Omni days where Carroll Shelby had injected his magic into the "econo-box" car back in the mid-1980s. The little Dodge "Goes Like Hell S'more" was a big deal back in the day!
LAS VEGAS WELCOMES YOU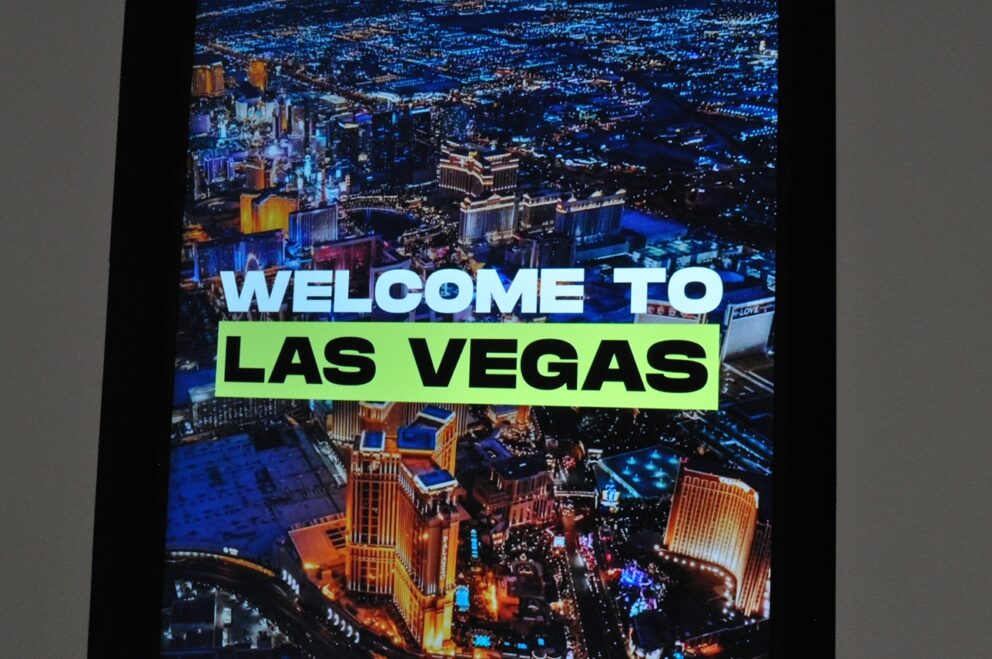 "The Entertainment Capitol of the World" is the nickname that has been applied to Las Vegas, and it's because of the broad scope of entertainment options, including nightlife, shows, exhibits, theme parks, pool parties and, of course, the annual SEMA Show!
IT'S ALL ABOUT THE PARTS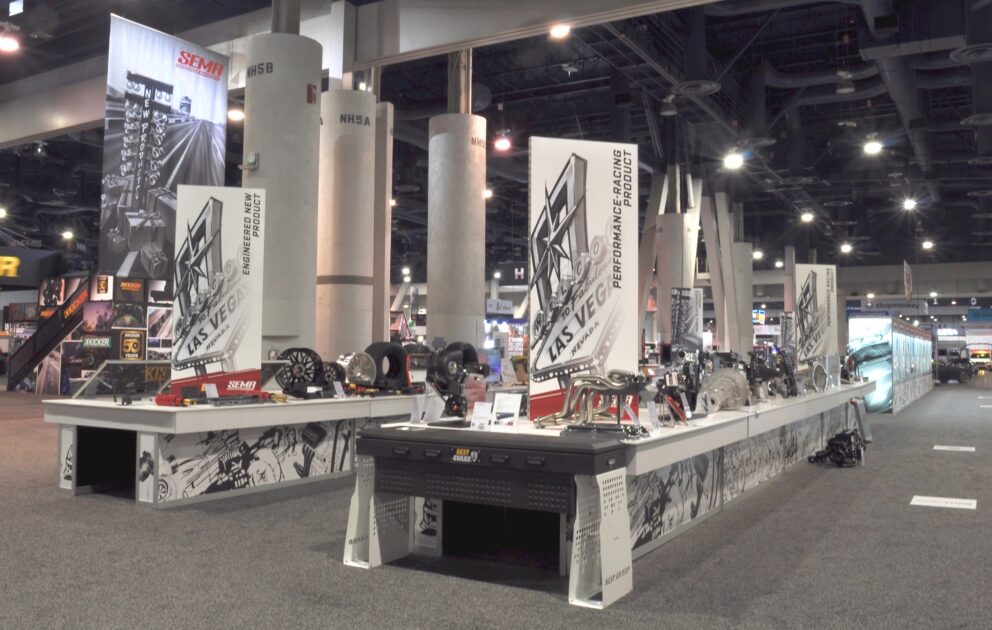 Part of every SEMA gathering is the debut of various new products, all displayed at the huge North Hall exhibit shown here – plus, of course, at the individual manufacturer booths and as installed on feature vehicles.
LAS VEGAS SPHERE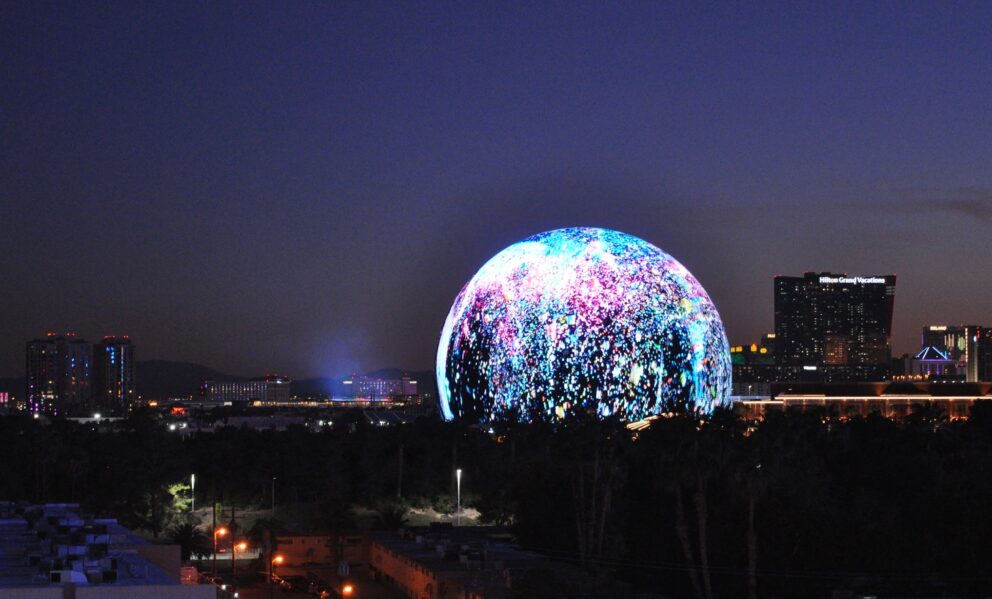 Getting on the top floor of the SEMA West Hall provided a great view of the Sphere … which is an 18,600-seat auditorium that has 580,000 sq.-ft. of exterior LEDs, which changes continually. A real visual effect for certain!
NOTORIOUS 'CUDA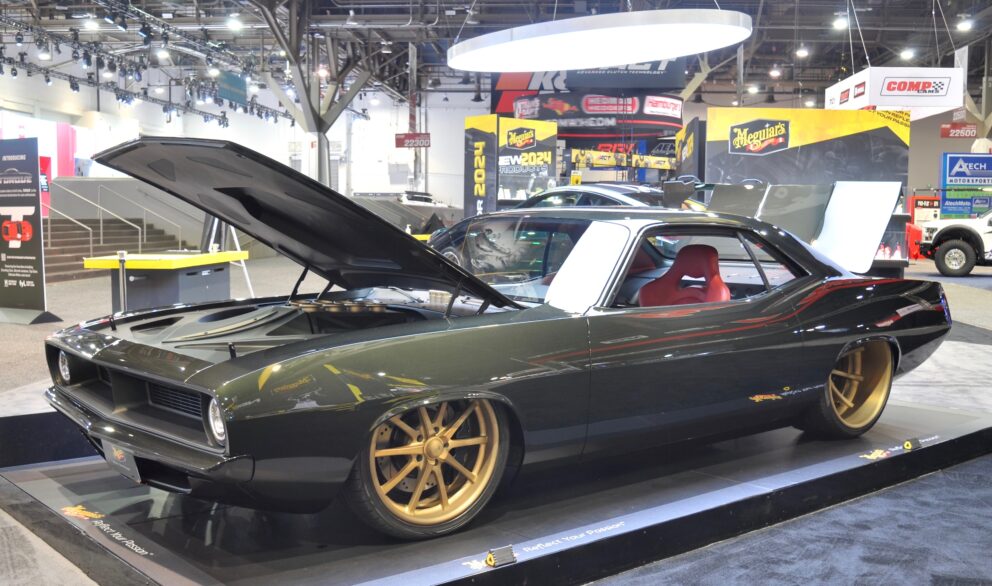 Trent Carter's 1970 Barracuda has all the modernized upgrades in terms of airbag suspension, big brakes, 20/22 rolling stock and custom-fabricated dash. One thing that stands out with this Kalalua Green PPG painted ride is what is under the hood … a 900-horsepower Dodge NASCAR R5P7 V8, adding to the uniqueness of the car. Oh, and one more thing about this distinctive 'Cuda, it's from Australia!
DODGE CHARGER FUNNY CAR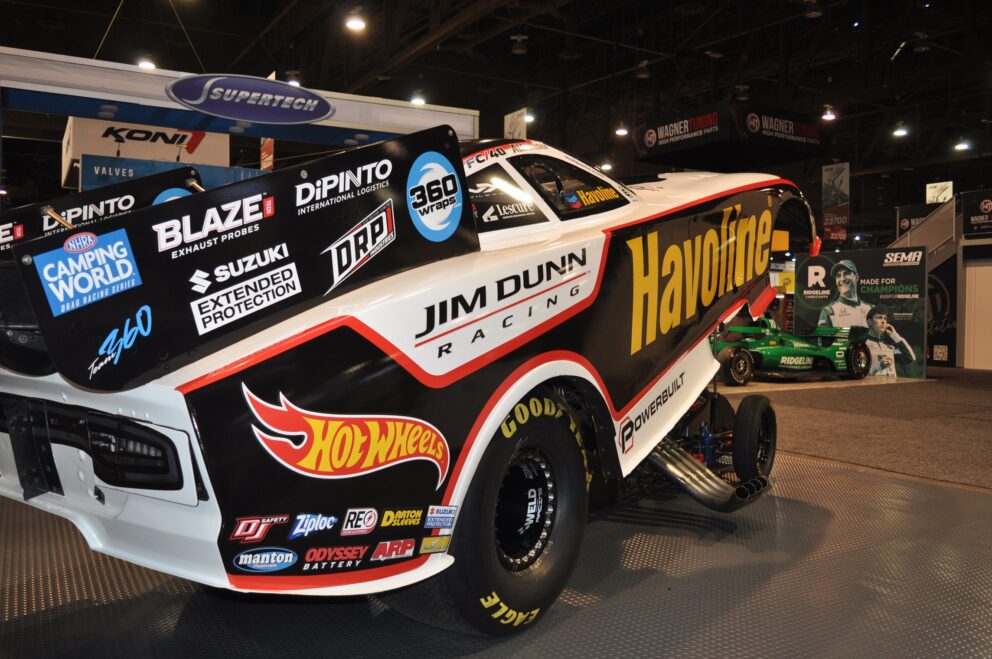 The Jim Dunn NHRA Funny Car, driven by Alex Laughlin, was part of the show floor of Central Hall. It was an up-close opportunity to check out the supercharged HEMI® engine under the Dodge Charger bodied nitromethane contender.
GEN III 440 HEMI® 'BEE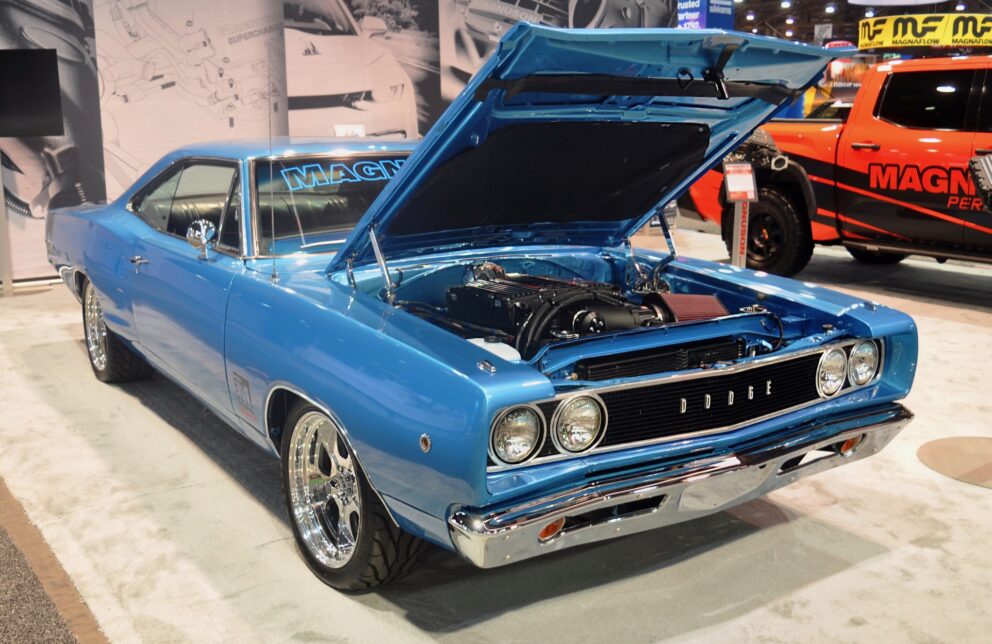 Fitted with a Magnuson 2650 supercharger, this 1968 Dodge Coronet Super Bee Hardtop has a 440-cid GEN III HEMI engine powerplant, complete with aluminum block. In 1968, this model was the Dodge equivalent to Plymouth's Road Runner. Faithful to Mr. Norm, it sports Grand Spaulding markings.
KEVIN HART'S "BANE" '70 CHALLENGER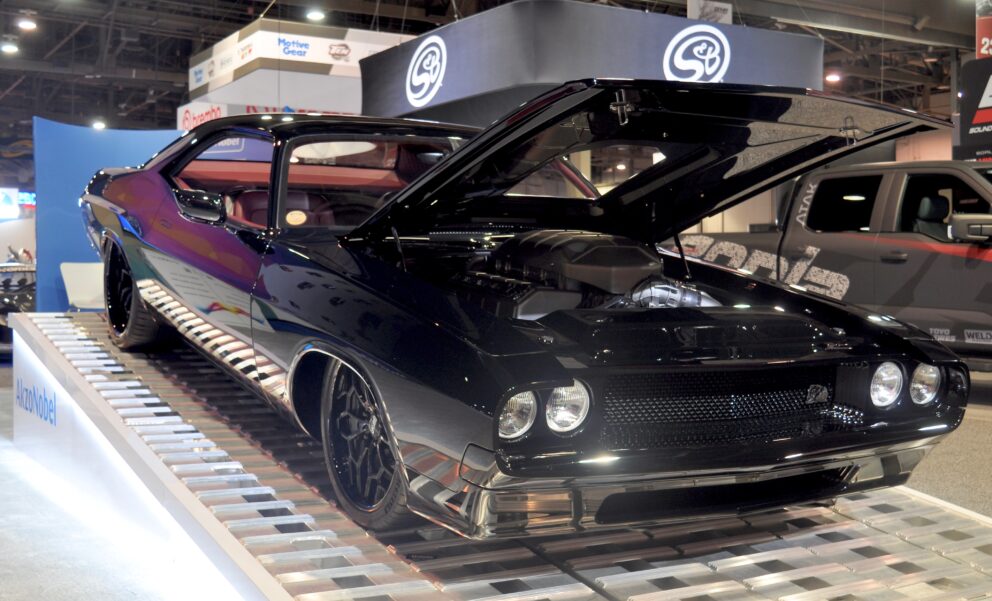 Major league tricked-out 1970 Dodge Challenger built for Kevin Hart by Dave Kindig of Kindig-it Design. GEN III HEMI Hellephant power, Roadster Shop Fast Trac chassis, IRS and lots of 3D printed components inside and out! Painted Black Ice from the Classikk Paint line, it's called "Bane," and was featured on episodes 8 and 9 of season 10 of Bitchin' Rides. It's in a class all by itself.
ROAD RACE TMR BARRACUDA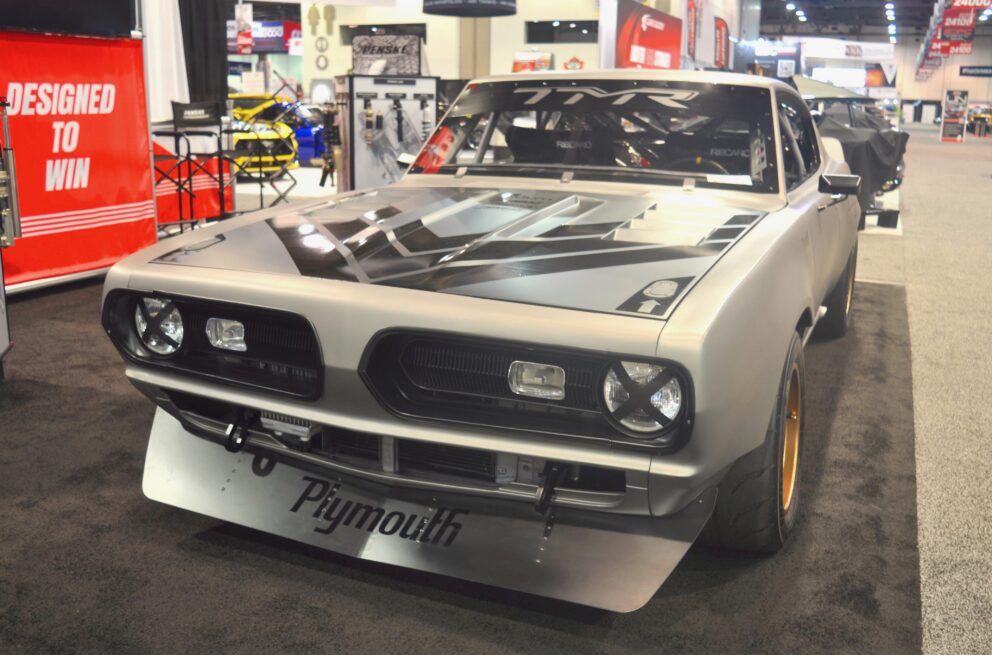 Retaining a vintage muscle car look all the while introducing an aggressive road race design, the 1968 TMR Plymouth Barracuda powered by an old-school small block Mopar V8 with fenderwell headers. TMR stands for "The Modern Racer" and part of the build included Penske Racing Shocks mounted in cantilever push-rod configuration in the rear. This is a highly detailed ride!
HELLCAT '68 POWER WAGON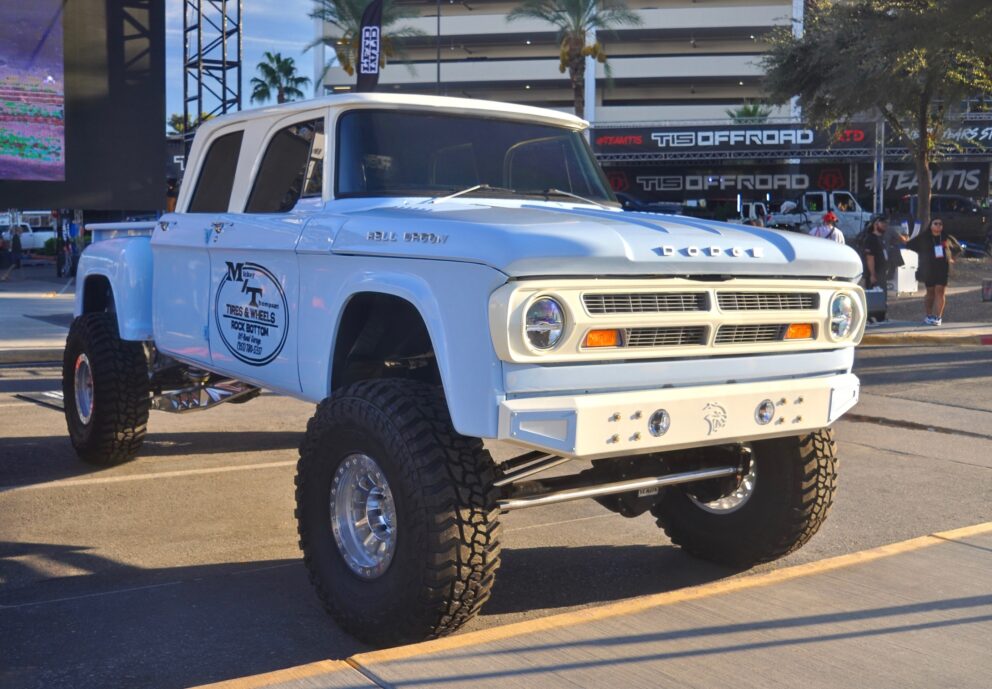 Built by Rock Bottom Off-Road, an SRT® Hellcat-powered 1968 Dodge Power Wagon Crew Cab, M/T Baja Boss XT tires and extreme purpose-built long travel F&R suspension! This classic step-side pickup was well received by the off-road crowds at SEMA.
HIGH & MIGHTY RAM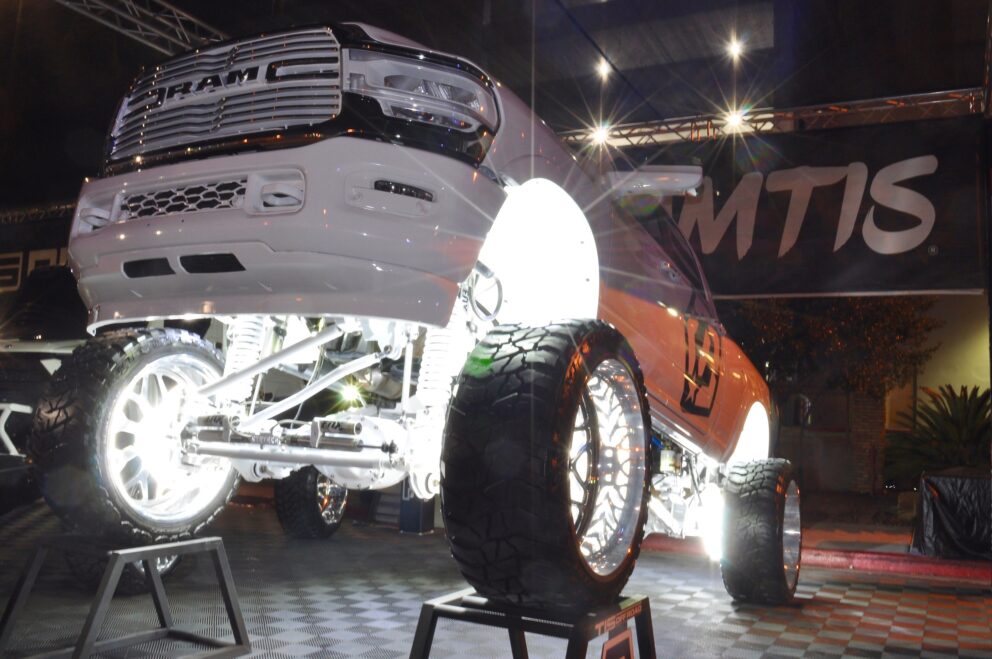 In all its glory from Canada, this 2022 Ram showing off its all-white undercarriage outside of the South Hall of SEMA. These trucks, this style, has a large representation at the show each year.
SEMA IS MASSIVE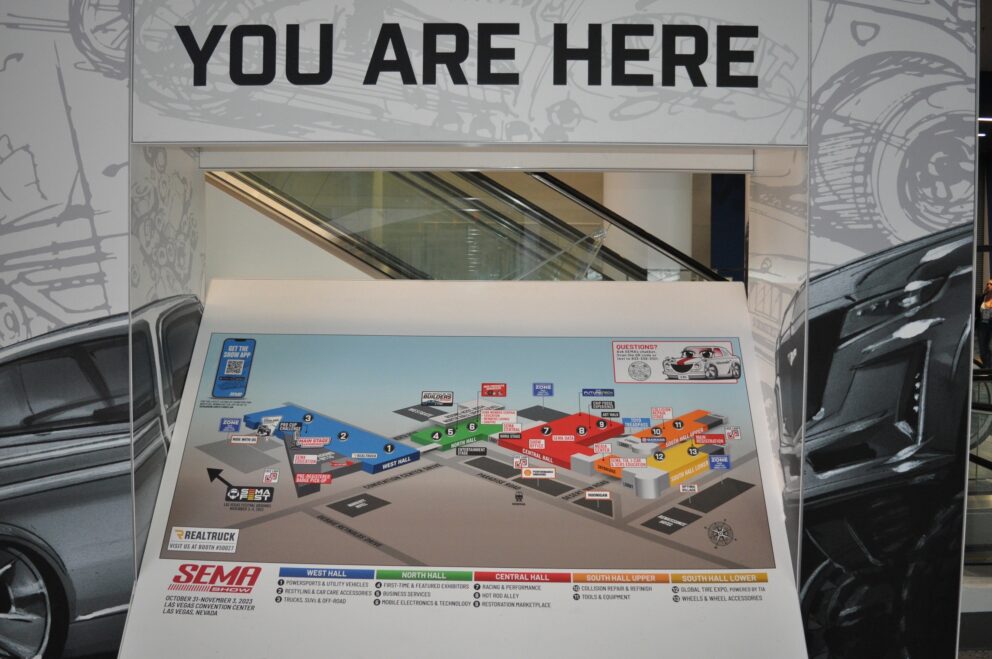 The Las Vegas Convention Center encompasses 3.2 million square feet of total building space under one roof (all exhibit halls) and is one of the busiest facilities in the world … and SEMA fills up the place inside and outside! Located a short distance from the famous Las Vegas Strip, the place rocks each early November when the automotive aftermarket rolls into town.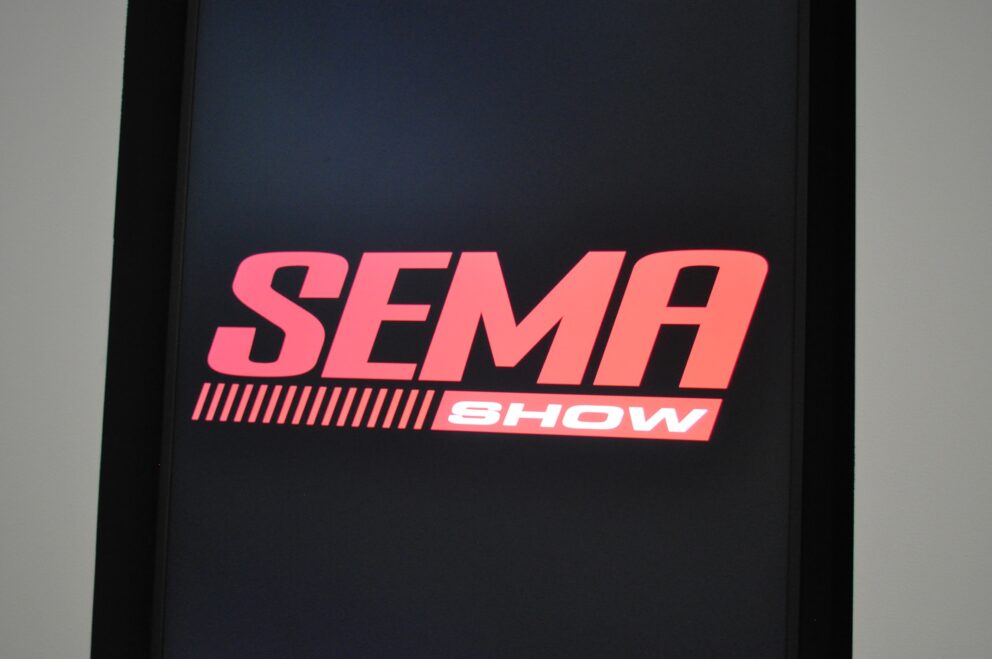 COMING UP NEXT IN PART II: There are more highlights to come from Las Vegas, there was no shortage of HEMI engine power to see in a wide variety of Mopar vehicles!
Author: James Maxwell