Marc Miller is no stranger to racing; he's been at it for decades. And if you've been in the Dodge world, you'll likely recognize his name; he's been part of the Dodge Viper IMSA program and, most recently, he's taken on championship form in the Trans Am TA2 class, winning the whole shebang in 2019 in his #40 Prefix Dodge Challenger.
We got to sit down with Marc and ask some of the common questions … and some that aren't so common!
DodgeGarage: Tell us about racing as a whole; why do you do it?
Marc Miller: Racing for me has been a source of passion, direction and constant reminder to work hard for what you want. I was hooked at age 11 when I saw a go-kart on a trailer in our neighborhood and convinced my Dad to take me to the track to learn more about it. Thanks to that family for getting us started and my parents for really supporting that passion until I was 18 and that was the end of the financial line for them. But by then, I had already prepared myself to always continue down the path of becoming a pro driver. Everything, and I mean EVERYTHING you possibly can learn from engineering to business, communications, marketing and kinesiology can be a huge asset in the racing industry. Mostly, I am extremely competitive and with all of the variables necessary to succeed in racing, I find it a challenge to dig for every potential ways to improve.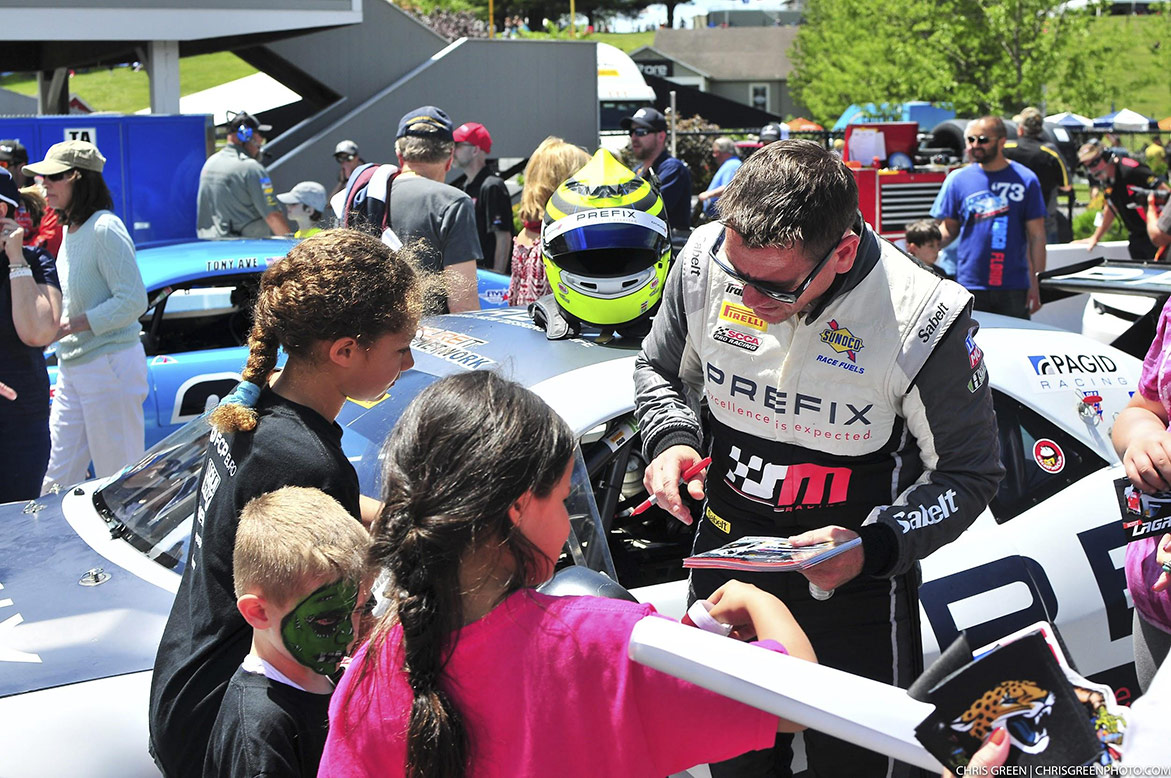 DG: TA2 is clearly the spiritual successor to the original Trans Am series, with multiple manufacturers battling it out. However, you're the lone Dodge. What's that like?
MM: I admit, I felt like I carried a lot of responsibility, but to take a different approach and turn it into a regular contender is more my style than going with the flow. Having raced the Dodge Challenger a few times previously, I felt there was more development we could do to improve the situation and make it a regular winner. The pressure was definitely on to do that, but Stevens-Miller Racing was up to the task and I was as well. Even more difficult is when you make one brand stand out, the other competitors and the series start to try to limit your success and that happened this year too. We were able to rally though and still score two more wins and podiums the latter part of the season.
DG: How do fans react to your Challenger?
MM: The Dodge and Mopar® fans are some of the greatest in the world. Hugely dedicated and knowledgeable, but the typical stereotype is that Dodge owns the dragstrip only. Each track we raced at this season, though, more and more Dodge fans were showing up at road course events and more fan and track day groups dedicated to making their cars track-worthy have been surfacing. It definitely gave me an added boost to represent the brand and those fans well and we accomplished quite a bit!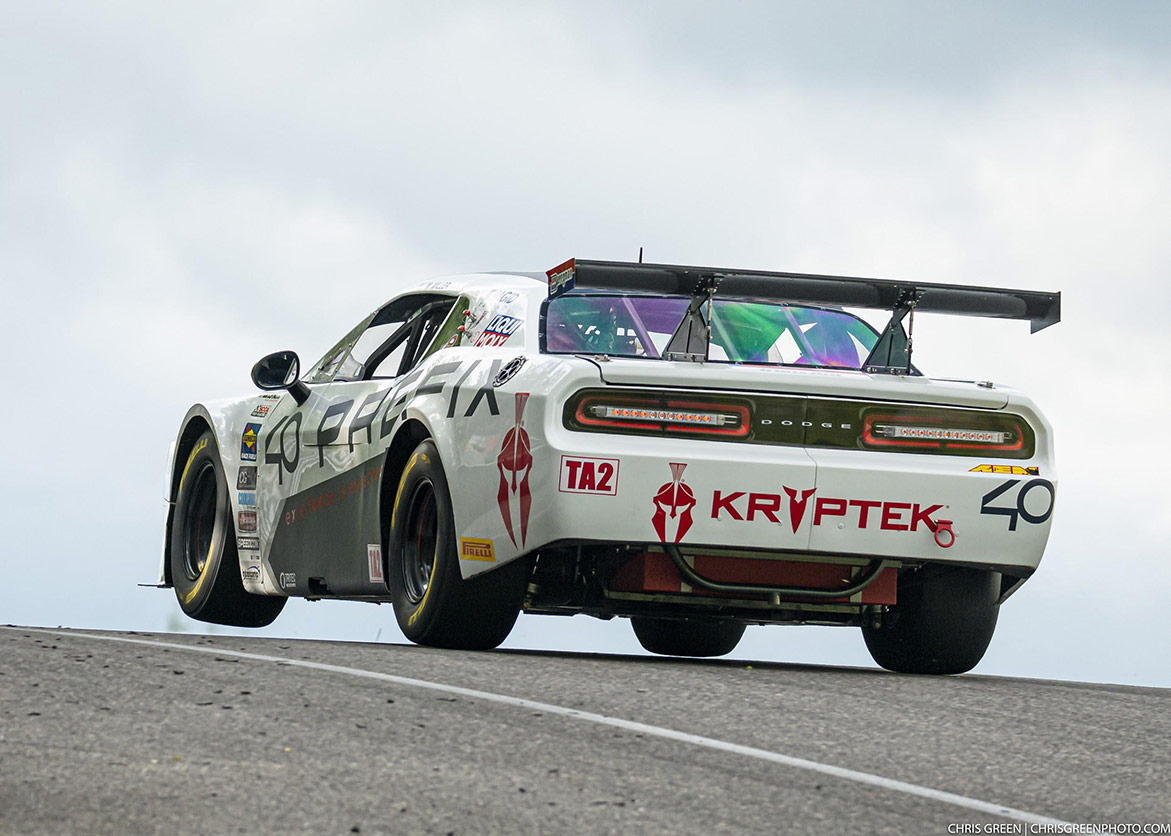 DG: As you point out, Dodge is really big in drag racing, thanks to cars like the Dodge Challenger SRT® Demon and the Challenger 1320… But we're seeing more and more Challengers at road course track days. How do you reply when folks say Challengers can't go around corners?
MM: I say, look at all these Challenger and Charger owners who take their car to the track regularly and tell them that! These cars are heavy, but they are powerful and robust. A few mods to help them get air to the brakes lighten them up a bit and put on some more aggressive track suspension and you have a great track-day beast that stands out from the crowd.
DG: Speaking of factory "specials", we have seen the likes of the Challenger ACR concept car. Let's dream for a moment: What would you like to see in a factory-built track day Challenger?
MM: Well you can't have a Dodge racecar without a HEMI®, so that is a must. But the biggest gain would be weight reduction. Some lightweight composites, composite downforce pieces similar to the Viper ACR Extreme Aero and a hefty weight reduction in the street variant and the Challenger would go a long way.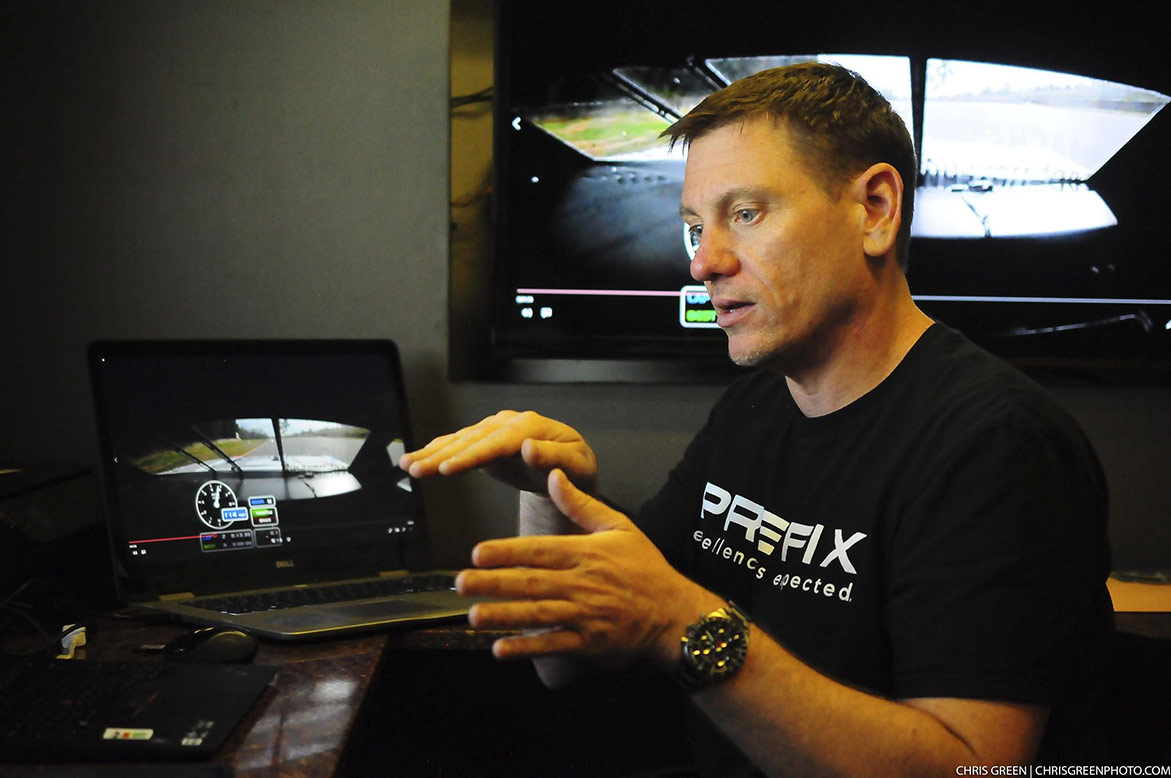 DG: While you had 4 wins and 8 podiums this year, it appeared there were a lot of guys who could win on any given weekend. Tell us about the level of competition in the championship.
MM: The great thing about Trans Am and TA2 in particular is that it is full of talented and hard-working drivers and teams. Not every driver would run all the races, so periodically you would have other professionals, NASCAR regulars or young guns all jumping in to have a go. I felt we had a car that could be on the podium nearly every weekend and a car that could win races quite a bit. That made me especially proud considering the level of competition at each event.
DG: Your car has been compared to Sam Posey's Trans Am Challenger of the '70s. Tell us about that!
MM: Well, many things have changed in 50+ years of Trans Am racing. Where the Sam Posey Challenger was based from a showroom stock street car and built into a Trans Am racecar, we utilize a Howe Racing chassis, full tube frame to start. The heart of the car though still remains a HEMI V8. The Posey car was 340ci with three 2-barrel carbs, while we utilize the big 392 with a series-mandated AEM-controlled throttlebody. Cars now are lighter, have more power and more suitable racing suspension while also using better aero and tires. While all this is different now in Trans Am, the soul of the series still seems the same to me. It is one of the last places you can see the "Big Three" duke it out on the race track and there is something special about that!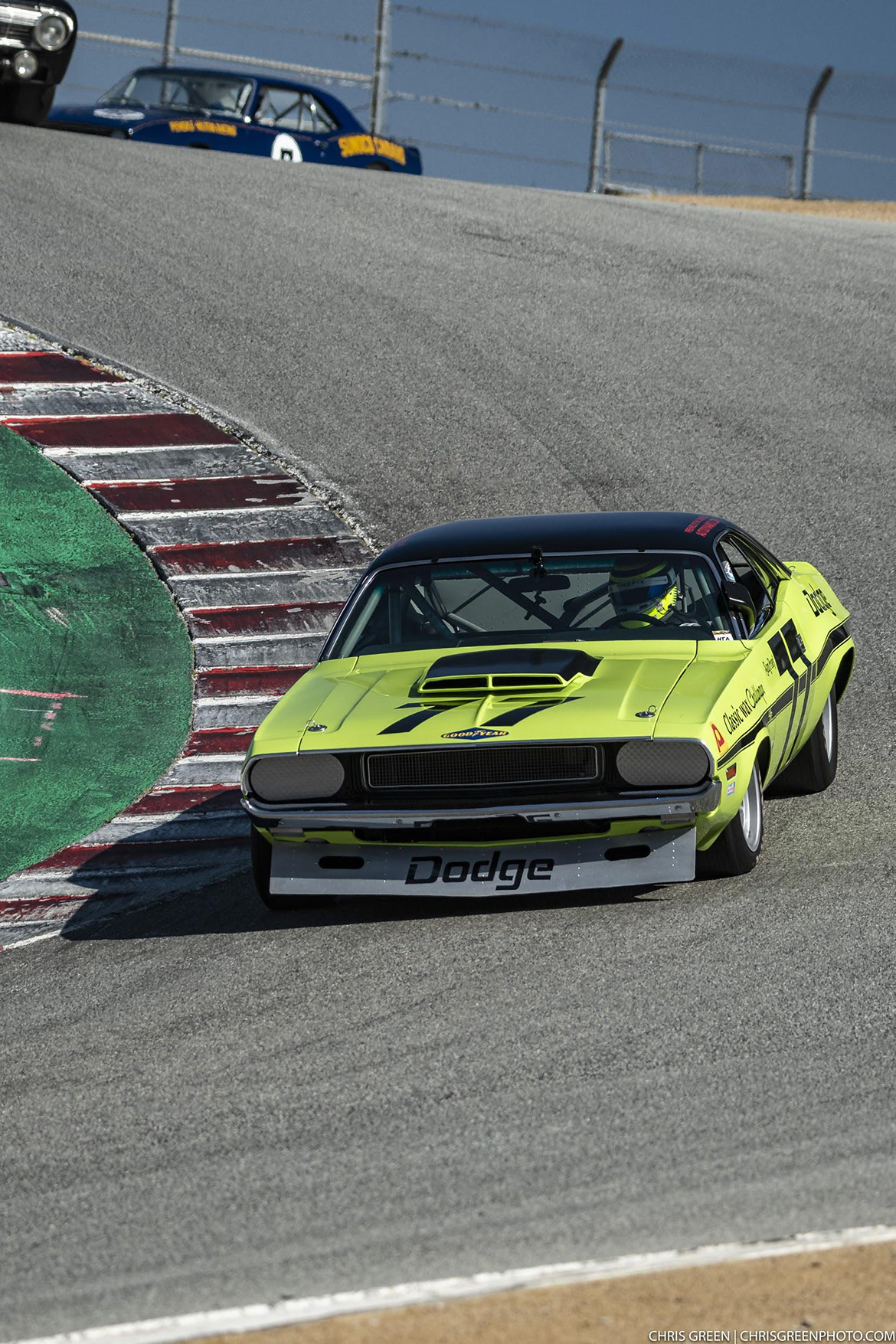 DG: You've had a great history with Dodge, including time in the Viper program. What makes the brand successful in motorsports?
MM: Success in motorsports is due to several variables. Great engineering and the right mix of passion and support. It really helps when you have a lot of support behind you, but passion goes a long way. I got my start in both GT racing and Trans Am in a Dodge and led laps in my first 24 Hours of Le Mans, so I have always had a soft spot for Dodge, SRT and Mopar products and people, mainly because of those opportunities given to me. That was the type of passion that, shared by Stevens-Miller Racing, was a major help in keeping focused on bringing a Trans Am title to Dodge again!
DG: Dodge has won plenty of championships, but tell us why this one is special.
MM: It is true, Dodge has had championships – but in 53 years of Trans Am racing, this might be the first outright pro-level title where a HEMI-powered Dodge competed in each event scoring points to win a major Trans Am Championship. For me, that is what I set out to accomplish, and looking back at drivers like Sam Posey and Dan Gurney who made similar attempts, I am even more proud of our team that we were able to accomplish it.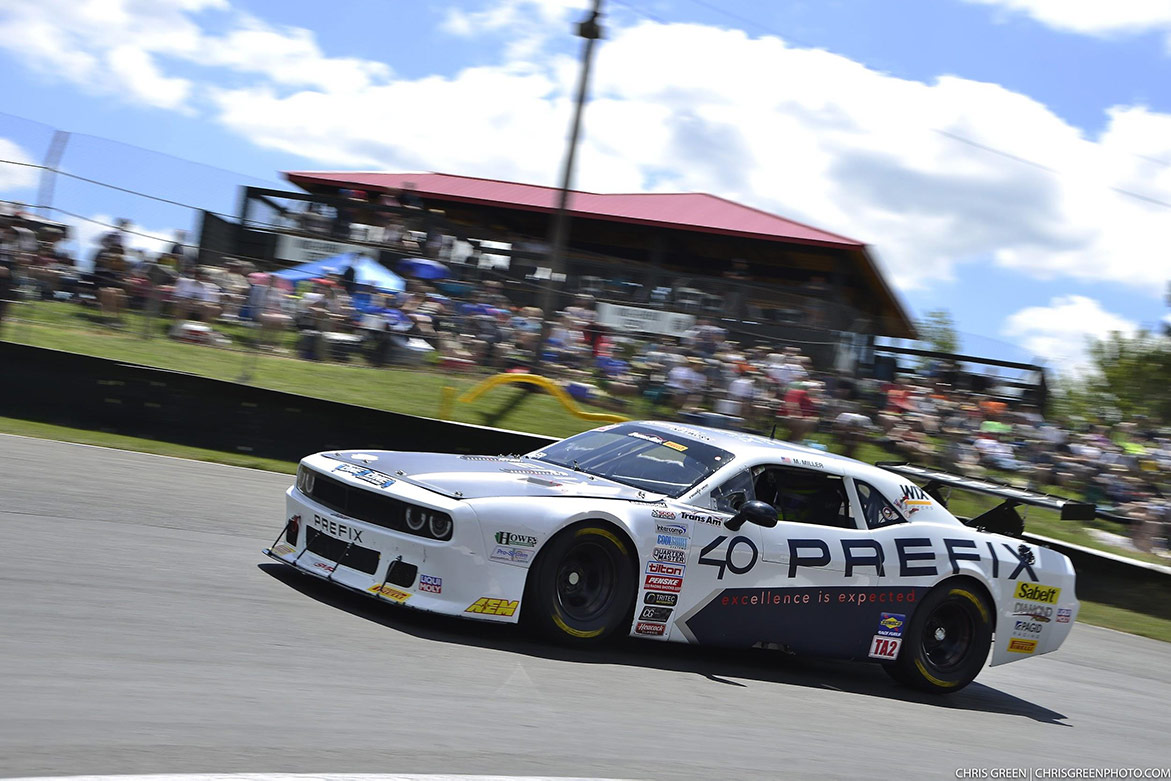 DG: Finally, on the rare occasion when you're not racing, what do you do for fun?
MM: I enjoy racing so much I try to do more of it. I raced in four different series in 2019! But living in West Michigan, there are a lot of activities for me to do with family. Lake Michigan has beaches and water sports. I love spending time with my family – and I love projects either around the house (DIY projects are addicting) and doing restoration projects on motorcycles and cars (I have three in progress).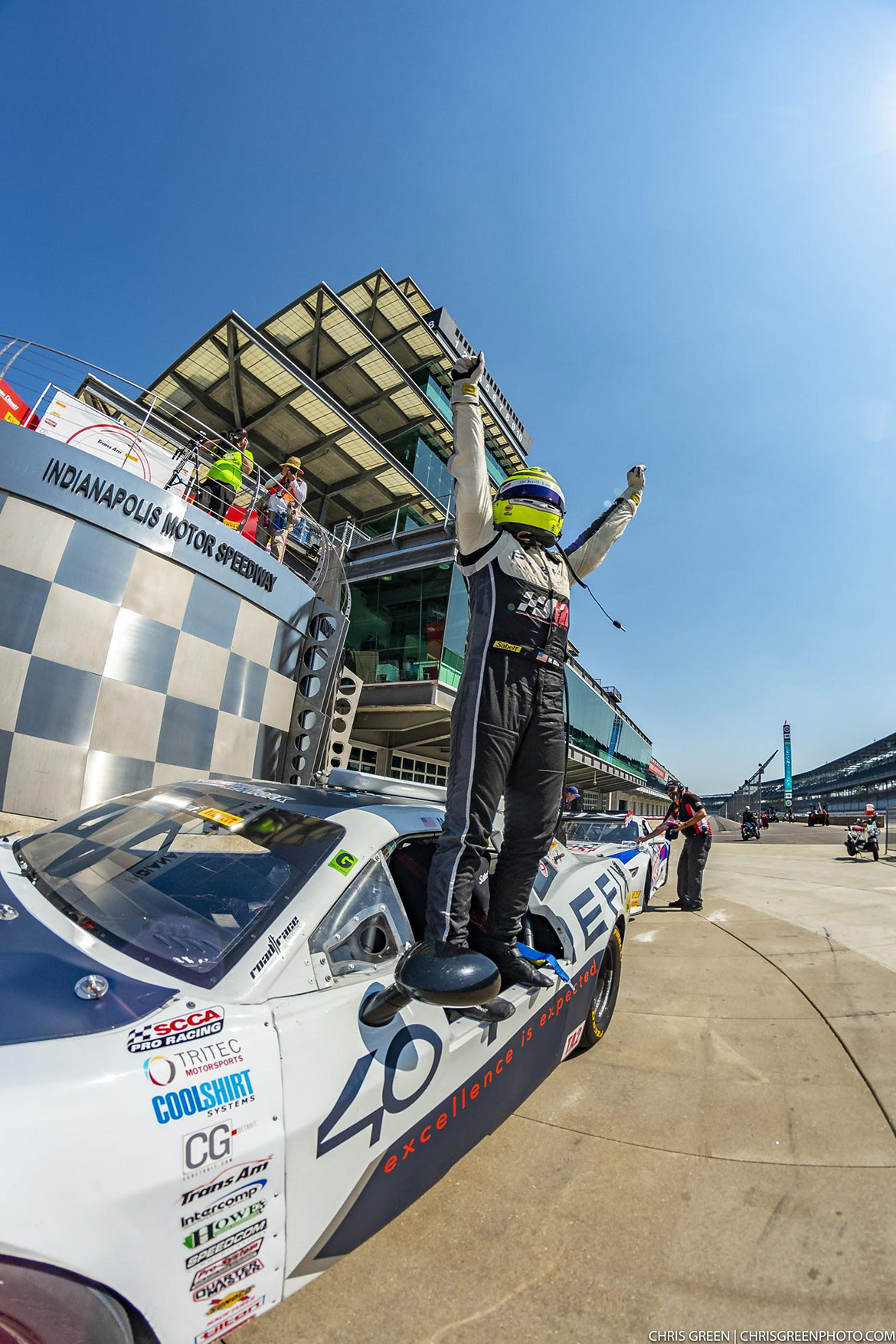 Marc is already gearing up for a return to the Trans Am series TA2 championship in 2020. His excitement is contagious and you can follow him on his social channels: