It was a battle of epic proportions. Covering over 4,400 miles through 16 states while ripping around racetracks and road courses in one week, but our "Rambunctious Redeye" Dodge Charger SRT® Hellcat Redeye Widebody won its class. It was a hard-fought clash that had us going against some factory-supported heavy-hitters competing for the same honors. If you're not familiar with the One Lap of America, or missed our Midterm Recap on DodgeGarage earlier this week, this event not only tests the capability of the vehicle you're driving, but also one's driving skills and endurance while dealing with sleep deprivation and a constant diet of gas station and truck stop fare. When you're on a tight schedule that has you traveling 500 to 600 miles each day, you do what's necessary to stay ahead of the competition. After all, it's the One Lap and there are 71 other competitors battling for position based on points accumulated in timed events at road courses, oval tracks and autocross events. Among the competitors that come from all four corners of the United States, there's also a wide variety of vehicles that include everything from exotic supercars to SUVs from numerous domestic and import manufacturers.
Before you scratch your head trying to comprehend why someone would race a big sedan against sportscars, there's an equalizer that impacts anyone brave enough to enter this strenuous event. The One Lap requires that each vehicle run the same set of tires throughout the arduous event. That means the teams must manage tire wear on both the racecourses and on the highway. If they're not careful, they can destroy a set of fresh rubber after a few days of aggressively hustling around the sharp bends and sweeping corners at racetracks. Remember, no trailers allowed, no support vehicles, you must drive from track to track on the same tires you started out with.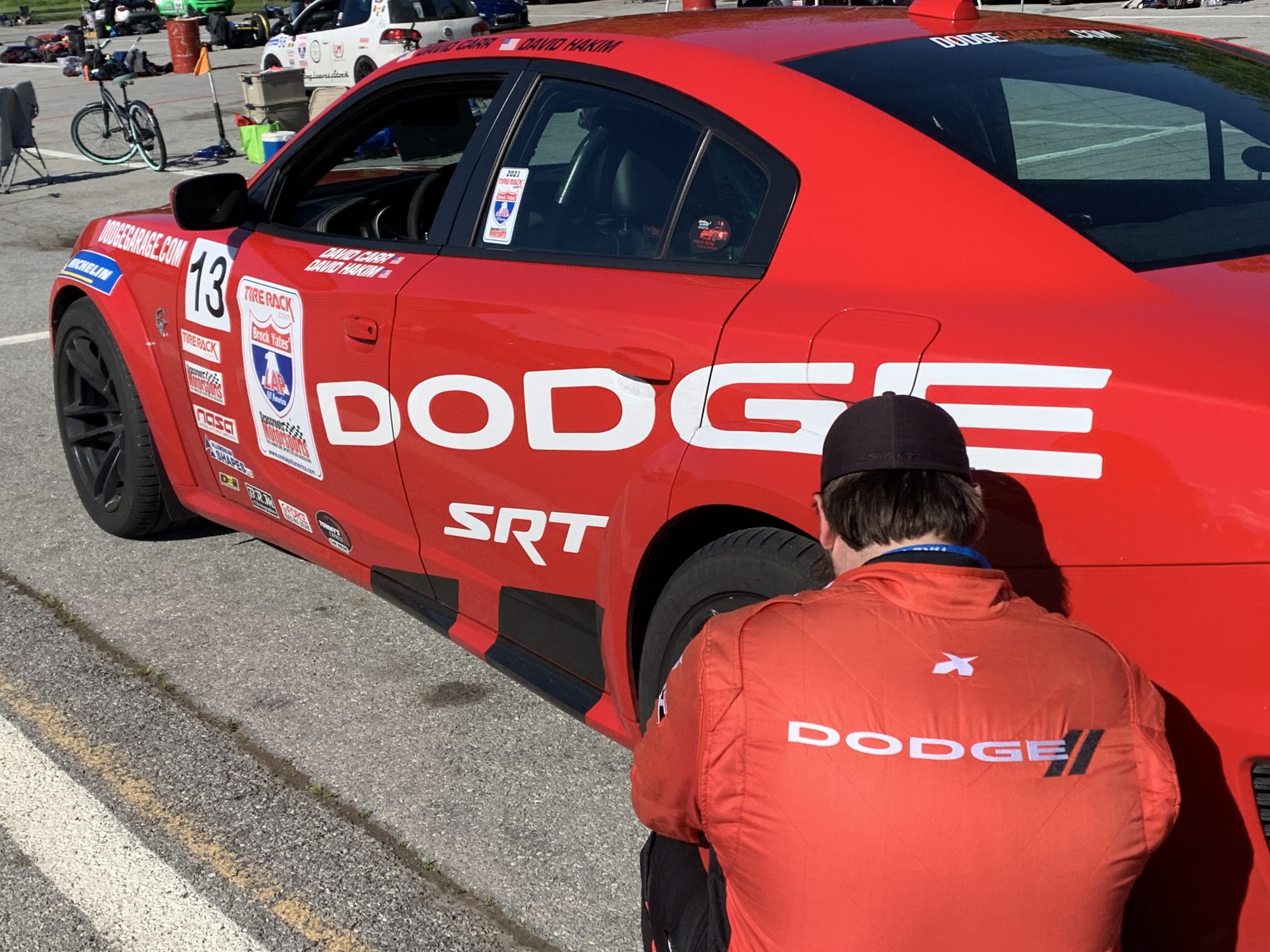 For the "Rambunctious Redeye," my co-driver and SRT Dynamics Engineer David Carr used his skills in making sure we didn't burn through the tires. With its 6.2L supercharged HEMI® V8 machine with 797 horsepower under the hood, that was no easy task. By rotating the tires (perfectly legal per One Lap rules), and adjusting air pressure for track conditions, our Charger SRT Hellcat Redeye Widebody remained firmly planted as we confronted the second half of the race.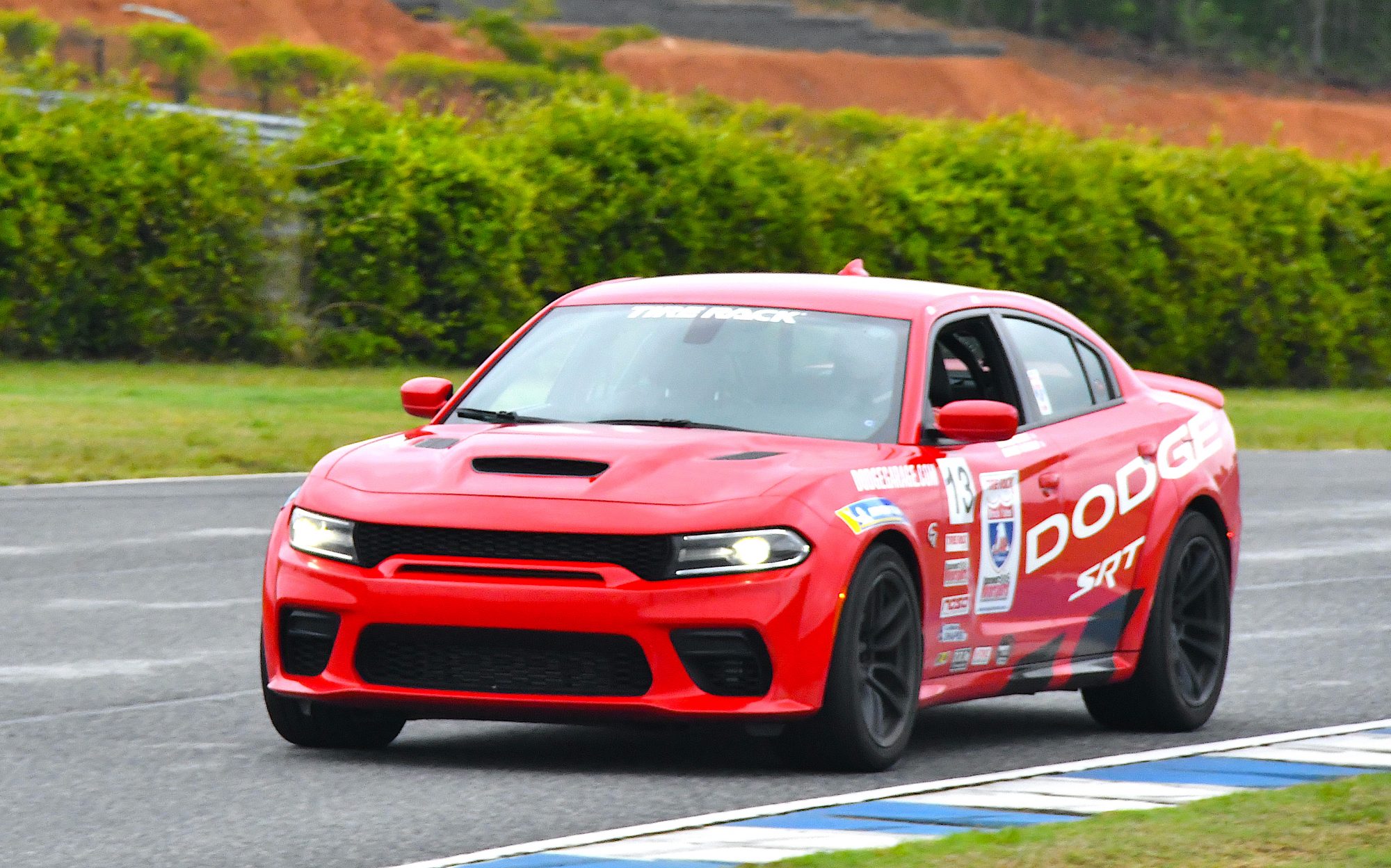 Our next stop after leaving NOLA Motorsports Park in Louisiana was Atlanta Motorsports Park (AMP). We faced rain during the NOLA event, and the foul weather front followed us east to Atlanta, which impacted "Rambunctious Redeye"'s performance on a wet track. "Atlanta Motorsports Park is a tight and twisty rollercoaster track," said Carr. "This track has many blind and technical corners, which makes it a lot of fun, but also requires more than a couple of laps to get it just right, especially in wet conditions." Even though the limited straightaways hinder taking advantage of the Charger SRT Hellcat Redeye Widebody's 797 horsepower, the agility and responsiveness made it easy for Carr to navigate around the course and turn in some great times.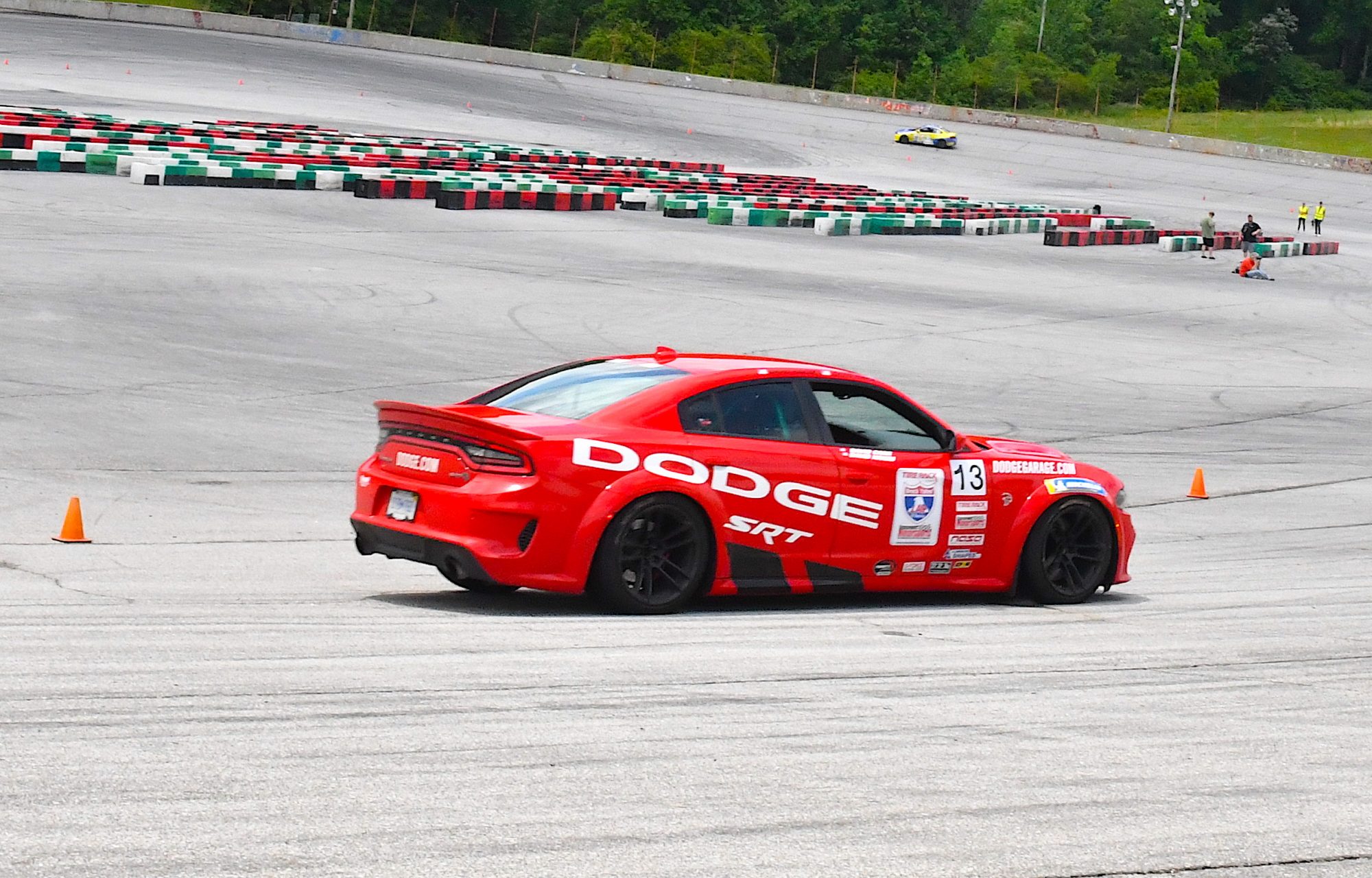 From the twisty bends of AMP, we headed up the road to Lanier Raceplex in Braselton. This 3/8-mile banked asphalt oval had a Ricky Bobby/Talladega Nights vibe, as many a future NASCAR racer had cut their teeth on it. For David Carr, it was like coming home. "I was returning back to my roots as a circle track driver, as I actually used to race here about 16 years ago," reminisced Carr. "I was excited to go back here and to see what the capability of the Charger SRT Widebody would be despite the track being dirty and slick, it still put a lot of stress and wear on the outside tires. To help with this, I staggered the tire pressures, with higher pressure on the outside to support the increased and sustained loading. At corner exit, the supercharged HEMI Hellcat Redeye was able to deliver the torque that I wanted, while the chassis and powertrain calibrations (engine, transmission, throttle) allowed me to just slightly slide the rear end to maximize corner exit speed."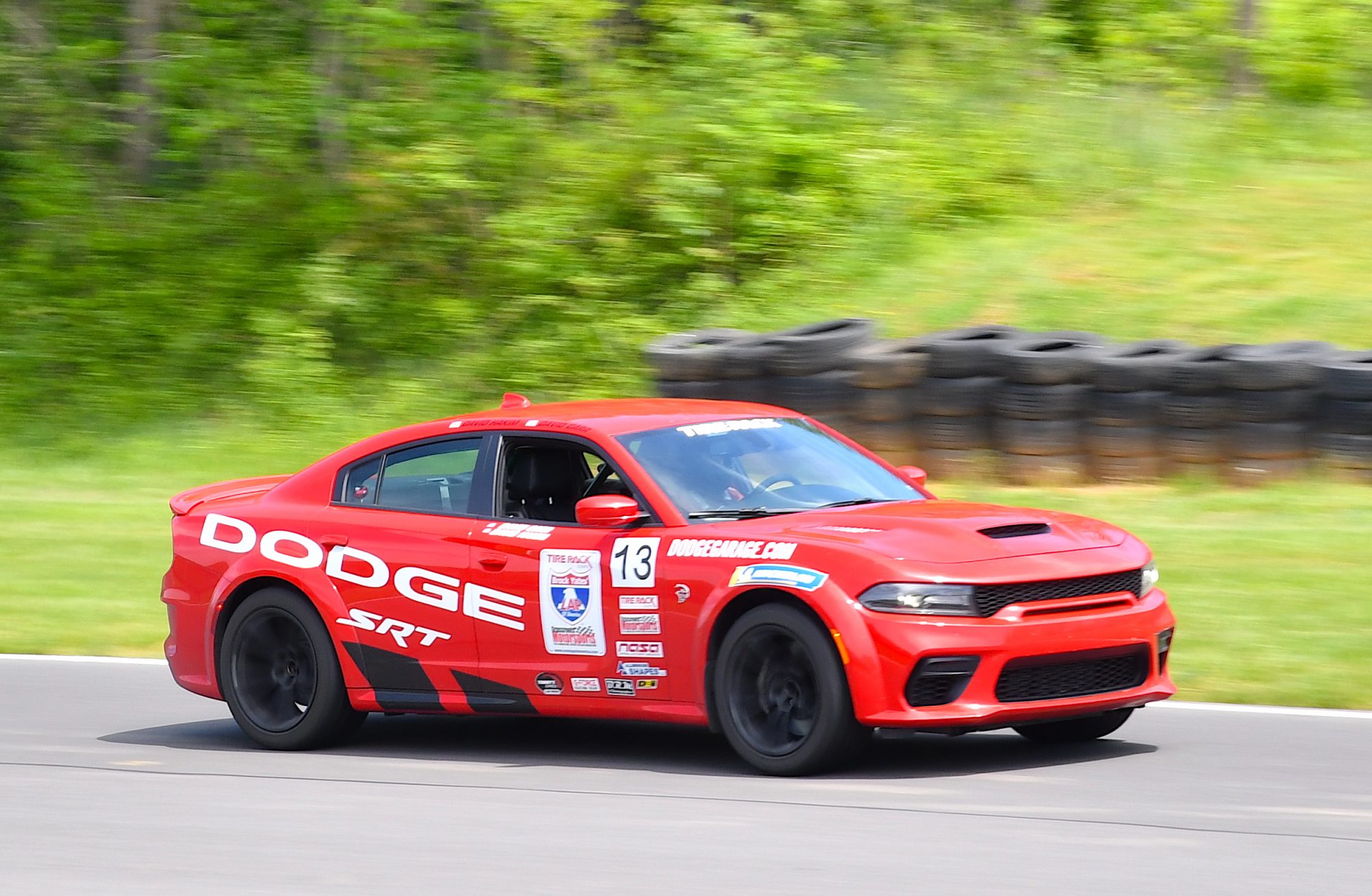 As we left the Peach State, it was northbound to Summit Point Motorsports Park in Summit Point, West Virginia. With the clouds clearing and sun shining, we were rewarded with a dry track that allowed "Rambunctious Redeye" to stretch its paws as it ran over 150 mph on the front straightaway. "This track does not have a lot of blind corners but many deceivingly technical corners. What I mean is that experience really pays off at this track if you want to maximize corner exit speeds," noted Carr.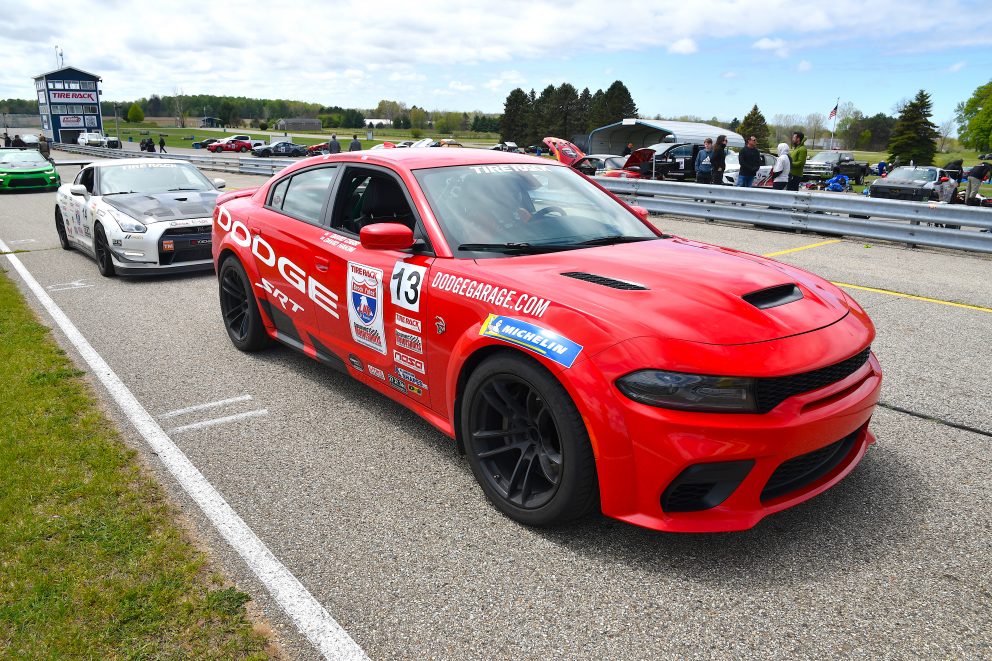 Our next-to-final track event was GingerMan Raceway in South Haven, Michigan. Even though the calendar said May, it felt like mid-November as frost was on the windshield and roof of "Rambunctious Redeye" when we went out to the hotel parking lot to head to the track. "The cold morning near-freezing temperatures made it difficult for our summer performance tires to get a good grip on the track," said Carr. "GingerMan Raceway is also tough on brakes due to its 2.14-mile layout and design, but the production Brembo units on our Charger SRT Redeye Widebody never faded, and I had no problem hauling down the speed when going into sharp corners." After GingerMan, it was a short jaunt back to South Bend, Indiana, where the One Lap of America began a week earlier. The final timed competition was going around Tire Rack's dry Skid Pad where competitors run against time and lateral acceleration. Once again, "Rambunctious Redeye" did not disappoint. Even with worn tires that had seen some tough track duty and thousands of highway miles, there was still plenty of grip left to have a solid finish.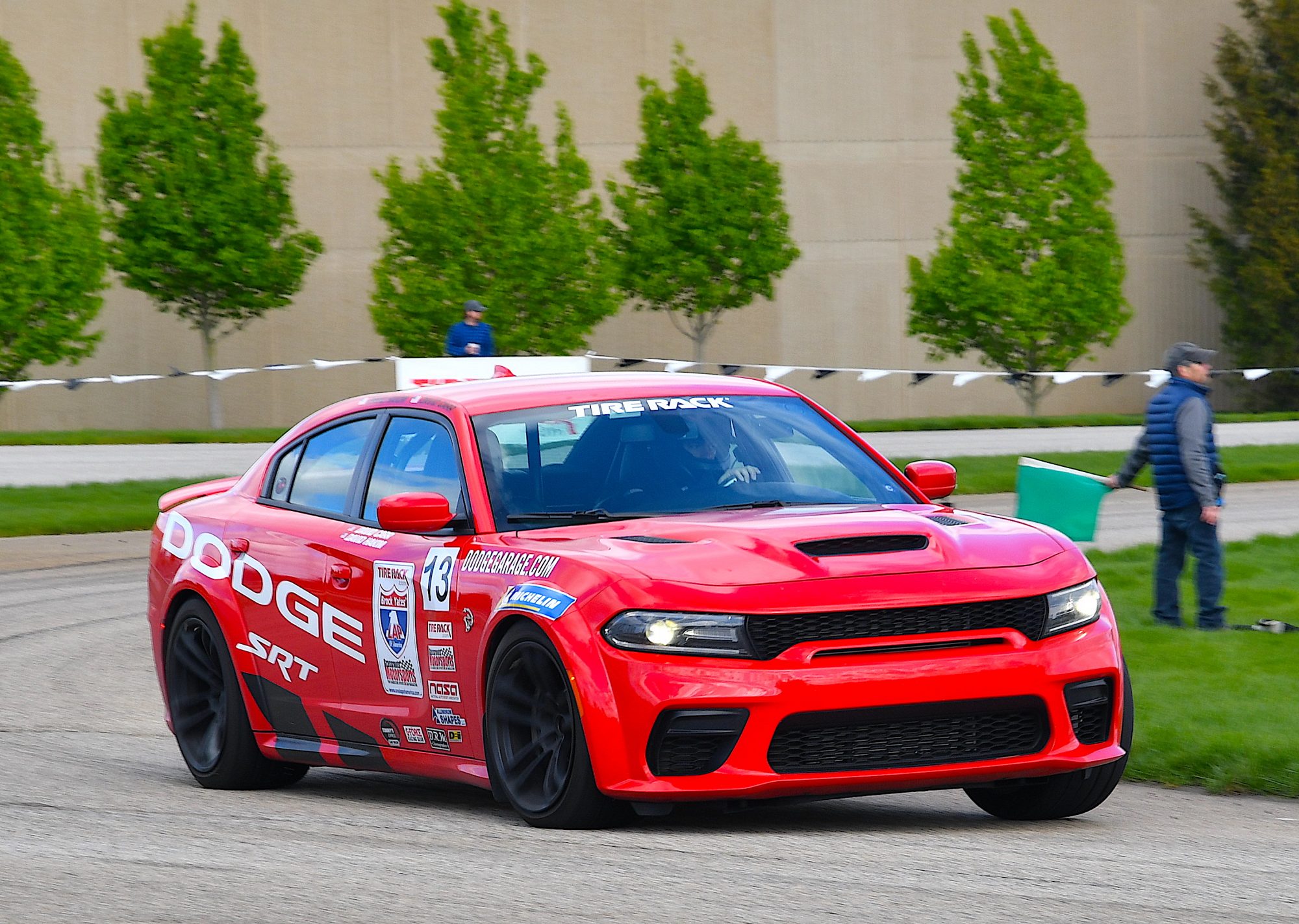 With a first-in-class win and placing 26th overall among 72 competitors, our stock production Charger SRT Hellcat Redeye Widebody has proven to the world that you can have speed, comfort, agility and great looks, while taking on the world in a cross-country adventure. We can hardly wait to see where next year's One Lap road tripping adventures will take us, but wherever we end up, Dodge and SRT will be ready for whatever the competition throws at us!