The Strip at Las Vegas Motor Speedway will see plenty of action this weekend, but for the drivers competing in the Factory Stock Showdown (FSS) class, this will be the last time in 2021 they'll be burning their slicks, yanking the front wheels, blasting down the quarter-mile and pulling their chutes past the finish line. The eight-race NHRA FSS series that began back in March at the NHRA Gatornationals in Gainesville, Florida, will conclude at this weekend's Dodge//SRT® Vegas Nationals. This is the final mission this year for Dodge//Mopar® Challenger Drag Pak pilots who have battled the onslaught of Cobra Jet Mustangs and COPO Camaros in FSS all season long at racetracks across the country. While the NHRA season will officially conclude two weeks later during the World Finals in Pomona, California, our Challenger Drag Pak racers, along with the Chevy and Ford teams, will already be back at their shops, pulling the engines and heading to the dyno room in search of more power for next season.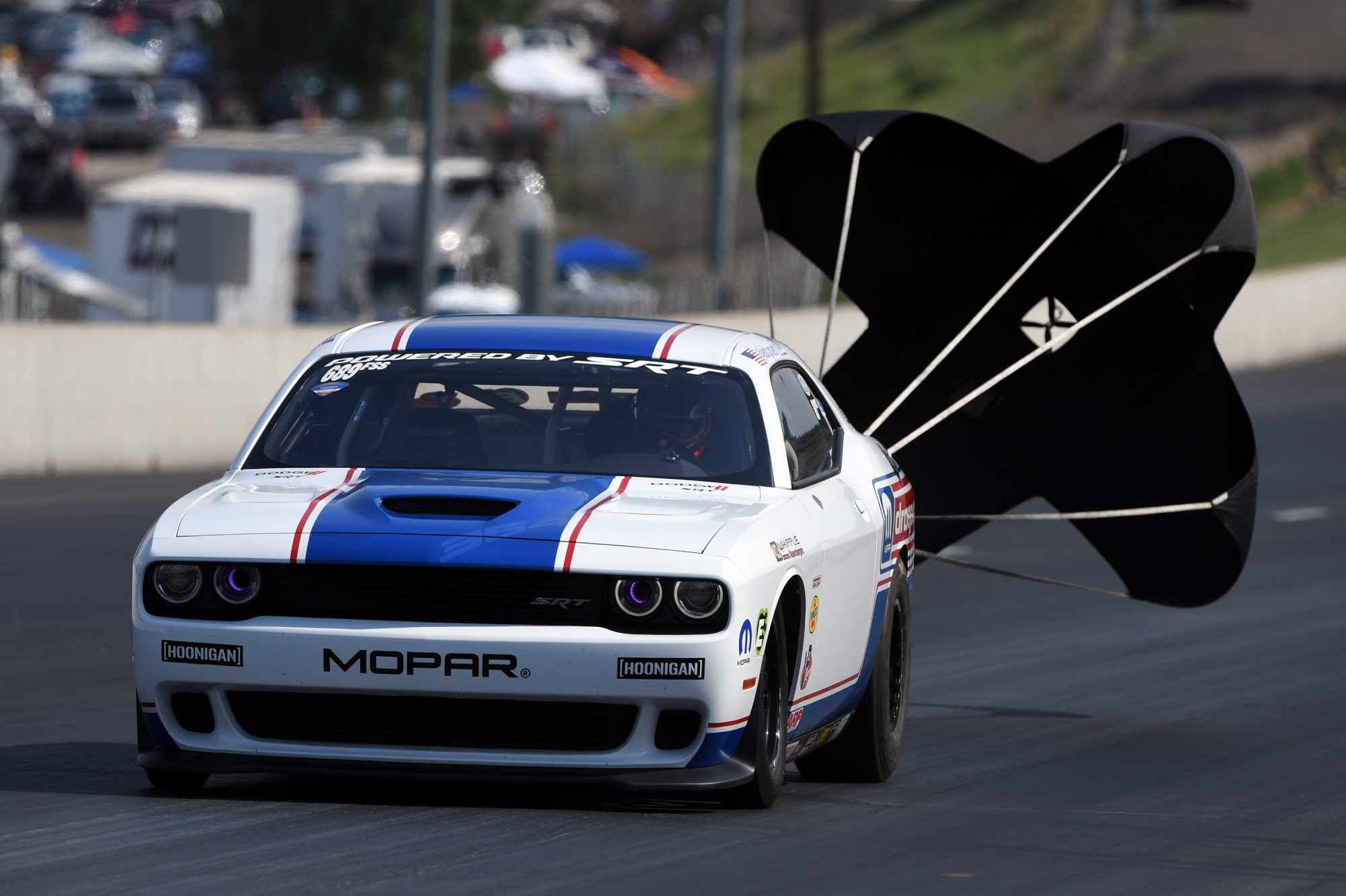 But let's not get too ahead of ourselves, there's a race that still needs to be run and not a soul likes to leave "Sin City" as a loser. Nobody wants to be "that guy or gal" who's maxed out their credit at the casino blackjack tables and is filled with regret on that long flight home on the red eye. The racers who'll be strapping into their 1,500-horsepower machines during the Dodge//SRT Vegas Nationals come to win, regardless of the odds. Dodge//Mopar driver Leah Pruett is ready to end the 2021 FSS season in the winner's circle. "The Factory Stock Showdown finale feels like the ultimate homecoming for me because of how far Dodge and their new Mopar Drag Pak program have come these past four years," said Leah. "Being a part of the program and its progression, then seeing the growing number of new Challenger Drag Pak entries and their own performance journey, has been truly enjoyable. To see a new generation of drivers choose the 2021 Challenger Drag Pak as their weekend warrior or fierce piece of weaponry is outstanding." This 2018 NHRA Factory Stock Showdown World Champ will also be running her Top Fuel Dragster this weekend and is focused on putting both of her HEMI® engine-powered machines in the victory lane at The Strip at Las Vegas Motor Speedway. "A FSS Wally at the final race of the season; I couldn't ask for much more, except maybe a double-up. It's my last shot at it this year. That's what drives me this weekend and why I feel more determined than ever."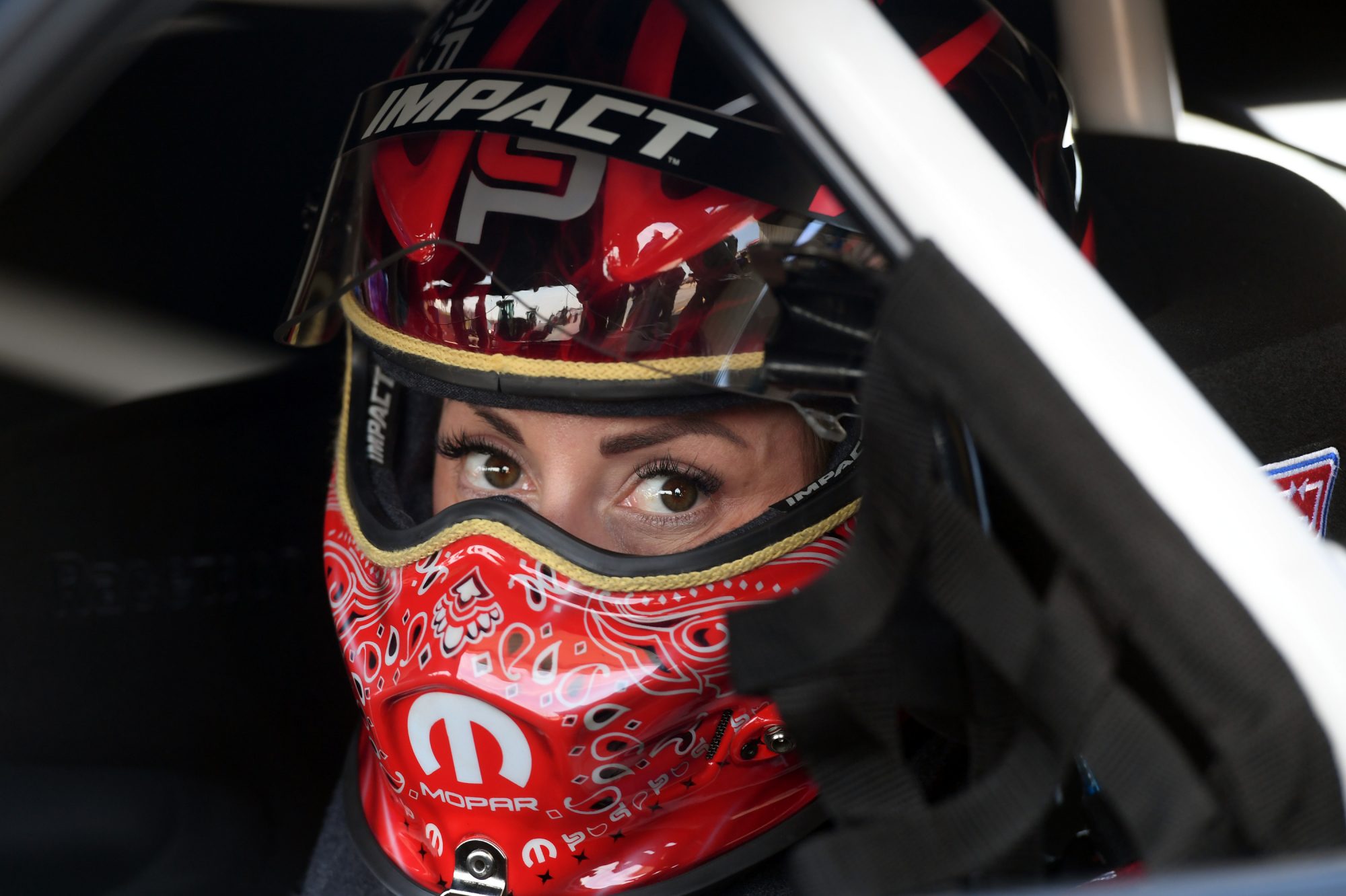 Leah's teammate, veteran Pro Stock racer and Ohio native Mark Pawuk, has also tuned the screws up on his supercharged HEMI engine-powered 2021 Challenger Drag Pak. During last month's NHRA Midwest Nationals in St. Louis, Mark made a big move among his fellow competitors and went all the way to the semi-finals; but despite having a perfect reaction time, he lost to his opponent at the stripe by a mere 23 inches. "After our strong performance in St. Louis last month, qualifying second and advancing to the semifinals, I'm looking forward to finishing out the year at the Dodge//SRT Nationals in Las Vegas. We've made a lot of gains in the last month since we debuted our new 2021 Challenger Drag Pak, and hopefully we can continue that path for our Empaco Equipment, Ohio CAT, Mr. Heater Dodge Drag Pak team this weekend at the last race of the season," declared Mark.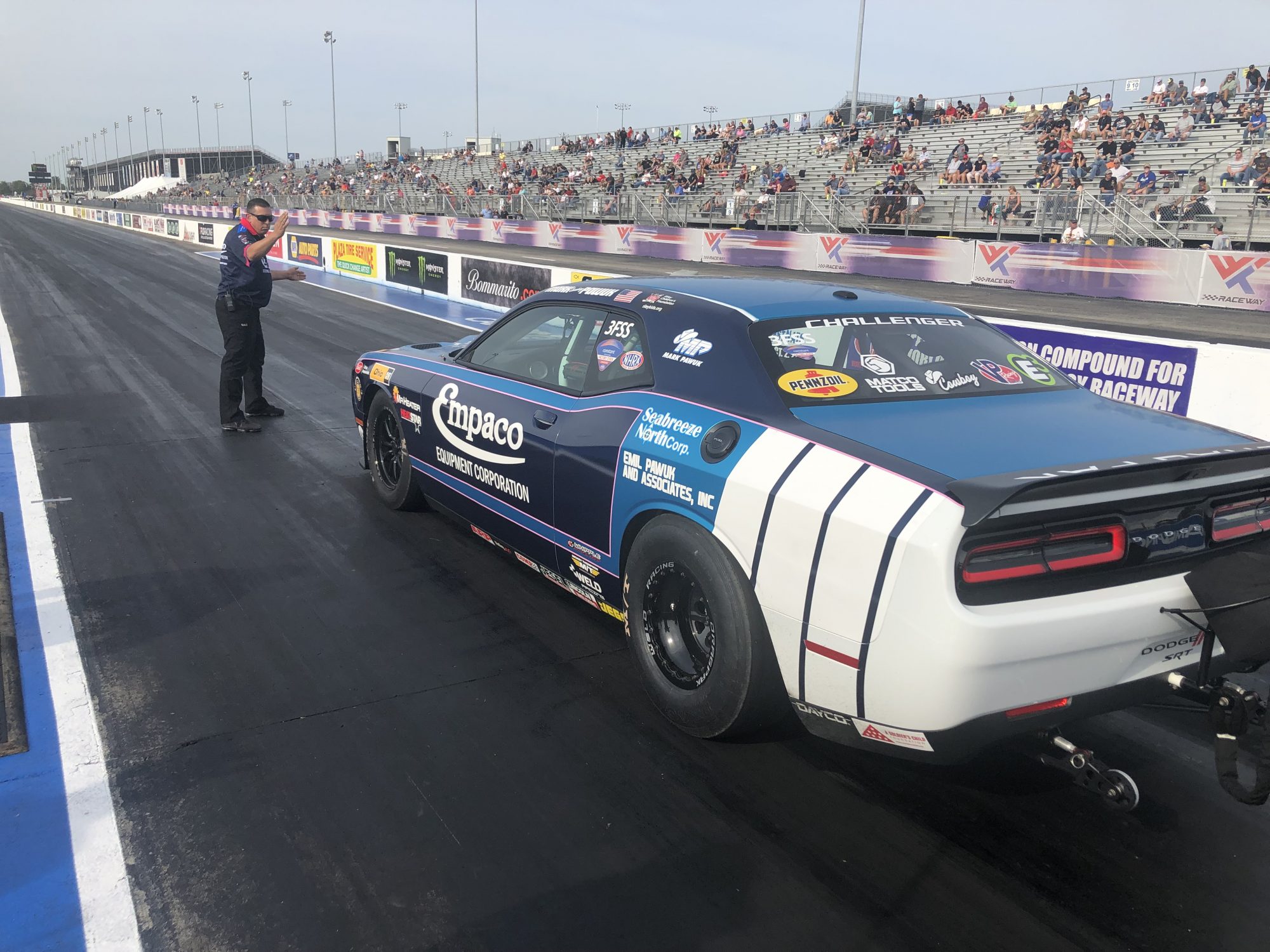 "I'd love nothing more than to win Vegas this weekend," said Mark. "We'll see how the cards fall, but my last national event win in Pro Stock was at the Fall Las Vegas race 10 years ago, so I'm going to work toward that goal of finishing out the season with a win. Our plan is to come out Friday, run strong and be able to tune off of that the rest of the weekend. One goal we've set for ourselves the last couple of races is to be conservative the first run and get data to get us down the race track. Then we can tune from that, and that's exactly what we did last month in St. Louis. The few races prior, we spun the tires in the first qualifying session, and we were behind the rest of the weekend, so I'm hoping we can continue to move the program forward. I'm excited about the direction our team is headed in, and I'm looking forward to visiting the winner's circle very soon."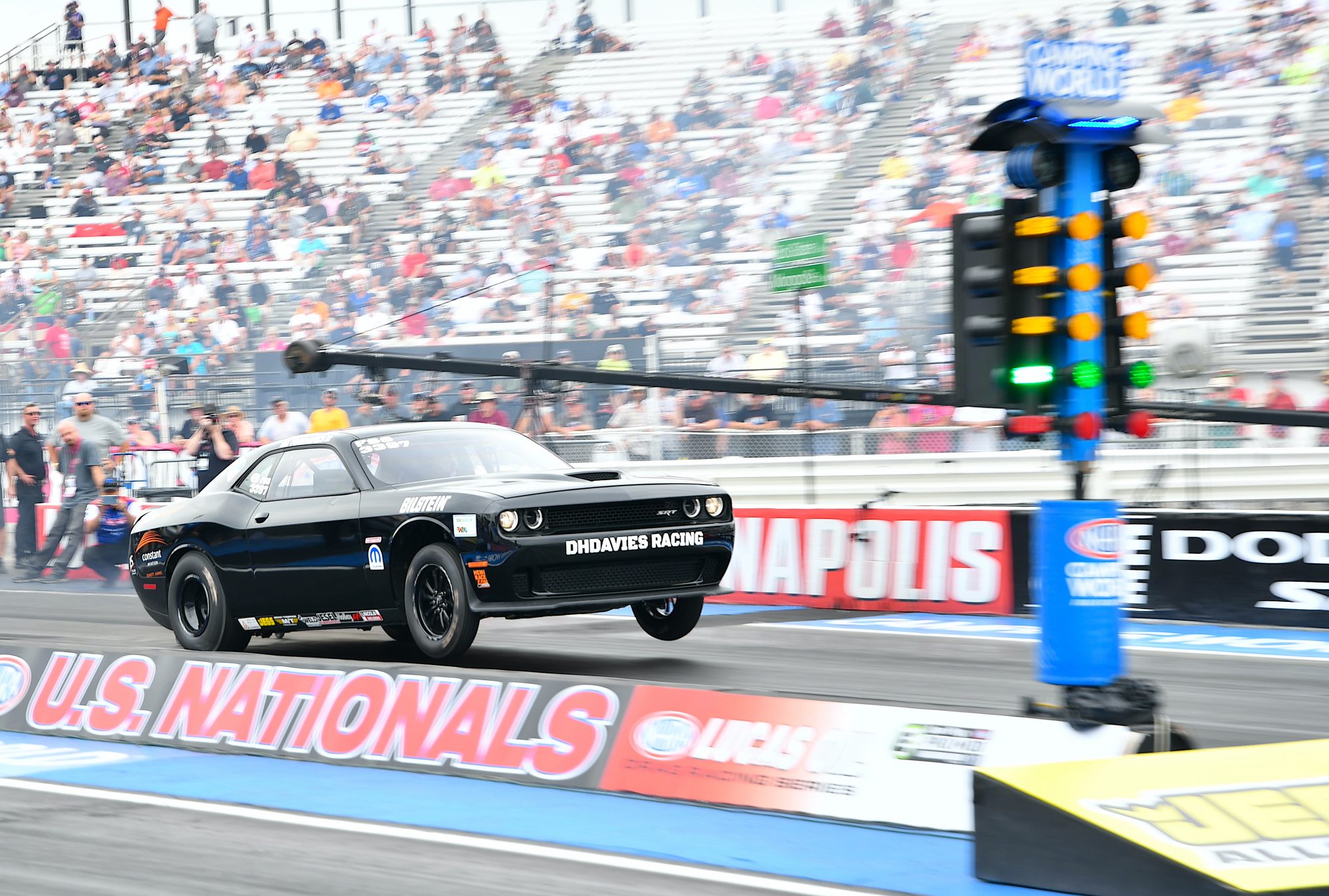 FSS rookie David Davies, with his Pitch Black 2021 Challenger Drag Pak, has also made great strides all season as the performance levels have increased at every event so far. "Vegas marks the last Constant Aviation Factory Stock Showdown Series event of the season. We've had a full month off since St. Louis, and I'm excited about heading into Vegas with the momentum we have behind us. Anytime in Vegas is a good time, especially at The Strip at Las Vegas Motor Speedway. We've improved at every event this year, and the Vegas Nats will be no different. We've made some adjustments during our time off and expect that trend to continue," said David. He also knows what's needed to make these cars run fast and consistent, and his time slips reflect that his team's hard work. "This has been a testing year for us. We knew when we took delivery of the 2021 Drag Pak in April that it was going to take some work, and putting in the work has shown results with a new car, new driver, new team; that's been the season so far. Seat time is critical for all of this. I came into this as a novice in this class, but I have had seat time in a lot of different platforms over the years," commented David. Like his fellow Drag Pak pilots, Leah and Mark, David runs his car out of the Don Schumacher Racing (DSR) shop in Brownsburg, Indiana. "Since joining DSR this year, the team and I have had to acclimate to many changes, but all of those changes have put us where we are. We've pulled together as a team with a single vision – to improve and win. I can't thank the entire DSR team enough – from the front office to the shop, and on the track – for all of the help. The opportunity to work with the team at DSR has enabled me to gain experience and insight quicker than any other route that would have been available. Watching Mark (Pawuk) and how he works with A.J. Berge, Kevin Helms and the rest of the crew in preparation for an event, and to be able to look over Leah (Pruett's) shoulder, ask questions and watch the effort she puts in during the race weekend with both teams is an experience that can't be quantified. It's a master class in what you need to do to succeed, and I consider myself fortunate to be in this position, and with chassis and suspension support from Wesley Motorsports, I can take advantage of this great experience. I'm excited for Vegas, and with this being the last race of the season, there's no reason to leave anything on the table. We have taken the opportunity to make adjustments and based on that information without testing, we've also made some tweaks because of altitude in Vegas."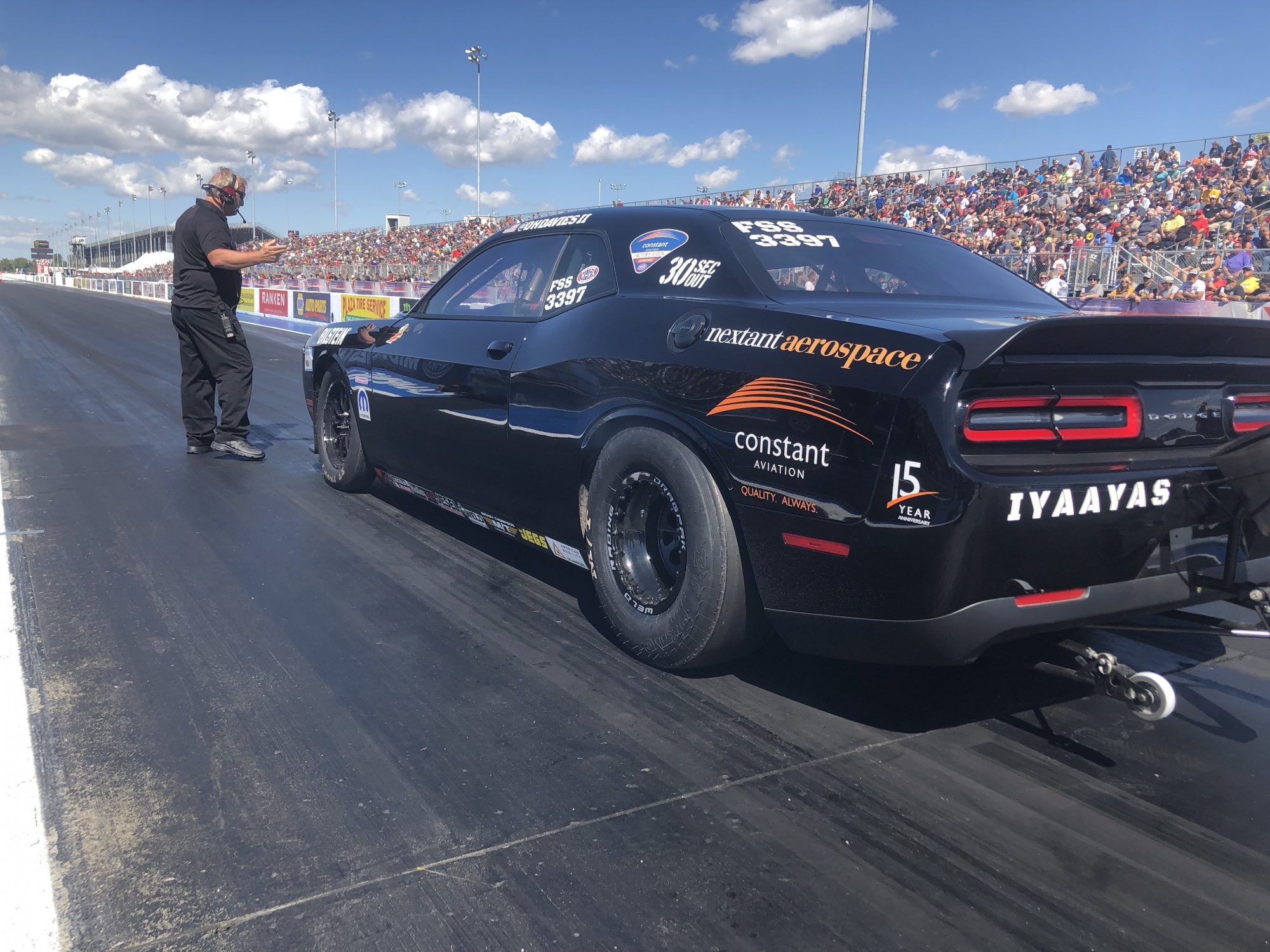 David is also the head of Constant Aviation, the sponsor of the NHRA Factory Stock Showdown Series. He loves going fast in the air, and on the ground, and that's why he digs not only the class, be also competing in it with his Drag Pak. "I am ecstatic with the way things have turned out regarding the class itself from the Constant Aviation point of view. We got into this late this year. We missed Gainesville, and Houston was our kickoff race, and we were on board two weeks before the race. The teams have been receptive. The fans have been unbelievable. NHRA has been great to work with. Next year, we are going to hit the sponsorship hard, and we are going to bring some new features into the class. We are going to do some work to get the Ford Cobra Jet guys back engaged. We want to expand the entries. Overall, we see a lot of opportunity for Constant Aviation to benefit from their involvement with this series."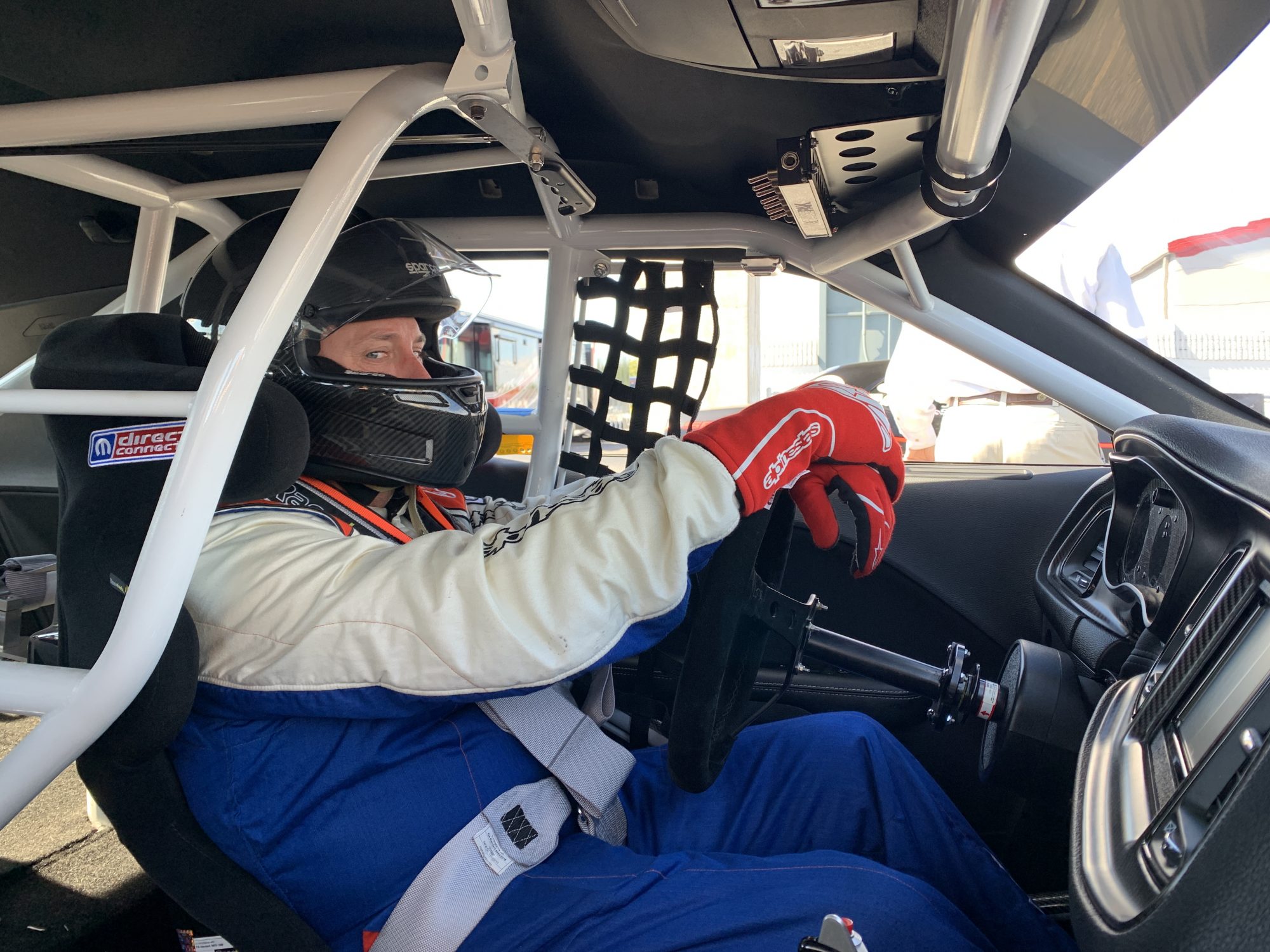 Another rookie Challenger Drag Pak owner that's been having a great season is Dennis Chaisson. This young man has been relentless in making his machine the fastest in the land and has the honor of putting the 2021 Challenger Drag Pak in the winner's circle at the 2021 NMCA World Street Finals at Indianapolis Raceway Park last month. "It's hard to put into words the amazing experience that I've had so far in my rookie season. I had no idea what to expect, and zero expectations other than to go out and see if I could even be competitive in this class," exclaimed Dennis. "But, teaming up with Chuck Watson Jr., Kim and Kimmie Mapes, and the whole Watson Racing crew and family has really been a game-changer for me. Everyone has been incredible to work with, and one of the best parts about these events is just hanging out with a great bunch of people."
As Dennis indicated, the team at Watson Racing was instrumental in making his new 2021 Challenger Drag Pak more of a lethal machine for dominating the strip and putting the competition on the trailer. "Working with Kim and Kimmie Mapes at Watson Racing been incredible. They were very excited to get their hands on the Drag Pak and see what they could do. After all the success they've been having with the Cobra Jet Mustangs, they wanted to prove that they could also make the Mopar Drag Pak fast, and they have! It's been so cool to watch them figure out the car, making it better and better every time we've been out, to accomplish so much with it in such a short time has been no small feat!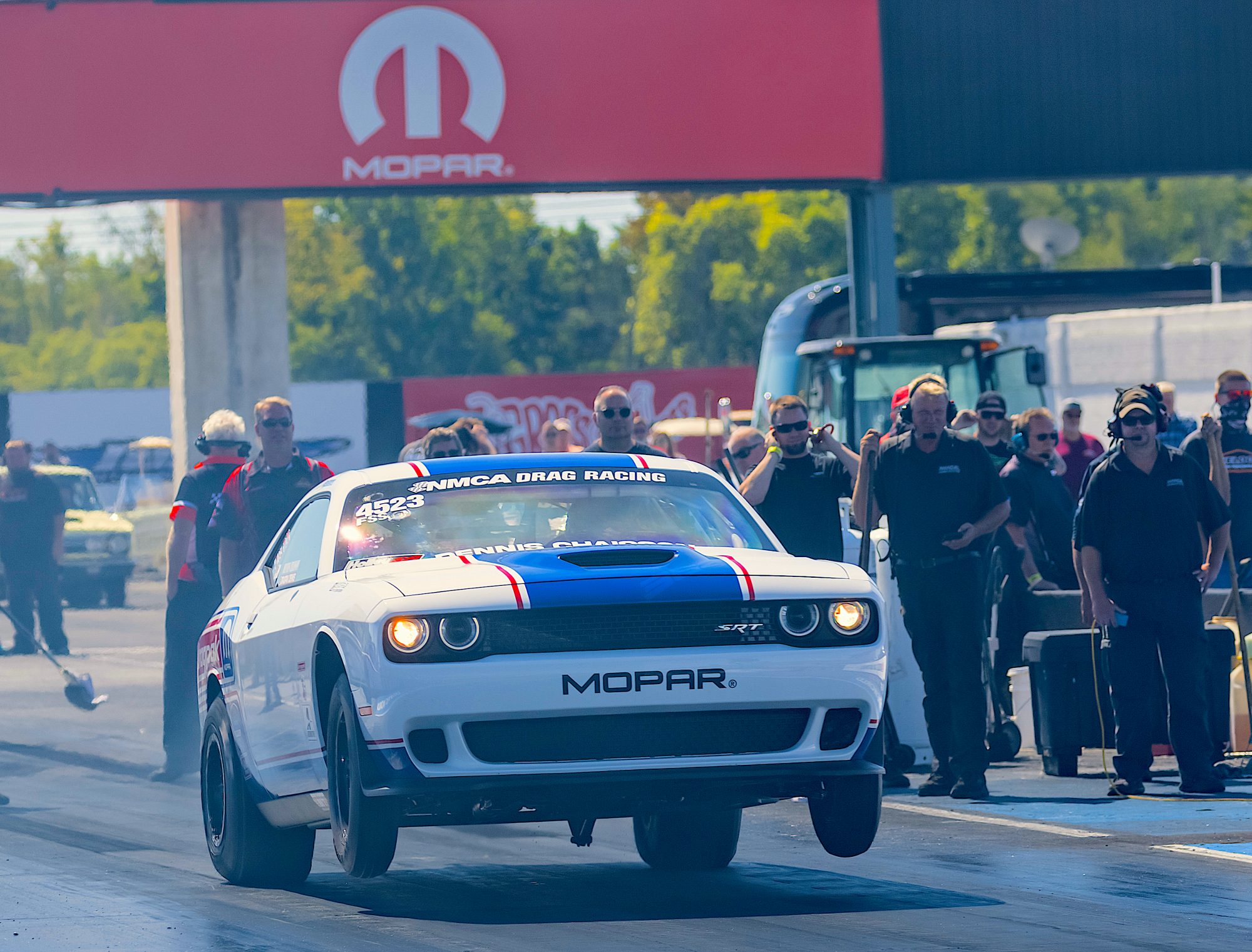 For Dennis, it's a great feeling to be heading to Vegas with a competitive car. "Regardless of what happens, we feel extremely proud of how far we've come; but don't get me wrong, we really want that NHRA Wally as we're all competitors, but we are also friends and teammates. It's going to be great racing against them and the whole field this weekend at the Dodge//SRT Vegas Nationals."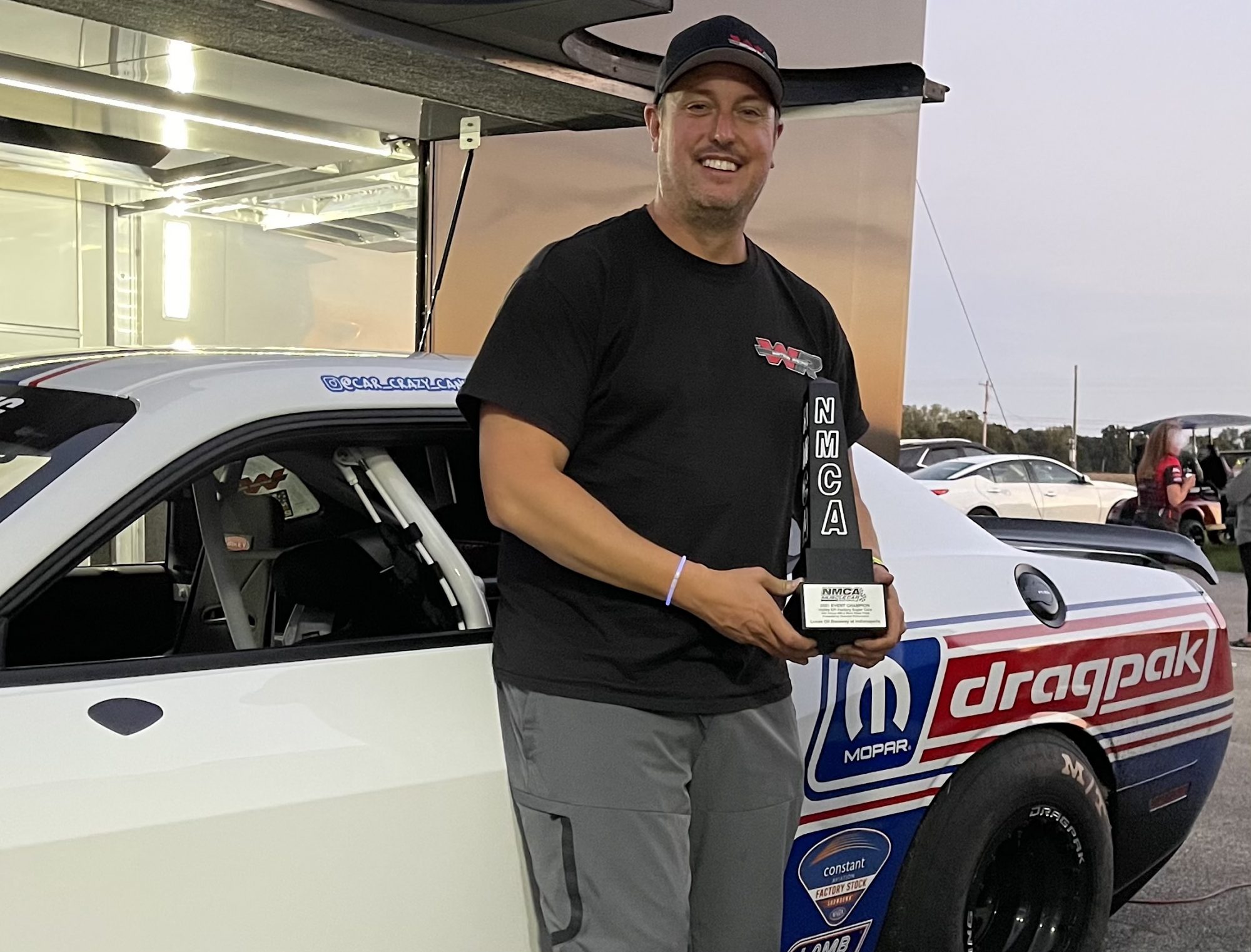 There will be 16 FSS entries battling it out in Vegas this weekend, but there can only be one winner. Our Drag Paks will have their work cut out for them as there's no odds-on favorites to come out victorious in this matchup. But as we're in the twilight of this season, and the sun is starting to set on 2021, rest assured our drivers will go down swinging till the end. They'll look back on this year as the time the competition heard the roar of our mighty supercharged HEMI V8 engines.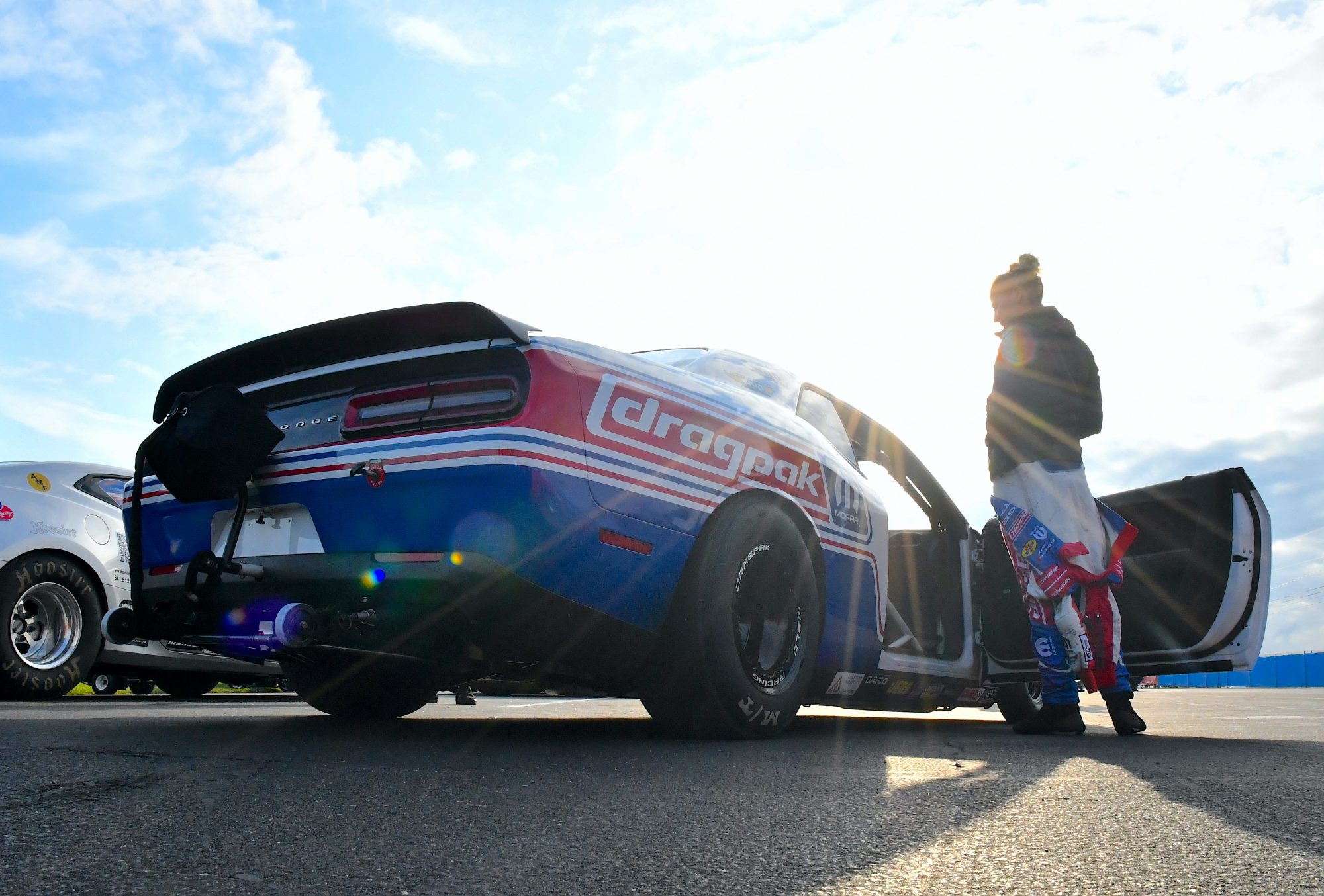 Here are some pics of Pruett, Pawuk, Davies and Chassion putting their new Challenger Drag Paks through their paces throughout the 2021 racing season.