Part I of our 2023 SEMA Show coverage gave a sampling of the hottest Mopar® vehicles on display inside and out of the massive Las Vegas Convention Center. "Global Powerhouse Event" is what this trade event has been called, and when gazing at the high number of international badges of visitors, it's clear automotive industry members from all over the world make this a "must-see" event. It's always a place to see what is going on in the aftermarket and with the Direct Connection involvement cancelled at the last moment, there was concern about enough subject matter for an ample report. No worries there, as the Mopar scene in the performance world is alive and well!
WELL-KNOWN '55 PLYMOUTH SAVOY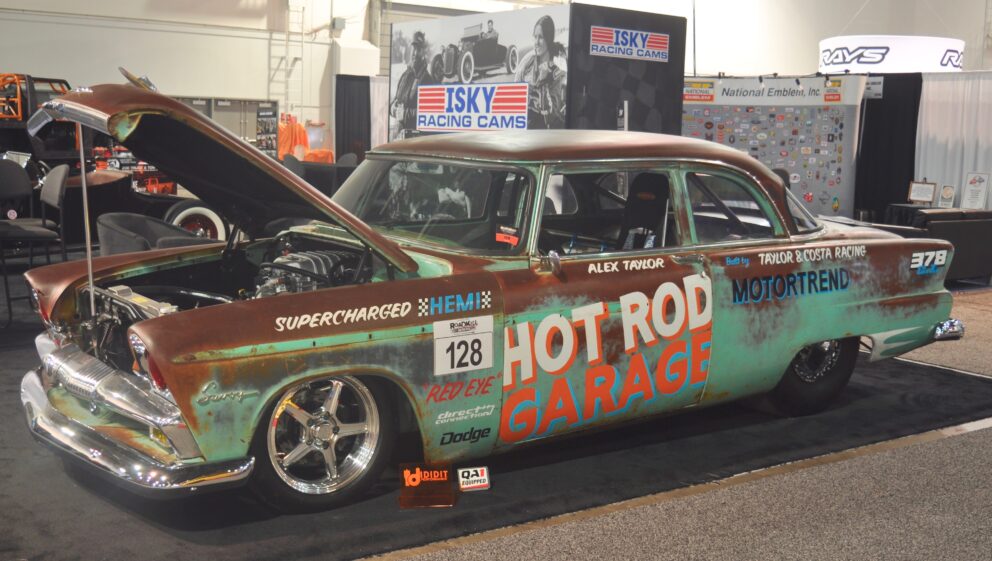 Highly publicized 1955 Plymouth Savoy 2-door sedan, a car created specifically for the Roadkill Nights Grudge Race program. 6.2L Redeye HEMI® engine, 2-speed Powerglide, tube chassis, it's a full-on drag car capably driven by Alex Taylor. Lucky Costa and the Hot Rod Garage made it all possible. This popular car was featured in the Isky Cams booth!
RING BROTHERS TUSK CHARGER
Mike and Jim Ring came from Wisconsin to again partake in all the Las Vegas SEMA action! A slick 1969 GEN III "Hellephant" HEMI Charger with 1,000 horsepower, backed by a six-speed Bowler TREMEC T-56 Magnum manual transmission. A Roadster Shop chassis (1.5-inch wheelbase extension) and loads of subtle body mods front to rear, creating a true one-of-a-kind ride. And as a side note, the build included adding a flip-open fuel cap to the passenger's side as well, just like the original Charger designers had wanted. Jim summed it up this way: "The second-gen Charger is one of those cars that's so iconic as the zenith of the American muscle car styling and performance, and that's what we set out to replicate with this build." And it was a big hit at the show!
HELLCAT '58 PLYMOUTH FURY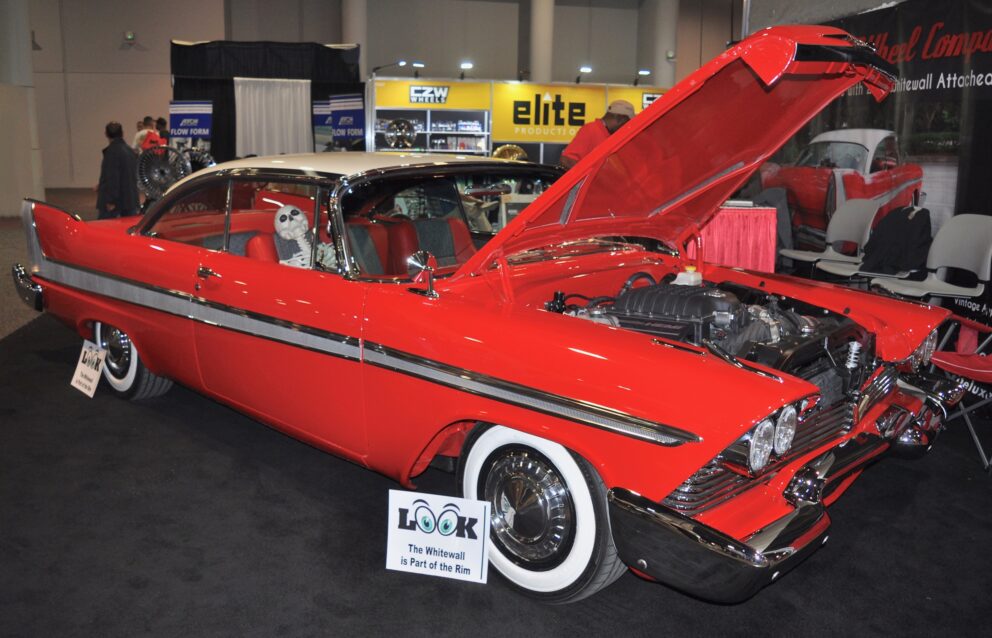 Displayed at the Deluxe Wheel Company booth showing off their unique "whitewall" 20-inch diameter wheels, the 1958 Plymouth Fury has a complete engine to IRS rear end Gen III SRT® Hellcat setup, done up as if the factory produced it back in 1958! Interior features SRT Hellcat Steering, shifter and A/C. The presentation is flawless, and while talking with the owner John Ferber, he announced the car is up for sale, and mentioned that during restoration, the only place he could find a nice windshield was from Sweden! www.deluxewheels.com
TSR IN THE HOUSE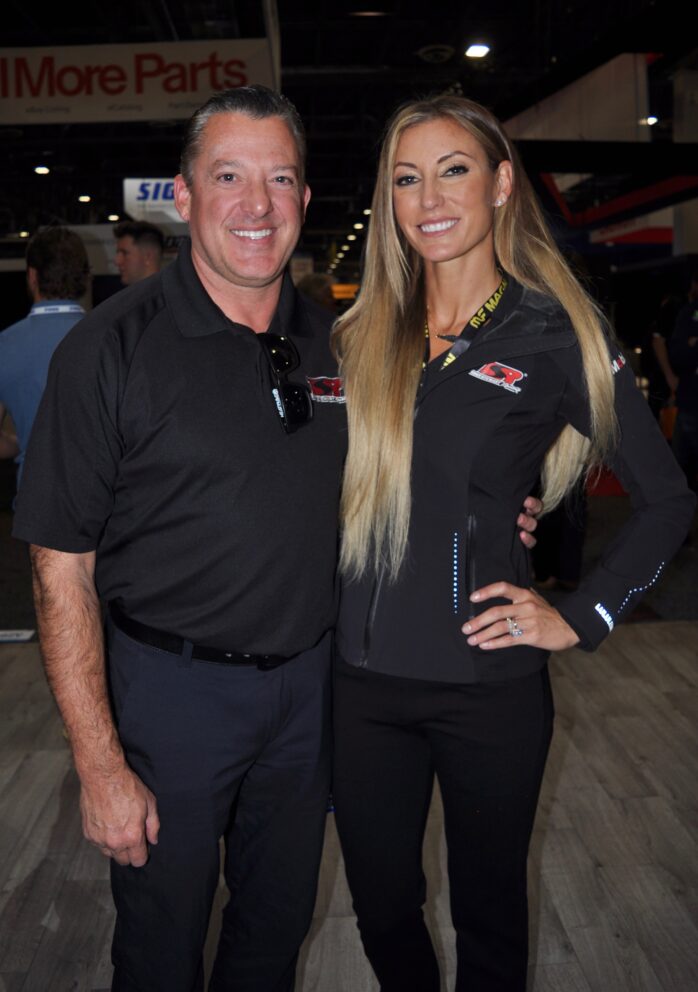 A visit to the AAPEX Show held at the Venetian Expo, caught up with Tony Stewart and Leah Pruett while at the Mahle exhibit, talked a little NHRA drag racing and listened to the company's presentation. Always something going on with the parts suppliers!
SEMA GEAR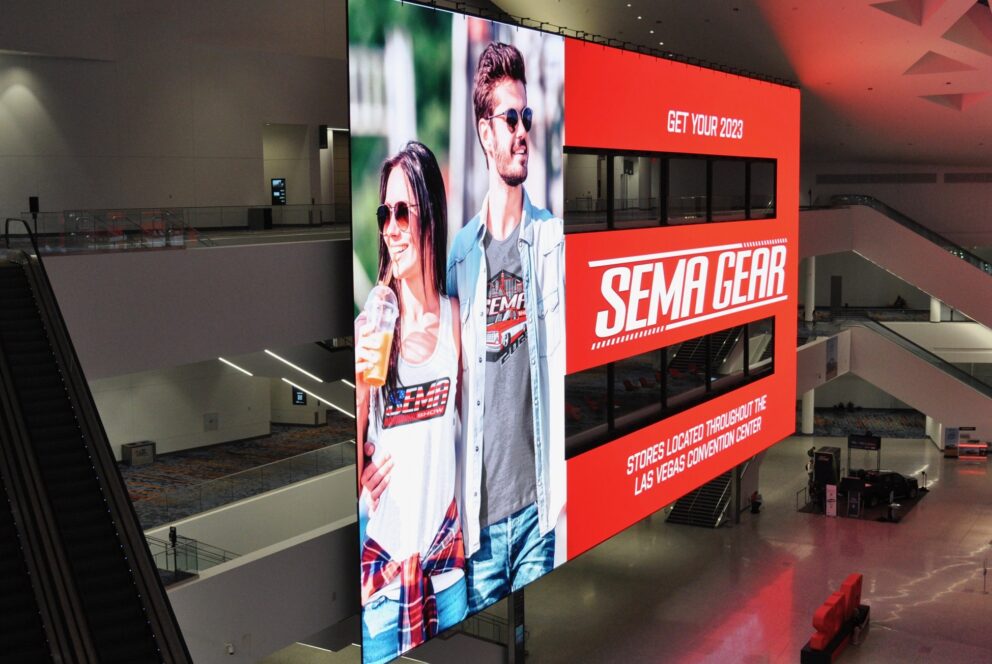 Throughout the SEMA Show halls, there were numerous stores featuring wide varieties of "SEMA GEAR". And with long lines of people making their selections of wearables, year after year, show visitors want keepsakes of this event!
DIRECT CONNECTION DURANGO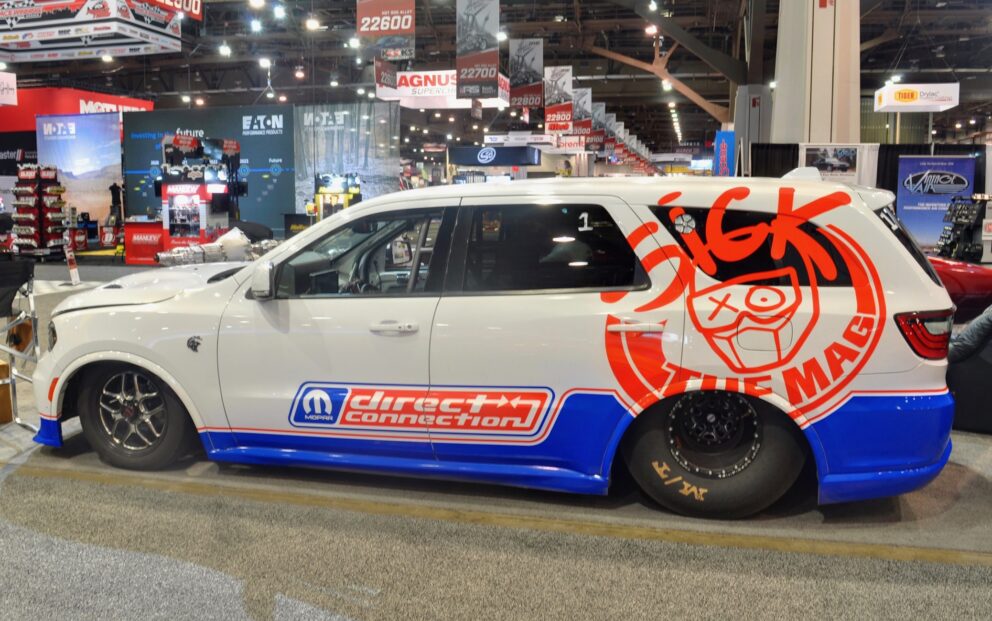 Tom Bailey displayed his wild Durango and with some recent mechanical issues while on the road during "Death Week" activities, they plugged in a new HEMI engine for the visit to SEMA, where he was able to cruise the famous Las Vegas Strip!
CHALLENGERS INSIDE AND OUTSIDE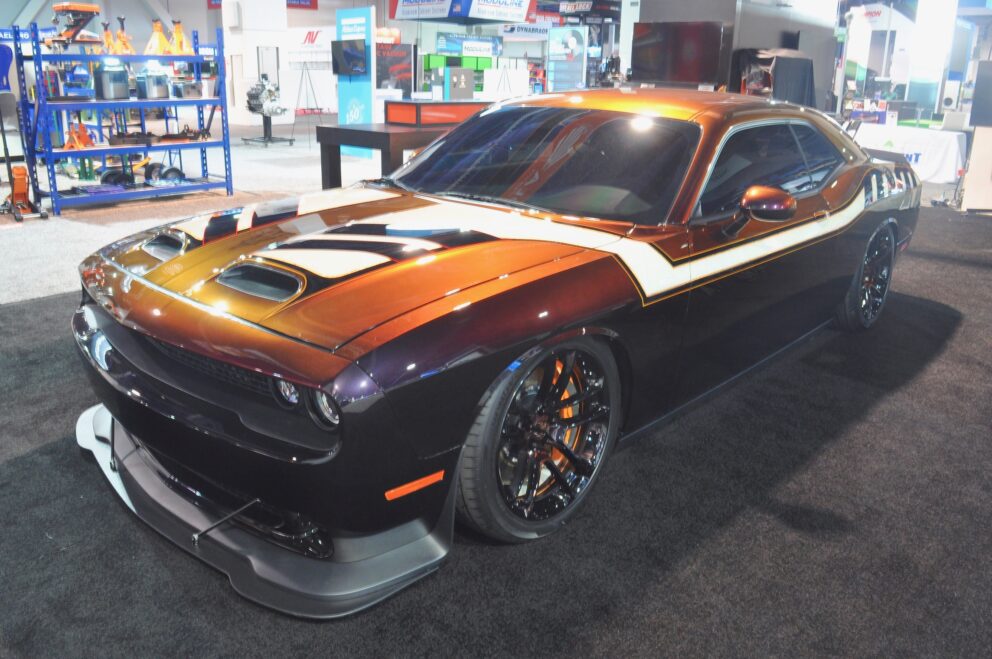 Walking the various convention halls as well as the parking lots outside on Paradise Road, there was definitely no shortage of Dodge Challenger feature cars!
HEMI MAGNUM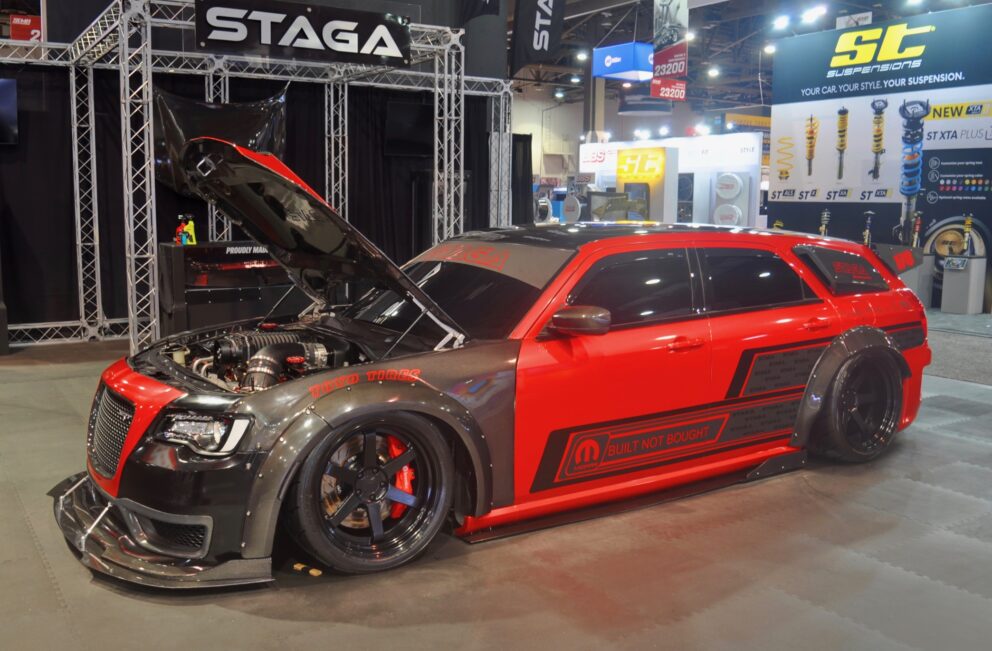 Fitted with a 4.5L Whipple Supercharger, the Staga Dodge Magnum features composite body panels and reworked suspension, big brakes and sticky Toyo rubber … suitable for both straight line and cornering. HEMI engine-powered station wagons are cool!
GEN III HEMI ENGINE-POWERED '72 DEMON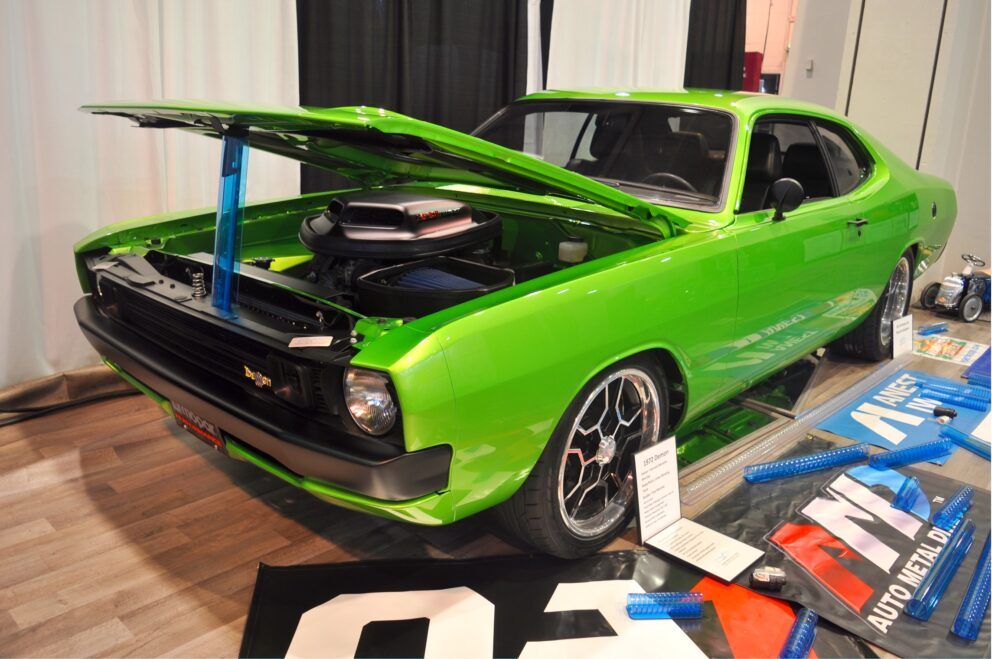 Tom and Michelle Weirzba brought their well-sorted '72 Dodge Demon to the show, it's powered by a 6.4L GEN III HEMI engine (truck block, Challenger internals) backed by a TKX 5-speed and 8 3/4-inch rear end, 3.55:1 gearing. This Green Machine rolls on 18-inch diameter rolling stock and a Shaker scoop from a 2018 Challenger was added, with shaved, blacked-out and tucked bumpers. Flawless body panel prep was done with Linear Blocking Tools. Spectacular A-body!
WELDERUP POWERWAGON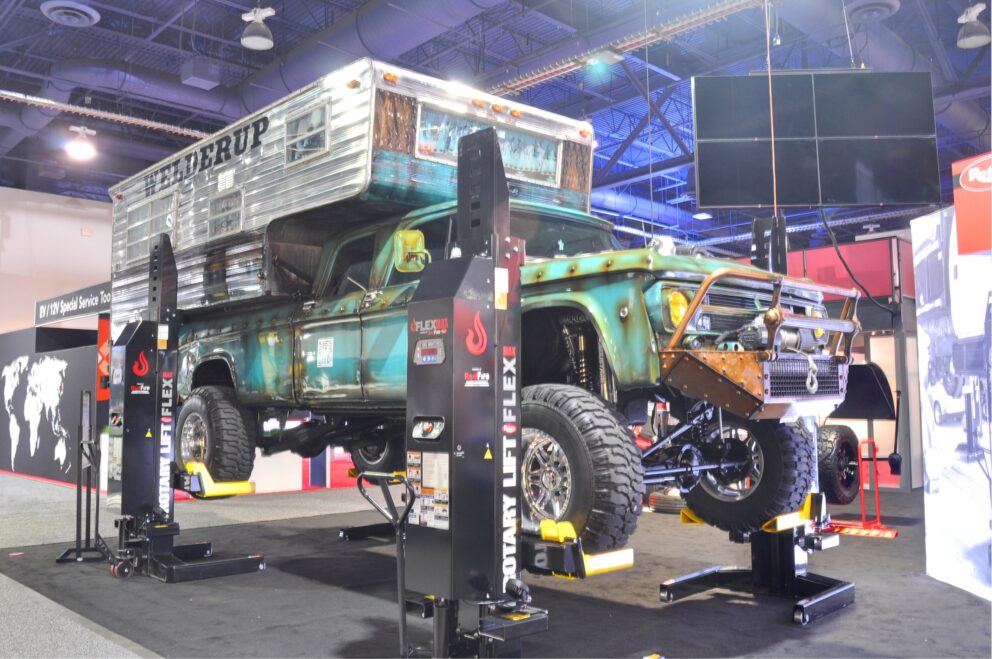 Painted a Tropical Turquoise color, it's Steve Darnell of "Welder Up" fame's rig, with some creative airbrushing work … a 1967 Dodge Crew Cab Camper Special done up with modern underpinnings and slip-in camper.
HIGHBOY RAM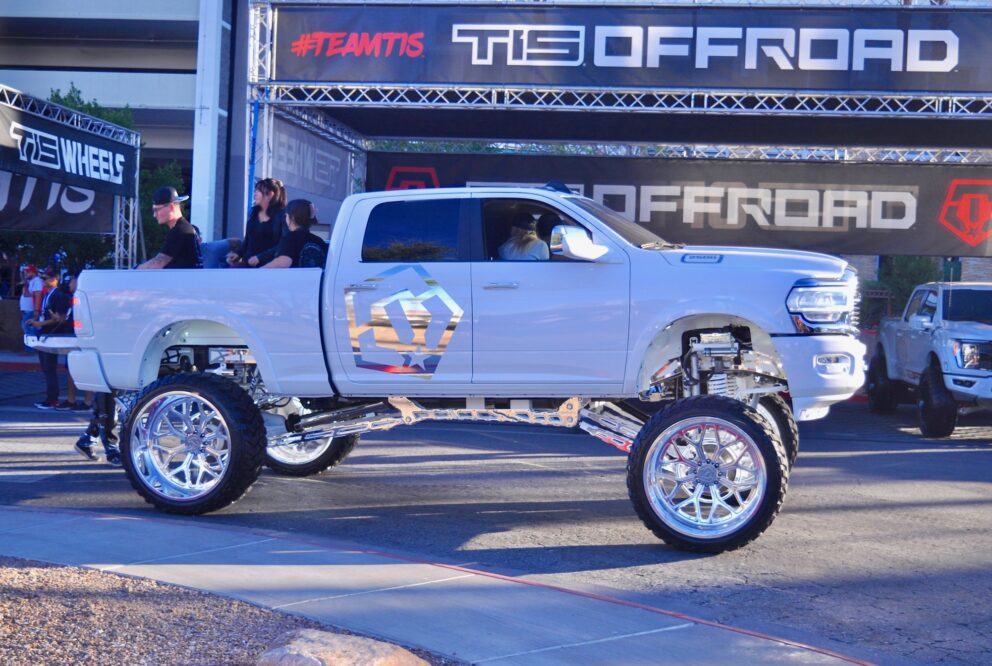 As SEMA '23 comes to an end, it's time to roll out the display vehicles and head for home – in this case, it's a heavily modified '22 Ram that came all the way from Canada!
VIVA LAS VEGAS SEMA STYLE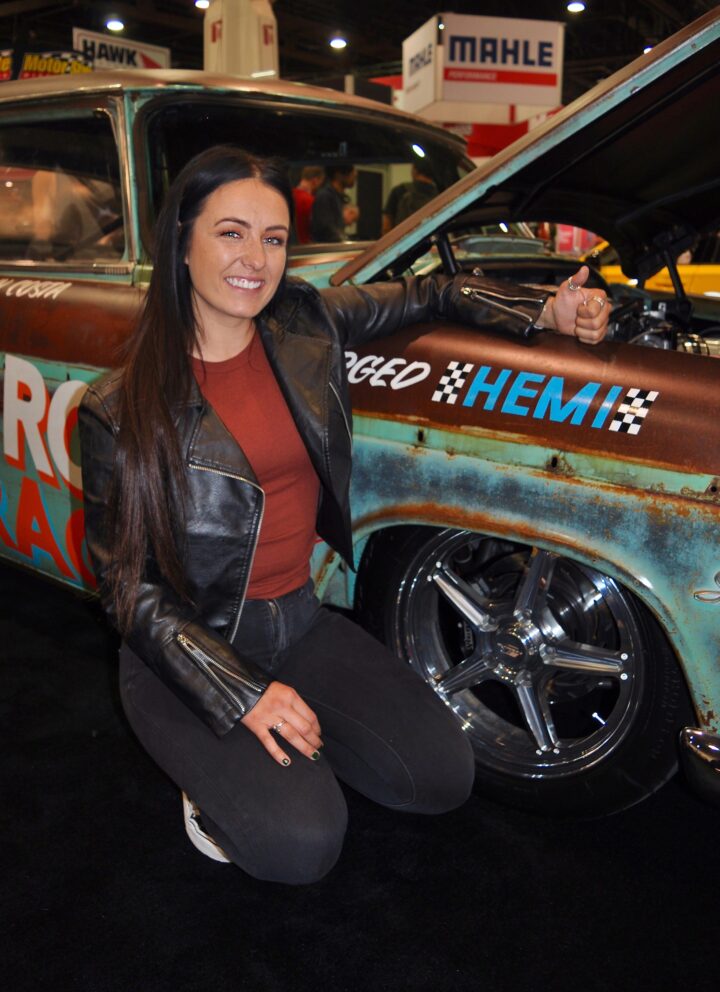 The flash and glitter of Las Vegas is widespread, throughout, up and down The Strip, the big casinos and downtown. For those in the car and truck world, inside and outside of SEMA there's an overflow of automotive aftermarket flash and glitter as well!
PLANS UNDERWAY FOR SEMA 2024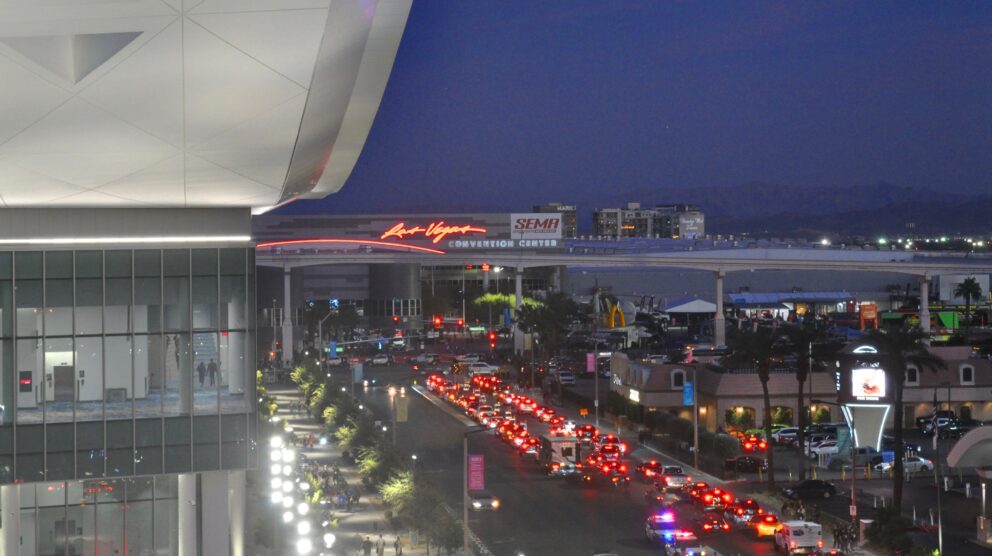 SEMA Show '23 is over, it was by all observations, another success and next year plan to see some truly "electrified" action showcased with Direct Connection! Never too early to make plans to attend, it takes place November 5-8, 2024.
Author: James Maxwell