Canada Got One More Year of Scat Pack Fun
Every good Dodge fan knows about the Dodge Scat Pack, a sort of precursor to the modern Dodge Brotherhood of Muscle. Launched in 1968 as a sort of umbrella beneath which the muscle-bound Dart GTS, Super Bee, Coronet R/T and Charger R/T thrived, magazine ads touted the Dodge Scat Pack as "the cars with the bumblebee stripes" – a reference to the unique vertical tail stripe applied to the aforementioned muscle models of these popular Dodge Brand vehicles.
It didn't cost anything – beyond the purchase of a new 1968-71 Dodge muscle car – to enjoy the Scat Pack, but those wishing to join a club could indeed become a member of the Dodge Scat Pack Club for just $5.95 (no vehicle purchase required). With some 14,000 members, Dodge supplied them with stickers, newsletters, catalogs, an all-weather racing jacket and more. Today, these bits of Dodge Scat Pack Club history are highly valued.
But after seven years, the American muscle car boom was running out of time as 1970 gave way to 1971. Looming emissions regulations, a weak national economy, escalating fuel prices and growing ecological concerns put an end to unchecked horsepower increases – and the Dodge Scat Pack – by the start of 1972. Except in Canada.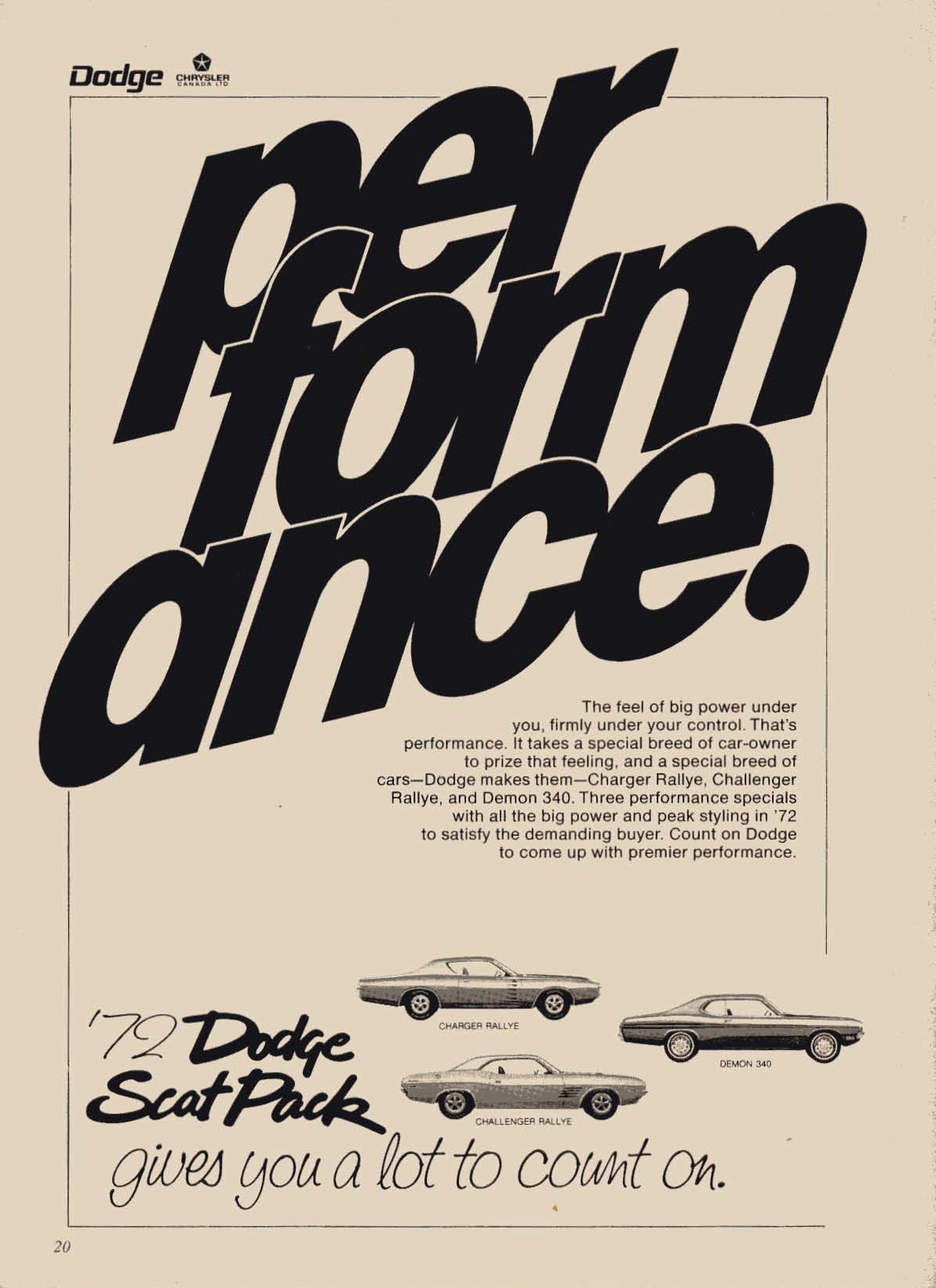 As this month's Page From The Past shows, "Performance" wasn't a dirty word north of the border. Even though Canadian Dodge buyers also lamented the loss of the 426 Street HEMI® engine-powered vehicle, 440 Six Pack, big block Challengers, and the Super Bee and R/T muscle car nameplates in 1972, the Dodge Scat Pack lived on for an extra year in the form of the Demon 340, Challenger Rallye and Charger Rallye.
Though the Demon and Challenger were restricted to the 240 (net) horsepower 340 small block, the Charger Rallye could still be had with a 400 or 440 big block wedge – complete with bold red-on-chrome hood bulge emblems touting the fact.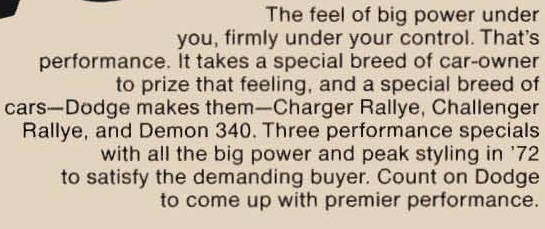 In this curious ad that ran in Canadian newspapers and magazines in 1972, it is written: "The feel of big power under you, firmly under your control. That's performance. It takes a special breed of car-owner to prize that feeling, and a special breed of cars – Dodge builds them – Charger Rallye, Challenger Rallye and Demon 340. Three performance specials with all the big power and peak styling in '72 to satisfy the demanding buyer. Count on Dodge to come up with premiere performance."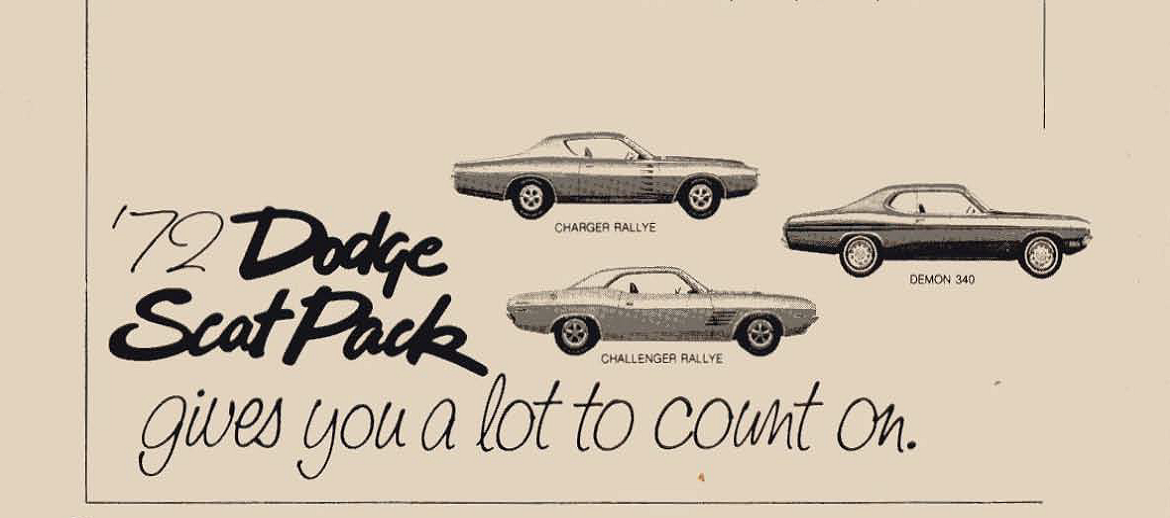 And so the Canadian Dodge magazine ad read, capped at the bottom with the slogan: "'72 Dodge Scat Pack gives you a lot to count on." As U.S. Dodge ads for '72 shunned all mention of the previous Scat Pack dynasty in favor of messages centered on value and economy, Canadians got an extra year of fun.
Some notable exceptions to this Canadian ad are the lack of the usual Scat Pack Bee cartoon character associated with all Scat Pack promotions since 1968, and what appear to be Canada-only body graphics on the Demon 340 and Charger Rallye pictured. Note the seeming application of a dark contrasting shade on each car below the horizontal character lines and running down to the bottom of the rocker panels. These "lower body blackout treatments" were not seen on U.S. versions of these cars.
Perhaps they're proposed designs, applied only to the illustrations used in the ad, or maybe some cars were indeed built with this graphic effect. This author hasn't seen one yet, but then again, I was 6 years old when the 1972s were new cars. Perhaps afflicted cars are all gone by now.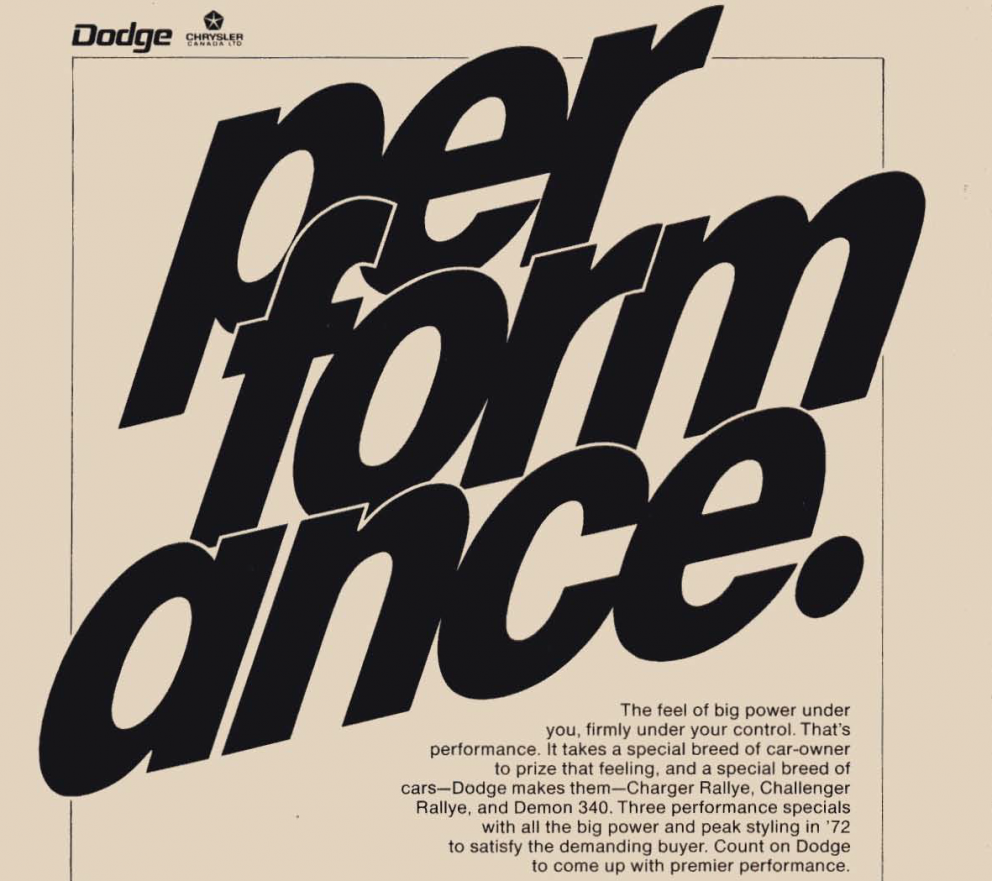 If these graphic treatments were indeed a showroom reality, they wouldn't be the first time a Canadian Dodge model contained differences not seen stateside. Another oddity was the 1972 Dart Swinger 340 Special. For context, here in the U.S., we got the Dart Swinger 340 only in 1969 and 1970. In 1971, the Swinger reverted strictly to non-performance Slant Six and 318 two-barrel mode. The high-performance baton was handed to the all-new (Plymouth Duster-based) Demon 340 in 1971 and '72. The Demon was a semi-fastback design (again, like the Duster), while the Swinger was strictly a box-roof hardtop.

Well, up in Canada, box-roof Dart Swingers were built with the hot 340 small block (continuing the Swinger 340 nameplate after we dropped it in the U.S.) in 1972. They were part of a special 83-car run built by Chrysler of Canada's Windsor, Ontario, factory and distributed solely by two Canadian Dodge dealerships: Crosstown Motor City of Edmonton, Alberta (which took 63 units), and Crestview Dodge of Regina, Saskatchewan (which took 20 units).
The reason for building these Dart Swinger 340 Specials for 1972 was to undercut the more expensive Demon 340 by a couple hundred dollars. And so for 1972, Dart Swinger 340 Specials and Demon 340s sold side by side in Canada, something that never happened in the States. By the way, these anomalies are just a couple of the hundreds of Canada-only oddities assembled by Dodge for the Canadian marketplace since the 1920s. So the next time somebody tells you the Dodge Scat Pack "packed it up" after 1971, show them this Canadian Dodge Scat Pack ad from 1972. After that, remind them how Dodge revived the mighty Scat Pack in 2015 – by stuffing the SRT-8®'s big 6.4-liter/392 HEMI engine into the Challenger and Charger R/T (where the 5.7-liter 345 HEMI engine usually lives) to create the Challenger R/T Scat Pack and Charger R/T Scat Pack. And these wild 485-horsepower Scat Pack editions are still in production as we enter 2022. The party isn't over!!!