If you're looking to go fast in your ride, then weight is the mortal enemy. It's basic physics, it takes more energy to propel a heavy object than a lighter one. Whether it's NASA's space shuttle or your street car, you just can't argue with math and science. Now, the SRT® engineers that gave us some heavy hitters (pun intended) for drag strip action, like the mind-blowing Challenger SRT Demon and Challenger Scat Pack 1320, created some unique options that helped to reduce unneeded pounds. With front passenger seat delete and rear seat delete available on both of these unique Challengers, it helped to shed some of those unwanted pounds off the already hefty Challenger for owners who checked the box to not have these seats installed in the car when it rolled off the Brampton Assembly Line. But, some owners took their weight reduction plan even further.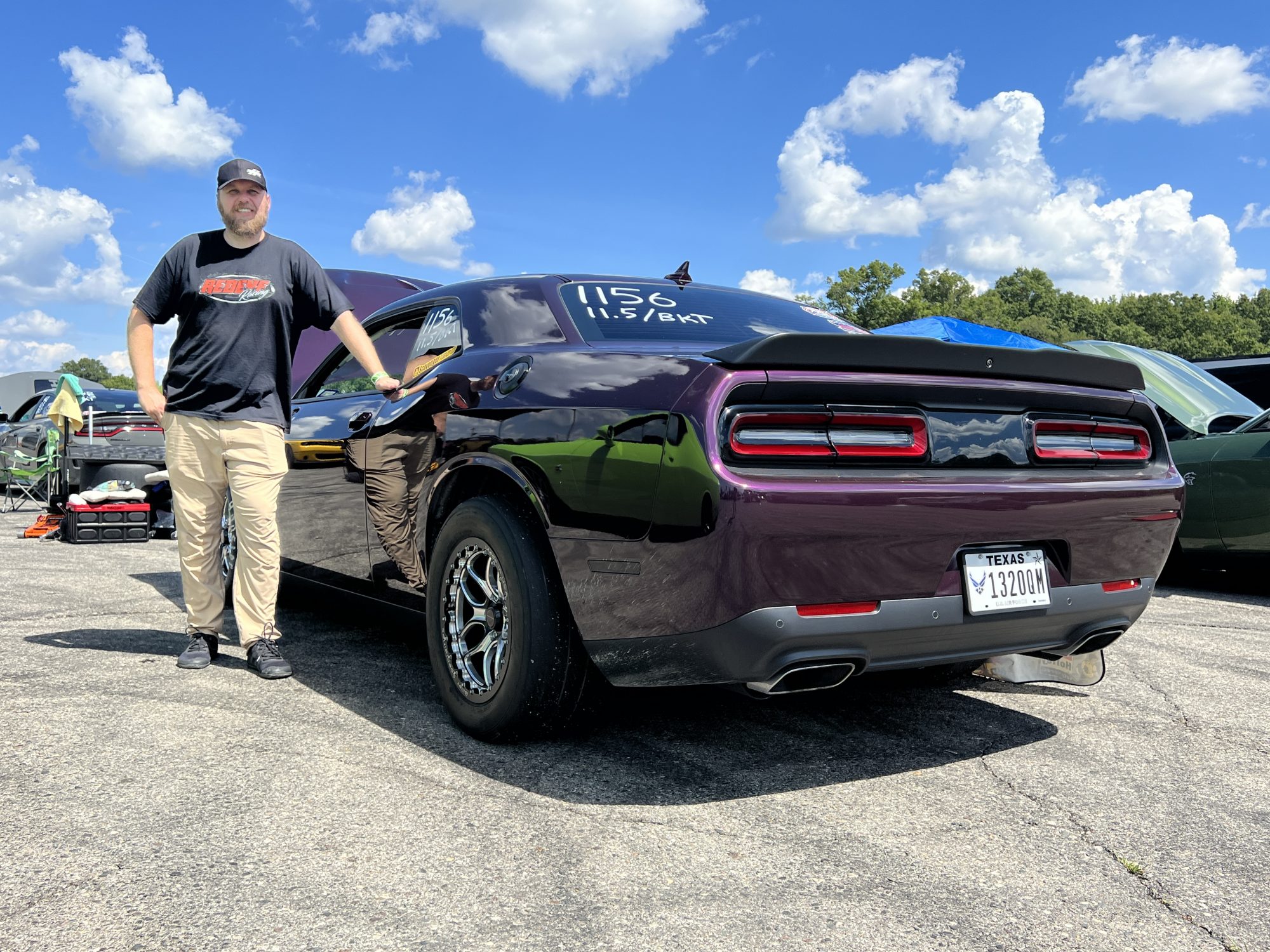 That's what Chris Ulanowicz from north Dallas was attempting on his 2020 Challenger Scat Pack 1320. The software engineer was on a mission to make his 1320 one of the fastest in the land in basic stock form but with simple mods and weight reduction. Now he may live in Texas, but Chris grew up on Detroit's eastside, where some of the Mopar® DNA was brewed from the old Chrysler plants like Hamtramck's Dodge Main and Lynch Road that produced many Mopar muscle cars back in the day. It was that vibe that got into Chris's blood stream. It probably didn't hurt that his dad worked for Chrysler as a pipefitter at the Warren Stamping Plant from 1972 up until his retirement in 1996. Chris also had several uncles and other family members that worked for Chrysler while he was growing up in the Motor City. "Oddly enough, though, no one in my family was actually into cars or racing as a hobby," said Chris. "My dad taught me some of the basics of car maintenance but that's about it. Even so, I just always had this passion for not just cars but also going fast."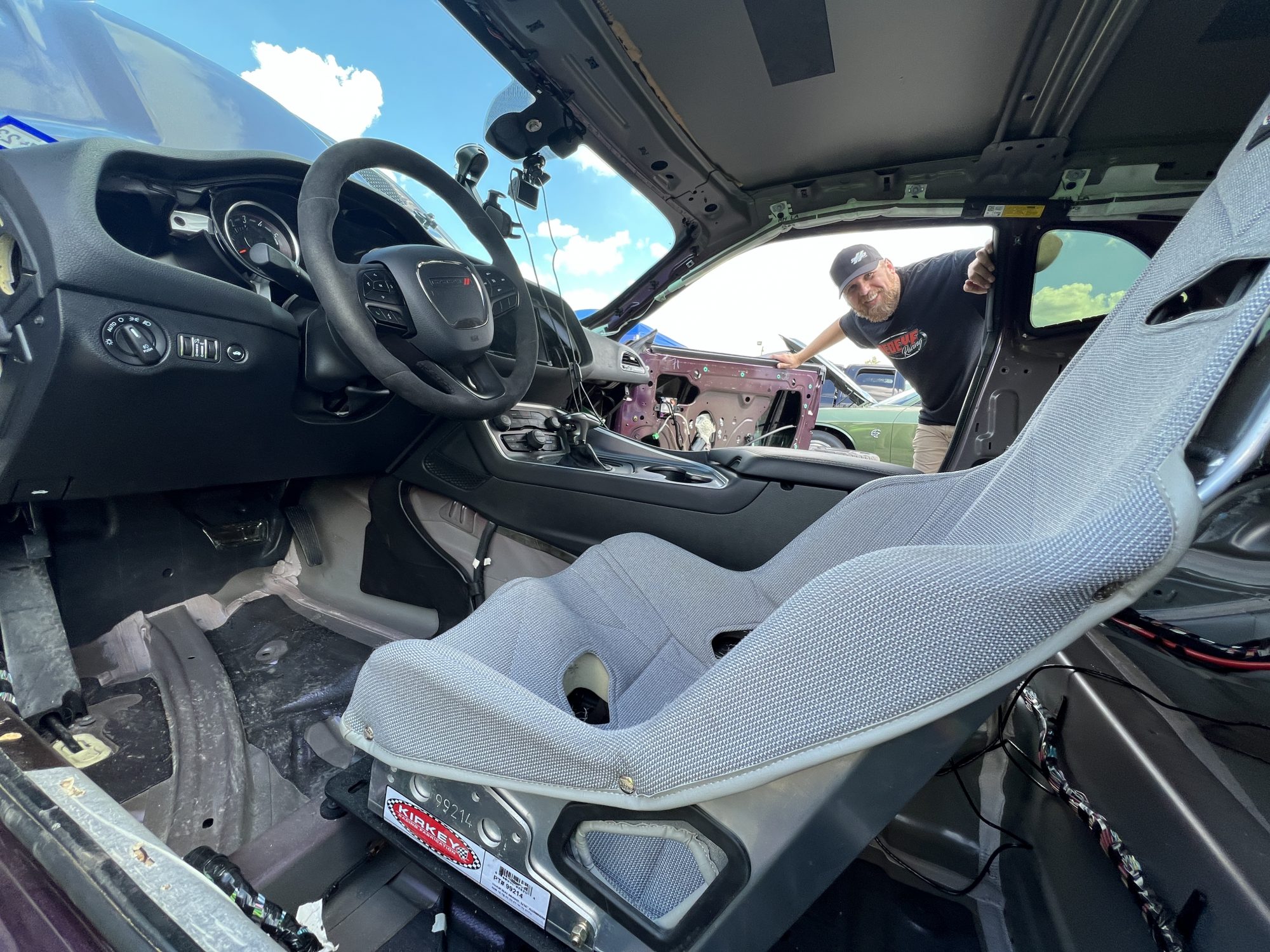 When it came time for Chris to purchase his own personal Mopar muscle car, he did a lot of research and contemplation. "I've always wanted a rear-wheel-drive V8 Mopar, that's why I always drove and raced Dodge Rams, since that was the only V8 RWD option for a long time. But when the LX platform came out, I wasn't in a position financially to buy one. Then the Challenger was released, and I fell in love with it immediately, but still wasn't financially able to afford one," noted Chris. "As the years went on, they got more and more expensive and out of reach. Then the Hellcat came out, putting it even further out of reach. Even if I could have afforded an R/T model, I knew I wouldn't be happy with it knowing something like the Hellcat with its 707-horsepower HEMI® was out there. I won't even talk about the Challenger SRT Demon as those were just a pipe dream for me." For Chris, he loved drag racing and that's where his head was at when it came to shaping the decision for what his new ride should be. "I missed going to the dragstrip and racing. It was the one place that when I went, I felt at peace. The smell of burning rubber or the exhaust of a big V8 burning race fuel just gave me solitude. It felt like home, and all of life's worries would just disappear. Then Dodge announced the Challenger Scat Pack 1320. The quickest naturally aspirated muscle car ever that was made more for the grassroots drag racer and was more affordable. I truly felt that car was made just for me. It was a car that may not be at the performance level of a Hellcat or Demon, but there was just something else about it that made the Challenger 1320 special."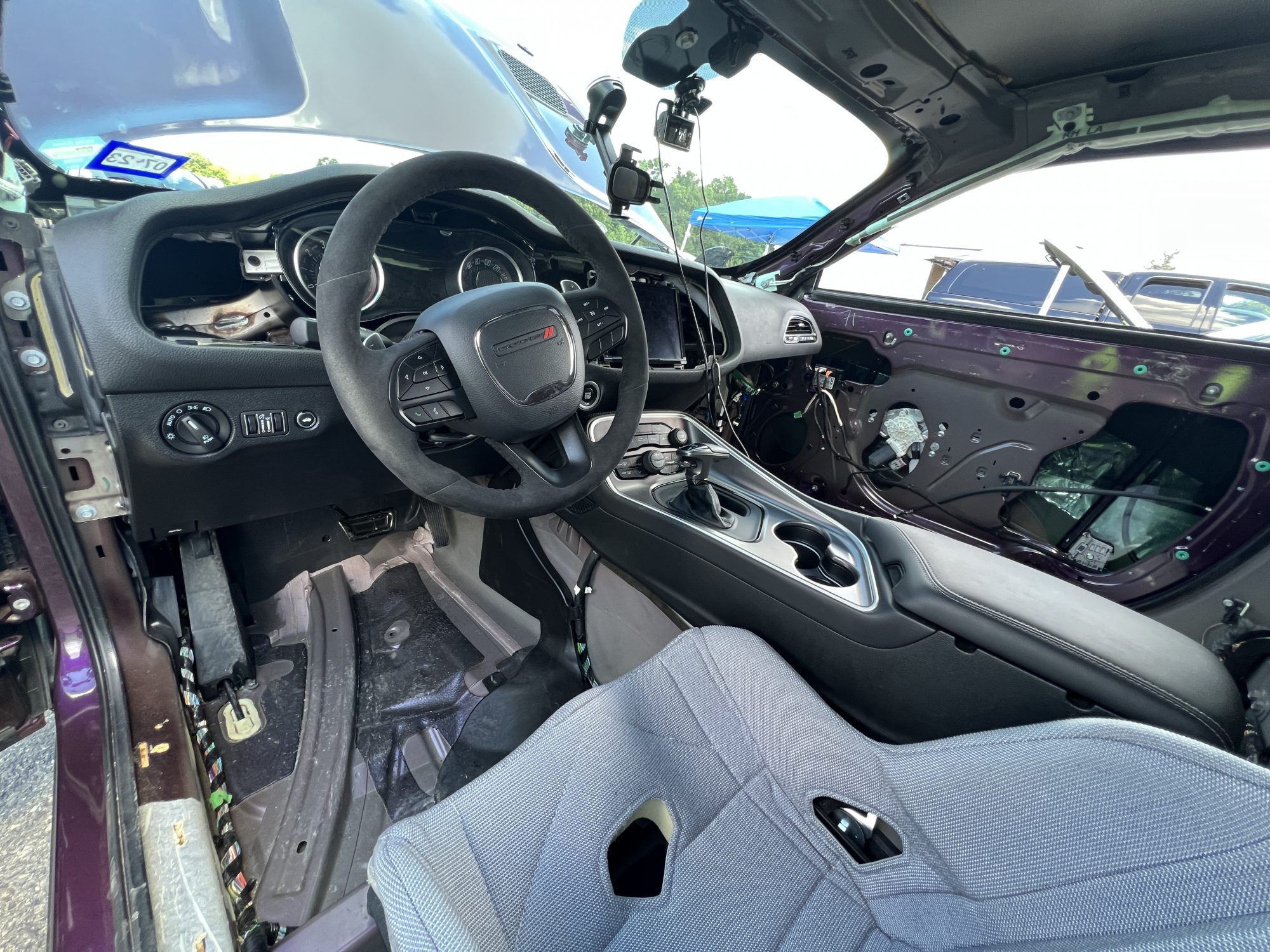 With Chris' passion for drag strip action, he just knew he had to purchase a new Challenger 1320. "It wasn't until after the 2019 model year was wrapping up, though, that I finally got established in my new software career enough to be able to afford one. By this time, Dodge announced the Challenger 1320 was coming back for 2020 but hadn't opened up ordering for it yet. For months, I would check all the Mopar news sites every day for any news about orders opening up on the 1320. Then on the morning of February 20, 2020, news broke that 1320 ordering was now live, and that same afternoon, I was at the dealer placing my order. Then COVID hit and my car never made it into production before the shutdown. I had to wait a while longer, but then finally on June 22, 2020, I took delivery."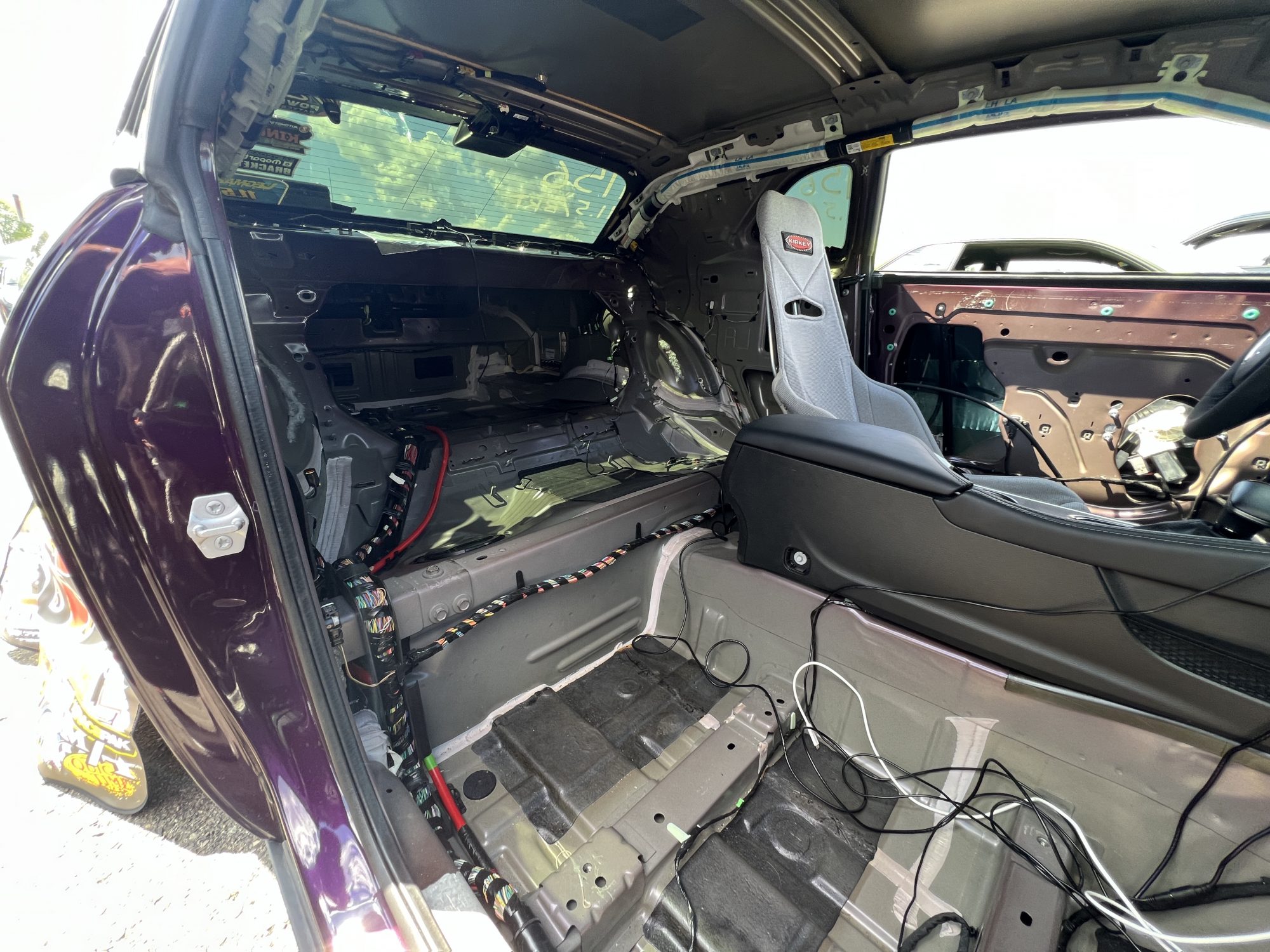 When it came to ordering his Challenger 1320, Chris already had the color and options in mind before he set one foot into the dealership. "I loved the new Hellraisin color and the only options I order for my 2020 Dodge Challenger 1320 were hood pins and the front passenger and rear seats as they're only $1.00 each. I needed a full interior for my wife and daughter, although now I regret not getting a single seater since they never ride in it," laughed Chris. When it came to performance mods, Chris kept it very simple.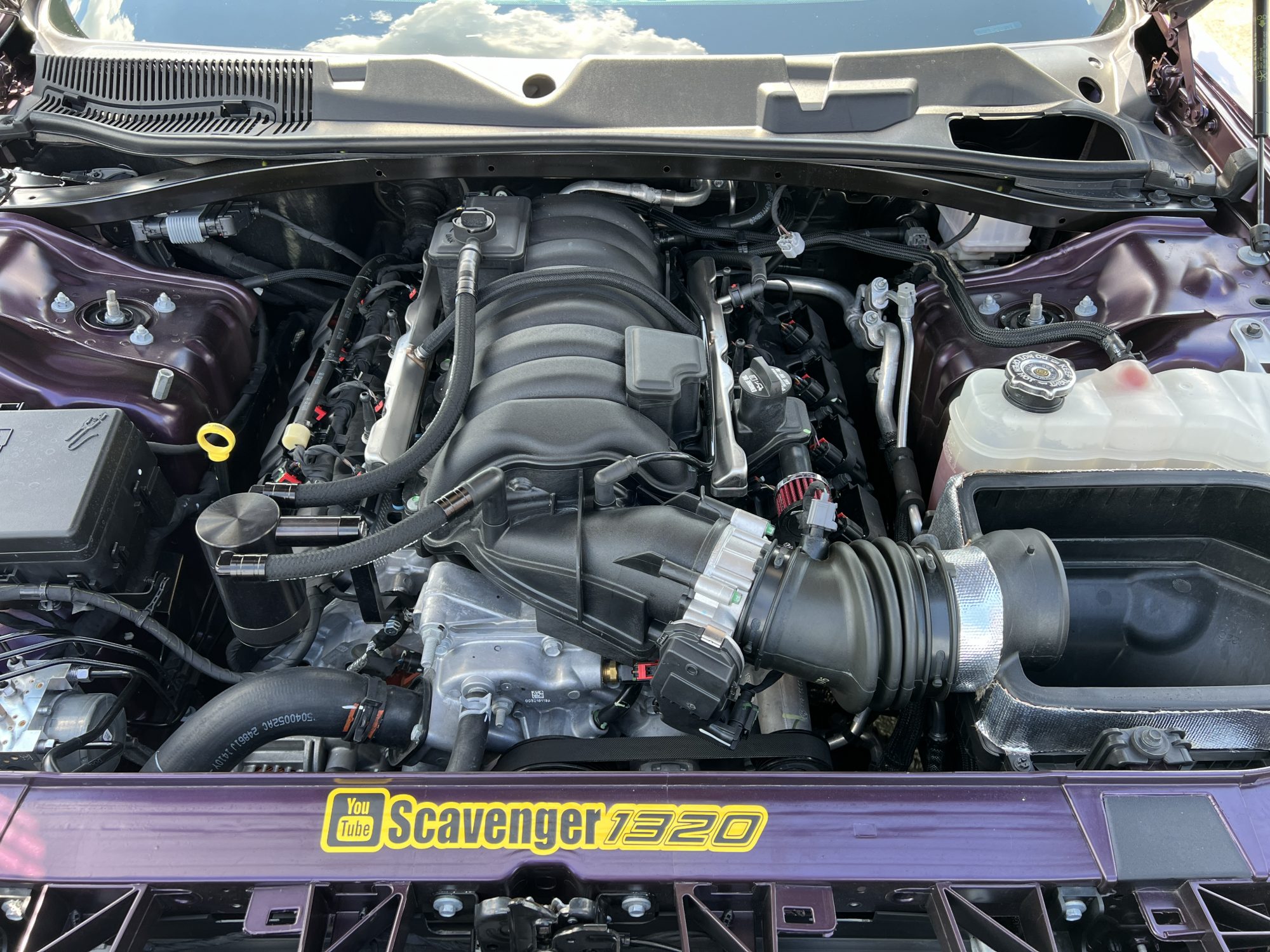 "I added the Mopar Cold Air Intake that comes stock on the Challenger T/A. I also heat-wrapped the air box to help keep the engine bay heat off. I also installed an oil catch can early on, but that has nothing to do with performance. The rest is all weight reduction besides the drag wheel/tire setup. The 392 HEMI V8, its tune, transmission, driveline, suspension is all still stock exactly as it came from the factory. Even the exhaust system is stock with the exception of the Z-Automotive active exhaust deletes, which just allows me to keep the valves in the wide-open position at all times. Other than the aftermarket Billet Specialties Wheels and Mickey Thompson Drag Radials, my Challenger 1320 is as stock as it gets."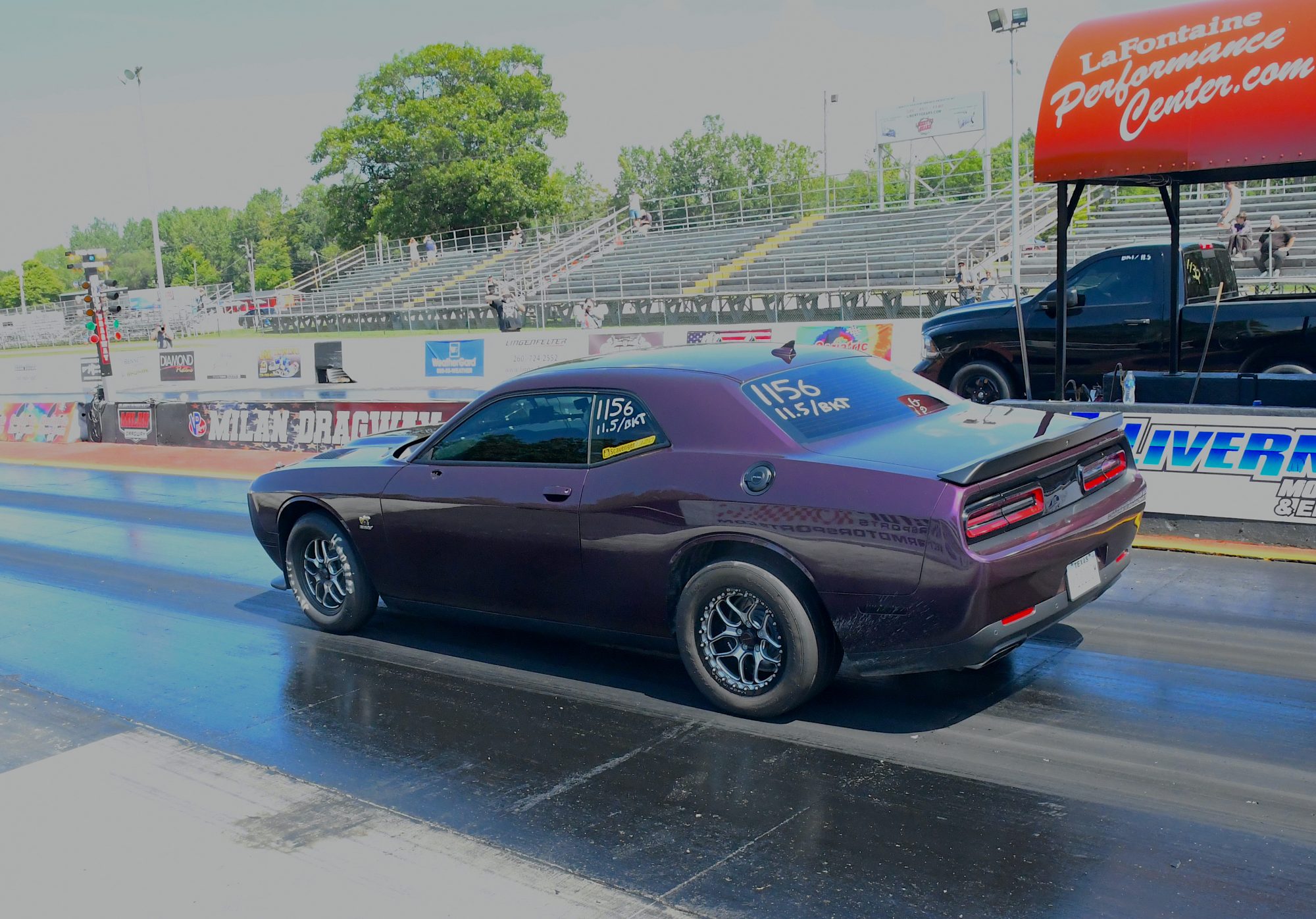 With the limited mods done, Chris began to put his Challenger 1320 on a crash diet as nothing was left unturned or off the table. Unless it had a specific function, it was coming out. "If it's not necessary to drive the car, it's getting unbolted and coming off," laughed Chris. He did leave the A/C unit intact; as he puts it, "It gets hot in Dallas and just this past summer we saw almost 50 days of 100-degree-plus heat, and since I drive my car daily, I didn't want to deal with the high humidity and insane temps." Regarding the items Chris has removed from his Challenger 1320, it varies from minor nuts and bolts to major interior trim pieces, items like seats, door panels and even dashboard trim. "It all adds up, so people may shake their heads when I remove something that only weighs a few pounds, saying it won't affect anything, but keep removing a bunch of those little things and they quickly start to add up like dollars put into a savings account." The parts Chris has removed from his Challenger 1320 is like a laundry list of items one would need if they were restoring a car. These items include:
Front sway bar
Horns
All engine bay plastics/covers
Passenger and rear seats
Door trim panels
Rear quarter trim panels
Carpet
Headliner
Glove box assembly
Dash bezel
All 6 Alpine speakers
All seat belts (except the driver seat belt, of course)
All trunk trim
Fog lights
Windshield wiper system, including reservoir, wiper arms, linkage and motor
Active exhaust actuators
Passengers sideview mirror (Chris uses the same Mopar block-off plate in its place that comes in the Demon crate)
Some of the items Chris replaced with a lighter variant include the following:
KIRKEY 55 Series lightweight seat to replace the driver's seat
Lightweight front bumper support
XS Power lightweight lithium battery
Recently, Chris found another center console he chopped up and gutted while he carefully removed the factory unit from his Challenger 1320 and put it away for safekeeping. He took the donor console down to its plastic frame and just kept the bare minimum material to mount the shifter and control panel.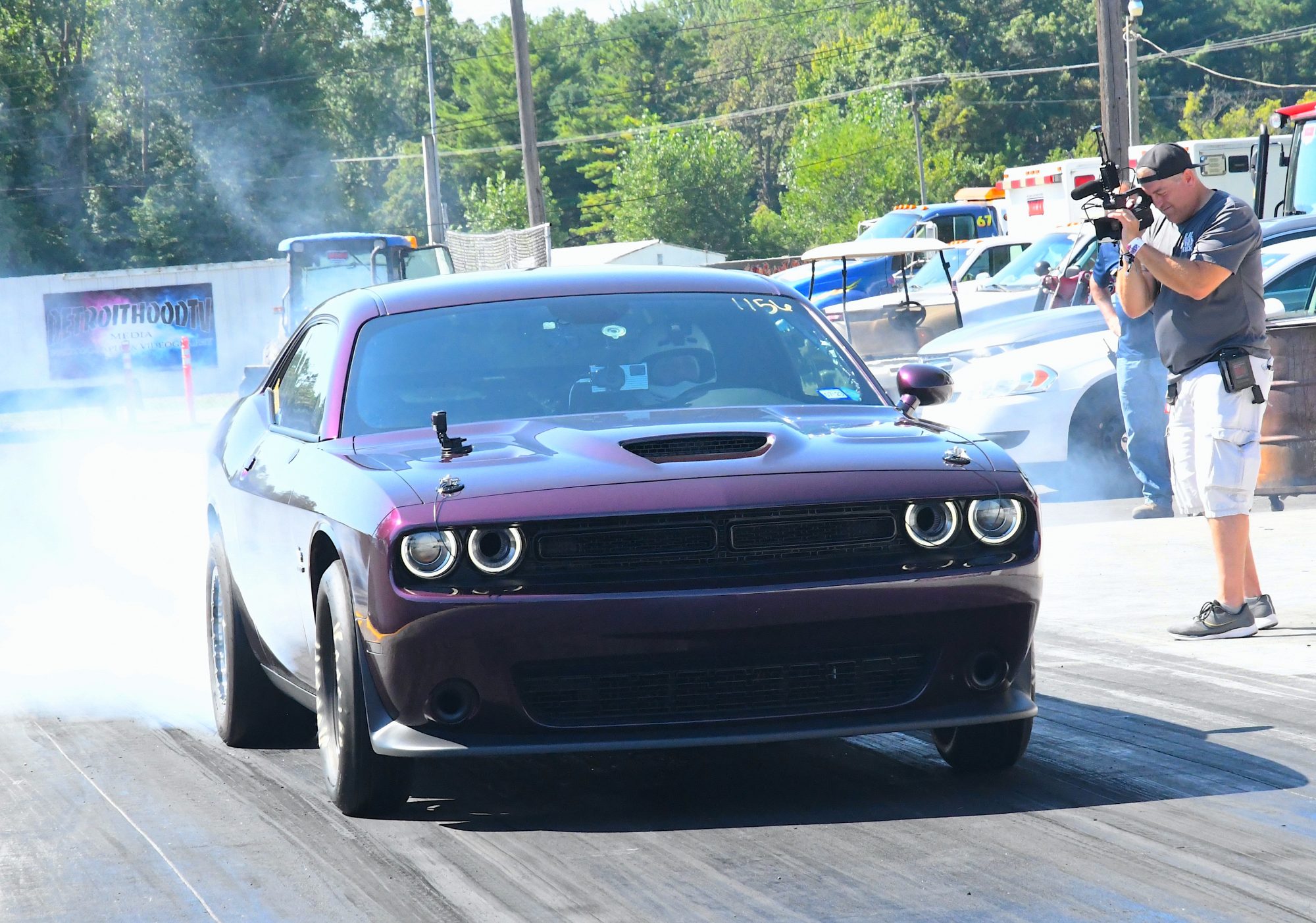 So, what was the end result of Chris's weight reduction plan for this Challenger 1320? He's removed over 500 pounds of unneeded weight from his car. "When I took delivery of my Challenger 1320, it tipped the scales at 4,140 pounds without me in it. Now after my aggressive lightening of the car, it comes in at just over 3,600 pounds. That's of course without me in it (Chris weighs 230 pounds and it 6'2") and with a quarter tank of fuel." The only "splurging" Chis has done on his car regarding aftermarket parts was a set of lightweight wheels and drag tires. For comparison, Chris has kept a logbook on every run he's made down the drag strip in his Challenger 1320. "First time out at the dragstrip, I kept the car completely stock, exactly as it rolled off the truck down to the stock 20-inch wheels, Nexen drag radials and full interior. My best run of four passes that night was 12.21 at 112.09 miles per hour during the 'Hot Summer Nights' at the Texas Motorplex in Dallas. The weather was not conducive to good ETs ad speeds," noted Chris. "Now, my Challenger has run a personal best of 11.034 at speeds over 121. That was at Houston Raceway Park when the temps were in the upper 50-degree ranges and density altitude was hovering around 329 feet below sea level."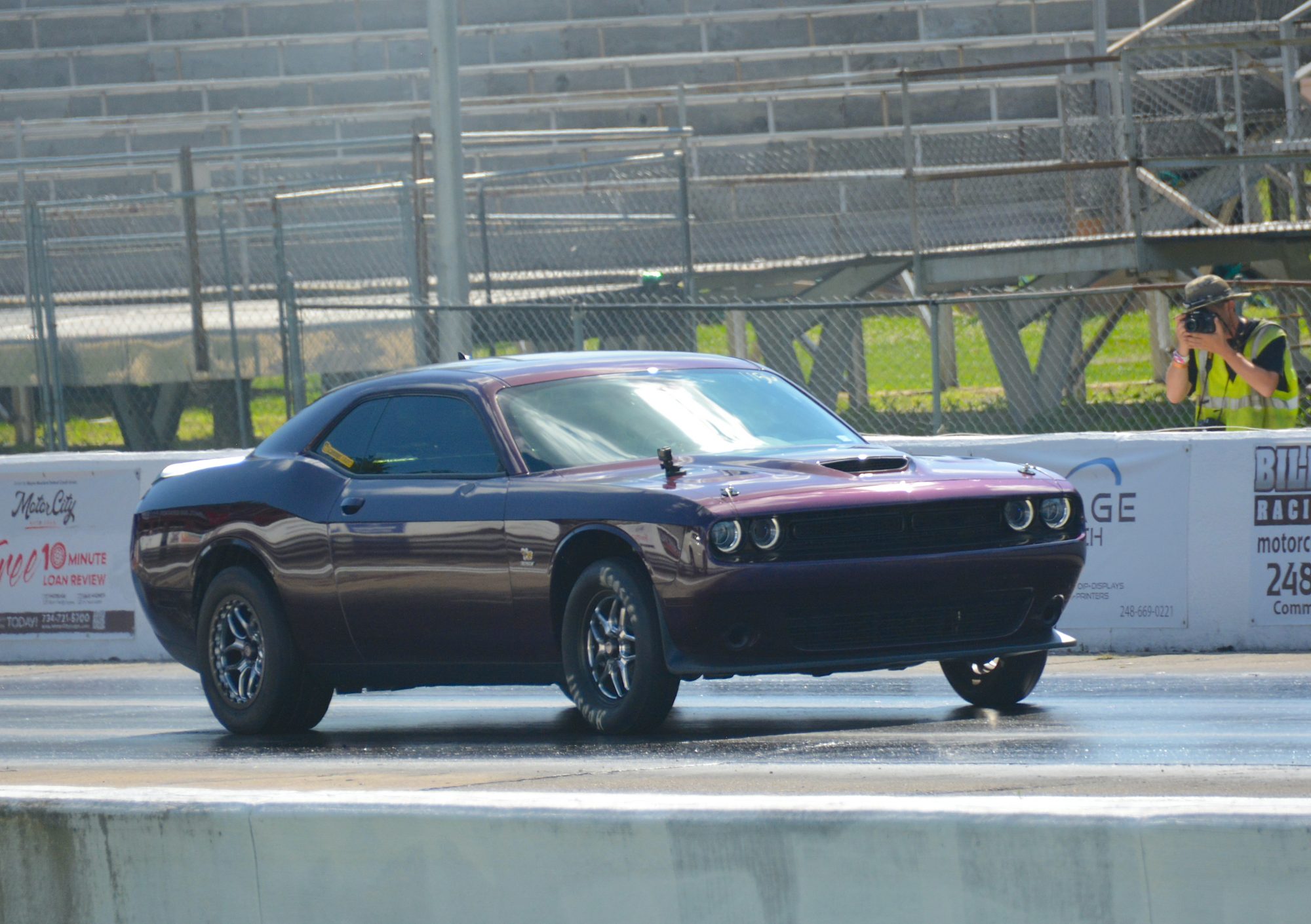 Like most hot rodders, Chris will not be satisfied until he's achieved the performance goal he's set his mind to. "I'd like to break a 10.99 quarter-mile time with a completely stock 392 HEMI. It's not easy to improve on this awesome package Dodge and the SRT engineers created. Oftentimes, people will tune it or cam it their 392 HEMI but end up sacrificing drivability just to get that high glory number on the time slip from the tracks. I know people who have spent thousands upon thousands of dollars on engine upgrades, only to still run slower than my weight reduced but still stock drivetrain Challenger 1320," commented Chris. "I've only put a small fraction of money into my car. Of course, there are plenty of 392 HEMI-powered Challengers and Chargers faster than me that weigh a lot more than me, but getting there isn't cheap, and I still have a fully intact warranty and if needed, put my car back to stock at any time. To be honest, my motivation is and has been due to finances. My financial situation may have improved enough to allow me to buy this new Challenger 1320, but any spare cash I have goes in to just going to races. Add in maintenance costs and there's not much left over that I can put into my car. That's why last year, after putting money into my drag wheels and few items that did cost money, I was only able to go to a small number of races that were close to me. This year, however, with the basic necessities done, it meant I could use that money towards traveling to more races, and specifically for the Modern Street HEMI Shootout Series in Milan, Michigan, and run their 11.5 second Class Index that I race often. That's the beauty of weight reduction, most of it is completely free."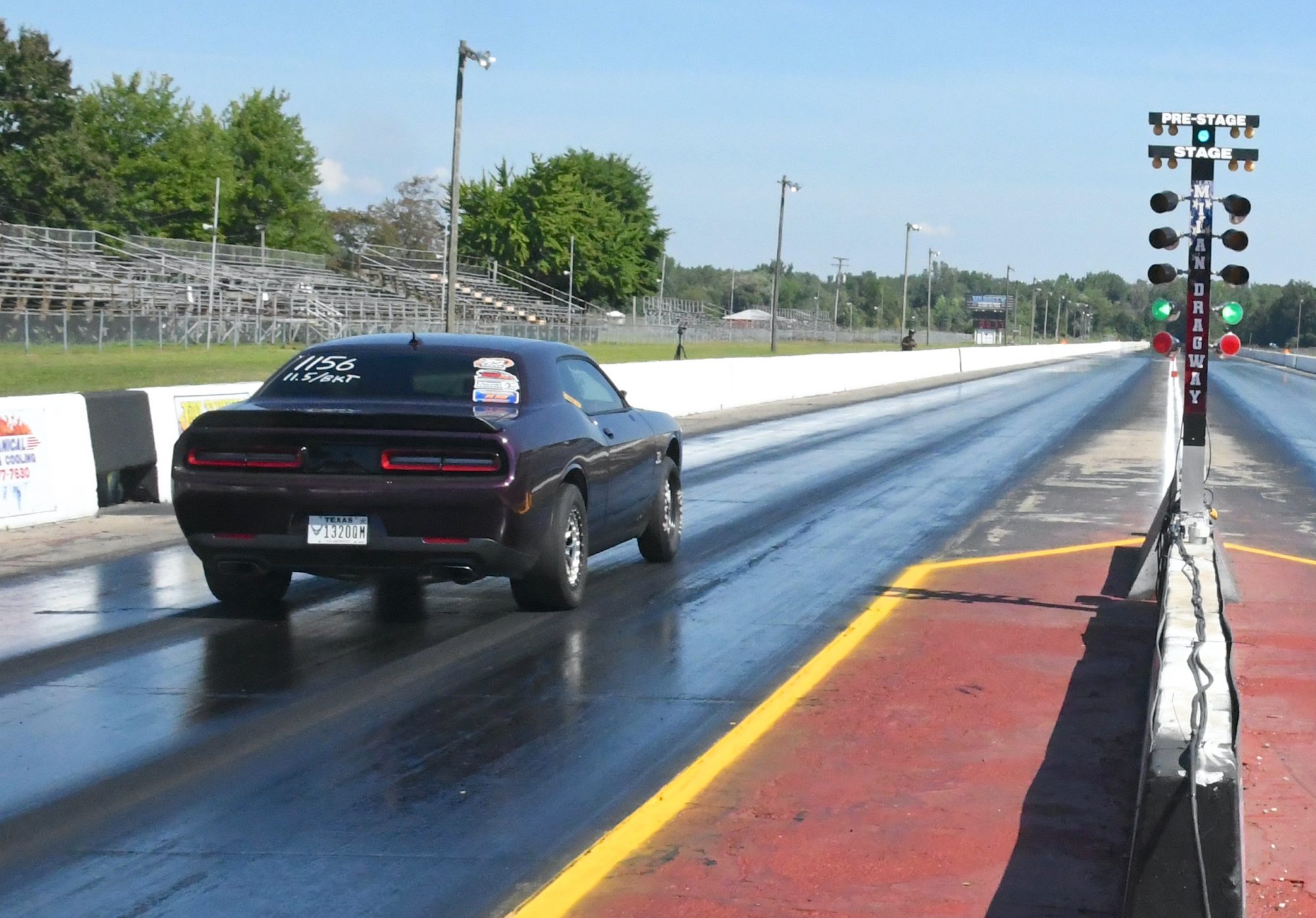 Something for all of us to think about the next time we're out to dinner and the server asks if we'd like to see the dessert menu!