The GRMPYCAT Dodge Challenger SRT® Hellcat of Kevin Helmick is the quickest and fastest SRT Hellcat car in the world in the 8th mile with a 4.361, while his best quarter-mile time of 6.99 makes him one of only two SRT Hellcat Challenger racers in the world to run in the 6-second quarter-mile range. Zdung Ho's Dodge Charger SRT Hellcat is the quickest and fastest SRT Hellcat sedan in the world with a best time of 7.62. The second-quickest SRT Hellcat Charger is owned and driven by Lucus Kirkpatrick (8.20) and the third quickest is owned and driven by Alex Davis (8.28). Tina Boggess' Dodge Durango SRT Hellcat is the quickest of its kind, running a best time of 9.09. David Crockett's Dodge Challenger isn't an SRT Hellcat, but it is the quickest 6-speed Challenger in the world with a best time of 8.63.
If we take a quick look at record track times from our friends from the Jeep® brand, the fastest Grand Cherokee in the world is the VanDrake Racing Suspect 2008 SRT8, which has hit 198 miles per hour in the standing half-mile while also running a personal best of 8.56 in the quarter-mile. As for the SRT Hellcat-powered Trackhawk, only three owners/drivers of the factory supercharged Grand Cherokee have run in the 8s – Tyler Connelly (8.89), Pasha Volokh (8.93) and Eric Delorio (8.94).
In short, the list above is composed of one of the two quickest SRT Hellcat Challengers, the three quickest SRT Hellcat Chargers, the quickest SRT Hellcat Durango, the quickest modern 6-speed Dodge Challenger, the three quickest Trackhawks and the world's fastest Jeep Brand vehicle – and they all have one thing in common.
They Get Their Engines from Demon Performance
With so many shops around the United States offering high-performance HEMI® engines, it is incredibly impressive that one shop has provided the engines for so many of the quickest racers in each modern Mopar® vehicle category. I reached out to Nathan Ferrell, owning partner of Demon Performance, to find out just how he and partner Skip Patel became the go-to engine provider for the world's fastest SRT Hellcat-powered and Gen III HEMI engine-powered drag racers in the world.
Zdung Engine

GRMPYCAT Engine

Lucas Engine
The Early Years
Nathan Ferrell met Skip Patel in the spring of 2008 in Beaufort, South Carolina. Ferrell was stationed there in the Marine Corps and Patel had recently taken a break from corporate finance to help his parents with some business ventures. At that time, Ferrell was driving a 2006 Chrysler 300C SRT8 and Patel was driving a 2007 Chrysler 300C SRT8, and having passed each other in town frequently, they eventually met somewhere that they could stop and formally meet. The two quickly became friends, bonding over their passion for performance cars and their dream of owning a shop.
That dream seemed to be taking shape when Ferrell and Patel teamed up and invested in a shop in the area. While it was not a high-performance Mopar shop, they were excited to be a part of a hot rod shop, but the excitement quickly turned to disappointment when they realized that the owner had taken their money and done little with it to improve the business. As a result, Ferrell and Patel cut ties with that shop in the summer of 2011. At that time, Ferrell was attending Purdue University and Patel was assisting his parents with another business venture, so the two took a few weeks before they looked at their options in terms of their automotive future.
"[We] realized we had two options: 1. get back in the rat race and attempt to reconstruct our finances, or 2. give it another go. So, I took my first 3 months' rent and what little savings I had and opened a bank account. We established an LLC and our federal/state documentation and joined a few forums like LXForums, CherokeeSRT8 and a few others as vendors and began selling," said Ferrell.
"We initially wanted nothing to do with another shop. The first go-round destroyed our credit, depleted our savings and left a generally bad taste in our mouths for the shop life. That being said, it became rapidly apparent that even if we wanted to do R&D for new products that we would need a shop space. So we started looking. While in that process, we worked with companies such as Weld Racing, Fore Innovations, Moser and Wavetrac to bring new offerings to the GEN3 HEMI community," said Ferrell.
Their success in providing aftermarket support for the community quickly made Demon Performance a familiar and trusted name. As a result, when they made the decision to go from just providing components to offering more elaborate builds, the community was ready to return that support.
"Upon telling the community that we would be opening a shop, we immediately had customers ready to ship their vehicles. We had cars in the shop before there was even paint on the walls," said Ferrell. "Brady Torbitt, Brian Destefano and Jim Homick were some of our first builds that we had in-house. Jim was our first WK2 customer. He allowed us to use his truck for development of our Procharger kit for the platform. Sadly, Jim is no longer living. We are very thankful for his contribution to our business. Brady ironically was the genesis of the term 'DEMONIZED'. He was an early customer and one of our first big builds. At the time, it was the quickest Procharged WK1 in the world. Last but not least, Brian was our first big turbo Jeep and also our first 8s vehicle. These builds undoubtedly thrust us into the market that we now occupy."
Demon Performance had asserted themselves as the top builder of high-performance Jeep Brand vehicles, but had only gotten started.
Industry-Leading Engine Program
While the Demon Performance team had made a name for themselves in their early years by modifying factory-based engines, Ferrell and Patel knew that to keep on offering more and more power, they needed to begin building their own engines.
"As the years passed, the one thing we had not been able to lock down was an engine shop that was willing to push the envelope, use high-quality components and work together with us to advance the GEN3 HEMI platform to the forefront of modern motorsports. We had some short-lived arrangements with other builders. Some good and some not so good. One of our close friends in the industry said he had worked with Kevin Mullins on a build and was pleased with the interaction. So we reached out to TKM and decided to do a short run of builds to test the waters. Those early builds performed wonderfully and without issue giving birth to Demon TKM Performance Engines," said Ferrell.
Their partnership with Kevin Mullins was taken to the next level when they began working on the VanDrake Racing Suspect Jeep Grand Cherokee SRT8.
"About a year after our relationship with TKM began, we met Ben Vanhook and Josh Drake of VanDrake Racing. They had been campaigning their Jeep, 'Suspect', for a couple years at half-mile events and decided to try their hand at quarter-mile racing," said Ferrell. "Our first time racing with them was at Rockingham Raceway for the Modern Street HEMI Shootout where they were having some struggles getting the Jeep to hook up and get down the track. We did what we could trackside and Skip got in the driver's seat to give them a best ET of 9.30. We helped them through the remainder of the season where they eventually lost the motor. Ben decided he wanted to take Suspect to the next level, so we went to work in the off-season making some major changes to the build. The following season we ran a PB of 8.52 in the quarter-mile and 198 mph in the standing half-mile. The performance of Suspect and the engine made a big statement for our relationship with TKM and motivated us to keep digging in and striving for more."
More recently, Demon Performance has been showcasing their new billet aluminum HEMI engine block, which will allow their customers to reduce weight up front without any compromise in power.
"Skip has been pushing for a billet block option for almost a decade. I have to admit, I sometimes have to be the voice of reason when he starts to dream out loud. This was no different. When we started contacting different manufacturers, the numbers that were thrown at us just to get the ball rolling were wild. I knew we couldn't swing these R&D costs on the hopes that a billet offering would sell. So the billet block conversation got hot and cold over the years and we just didn't think the juice was going to be worth the squeeze from a P&L standpoint," said Ferrell.
"By the time we sat down with Noonan, we had all but accepted defeat. They were immediately enthusiastic about the platform and made it very clear they were in it to win it," said Ferrell. "At this point, we knew we had a solid team to make the block a successful offering. So we dove in head first. The process took nearly two years before we had our first block in hand but man was it worth the wait. It's an absolute work of art and engineering. Not to mention capable of handling north of 3,000 hp while still being streetable. We have a couple of the billets in use currently and several in the pipeline. We are excited about where this will allow the modern Mopar platform to go. It's been a pretty wild ride so far and it's not settling down any time soon. Especially if we have something to say about it!"
The most notable customer to run this new billet block is Kevin Helmick, owner and driver of the GRMPYCAT Dodge Challenger SRT Hellcat. Ferrell points out that while Helmick does not currently hold the SRT Hellcat quarter-mile record, GRMPYCAT has picked up two tenths in the 8th mile since running their best quarter-mile record of 6.99, so the 6.96 SRT Hellcat record of Team Epling could be in jeopardy this season.
SRT Hellcat Brake Rotors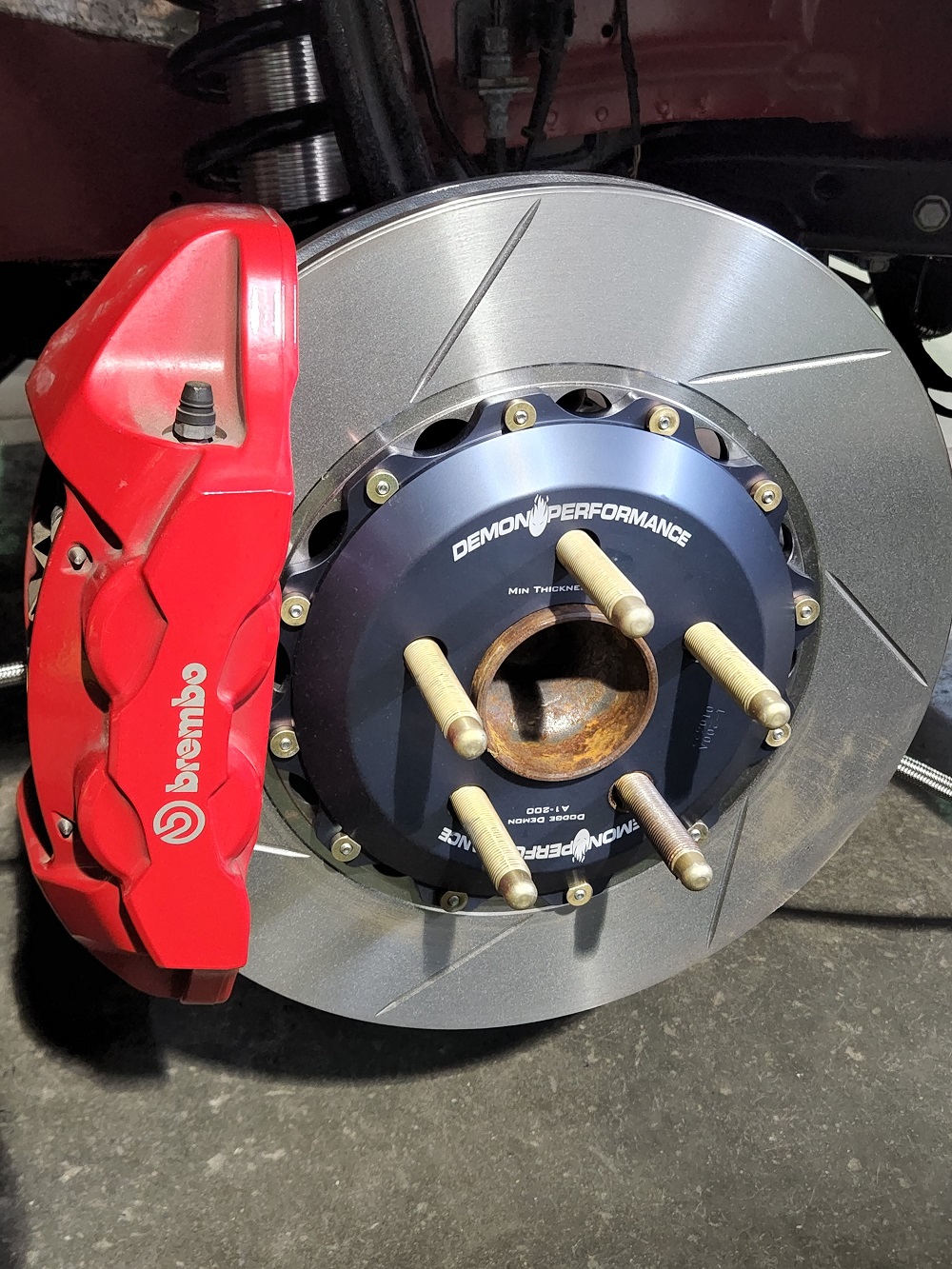 Finally, while not everyone has ordered a high-performance HEMI engine from Demon Performance, a great many Challenger SRT Hellcat and Charger SRT Hellcat owners rely on their products to get to and from work every day. In addition to building the world's most powerful Gen3 HEMI engines, Demon Performance also provides the most popular aftermarket replacement brake rotors from the Brembo six-piston system that comes on the SRT Hellcat models.
The Brembo rotors feature a two-piece design that yields incredible performance, but they are very expensive and, for a long time, there was no real aftermarket option that didn't require some compromise in performance. That was one of the reasons why the Demon Performance team got into the brake rotor business.
"Once we established an identity for ourselves, we knew we needed to press on with product development, as that had been our backbone early on. A two-piece lightweight rotor offering was something Skip and I kicked around for a long time," said Ferrell. "After vetting a handful of the major players in that market, we decided on Girodisc. Their attention to detail, focus on performance and passion for their craft made our decision easy. They were hands-on from day one. Working with us to develop the brakes and ensure their quality. We tested with 5 sets for a year prior to bringing them to market and the results were fantastic! Since then, the brakes have become the gold standard for this platform. Their performance and weight savings are second to none."
In other words, if you want to go fast enough to set records, Demon Performance is the best place to start shopping for a high-performance Gen3 HEMI or a build as a whole. At the same time, if you want your daily-driven Challenger SRT Hellcat, Charger SRT Hellcat, Durango SRT Hellcat or Trackhawk to offer even greater stopping abilities, Demon Performance has the answer for that as well. There is little question as to why Nathan Ferrell and Skip Patel have become two of the best-known men in the modern Mopar racing world.