2023 Dodge Challenger SRT® Demon 170
1,025 HP.
ZERO BS.
Make no mistake. The limited-production 2023 Dodge Challenger SRT® Demon 170, featuring the first-ever 1,000-plus-horsepower production HEMI® engine, is absolutely here to kick ass and cross names off the competitor lane list. The seventh and final Last Call Special Edition is already banned in its stock form by the NHRA thanks to dominating the quarter-mile with a certified 8.91-seconds ET at 151.17 mph.
With only a red key in hand, horsepower levels are determined by the percentage of ethanol fuel detected. A recalibrated powertrain control module optimizes fueling and spark timing for both premium and high-ethanol-blended fuel to unlock the full horsepower potential.
What does it take to achieve a 40% boost increase1, go 0-60 mph in 1.66 seconds and generate the highest g-force acceleration of any production car2 at 2.004 Gs? Next-level engineering, a hell of a lot of determination, testing and passion to deliver the craziest performance numbers ever for the Brotherhood of Muscle. CHECK OUT all of the extensive upgrades, including an improved, modified 3.0L supercharger, new driveline components, TransBrake 2.0, unique drag mode suspension and a staggered widebody design.
Production is limited to 3,300 at most based on production capacity, with 300 destined for Canada. Ordering opens Monday, March 27 at a U.S. MSRP3 of $96,666 and Canadian MSRP3.1 of $134,785. With options to choose from including 14 exterior colors, 2 Satin Black paint options, 4 interiors and optional carbon fiber wheels, there's guaranteed to be a configuration that fuels your fire.
Are you a current 2018 Challenger SRT Demon owner? When you place your order for the new 2023 SRT Demon 170 from a dealer with allocation, you'll have the unique opportunity to request to match your original SRT Demon VIN.
Because more is more, the Challenger SRT Demon 170 comes with customized, limited-edition and serialized items available after you take delivery. From the included personalized, commemorative Demon decanter set and a custom instrument panel badge, to an appearance-mimicking Goodwool breathable mesh car shell available for purchase. Ready to make history with us?
Thought so.
HOLY $#!& LEVEL OF PERFORMANCE
1,025

total horsepower at 6,500 rpm

945 lb.-ft

of torque at 4,200 rpm

The world's quickest 0-60 production car4 at

1.66 seconds

The highest g-force acceleration of any production car5 at

2.004 Gs

History's first-ever eight-second factory muscle car6

8.91-seconds ET at 151.17 mph
Design your SRT® Demon 170
Along with the standard SRT® features you've come to expect and respect, the 2023 Dodge Challenger SRT Demon 170 sets itself apart and comes with:
6.2L V8 SUPERCHARGED D170 ENGINE
3.0L SUPERCHARGER W/BLACK LID
SRT DEMON 170 SUPERCHARGER BADGE
YELLOW PAINTED ENGINE BLOCK
TRANSBRAKE 2.0
3.09 REAR AXLE RATIO
240MM REAR AXLE
DRAG SUSPENSION
BREMBO BLACK 4-PISTON BRAKES W/YELLOW LOGO
FORGED ALUMINUM WHEELS; FRONT: 18X8", REAR: 17X11"
MICKEY THOMPSON® DRAG RADIALS; FRONT: 245/55R18, REAR: P315/50R17
AIR GRABBER HOOD
SRT DEMON 170 EXTERIOR BADGES
SATIN BLACK DODGE TAIL LAMP BADGE
REAR BODY FLARES
SRT PERFORMANCE SPOILER
HIGH-INTENSITY DISCHARGE HEADLAMPS
DC ILLUMINATED AIR CATCHER HEADLAMPS
CLOTH DRIVER SEAT
SRT DEMON 170 INSTRUMENT PANEL BADGE
REAL CARBON FIBER INTERIOR ACCENTS
ALCANTARA STEERING WHEEL W/RED LED
PASSENGER SEAT/SEATBELT DELETE
REAR SEAT/SEATBELT DELETE
TRUNK CARPET/LAMP DELETE
SOUND INSULATION DELETE
BRIGHT PEDAL DELETE
CLOTH DOOR TRIM PANEL W/MAP POCKET LIGHT
DRIVER FLOOR MAT
2 SPEAKER AUDIO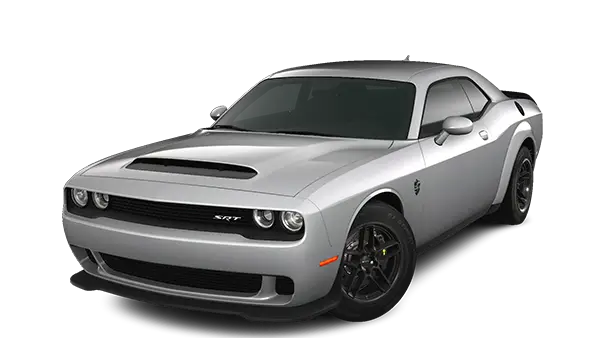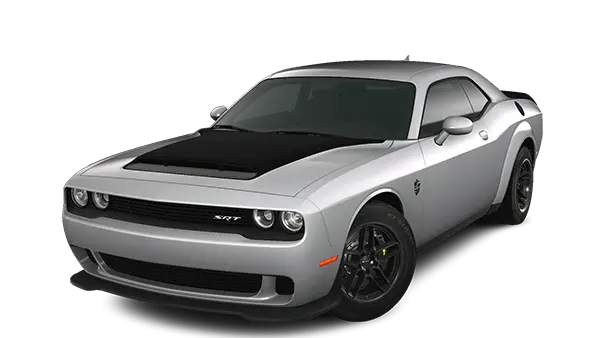 Satin Black painted hood
$1,995 ($2,595 CAD)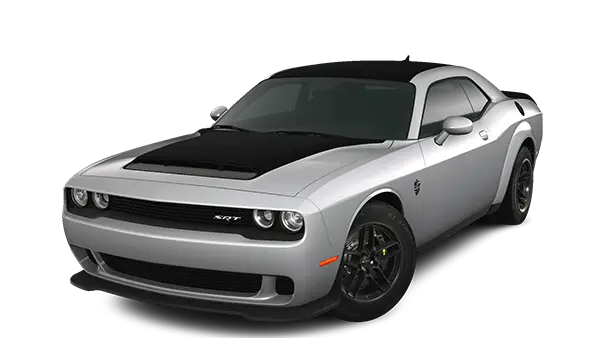 Satin Black painted hood/roof/decklid
$3,695 ($5,200 CAD)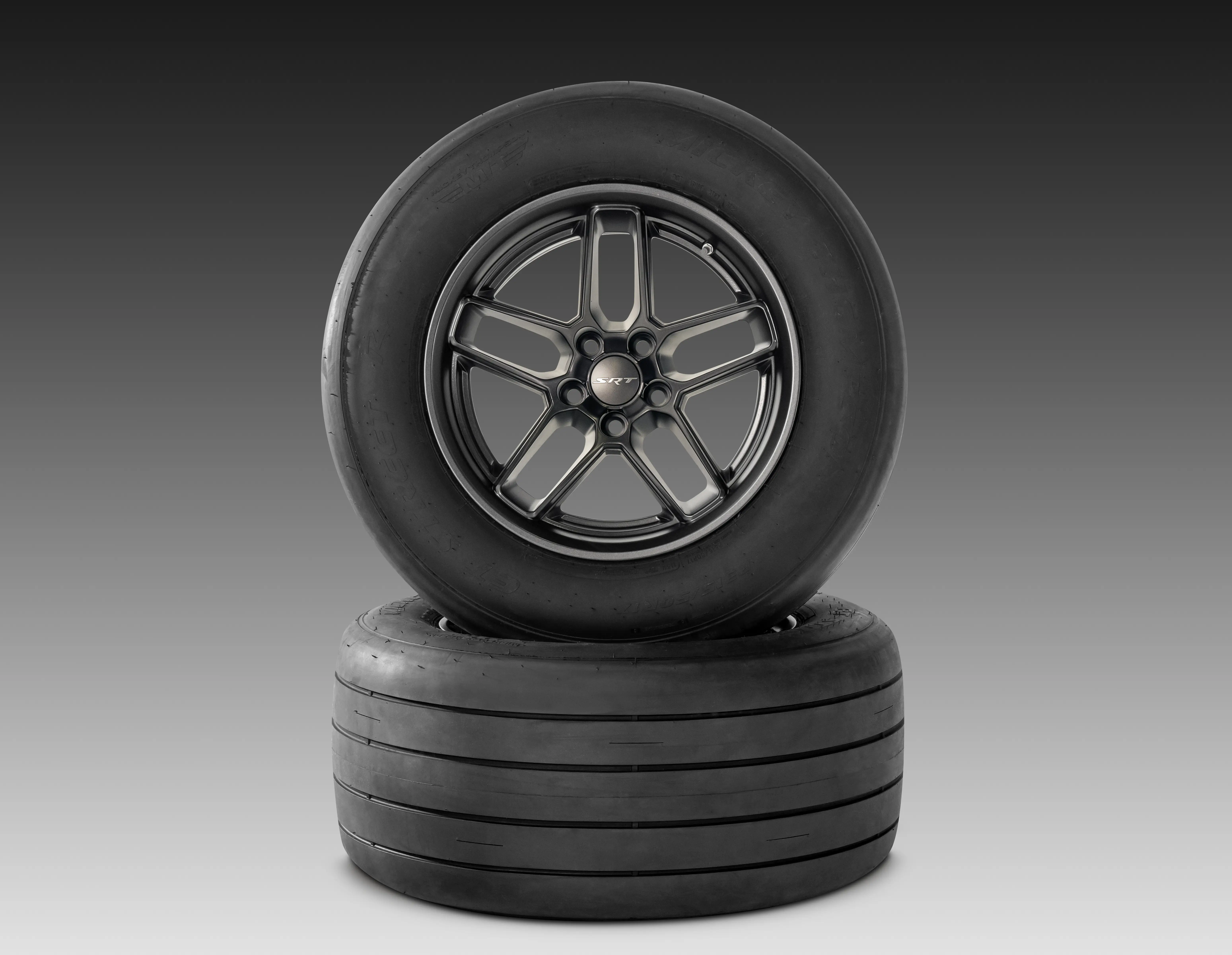 Forged Aluminum Wheels;
Front: 18x8", Rear: 17x11"
$0 ($0 CAD)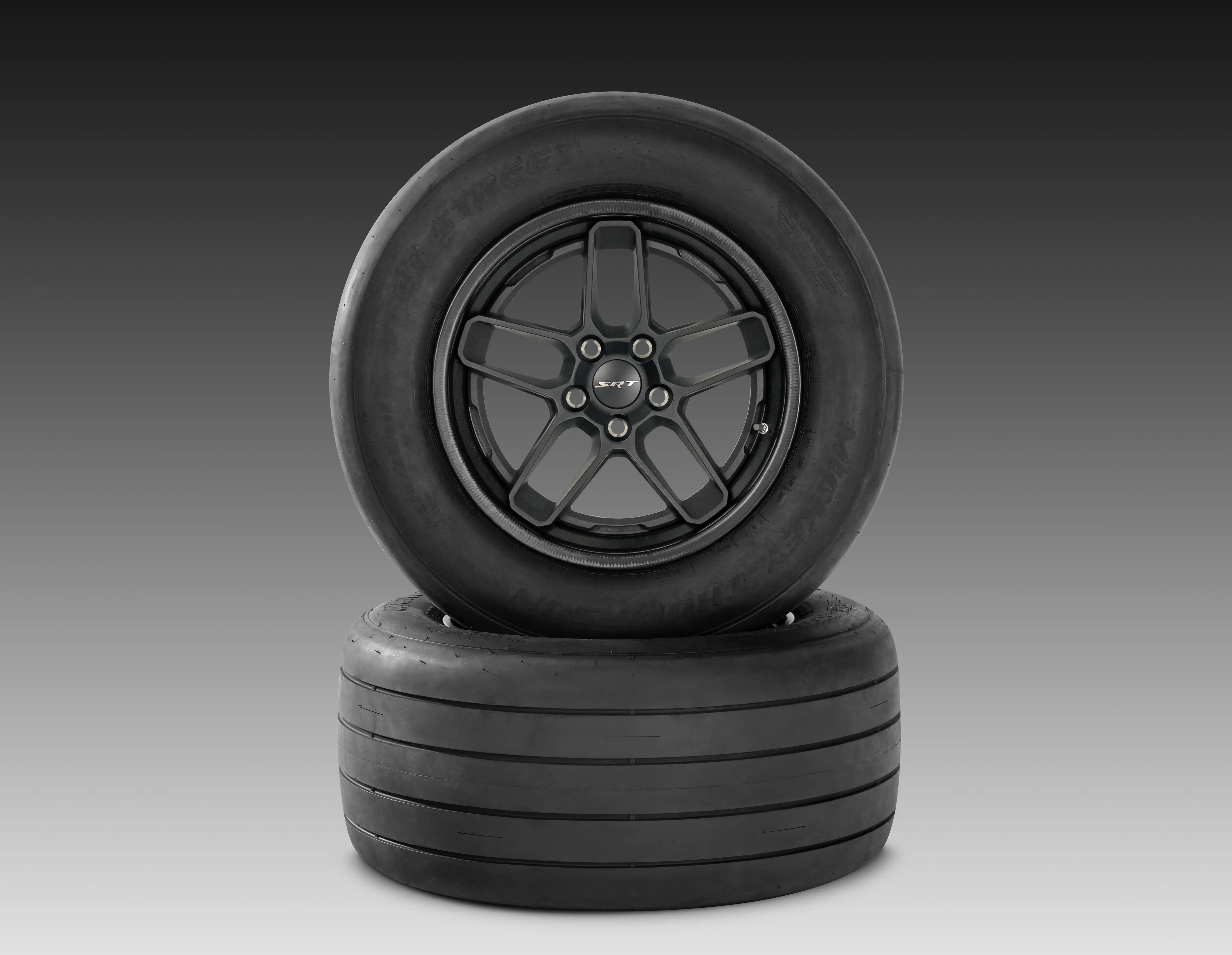 Carbon Fiber 2-Piece Wheels;
Front: 18x8", Rear: 17x11"
$11,495 ($18,995 CAD)
Ready to blow your garage's ever-loving mind?