After reading the story "Too Far Gone" on DodgeGarage and noticing the link at the end of the article asking for readers to share their stories, George Fischer decided to write us about his project and we are so glad he did.
George lives in Central New York and has always been a bit of a project guy and a self-proclaimed jack-of-all-trades. He has a love of all classic Mopar® vehicles, but the 1970 340 Dodge Dart Swinger has always held a special place in his heart. He fell in love with the car when his sister started dating a guy who owned one and even though George was only 5 years old at the time, he knew a badass car when he saw one.
Fast forward to 2016 … the search begins. "I wanted to have a go at something I could do myself. I'm a sort of jack-of-all-trades, wrenching on stuff since I was little, but never had the time to go all-in. Turns out there weren't a lot of 340s to be had in the northeast, or maybe I didn't know where to look. Wound up settling on this little beauty, a Slant-Six in Boston that was solid but needed some love," says George.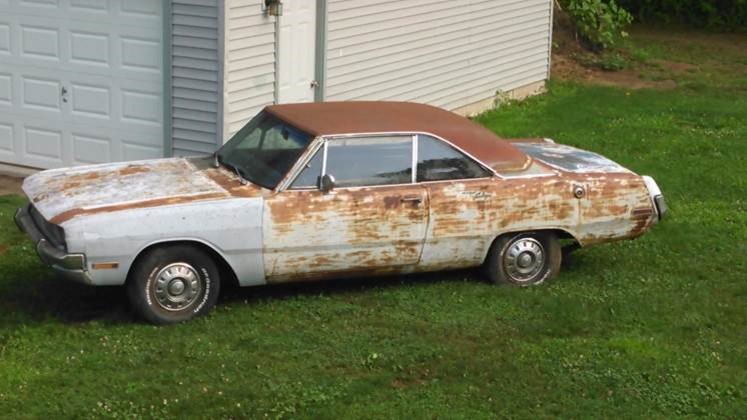 It had been purchased by the previous owner back in 2000 as a project car, but he never got around to doing anything with it except stripping a bunch of parts off it. Not exactly the 340 George wanted, but he didn't want a finished car and the options were limited. "I got the little Six up and running in a hot minute, then decided I better re-gasket the engine otherwise it was going to be a leak-fest. POV: this thing was the meanest sounding six-cylinder I'd ever heard!" exclaimed George.
Fast forward a few years and a friend from school George hadn't seen in years heard he bought a project car and wanted to see it. This friend's father owned a body and frame shop in their hometown throughout their childhood and while the frame shop was long gone, his love for cars remained intact. George says, "Since he has lots of experience and was looking for something to do, the original idea of getting her running, throwing on some paint, and driving the hell outta her went bye-bye. I think I remember him saying, 'if you pull the motor, you might as well pull and restore the k-frame,' yada, yada, yada, and it just snowballed from there."
Turns out someone in the engine's previous life did some serious upgrades, and there wasn't a lot of run time on the rebuild so the pair cleaned it up a bit.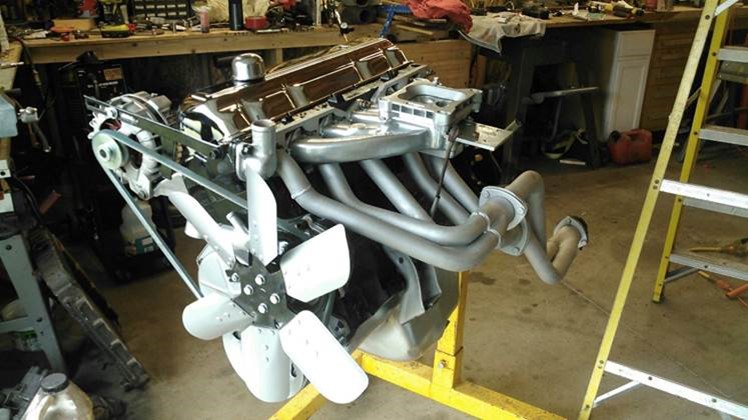 At this point, George started working on the body. He and his nephew fell into a sweet deal on a rotisserie they just couldn't pass up. For the most part, the body was pretty solid and after checking over the normal structural trouble spots, he discovered they were all in great shape. He did end up replacing the lower quarters, the rear bottom of the passenger fender, passenger inner splash shield, trunk extensions and the driver door pillar. Oh yeah … and the hood. Not a huge list, but daunting enough for someone with zero restoration experience.
Just around the time George was wrapping up the rough body work, he got a text from a former co-worker who sent these pictures:
Apparently, the former coworker had a buddy who bought a house with a locked garage, and when he opened it up, there sat a real black-on-black 1970 340 Dart Swinger. The friend said for $1,000 George could come get it.
"So, I immediately grabbed a trailer and jumped in the truck for a three-hour ride. When I got there, I immediately realized I was looking at what was once a beautiful car, that was parked on a dirt floor garage in 1987 and left to rot. Doors locked, engine locked, no way to get any real evaluation with tools I had on hand. I offered the guy scrap value, which at the time was around $300. I guess he wanted that cash more than a rotting old Mopar taking up useable garage space, so the deal was accepted," George says excitedly.
After a bit of hard work and a trip to the local Harbor Freight for some tools and supplies, a mere 4 hours later, George and his buddies had the beauty dragged onto the trailer and were headed back home. "At this point, it didn't look a whole lot worse than the one I had in the shop," reminisced George.
George got to work immediately stripping the car, keeping what he thought he might need and put the rest up for sale at the constant urging of his bride. "She just doesn't get why I wanted to hang onto it all, at least until my car was done. Long story short, I let a lot of things go that I actually needed and went with just the shell.
The bad: Most of the interior crumbled. Every sheet metal part from the beltline and below was beyond saving, except maybe the doors and valences. He ended up building cribbing to support the thing because the jack stands kept blowing through the underside of the car.
The good: "Entire driveline was saved. Took about a week of saturation with Marvel's Mystery Oil but I freed up the engine. Transmission was in surprisingly good shape, as was the rear end other than some surface pitting," said George. He did decide to swap out the axles for BBP and a disc brake setup and took the block and heads to a local machine shop. "I have to give a shameless plug to Blockheads, and Kevin Miner specifically. He came highly recommended and definitely held up his end. I gave him no time constraints, but with the parts delays and everything else, he had the engine done in about three months. Still waiting on the machining particulars though. It then sat in my shop for 13 months waiting for me to wrap up incidentals and block and sand and block and sand and block and sand and block and sand and if you know you know," laughs George.
More bad: "I pretty much had to sell the Slant-Six to help offset the 340 build costs. And now I'll have a 340 clone rather than a number-matching grocery-getter. I figure the trade was worth it," said George.
Then comes February 2022:
"That last one is a pic as we button up the wiring, which is presenting its own challenges, but I think we finally have her almost ready to go," said George. "We've got go; we've got stop. Now all that's left is glass, creature comforts and some paint and we can start cruising!
"I could go on for days with details about what we did and challenges we faced. Maybe I'll put it all together someday. Something I can't stress enough is learning lessons through the process. Particularly the one I learned about ordering parts I wouldn't need for months or even years, and when they're not right, how much fun it is to learn you're stuck with 'em."
We can't wait to see the finished product! All the blood, sweat and tears that have gone into this dream will be well worth it when George can cruise around in his work of art!
If you have a project you're working on, send us a line, we would love to hear about it!